Updated 31 July 2009
---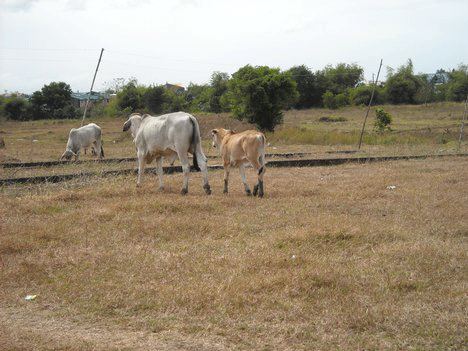 Drought in Texas (Photo source: AP)
In the U.S., drought conditions worsened across South Central Texas, harming agricultural production in the region. Additional information can be found below.
---
---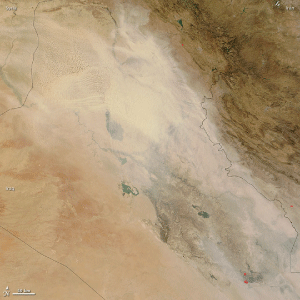 Iraq sandstorm (Image source: NASA)
In Iraq, the worst sandstorm in living memory—according to reports—lasted for more than a week, beginning at the end of June and continuing into the first week of July. Hundreds of residents with respiratory complaints flooded local hospitals and numerous flights were delayed in Baghdad (Source: Reuters). Another large storm kicked up dust once again at the end of the month.
At the beginning of July, Britain continued to experience its warmest heat wave in three years, with a level three heat wave alert (their second highest alert level) issued for the first time since 2006. Britain's health service reported more than 300 calls for heat-related illnesses. The heat wave also affected Belgium, Germany, and France (Source: AP).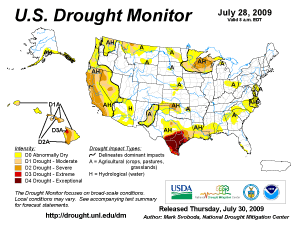 U.S. Drought Monitor Map
As of July 28th, moderate to severe drought persisted across much of California and Wisconsin, parts of Nevada, New Mexico, Oklahoma, and portions of the Hawaiian Islands. Overall, about 11 percent of the U.S., including Alaska, Hawaii, and Puerto Rico, experienced moderate to severe drought.
As severe drought conditions continued to plague Southern California, a brushfire broke out near the Getty Museum in Los Angeles on July 8th, burning 80 acres and causing evacuation of about 1,600 visitors and 800 employees from the world-famous art complex and 75 conference attendees from nearby Mount St. Mary's College. Ventilation systems were shut down to prevent smoke damage to the museum's priceless artwork. No damages were reported but the museum remained closed through July 9th as the fire was contained (Source: AP).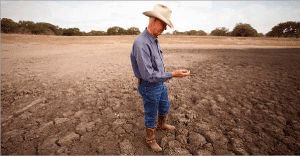 Drought in Texas (Photo source: AP)
In South Central Texas, drought conditions continued to deteriorate through July, with most of the region experiencing exceptional drought, as defined by the U.S. Drought Monitor. Average temperatures were generally above-to-well above normal during this period, with many areas reaching the triple digits on consecutive days, including a record high temperature of 109°F (43°C) set at Poteet, Texas on July 6th. Conditions severely impacted crops and livestock production, as crops wilted and farmers were forced to cull their cattle. According to reports, over 60 percent of beef cows in the state are located in counties in extreme to exceptional drought (Source: AP). Experts at Texas A&M University estimate that agricultural economic losses could surpass the 4.1 billion dollar mark set during the last drought in 2006 (Source: UPI).
A heat wave in the U.S. Pacific Northwest during the last week in July led to numerous reports of record temperatures. High temperatures reportedly reached 92°F (33°C) in the typically cool region of Astoria, Oregon on July 28th, shattering the old daily record of 82°F (28°C). According to the National Weather Service, the high temperature at the Seattle-Tacoma International Airport on July 29th was 102°F (39°C)—the highest temperature ever recorded at that locale during the 118-year period of record. With abnormally dry to moderate drought conditions already in place, the remainder of the 2009 summer wildfire season is expected to be above normal, primarily due to lightning strikes, according to a U.S. Forest Service bioclimatologist (Source: msnbc.com)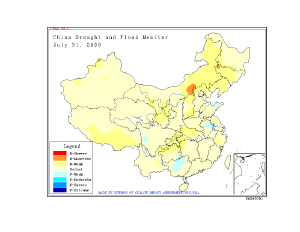 China Drought Monitor Map
As of July 31st, moderate drought was present in small sections of the provinces of Inner Mongolia, Hebei, Jilin, and Xinjiang (Source: Beijing Climate Center).

On July 1st, nine people were killed and one person was missing in the southwest Guizhou province of China, as the heaviest rains to date this year fell in the region. Two people also perished in eastern Jiangxi province when their house collapsed due to the heavy rains (Source: Agence France Presse).
Torrential rain in Dublin, Ireland on July 2nd created traffic chaos and caused a hospital roof to collapse in the northern section of the city. No injuries were reported, but patients in the accident and emergency department had to be evacuated (Source: BBC News).
Following four days of continual downpours, heavy rains on July 4th near Habiganj district town in Bangladesh led to landslides and flash floods that killed six people and stranded about 500,000 in their homes. Further west on the same day, heavy rains caused a landslide that swept away a jade miners' settlement along the Uru River in Hpakant Township, Myanmar. More than 1,300 people were affected by the storm, with 24 fatalities reported.
Heavy rains also caused flooding and landslides in northern Viet Nam. In addition to extensive damages, 17 people were killed, four were injured, and 14 were reported missing, including two children swept away by the floods. Forty-seven homes were destroyed and 946 were damaged. In Bac Kan, the most heavily affected province, people lost their homes, cattle, poultry, and crops to the floods, while landslides blocked roads for several days, making it difficult for rescuers to reach the stricken area (Source: Government of Viet Nam).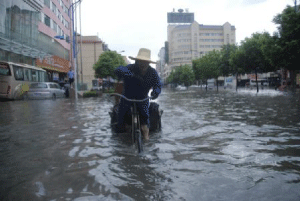 Southern China flooding (Photo source: Xinhua)
Heavy rain and floods in southwestern China during the first four days in July destroyed homes, damaged crops and roads, and caused rivers to overflow their banks. About 700,000 people were forced to evacuate their homes and at least 20 people were killed (Source: AP). Floods in Rongshui County cut off road access, stranding about 300 teenagers at a school with only limited supplies of food and water. Eighty percent of the county was inundated by the floodwaters (Source: AP). On July 11th, after heavy rains, a flash flood several feet (meters) deep killed 15 hikers in a gorge near the city of Chongqing (Source: BBC News). Heavy downpours July 24th-25th caused more flooding and landslides in the region, this time leading to 22 fatalities—with seven reported missing—in the Sichuan province (Source: AP). According to news sources, at least 66 people were killed and tens of thousands were forced to evacuate their homes in southern China during June and July due to the excessive rainfall and resulting landslides. Damages are estimated at more than 50 million U.S. dollars. (Source: Reuters).
The rainy season in Central and West Africa brought torrential rains and caused widespread damage in the Central African Republic, Ghana, and Benin. On July 7th, heavy rains forced Benin to declare a state of emergency after 2,000 families were displaced due to flooding. Government officials warned that the situation was expected to worsen as the rainy season continues (Sources: Reuters, International Federation of Red Cross and Red Crescent Societies).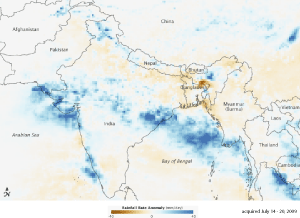 Rainfall in Southeast Asia (Source: NASA)
The monsoon season in Islamabad, Pakistan—which started late and is expected to have total rainfall about 30 percent below normal, according to a local meteorological official—brought copious amounts of rain, killing 16 people and injuring 27 others. Hundreds of residents were forced to leave their homes and power and communication lines were downed. The monsoon season in neighboring India was reported to be off to an uneven start, with some regions experiencing extreme rainfall and flooding and other areas experiencing drought conditions. At least 36 people were killed by monsoon downpours and more than half a million were forced to flee their homes in the eastern state of Orissa (Source: BBCNews).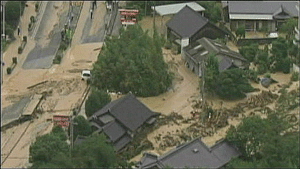 Mudslide in Western Japan (Source: BBCNews)
The Baiu front—a slow-moving boundary between advancing warm, moist air from the ocean to the south and retreating polar air to the north—brought consecutive days of torrential rains to southwestern Japan, which led to flooding and landslides on July 21st. Fifteen people were killed—including six in a nursing home that filled with mud and debris—and three people remained missing in the prefectures of Yamaguchi and Totorri (Source: Agence France-Presse). Nearly 1,300 houses in Yamaguchi were flooded and an estimated 30,000 homes were left without water. According to reports, this area experienced a record amount of rainfall in July (Source: BBCNews). In southern Japan, heavy rains on the 25th and 26th caused landslides and swollen rivers, killing at least 10 people on Kyushu Island (Source: AFP).
After experiencing drought conditions during the onset of the monsoon season, Dhaka, Bangladesh received a reported 11.4 inches (290 mm) of rain on July 29th, marking the largest rainfall in a single July day since 1949. Six people died and many of the 12 million residents were stranded in their homes due to flooding through the city streets (Source: AFP).

Fourth of July festivities proved to be deadly across the United States. Lightning strikes killed three people across different parts of the country—Florida, New Mexico, and Montana (Source: USA Today).

Northeast hail storm (Photo Source: CBS)
Snow plows removed up to two inches of dime-sized hail and sleet from an overnight storm that occurred on July 7th-8th in Yonkers, New York. Strong winds gusting to 60 mph (96 km/h) and heavy rains toppled trees and downed power lines, causing electricity outages to about 21,000 customers. At least two homes were reported to be damaged from falling debris (Sources: AP, NY Daily News). The violent storms moved northeastward through much of Massachusetts. In Hopkinton, a super-cell—the most powerful form of thunderstorm—with golf-ball sized hail and 80 mph (129 km/h) winds, ripped off tree limbs and blew debris through the air. The storm advanced from Hopkinton to Taunton, and finally headed east out to sea. No serious injuries were reported (Source: The Boston Globe).
On July 9th, an F2 tornado tore through a tourist resort in Ontario, Canada, killing three people—the first tornado-related fatalities in Canada since 1995 (Source: Environment Canada). Heavy rains that same day in Winnipeg flooded streets and knocked down power lines—bringing power outages to about 2,000 homes. Rain seeped in through the ceiling of the post-surgery recovery unit at a local hospital and four patients had to be relocated to another part of the hospital. Dozens of elective surgeries were cancelled through July 10th (Source: The Canadian Press).
Violent storms swept across parts of Europe on July 23rd, killing seven people in Poland, two in the Czech Republic, and one in Germany. High winds toppled trees and downed power lines. In the Czech Republic, about 150,000 residences were left without electricity.


Typhoon Molave (Source: NASA)
On July 17th, Tropical Storm Molave—the sixth tropical storm of the northwest Pacific hurricane season this year—left three people dead and 95,000 displaced as it rolled across the northern Philippine islands with heavy rains that caused widespread flooding. It then strengthened into a typhoon for a short period of time, but weakened back to tropical storm status as it made landfall over southeatern China.
For basin tropical cyclone statistics, please visit the Tropical Cyclone Summaries by Basin page.

No significant extratropical cyclones reports were received as of 31 July 2009.

No significant severe winter weather reports were received as of 31 July 2009.
---
Citing This Report
NOAA National Centers for Environmental Information, State of the Climate: Global Hazards for July 2009, published online August 2009, retrieved on September 27, 2021 from
https://www.ncdc.noaa.gov/sotc/hazards/200907
.