Drought - February 2013
---
Issued 14 March 2013
| | |
| --- | --- |
| Contents Of This Report: | |
---
Please note that the values presented in this report are based on preliminary data. They will change when the final data are processed, but will not be replaced on these pages.
---
National Drought Overview
[top]
---
Detailed Drought Discussion
Overview
The polar jet stream and associated storm track were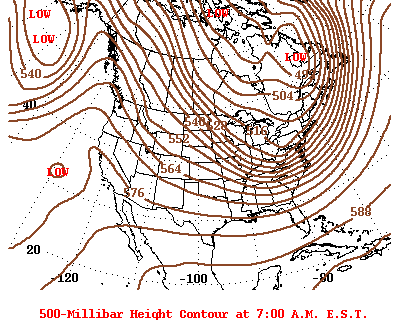 very active during February 2013, with a series of strong upper-level weather systems propagating across the country. Winter storms moving in the jet stream flow tapped Gulf of Mexico moisture to drop above-normal precipitation across coastal New England, the Southeast, and parts of the Plains to Upper Midwest (weeks 1, 2, 3, 4, 5), while weather systems moving over the West were moisture-starved, resulting in a generally drier-than-normal month from the Rockies westward. Heavy rain eased drought conditions in the Southeast, a series of snowstorms nibbled at the edges of the Great Plains D3-D4 drought area in spite of massive twelve-month precipitation deficits, and welcomed rains shrank the drought area in Hawaii. When the temperature and precipitation are averaged across the country for the entire month, February 2013 ranked as the 49th warmest and 58th driest February in the 119-year record. The February precipitation helped reduce the moderate-to-exceptional national drought footprint from 57.7 percent at the end of January to 54.2 percent at the end of February. According to the Palmer Drought Index, which goes back to the beginning of the 20th century, 39.6 percent of the contiguous U.S. was in moderate to extreme drought at the end of February, a decrease of about 6 percent compared to last month.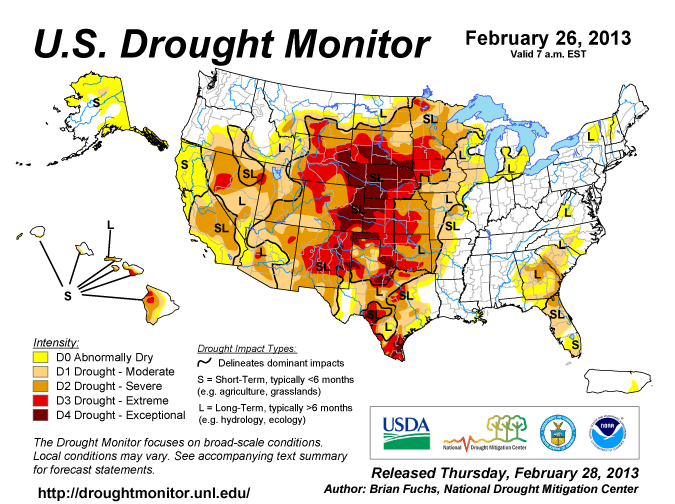 The U.S. Drought Monitor drought map valid February 26, 2013.
By the end of the month, the core drought areas in the U.S. included:
a large area of moderate (D1) to exceptional (D4) drought stretching from the West, across the Northern to Southern Plains, into the Upper Midwest, with the most intense drought centered in the Plains states;
a reduced area of moderate to severe drought in the Southeast; and
much of Hawaii, where moderate to extreme (D3) drought persisted.
Palmer Drought Index
The Palmer drought indices measure the balance between moisture demand (evapotranspiration driven by temperature) and moisture supply (precipitation). The Palmer Z Index depicts moisture conditions for the current month, while the Palmer Hydrological Drought Index (PHDI) and Palmer Drought Severity Index (PDSI) depict the current month's cumulative moisture conditions integrated over the last several months.
Used together, the Palmer Z Index and PHDI maps show that the February short-term moisture conditions improved long-term drought across parts of the Plains and Midwest, but especially in the Southeast (February PHDI compared to January PHDI). February short-term dryness deteriorated long-term drought in parts of the West. The combination resulted in a continued decrease in the total area under drought.
Standardized Precipitation Index
The Standardized Precipitation Index (SPI) measures moisture supply. The SPI maps here show the spatial extent of anomalously wet and dry areas at time scales ranging from 1 month to 24 months.
The 1-month SPI map shows three clear storm tracks — two which originate in the Plains and terminate in the Great Lakes, and one across the Southeast — as well as two dry areas — one in the Tennessee Valley to Mid-Appalachians, and the other across the Far West. The February wetness in the Plains is enough to give near normal SPI values for the 2- and 3-month SPI maps. But this is the dry season for the Plains, so the impact doesn't extend much past 3 months with dry conditions evident at 6 months and exceptionally dry conditions in the Plains on the 9- and 12-month maps. At 24 months, the Central Plains are still dry with exceptionally dry conditions in the Southern High Plains. The Far West is very dry at 1 and 2 months, with dryness evident in some areas from 3 to 24 months. The rest of the West has a mixed signal, with the Rockies exhibiting significant dryness from 6 to 24 months. The Northeast shows dryness at 2 months, but wetness dominates at longer time scales. The recent wetness over the Southeast has neutralized the dryness out to 12 months, with dry conditions still evident at 24 months. Dryness has shifted from the Southeast to Florida at the shorter time scales (1 to 6 months).
Agricultural, Hydrological, and Meteorological Indices and Impacts
| | |
| --- | --- |
| NOAA Leaky Bucket Model soil moisture percentile | USGS monthly streamflow percentiles |
Drought conditions were reflected in numerous agricultural, hydrological, and other meteorological indicators, both observed and modeled.
Agricultural: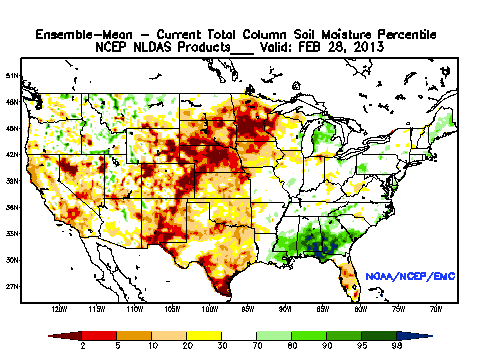 Map showing NOAA/NCEP NLDAS modeled monthly soil moisture percentiles (total column).
Hydrological: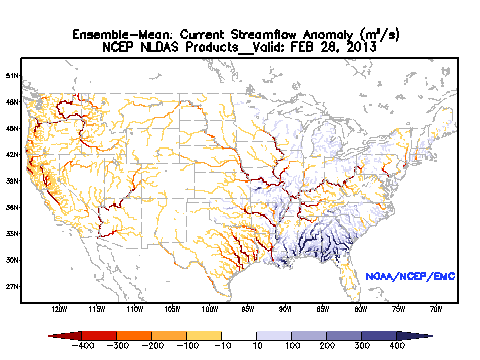 Map showing NOAA/NCEP NLDAS modeled monthly streamflow anomaly.
Meteorological: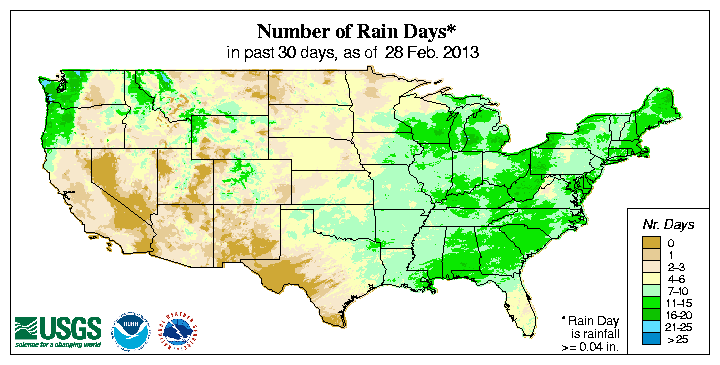 Map showing number of days with precipitation.
Regional Discussion
Hawaii: February 2013 was wetter than normal on the windward side of the southeastern islands but drier than normal at most other stations. A similar pattern was evident for the last 2 and 3 months, but a drier-than-normal pattern was widespread at longer time scales (5, 6, 12, 24, and especially 36 months). January and February rains increased streamflow and continued to improve drought conditions, with the moderate to extreme drought area falling from 58 percent last month to 45 percent this month.
Alaska: The precipitation pattern in February was mixed, with drier-than-normal conditions occurring at northern stations, wetter-than-normal conditions at the Panhandle stations, and a mixture in between. Temperature anomalies ranged in a gradient from below normal in the northwest to above normal in the southeast. The precipitation pattern was mixed at longer time scales (2, 3, 5, 6, 12, 24, and 36 months), with adjacent stations sometimes having anomalies at extreme opposite ends of the scale. Abnormal dryness covers the northern and eastern two-thirds of the state on the USDM map with a spot of moderate drought continuing in the Koyukuk Basin where the water content of the snowpack and water-year-to-date (October-present) precipitation were low.
Puerto Rico: February was another very dry month for Puerto Rico, with low streamflows at some stations. Much of the island has had below-normal rainfall for the last 2 to 3 months. But the area with the driest anomalies shifts to the southeast at longer time scales (last 5 to 6 months), where an area of D0 (abnormally dry) reflected the dryness on the February 26 USDM map.
On a statewide basis, February 2013 ranked in the top ten driest category for two states (California and Oregon) and twelfth driest for Montana. Eight other states ranked in their driest third of the historical record — in New England, Tennessee Valley to Central Appalachians, and West. Dryness for the year to date was centered in the West and New England, where 14 states ranked in the driest third of the historical record — three of which (California, Idaho, and Oregon) had a top ten driest January-February. In fact, 2013 had the driest January-February in the 119-year record for California.
The West and Northern High Plains were the foci of dryness at the three-month time scale, with five states ranking in the driest third of the historical record. But the dry focus shifts to the Central Plains at the six-month time scale, where Nebraska had the fourth driest September-February, and to the Central Plains to Southwest at the twelve-month time scale, where five states (Colorado, Kansas, Nebraska, New Mexico, and Wyoming) had the tenth driest, or drier, March-February. In spite of recent wetness, Nebraska and Wyoming still had the driest March-February in the 1895-2013 record. It was so dry in Nebraska that the state was driest for all seasons from 7 months (August-February) to 12 months (March-February). Fourteen other states ranked in the driest third of the historical record for March-February.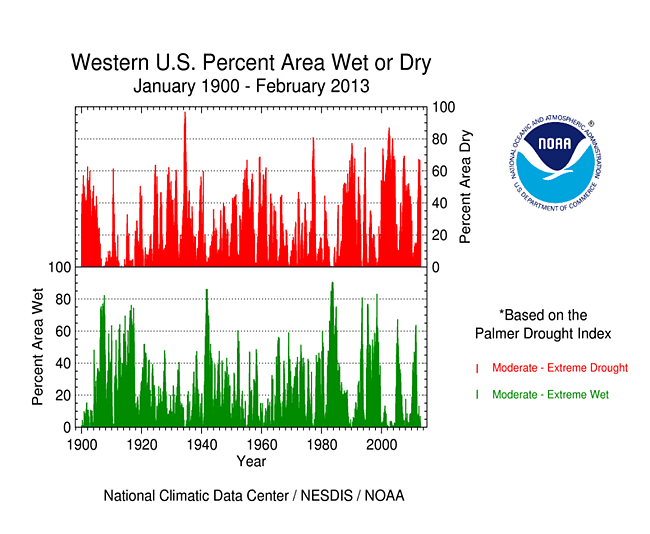 Percent area of the Western U.S. in moderate to extreme drought, January 1900 to present, based on the Palmer Drought Index.
February 2013 was much drier than normal for most of the West, with the last two months having record dry conditions, especially along the coastal states (as noted above). Water year-to-date (October-present) precipitation was near- to above-normal in the northern regions and below- to much-below normal in the southern areas of the West — especially in the Central and Southern Rockies, as seen in high elevation (SNOTEL) station percentiles and basin averages, and across the Southwest, Southern California, and Great Basin, as seen in low elevation station observations. Snowpack water content (station percentiles and basin percent of normal) was much below-normal in the Central to Southern Rockies and below normal across parts of the Great Basin, Sierra Nevada, Northern Rockies, and Pacific Northwest. Reservoir storage was below average in several states in the Southwest (Arizona, Colorado, New Mexico) and Great Basin to Northwest (Nevada, Oregon, Washington), but near to above average in the other states. According to the USDM, 64.3 percent of the West was experiencing moderate to exceptional drought at the end of February, a 2.2 percent decrease compared to last month. The Palmer Drought Index percent area statistic was about 50.6 percent, an increase of about 1.8 percent compared to last month.
Primary Hard Red Winter Wheat Belt
| | |
| --- | --- |
| Primary Hard Red Winter Wheat Belt precipitation, October-February, 1895-2013. | Primary Hard Red Winter Wheat Belt PHDI, January 1895-February 2013. |
Rain and snow during the last couple months have been a welcomed sight for the Primary Hard Red Winter Wheat agricultural belt. February 2013 was the tenth wettest February for the region, and January-February 2013 ranked 16th wettest. But this is the dry season and earlier months were drier than normal, with the growing season (October-April) ranking 38th driest so far (through February). Temperatures for the period ranked 29th warmest. The PHDI continued at severe drought levels, regionwide.
NOAA Regional Climate Centers:
A more detailed drought discussion, provided by the NOAA Regional Climate Centers and others, can be found below.
Southeast — South — Midwest — Northeast — High Plains
West — Upper Colorado River Basin — Pacific Islands
As described by the High Plains Regional Climate Center, precipitation was highly variable this month with many locations receiving above normal precipitation and others receiving little to none. Areas receiving at least 150 percent of normal precipitation generally included a swath running from central Colorado to the northeast through the eastern Dakotas, central and eastern Kansas, northern North Dakota, and central Wyoming. The precipitation had various impacts on the ongoing drought. For example, the snows in Kansas had ample moisture to put a dent in drought conditions, while the snows in Nebraska were drier and had little to no impact on the drought conditions there. Meanwhile, snowpack in the Rockies remained lower than average as Wyoming increased from last month to 84 percent of average and Colorado held at 75 percent of average. Average temperatures for February 2013 were generally on the cooler side for the High Plains region.
There were slight changes to the USDM over the past month. Approximately 91 percent of the region was still in moderate (D1) to exceptional (D4) drought. This was down slightly from the end of last month when 92 percent of the region was in D1-D4. Areas of degradation included an expansion of extreme drought (D3) in northwest South Dakota and a D4 expansion in eastern Colorado. Luckily, there were also improvements. The small area of D4 in southwestern Wyoming was erased and severe drought conditions (D2) continued to improve in eastern portions of the Dakotas. Although two large snowstorms hit southern areas of the region, there were varying degrees of improvement in drought conditions. Luckily, portions of the D4 conditions improved in the north-central and south-central parts of Kansas. The D3 area in northeast Kansas improved as well.
As explained by the Southern Regional Climate Center, February temperatures in the region varied from north to south, with the north experiencing a slightly cooler than normal month, while the southern half experienced yet another warmer than normal month. February precipitation totals varied significantly. In western Oklahoma and north western Texas, precipitation totals ranged from two hundred to over three hundred percent of normal. Conditions were also a lot wetter than normal in southern Mississippi and in south eastern Louisiana. Conversely, it was quite dry throughout most of Tennessee, with precipitation totals there ranging from twenty-five to ninety percent of normal. Southern Texas was also extremely dry, particularly in the southwest and southern tip of the state. Most stations in those regions received under five percent of normal precipitation, with many not seeing a drop of rain all month.
Above-average precipitation in central Oklahoma led to the removal of most of the exceptional drought that had resided there last month. There has also been a one drought category improvement over much of the state in general. Elsewhere, drought conditions have not changed significantly. Severe and extreme drought conditions continue to plague the state of Texas, while the states of Louisiana, Mississippi, and Tennessee remain drought-free.
In Texas, as of March 1, 2013, reservoirs were at 67.0 percent of conservation storage, 2 percent less than the previous record and almost 5 percent less than 2012. Because of this, more regions of the state are attempting to curtail their water use. The Edwards Plateau region has approved a plan designed after the 1950s drought plan, estimated to cost between $16 and $18 million. With the onset of spring, harvesting and new planting is a concern for farmers. Dry soil moisture conditions near Wichita Falls and El Paso have caused farmers to pump groundwater and replant to keep their pecan, bean, and pea harvests from going under. Loss of grazing land over the last several months has caused ranchers to sell off their livestock and meat-packaging plants to close, costing two thousand jobs. Corn planting was down after increased corn prices were expected to boost numbers. Not all of the state was in as poor condition, as recent snowfall in the Panhandle has helped replenish upper-level soil moisture and has farmers in the region optimistic. (Information provided by the Texas Office of State Climatology).
As summarized by the Midwest Regional Climate Center, February temperatures averaged near to slightly below normal across the Midwest. February precipitation ranged from less than 50 percent of normal in parts of Kentucky and less than 75 percent of normal in southwest Iowa to more than 200 percent of normal in northwest Minnesota and near Lake Michigan. Above normal precipitation was recorded from Missouri north to Minnesota and northeast to Michigan. Near normal precipitation fell across Indiana and northern Ohio. Winter precipitation was above normal for nearly all of the Midwest.
Drought conditions improved slightly in the Midwest in February. While much of the western half of the region remains in drought, the severity has lessened slightly in locations outside Iowa and southern Minnesota. Although precipitation was plentiful in the upper Midwest, concerns remain as the soils were frozen solid which will lead to much of the precipitation running off rather than recharging the very dry soil moisture profile.
As noted by the Southeast Regional Climate Center, mean temperatures were variable across the Southeast in February, but precipitation was above normal across a large portion of the region for the second consecutive month. The wettest locations were found across a swath extending from southern Alabama and northwest Florida through central and southern sections of Georgia and South Carolina, where monthly precipitation totals ranged from 10 inches (254 mm) to over 20 inches (508 mm) in places. Regionally, much of the monthly precipitation fell between the 7th and 14th as a frontal boundary stalled across the region. Another round of heavy precipitation occurred from the 22nd to 26th of the month as two low pressure systems tracked across the Mississippi and Ohio River Valleys. In contrast, the driest locations in February were found across northern Virginia, central Florida, and much of Puerto Rico and the U.S. Virgin Islands, where monthly precipitation totals were less than 50 percent of normal. Orlando, FL recorded just 0.67 inch (17 mm) of rainfall for the month, which was nearly 2 inches below normal. Remarkably, the official station at Charlotte Amalie Airport on the island of St. Thomas failed to record any measurable precipitation in February.
Drought conditions continued to improve across the Southeast in February. By the end of the month, only 28 percent of the region was classified in drought (D1 and greater), down from 43 percent at the beginning of the month. Most notably, the area of extreme and exceptional drought (D3 and D4) across southeast Georgia, which had persisted for nearly two years, was eliminated. In general, the State saw up to a two category improvement in drought conditions, while much of South Carolina saw a one category improvement. Small improvements were also observed across parts of North Carolina and Virginia, while drought conditions were eliminated across nearly all of Alabama and northwest Florida. On the other hand, the warm, dry weather across much of the Florida Peninsula resulted in an emergence of moderate and severe drought (D1 and D2) across central and northeast portions of the State. The heavy rain and flooding across parts of Georgia delayed the preparation of fields for spring planting, but also helped recharge aquifers in advance of the growing season. Across northern Florida, the heavy rain aided the development of winter wheat, while the warm, dry conditions to the south helped many fruit and vegetable crops mature ahead of schedule. Only minimal crop damage was reported from the cold weather during the middle of the month.
As explained by the Northeast Regional Climate Center, preliminary data indicated that the average temperature for February in the Northeast was neither above nor below normal: at 26.4 degrees F (-3.1 degrees C), it was exactly normal. Total precipitation in the Northeast was down in February. The 2.56 inches (65.02 mm) of precipitation was 0.14 inch (3.56 mm) below average and 94 percent of normal. The states were split with six drier than normal and six wetter than normal. For Winter 2012-13, the Northeast received 10.37 inches (263.4 mm) of precipitation (113 percent of normal). Eight states ended up wetter than average while four states reported drier than normal winters.
As summarized by the Western Regional Climate Center, January's cool and dry conditions continued throughout February for much of the West. The position of the high pressure ridge typically present over the West in February was shifted slightly west of its climatological mean, allowing cold air masses to dip southward east of the Sierra and ample precipitation to reach the Rockies. The inland Northwest was the only area to see above normal temperatures this month, the fourth consecutive month this area has been warmer than average.
February was a dry month, especially in the Cascades/Sierra Nevada, with small average or moist pockets in the central Great Basin and northern and central Rockies. This followed on the heels of a very dry January as well. After a wet start to winter in December, many California and western Nevada locations saw January-February precipitation totals in the 10 driest on record. Downtown San Francisco recorded only 1.82 in (46 mm) thus far in 2013, the 5th driest January-February in a 163-year record. Nearby Santa Cruz, CA recorded its driest such period since 1893 with 1.22 in (31 mm; normal is 12.52 in / 318 mm). Further north, Ukiah and Eureka, California, saw their 2nd and 3rd driest January-February, respectively. A grand total of 0.12 in (3 mm) liquid precipitation fell at the Reno, Nevada, airport during January and February, the driest such period since the record began in 1937. Sierra snowpack water equivalent fell to 60-70% of normal at month's end. Further south, Los Angeles, California, experienced its 15th driest January-February in a 69-year record at 1.5 in (38 mm), 25% of normal.
The position of the high-pressure ridge this month helped guide storm systems into the eastern Great Basin and Rockies. Despite above normal February snowfall, snow water equivalent for river basins of northeastern Nevada stood at 80-95% of normal at the end of the month. Further east, Salt lake City, Utah, enjoyed its 16th snowiest winter-to-date, but 22nd driest February on a 139-year record. Colorado Springs, Colorado recorded the 9th wettest February on record with 0.9 in (23 mm) precipitation and 13th snowiest at 10.6 in (27 cm). This month was also the first since September 2012 that Pueblo, Colorado recorded above normal precipitation. February precipitation helped to ease persistent drought conditions in western Wyoming and Colorado, while much of the eastern portions of these states remained categorized as severe to exceptional drought by the USDM. Even with this month's snowfall, snow water equivalent for Colorado basins stood at 65-80% of normal at the end of the month. Snowpack in Wyoming's basins fared slightly better, between 75% and 100% of normal. Most basins in Washington, Oregon, Montana, and Idaho reported above normal snow water equivalent at the end of February.
Strong northeast trade winds and heavy precipitation arrived on the windward sides of the Hawaiian Islands this month, helping to alleviate persistent drought in these areas. Hilo, Hawaii recorded 23.12 in (587 mm) for the month, 242% of normal and the 7th wettest February since records began at Hilo in 1949. After having above normal January precipitation, leeward locales such as Honolulu and Lihue returned to the past year's trend of below normal precipitation.
Following a warmer than normal January statewide, mild temperatures dominated the Interior and southern regions of Alaska, while the Northern and Western regions were a chilly 6-8 F (3-4 C) below the February normal. Persistent precipitation fell in the southern portion of the state, especially the Southeast. January's wet conditions continued in Juneau, which recorded 6.61 in (167 mm) for the month, the 7th wettest February on its 64-year record.
Upper Colorado River Basin: As reported by the Colorado Climate Center, the March 5th NIDIS (National Integrated Drought Information System) assessment for the Upper Colorado River Basin (UCRB) indicated that, in February, most of the UCRB received less than average precipitation. Though the higher elevation precipitation amounts exceeded 1 inch in most areas, much of the UCRB received between 20% and 90% of average moisture for February. Parts of southwest Colorado (in the San Juans) and southwest WY received near to slightly above average precipitation for the month. Northern Utah was very dry (less than 50% of average) and the Colorado River valley just above Lake Powell was also very dry last month (mostly less than 30% of average). East of the basin, southeast CO remained drier than average, but northeast CO and the Front Range has seen some reprieve with much above average precipitation. Water-year-to-date SNOTEL precipitation percentiles in the UCRB are below the median throughout the entire basin, and accumulated snowpack is currently less than normal across the entire UCRB. All three key streamflow gages in the basin have come out of frozen conditions and are all now reporting much below normal flows. Flows on the Colorado River near the CO-UT state line have been ice affected since late December but just recently have begun reporting again at the 7th percentile. The Green River at Green River, UT site has decreased over the past week to the 9th percentile. The San Juan River near Bluff, UT is currently recording flows at the 3rd percentile and has seen very little change over the past couple of weeks.
Last month, the entire UCRB saw below average temperatures ranging between 3 and 9 degrees colder than average. East of the basin, the rest of CO experienced slightly below average temperatures for February. Last week, the entire region saw temperatures ranging from 3 to 12 degrees colder than average. The VIC soil moisture model continues to show dry soils through most of WY with near normal soil moisture in far southwest WY. Soil dryness is below the 20th percentile in northeast UT and most of western CO. Soil moisture in southwest CO is below normal, but shows near normal conditions when SWE is included. Dry soils below the 10th percentile show up over most of southern and eastern CO. Last month, most of the major reservoirs in the UCRB saw slight decreases in volume, which is normal for this time of year. Blue Mesa has stayed near steady for most of the calendar year though it usually decreases this time of year. McPhee decreased in volume, though it normally increases slightly in February. Lake Granby saw large volume decreases last month. Flaming Gorge is the only major reservoir near its March 1st average. The rest of the major reservoirs range between 55% (Lake Granby) and 90% (Green Mountain) of average for the beginning of March.
Pacific Islands: According to reports from National Weather Service offices, the Pacific ENSO Applications Climate Center (PEAC), and partners, conditions varied across the Pacific Islands.
As noted by the National Weather Service office in Honolulu, wet trade wind conditions in February brought above average amounts of rainfall to the windward areas of the state. However, the persistent trade winds also meant that below average rainfall occurred over the leeward areas of Maui and the Big Island which have been hit hardest by the ongoing drought. For several months, these areas have been classified as under extreme drought, or D3 category conditions in the USDM map. On Maui, the area of D3 coverage includes Kihei, lower Kula, Ulupalakua, and the lower Kaupo areas. Extreme drought on the Big Island includes the Kawaihae area of the south Kohala district and the Pohakuloa area of the Hamakua district. In Maui county, severe drought, or D2 category conditions, persists over west Molokai, south Lanai, and the lower elevations of west Maui from Maalaea to Lahaina. Big Island severe drought coverage includes most of the north Kona and south Kona districts, and the west-facing slopes of the Kau district. Kauai has been able to remain drought-free, and Oahu has just a small area of moderate drought, or D1 category conditions, over the leeward slopes of the Waianae range.
Some drought impacts impacts in Hawaii include the following:

KAUAI.
THERE ARE CURRENTLY NO DROUGHT AREAS ON KAUAI.

OAHU.
PASTURES AND GENERAL VEGETATION CONDITIONS OVER THE LEEWARD WAIANAE
RANGE IMPROVED FOLLOWING JANUARY RAINFALL BUT A LACK OF FOLLOW-UP
RAIN IN FEBRUARY STALLED ADDITIONAL IMPROVEMENTS.

MOLOKAI.
A REPORT FROM THE HOOLEHUA AREA INDICATED THAT VEGETATION
CONDITIONS HAVE BEEN IMPROVING.  THIS IS CONSISTENT WITH
IMPROVEMENTS SEEN IN VEGETATION HEALTH DATA FROM REMOTE SENSING
SOURCES.

THE WATER LEVEL IN THE KUALAPUU RESERVOIR SHOWED A SMALL INCREASE IN
THE PAST MONTH BUT REMAINS LOW.  THUS...THE STATE OF HAWAII
DEPARTMENT OF AGRICULTURE HAS CONTINUED A MANDATORY 30 PERCENT
REDUCTION IN IRRIGATION WATER CONSUMPTION.

LANAI.
NO SIGNIFICANT CHANGE SINCE THE FEBRUARY 7 UPDATE.  VEGETATION
HEALTH DATA FROM REMOTE SENSING SOURCES SHOW LITTLE CHANGE IN
CONDITIONS OVER THE PAST MONTH.

MAUI.
LEEWARD MAUI RECEIVED SOME RAINFALL BUT COVERAGE WAS NOT WIDESPREAD
WHICH PREVENTED SUBSTANTIAL IMPROVEMENTS.  PASTURES IN THE EXISTING
DROUGHT AREAS WERE DESTOCKED SEVERAL MONTHS AGO. THE MAUI COUNTY
DEPARTMENT OF WATER SUPPLY CONTINUED ITS LONG STANDING REQUEST FOR A
5 PERCENT REDUCTION IN WATER USE FOR UPCOUNTRY RESIDENTS.  THE
REQUEST FOR A 10 PERCENT REDUCTION IN WATER USE BY CENTRAL AND SOUTH
MAUI RESIDENTS ALSO REMAINED IN EFFECT.

BIG ISLAND.
RAINFALL OVER THE PAST TWO MONTHS HELPED MANY AREAS OF THE KAU
DISTRICT BUT PASTURES IN THE LOWER ELEVATIONS NEAR SOUTH POINT HAVE
NOT RECEIVED AS MUCH BENEFICIAL RAIN.  PASTURES REMAIN IN POOR
CONDITION BELOW 500 FEET WHILE FARTHER UPSLOPE CONDITIONS ARE MUCH
BETTER.  PORTIONS OF THE POHAKULOA AREA RECENTLY RECEIVED RAINFALL
BUT THE COVERAGE WAS VERY INCONSISTENT AND IT IS UNCLEAR AT PRESENT
HOW MUCH...IF ANY...IMPROVEMENT OCCURRED. 

SPI values for seven time periods for Hawaiian Island stations, computed by the Honolulu NWS office.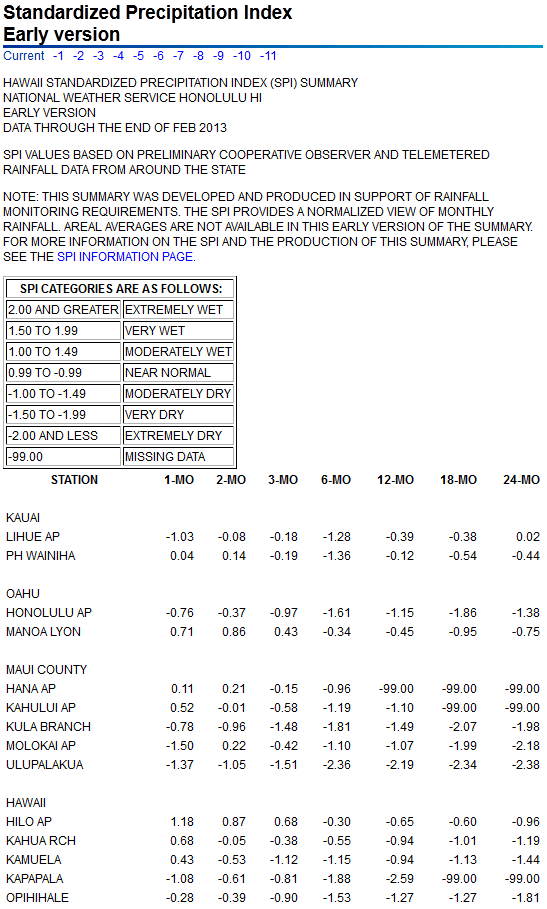 On other Pacific Islands (maps — Micronesia, Marshall Islands, basinwide), February was drier than normal for Pago Pago, Koror, Saipan, Guam, and Pohnpei, and much drier than normal for Kwajalein. February rainfall amounts were below four inches at Kwajalein, Saipan, and Guam and below 8 inches at Koror, Yap, and Pohnpei. According to NWS reports, the Majuro reservoir was replenished by recent rains and private catchments should have ample water at this time, but some water conservation measures should be considered due to the large population of Majuro. There is concern for serious drought conditions for atolls of the Marshall Islands from Majuro northward, and conservation measures will be needed to avoid the depletion of wells and catchments. For other parts of the Federated States of Micronesia, especially the northern islands of Chuuk state and the eastern islands of Yap state, some damage to food crops is possible on smaller islands and atolls where rainfall is sparse. Water catchments and the health of food crops should be closely monitored. Majuro and Pohnpei have been below normal for nine of the last 12 months, each with the March 2012-February 2013 total at 87 percent of normal. Koror and Kwajalein have been drier than normal for the last two months and have a March 2012-February 2013 percent of normal total of 96 and 95 percent of normal, respectively. Total rainfall for the last 12 months was above normal for all other stations.
Percent of Normal Precip
Precipitation
Normals
Pacific Island Percent of 1981-2010 Normal Median Precipitation
Station Name
Mar
2012
Apr
2012
May
2012
Jun
2012
Jul
2012
Aug
2012
Sep
2012
Oct
2012
Nov
2012
Dec
2012
Jan
2013
Feb
2013
Mar 2012-
Feb 2013
Chuuk
107%
40%
173%
131%
141%
169%
86%
128%
144%
116%
99%
146%
118%
Guam NAS
215%
121%
224%
107%
66%
179%
126%
92%
74%
55%
128%
97%
99%
Kapingamarangi
121%
102%
143%
179%
146%
192%
147%
138%
167%
74%
197%
154%
128%
Koror
121%
120%
122%
95%
88%
102%
111%
78%
67%
103%
72%
92%
89%
Kosrae
60%
84%
86%
99%
124%
144%
109%
113%
119%
110%
98%
146%
89%
Kwajalein
84%
68%
161%
117%
120%
95%
57%
73%
45%
230%
39%
17%
91%
Lukonor
135%
76%
106%
125%
82%
73%
148%
74%
178%
62%
60%
134%
89%
Majuro
194%
97%
59%
81%
68%
87%
67%
46%
154%
53%
31%
152%
86%
Pago Pago
131%
90%
126%
115%
105%
59%
195%
54%
181%
143%
137%
87%
106%
Pohnpei
98%
45%
115%
100%
92%
96%
90%
82%
109%
71%
83%
54%
85%
Saipan
35%
33%
166%
118%
77%
135%
101%
172%
31%
89%
191%
78%
107%
Yap
185%
89%
142%
99%
84%
128%
187%
140%
121%
102%
90%
113%
118%
Pacific Island Precipitation (Inches)
Station Name
Mar
2012
Apr
2012
May
2012
Jun
2012
Jul
2012
Aug
2012
Sep
2012
Oct
2012
Nov
2012
Dec
2012
Jan
2013
Feb
2013
Mar 2012-
Feb 2013
Chuuk
8.87
5.02
19.56
15.27
16.92
21.78
10.04
14.68
15.30
13.09
10.00
10.60
161.13
Guam NAS
4.45
3.05
7.63
6.63
6.74
26.42
15.98
10.56
5.45
2.81
5.12
2.95
97.79
Kapingamarangi
13.82
13.91
17.24
24.68
20.65
15.57
14.56
11.32
15.44
7.25
18.02
14.25
186.71
Koror
9.03
8.79
14.49
16.54
16.36
13.72
13.01
9.23
7.68
11.52
7.29
7.91
135.57
Kosrae
9.59
14.70
15.35
14.56
18.55
20.46
15.52
12.33
16.49
17.75
16.27
18.89
190.46
Kwajalein
1.97
3.58
10.82
8.08
11.83
9.23
6.17
8.18
5.09
15.33
1.22
0.46
81.96
Lukonor
12.51
8.60
12.35
14.53
13.08
10.26
15.02
8.39
16.18
7.00
5.05
11.93
134.9
Majuro
12.75
9.14
5.96
8.89
7.54
10.15
7.47
5.84
20.69
6.09
2.42
10.44
107.38
Pago Pago
14.00
8.41
12.15
6.13
5.84
3.19
12.73
4.99
18.34
18.31
18.27
10.48
132.84
Pohnpei
12.92
8.31
22.98
14.86
14.21
13.62
11.27
12.59
16.18
11.37
10.88
5.14
154.33
Saipan
0.66
0.88
3.96
4.26
6.86
17.73
10.24
18.31
1.75
3.44
4.83
2.03
74.95
Yap
8.43
5.00
11.14
11.95
12.74
18.92
25.19
17.08
10.67
8.68
5.72
5.86
141.38
Pacific Island 1981-2010 Normal Median Precipitation (Inches)
Station Name
Mar
2012
Apr
2012
May
2012
Jun
2012
Jul
2012
Aug
2012
Sep
2012
Oct
2012
Nov
2012
Dec
2012
Jan
2013
Feb
2013
Mar 2012-
Feb 2013
Chuuk
8.32
12.47
11.30
11.66
11.98
12.86
11.71
11.51
10.61
11.25
10.10
7.25
136.77
Guam NAS
2.07
2.53
3.40
6.18
10.14
14.74
12.66
11.44
7.38
5.11
4.01
3.03
99.09
Kapingamarangi
11.43
13.64
12.08
13.78
14.15
8.13
9.93
8.19
9.27
9.84
9.15
9.27
145.85
Koror
7.44
7.32
11.83
17.48
18.53
13.50
11.77
11.84
11.39
11.16
10.18
8.56
152.90
Kosrae
16.06
17.51
17.75
14.64
14.91
14.22
14.22
10.94
13.83
16.11
16.67
12.93
213.87
Kwajalein
2.35
5.26
6.72
6.93
9.87
9.74
10.74
11.18
11.28
6.66
3.16
2.64
90.41
Lukonor
9.26
11.31
11.69
11.65
15.93
14.04
10.15
11.32
9.08
11.27
8.41
8.93
151.36
Majuro
6.58
9.42
10.11
11.01
11.17
11.69
11.17
12.73
13.44
11.39
7.74
6.88
125.25
Pago Pago
10.68
9.39
9.66
5.33
5.55
5.38
6.53
9.26
10.14
12.84
13.34
12.00
125.57
Pohnpei
13.17
18.41
19.96
14.81
15.43
14.26
12.55
15.27
14.83
16.08
13.18
9.55
182.36
Saipan
1.89
2.63
2.38
3.62
8.91
13.13
10.09
10.62
5.61
3.85
2.53
2.59
70.25
Yap
4.56
5.63
7.85
12.04
15.08
14.82
13.50
12.18
8.83
8.51
6.39
5.19
120.31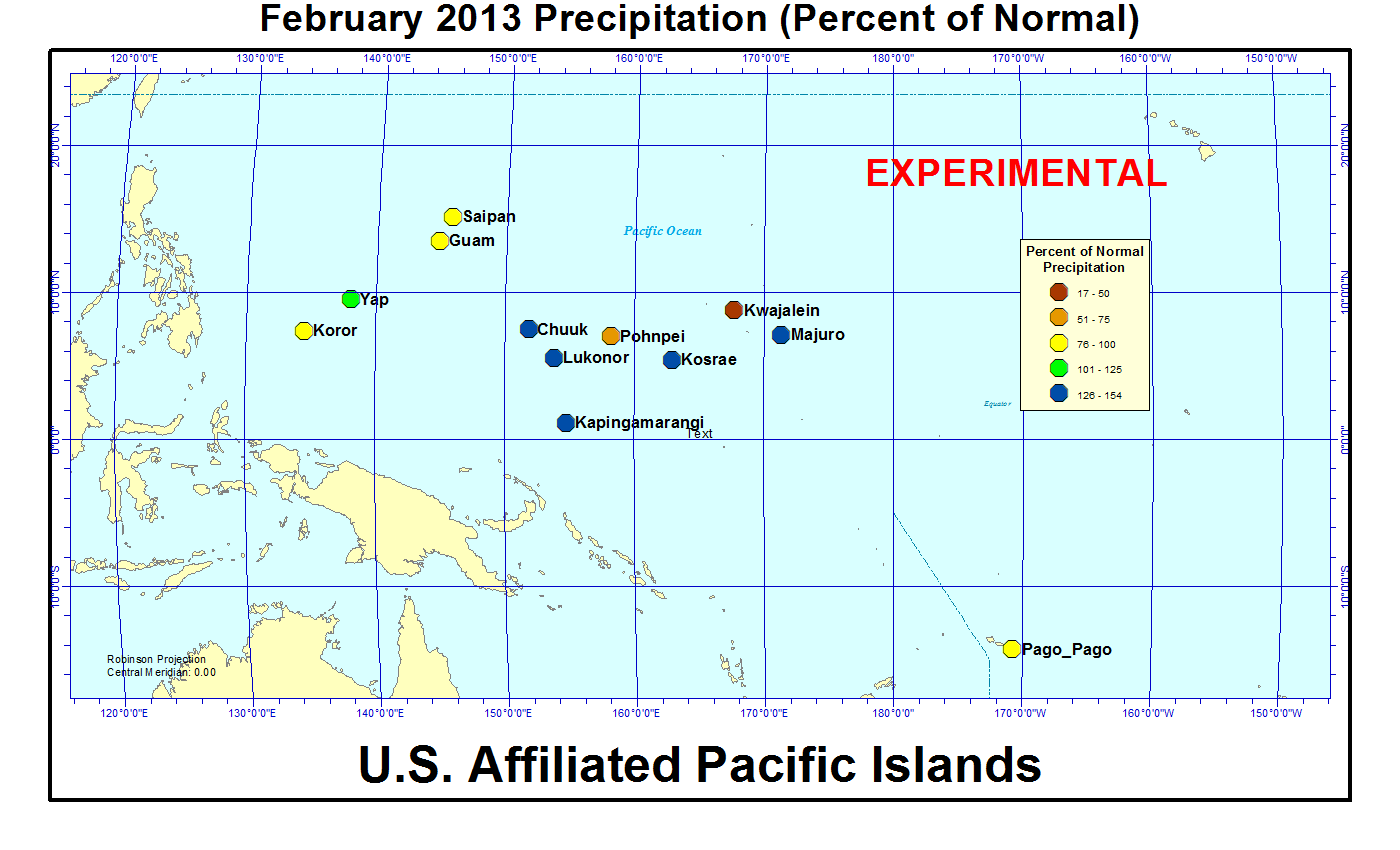 SPI values for seven time periods for Pacific Islands, computed by the Honolulu NWS office.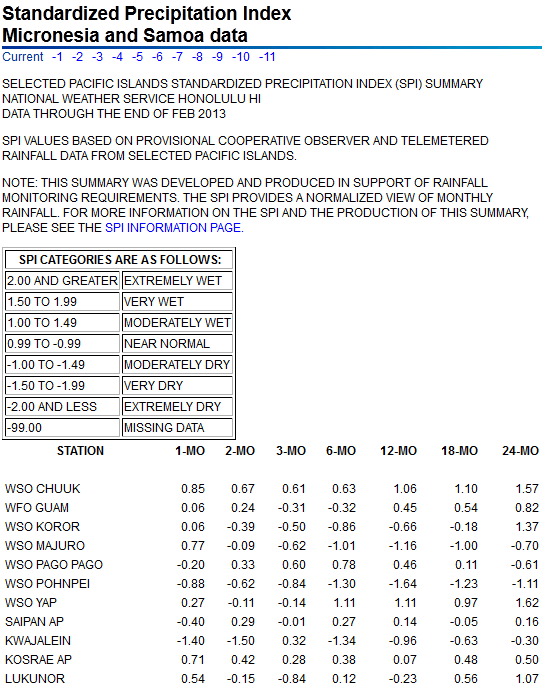 [top]
---
State/Regional/National Moisture Status
A detailed review of drought and moisture conditions is available for all contiguous U.S. states, the nine standard regions, and the nation (contiguous U.S.):
[top]
---
Drought Indicators
The following
indicators
illustrate the drought conditions this month:
[top]
---
Contacts & Questions
For additional, or more localized, drought information, please visit:

---
Citing This Report
NOAA National Centers for Environmental Information, State of the Climate: Drought for February 2013, published online March 2013, retrieved on October 19, 2018 from
https://www.ncdc.noaa.gov/sotc/drought/201302
.
---
Metadata