National Climate Report - February 2013
Great Lakes Basin
« National Climate Report - February 2013
---
Great Lakes Basin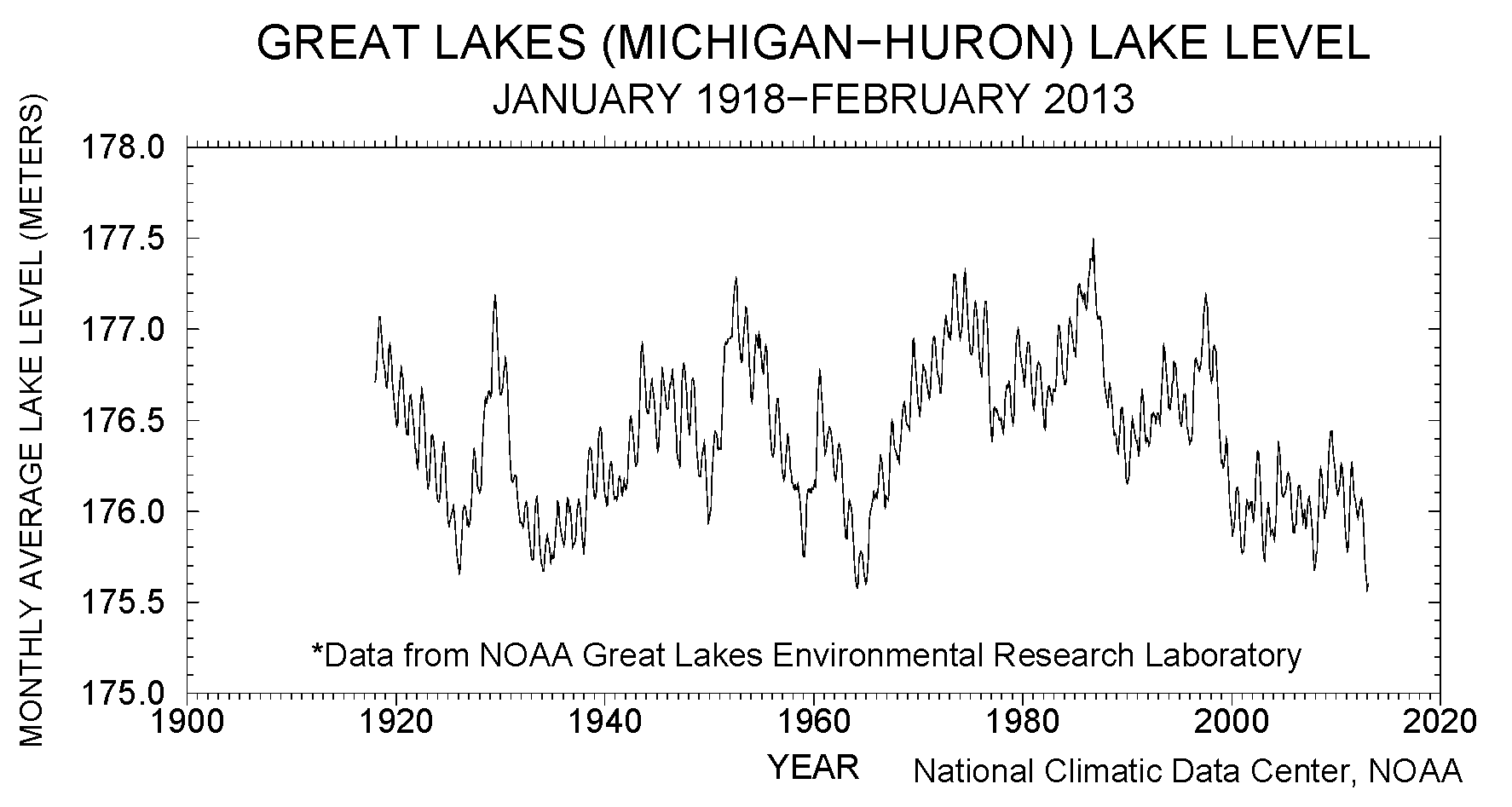 Monthly level (meters) of Great Lakes Michigan and Huron, January 1918-February 2013.
Recent media reports carried an announcement by the U.S. Army Corps of Engineers that two of the Great Lakes (Michigan and Huron) reached their lowest level in the 1918-present record at the end of January 2013, and the other Great Lakes (Superior, Erie, and Ontario) were also well below average. The lake level for Lakes Michigan and Huron remained at record low levels at the end of February 2013. Precipitation for the climate divisions draining into Lakes Huron and Michigan has been above the long-term average for the last several decades as well as for 2013 so far. Temperatures have been above average for the last decade or two, although they have been trending closer to average during 2013 to date. The Palmer Hydrological Drought Index (PHDI) for this region has fluctuated between wet and dry, but has been mostly on the wet side in recent years.
Similar patterns can be found basinwide (on the U.S. side of the Great Lakes river basin). Precipitation across the Great Lakes has been above the long-term mean for several decades, and 2013 precipitation has been above average for February and January-February. Temperatures for the last 15 years have mostly fluctuated above the long-term average, resulting in high potential evapotranspiration in recent years. For 2013 so far, temperatures have hovered closer to the long-term average, especially in February. The combination of above-average precipitation and lowering temperatures has resulted in a wet PHDI this winter.
---
Citing This Report
NOAA National Centers for Environmental Information, State of the Climate: National Climate Report for February 2013, published online March 2013, retrieved on August 23, 2019 from
https://www.ncdc.noaa.gov/sotc/national/201302/supplemental/page-4/
.
---
Metadata