Hurricanes and Tropical Storms - May 2015
Note:
This report catalogs recent tropical cyclones across the North Atlantic and East Pacific and places each basin's tropical cyclone activity in a climate-scale context. It is not updated in real time. Users seeking real time status and forecasts of tropical cyclones should visit The National Hurricane Center.
---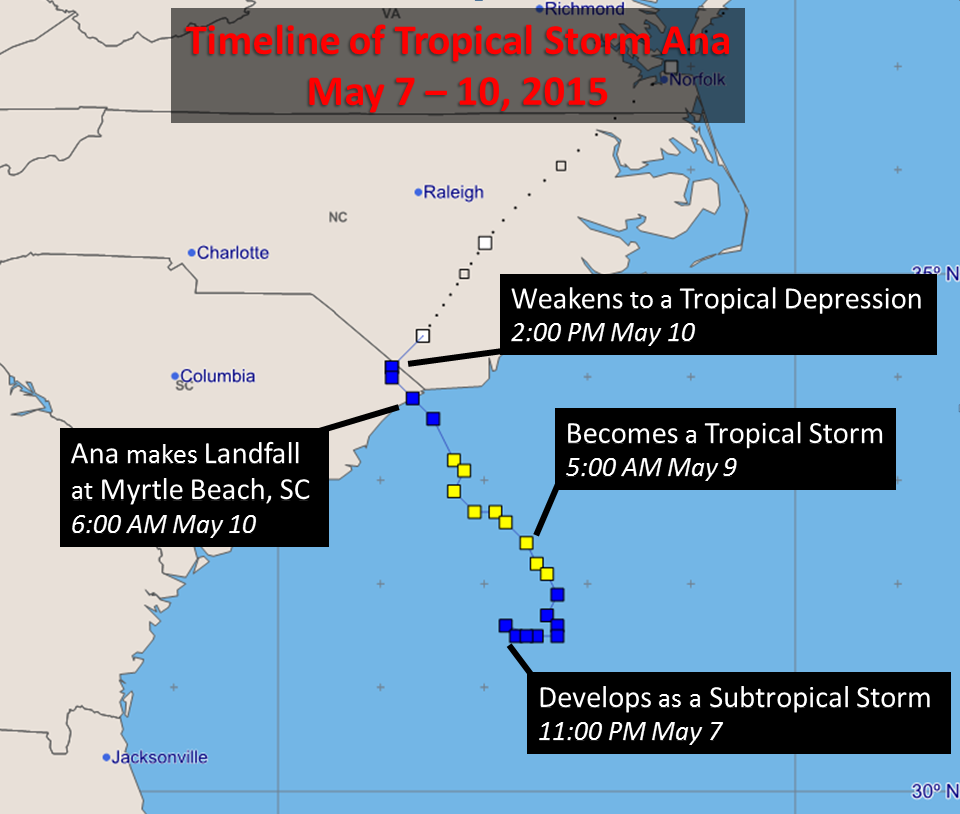 Tropical Storm Ana Track
Source:
NWS
Tropical Storm Ana formed off the South Carolina coast in early May 2015. Initially Ana was declared a subtropical storm on May 7th north of the Bahamas, with characteristics of both a tropical cyclone and an extra tropical cyclone. On May 8th and 9th, Ana moved northwestward over the warm Gulf Stream and transitioned to a tropical storm. Tropical Storm Ana reached maximum strength on the 9th with winds of 60 mph while offshore. Ana continued to drift to the Northwest and made landfall near Myrtle Beach, South Carolina on May 10th with sustained winds of 45 mph and gusts exceeding 60 mph. The winds and high surf caused severe beach erosion in parts of the Carolinas. After landfall, the storm moved to the northeast across coastal North Carolina and Virginia where precipitation totals exceeded six inches. The rainfall was beneficial for some locations where drought conditions had recently developed. There were no reports of fatalities or injuries during the event. Tropical Storm Ana is the second earliest landfalling tropical cyclone on record for the United States. Only the Groundhog Day tropical storm that struck Florida in February 1952 was earlier. Several other tropical storms and hurricanes have formed earlier in the season, but they did not make landfall in the United States. The official start to the North Atlantic hurricane season is June 1st.
---
Citing This Report
NOAA National Centers for Environmental Information, State of the Climate: Hurricanes and Tropical Storms for May 2015, published online June 2015, retrieved on August 25, 2019 from
https://www.ncdc.noaa.gov/sotc/tropical-cyclones/201505
.
---
Metadata