Hurricanes and Tropical Storms - July 2004
Atlantic Basin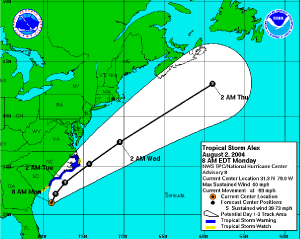 Tropical Storm Alex, August 2,2004
The first tropical system of the Atlantic season formed approximately 175 miles south-southeast of Charleston, South Carolina on July 31st. Tropical Depression One was initially poorly organized and did not show signs of significant intensification. However, the storm became Hurricane Alex during the first few days of August and more details can be found in the August report.
A table containing the Accumulated Cyclone Energy (ACE) index for global tropical cyclones, occurring during the month of July 2004 is available
---
Citing This Report
NOAA National Centers for Environmental Information, State of the Climate: Hurricanes and Tropical Storms for July 2004, published online August 2004, retrieved on August 11, 2020 from
https://www.ncdc.noaa.gov/sotc/tropical-cyclones/200407
.
---
Metadata