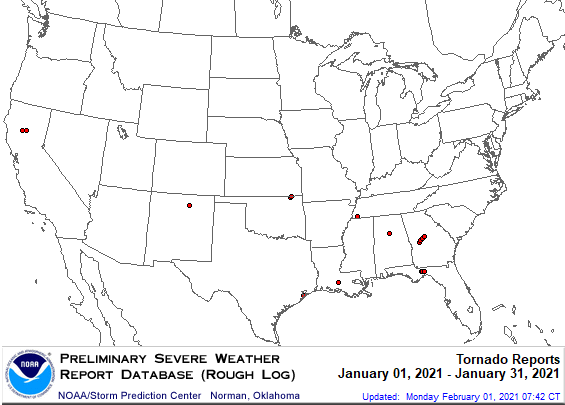 January 2021 Tornado Occurrences
Source: SPC
According to data from NOAA's Storm Prediction Center, during January, there were 16 preliminary tornado reports. This is well below the 1991-2010 average of 35 tornadoes for the month of January. The first tornado event for the month began on January 1, as four tornadoes produced scattered damage to homes, vehicles and infrastructure across central Georgia. These were weaker EF-0 and EF-1 tornadoes. There was one reported injury and no fatalities.
The most destructive tornado event of the month occurred on January 25 in Fultondale, Alabama. This event produced an EF-3 tornado that caused widespread damage to homes, vehicles, businesses and infrastructure. Fultondale High School also was impacted and sustained major damage. At least 30 people were injured and there was one fatality.
Another notable event for the month occurred on January 27 when a pair of EF-1 tornadoes impacted Leon County in Florida. One of these tornadoes first touched down west of the Tallahassee International Airport. This tornado caused damage to several airport hangers, planes and other vehicles. There were no reported injuries or fatalities.
---
Citing This Report
NOAA National Centers for Environmental Information, State of the Climate: Tornadoes for January 2021, published online February 2021, retrieved on September 21, 2021 from
https://www.ncdc.noaa.gov/sotc/tornadoes/202101
.
---
Metadata