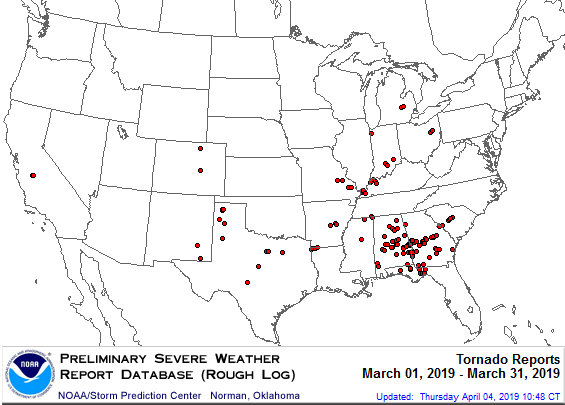 March 2019 Tornado Occurrences
Source: SPC
This analysis is based on preliminary data available from the Storm Prediction Center. Final tornado counts published by the Storm Prediction Center and NCEI's Storm Events Database might differ from this report. For a more detailed climatology, please visit our tornado climatology page.
According to data from NOAA's Storm Prediction Center, during March there were 145 preliminary tornado reports. This is well above the 1991-2010 average of 80 tornadoes for the month of March. sThe majority of the March tornadoes occurred in two separate events. The most severe tornado outbreak of the month occurred on March 3, in which 70 tornadoes developed across Alabama, the Florida panhandle, Georgia and South Carolina. This tornado outbreak included an EF-4 tornado in Macon County, Alabama that caused 23 deaths. This EF-4 was the deadliest single tornado in the U.S. since the 2013 EF-5 tornado in Moore, OK.
A second notable tornado-producing day occurred on March 14, as nearly 40 tornadoes were reported. Alabama again was impacted by a cluster of tornadoes while a number of isolated tornadoes were scattered across Kentucky, Indiana, Ohio and Michigan. No deaths were reported.
---
Citing This Report
NOAA National Centers for Environmental Information, State of the Climate: Tornadoes for March 2019, published online April 2019, retrieved on January 20, 2022 from
https://www.ncdc.noaa.gov/sotc/tornadoes/201903
.
---
Metadata