Tornadoes - October 2013
---
---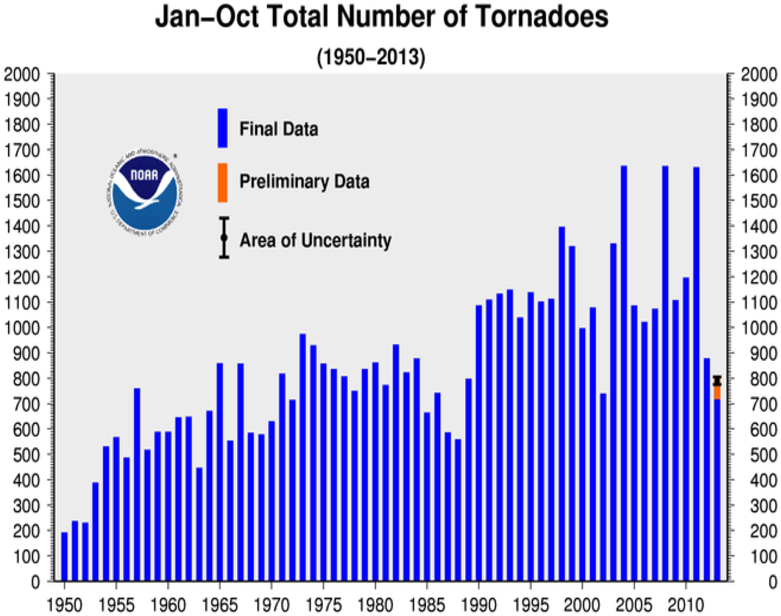 January–October tornado counts
According to data from the Storm Prediction Center, during October, there were 72 preliminary tornado reports. This is above the 1991-2010 average of 61 for the month. There were no tornado-related fatalities. This was the first above-average tornado month since February 2013; however the year-to-date number of tornadoes continues to be much below average. There were 717 confirmed tornadoes for January-August, with 88 preliminary tornado reports still pending for September and October, for an estimated year-to-date (January-October) tornado count of 805. The 1991-2010 average number of tornados for the 10-month period is 1,171.
A strong low pressure system moved through the Northern and Central Plains on October 3rd–4th, spawning numerous strong tornadoes in eastern Nebraska and western Iowa. The same storm system was associated with the blizzard conditions in South Dakota and Wyoming. During the two-day period, there were 25 preliminary tornado reports. One of the tornadoes hit near Wayne, Nebraska on October 4th and was rated an EF-4, with a path length of 19 miles and a maximum width of 1.4 miles. Numerous homes and other structures were destroyed, leaving 15 people injured with no reported fatalities. Tornadoes in October in Nebraska are rare, with the state averaging three for the month during the 1991-2010 period. This tornado was the first EF-4 to impact the state since the Hallam EF-4 tornado on May 22, 2004. Across the entire U.S., there have only been five other EF-4 tornadoes reported during the month of October. The last EF-4 (or F-4) strength tornado to hit the U.S. during October occurred in Connecticut in 1979. The only other EF-4 (or F-4) tornado to hit Nebraska during October occurred in 1956.
On October 31st, a cold front moving through the central U.S. spawned numerous tornadoes from the Gulf Coast into the Ohio River Valley, with 39 preliminary tornado reports. Most of the tornadoes occurred across the Mid-Mississippi River Valley in southwestern Missouri, southern Illinois, and western Kentucky. A majority of the tornadoes were weak, rated EF-0 or EF-1, with one EF-2 confirmed near Baker, Missouri. The EF-2 had estimated winds of 115 mph, and was responsible for damage to numerous structures. No deaths and only minor injuries were reported.
---
Citing This Report
NOAA National Centers for Environmental Information, State of the Climate: Tornadoes for October 2013, published online November 2013, retrieved on January 21, 2018 from
https://www.ncdc.noaa.gov/sotc/tornadoes/201310
.
---
Metadata