Tornadoes - March 2013
---
NCEI added Alaska climate divisions to its nClimDiv dataset on Friday, March 6, 2015, coincident with the release of the February 2015 monthly monitoring report. For more information on this data, please visit the Alaska Climate Divisions FAQ.
---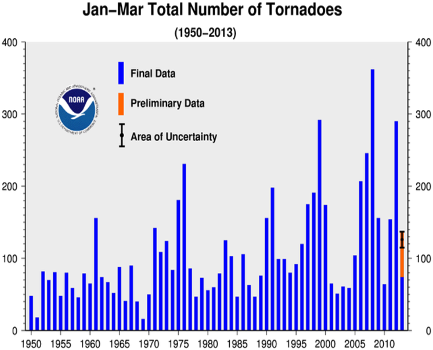 January–March tornado counts
According to data from the Storm Prediction Center, during March, there were 18 preliminary tornado reports. This is well below the 1991-2010 average of 80 for the month, and marks one of the ten slowest Marches on record in terms of reported tornadoes. The last March with less than 20 tornadoes occurred in 1978, when 17 tornadoes were confirmed. March marks the beginning of the more active time of year, with tornado activity typically peaking in May and June. The most active tornado day during March was the 18th when a storm system moved through the Southeast, spawning 10 weak tornadoes in Tennessee, Alabama, and Georgia, causing only minor damage. The above-average tornado activity in January and February, combined with the slow March, led to a near-average preliminary tornado count of 138 for the year-to-date period.
---
Citing This Report
NOAA National Centers for Environmental Information, State of the Climate: Tornadoes for March 2013, published online April 2013, retrieved on April 30, 2017 from
https://www.ncdc.noaa.gov/sotc/tornadoes/201303
.