Updated: 7 March 2012
The values in this report are preliminary, and the final counts and results will change as tornado events are investigated and confirmed. This month's report will not be updated with final statistics. For final information please visit the following sites:
---
---
According to data from the Storm Prediction Center, the count of preliminary tornado reports during February 2012 — 57 — was nearly twice the 1991-2010 average of 29. Most of the tornadoes during the month occurred on the 28th and 29th, when a strong storm system moved through the south-central U.S. leading to 42 preliminary tornado reports from Nebraska to Tennessee. February tornadoes are unusual, but are certainly not unheard of, and there is high variability in tornado occurrences during the cool season. February is climatologically the least active tornado month of the year.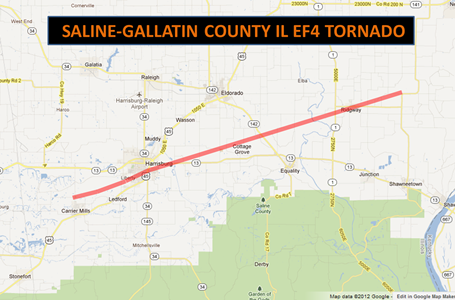 Harrisburg, IL tornado track

Source:
NWS
An unusually strong storm system for the month of February moved through the Mid-Mississippi River Valley and into the Ohio Valley on February 28th and 29th, leading to 42 preliminary tornado reports from Nebraska into Tennessee. An EF-0 tornado was confirmed near Gandy, Nebraska and was the first tornado ever observed in the state during the month of February. An EF-4 tornado hit the southern Illinois town of Harrisburg overnight on the 28th, causing significant damage. This marks only the third EF-4 or stronger tornado on record to hit the state during the month of February. According to the National Weather Service storm survey, over 200 homes were destroyed or heavily damaged, six people died, and over 100 injuries were reported in the small town. The tornado had winds estimated as high of 180 mph, with an average path width of 275 yards, and a path length of 26.5 miles. Numerous EF-2 and stronger tornadoes were confirmed across Missouri, Illinois, Kentucky, and Tennessee during the outbreak, leading to a total of 13 fatalities. An EF-2 tornado hit downtown Branson, Missouri, a popular tourist destination, destroying several buildings in the town.
---
Citing This Report
NOAA National Centers for Environmental Information, State of the Climate: Tornadoes for February 2012, published online March 2012, retrieved on December 1, 2021 from
https://www.ncdc.noaa.gov/sotc/tornadoes/201202
.
---
Metadata