Tornadoes - December 2011
---
NCEI added Alaska climate divisions to its nClimDiv dataset on Friday, March 6, 2015, coincident with the release of the February 2015 monthly monitoring report. For more information on this data, please visit the Alaska Climate Divisions FAQ.
---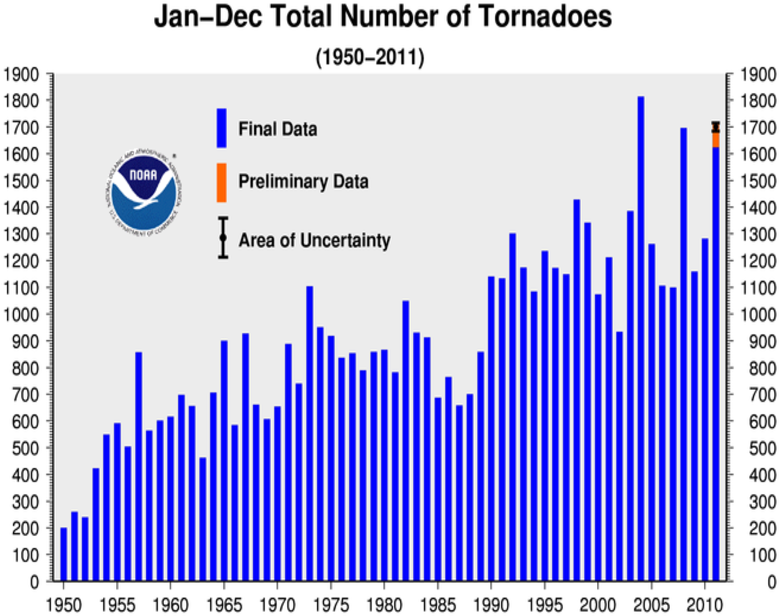 2011 Tornado Reports

Source:
SPC
According to data from the Storm Prediction Center, the preliminary count of tornado reports during December 2011 — 33 — was slightly above the 1991-2010 average of 24. Most of the month's tornadoes occurred during a single outbreak on December 22nd, when a cold front pushing through the Southeast spawned 12 preliminary reports of weak tornadoes from Louisiana to Georgia. The preliminary tornado reports during December pushed the annual tornado count upwards slightly. During the January-December period, 1,625 tornadoes have been confirmed across the country, with 93 reports still pending for November and December. The will rank 2011 as the second or third most active tornado year on record, depending on how many tornadoes are confirmed from the last two months of 2011. There were 1,817 tornadoes confirmed in 2004 and 1,689 tornadoes in 2008. The modern torando record dates back to 1950.
---
Citing This Report
NOAA National Centers for Environmental Information, State of the Climate: Tornadoes for December 2011, published online January 2012, retrieved on April 30, 2017 from
https://www.ncdc.noaa.gov/sotc/tornadoes/201112
.