Tornadoes - November 2011
---
---
According to data from the Storm Prediction Center, the count of tornado reports during November 2011 — 60 — was near the 1991-2010 average of 58. The tornado activity during the month of November was mostly confined to the southern tier of the country. The preliminary tornado reports during November continued to push the annual tornado count upwards, with the 2011 tornado count encroaching on the annual record of 1,817 set in 2004. During the January-November period, 1,543 tornadoes have been confirmed with 146 preliminary tornado reports still pending. This ranks the January-November 2011 period among the top three most active such periods since the modern tornado record began in 1950.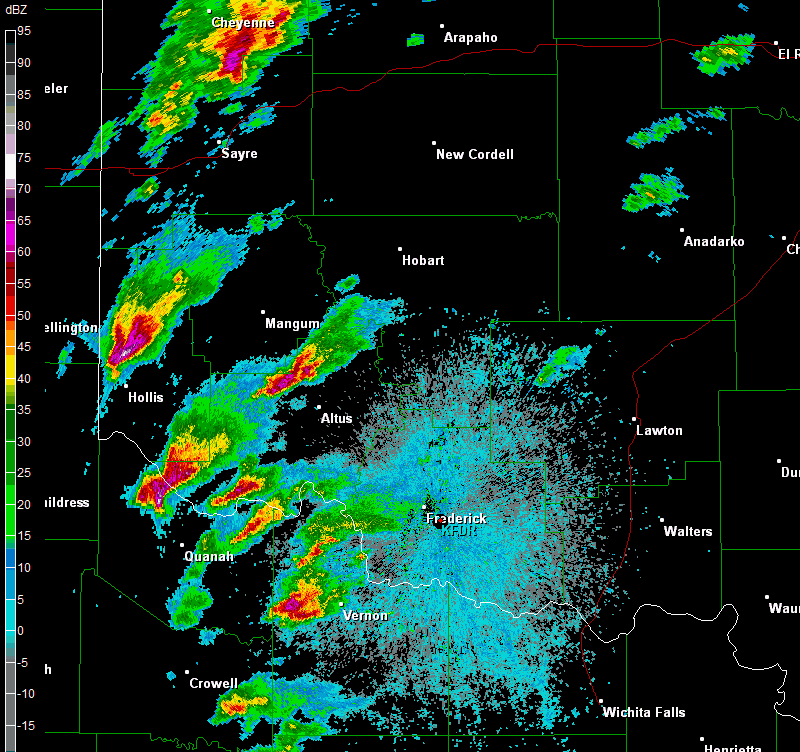 Radar Loop of Oklahoma Tornado Outbreak
7-8 November 2011
Source:
NWS
On November 7th, an EF-4 tornado was confirmed near Tipton, Oklahoma. The tornado was associated with a supercell thunderstorm which spawned five other tornadoes the same day across southwestern Oklahoma. The tornado was a rarity for the United States. This was the first observed EF-4 to hit Oklahoma during the month of November, and only the 22nd EF-4 or stronger tornado on record to ever touch down anywhere in the country during November.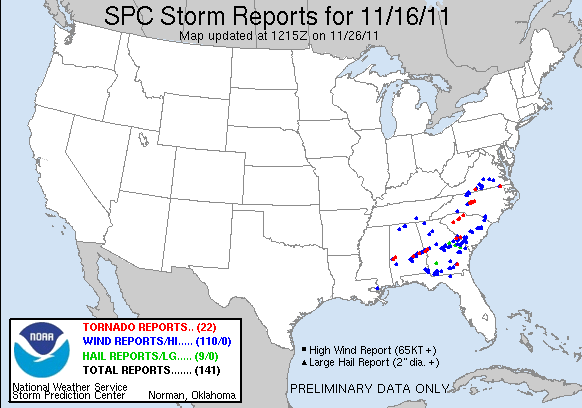 Severe Weather Reports 16 November 2011
Source:
SPC
The most significant tornado outbreak during November 2011 occurred on the 15th and 16th of the month when there were 29 preliminary tornado reports across the South and Southeast. A strong low pressure system moving across the center of the country brought a strong cold front through the southeastern United States. As the cold front moved through, it spawned severe weather from Texas to Virginia. There were five fatalities reported, associated with two tornadoes in the Carolinas.
---
Citing This Report
NOAA National Centers for Environmental Information, State of the Climate: Tornadoes for November 2011, published online December 2011, retrieved on January 18, 2018 from
https://www.ncdc.noaa.gov/sotc/tornadoes/201111
.
---
Metadata