Tornadoes - August 2010
---
*The error bar for 2010 indicates the uncertainty between the preliminary tornado reports and verfied tornadoes.
---
Tornadic activity during August 2010 was slightly below average for the United States. The monthly preliminary tornado count of 70 brought the year-to-date count to 1,155, according to the Storm Prediction Center (SPC). The continued active pattern across the nrthern Plains and western Great Lakes brought the most tornadoes to North Dakota and Minnesota during August. For the second month in a row, the typically active 'Tornado Alley' and the Gulf Coast were extremely quiet. According to local, state, and regional officials, te 24 preliminary tornado reports in Minnesota during August will push the state further over its annual tornado record of 74, which was set in 2001. Minnesota typically receives 26 tornadoes annually. The National Weather Service attributed the active pattern this summer to the waning El Niño and the development of La Niña in the equatorial Pacific Ocean.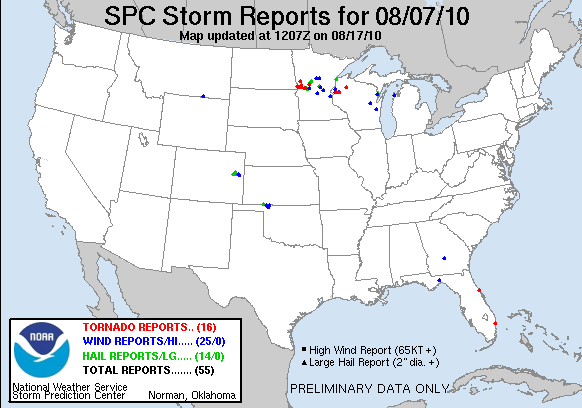 7 August Storm Reports
Source:
SPC
The most significant tornado outbreak during August occurred across North Dakota, Minnesota, and Wisconsin on August 7th. A convective storm complex moving across the northern Plains was associated with 14 preliminary tornado reports. An EF-4 tornado hit near Doran, Minnesota. According to the National Weather Service assessment, the twister first touched down in Richland County, North Dakota and travelled five miles into Wilkin County, Minnesota. Peak winds were estimated to be 175 mph (282 km/hr) and the tornado had a maximum width of 600 yards (549 meters). Fourteen farm buildings were destroyed and numerous beet and sugar beet crops were damaged due to the tornado. Fortunately there were no fatalities or significant injuries associated with this storm
Bowbells, ND tornado track
Source:
NWS
The only tornado–related fatality during August occurred when a strong EF-3 affected northern North Dakota near Bowbells on August 12th. The tornado was on the ground for 14 miles (23 km) and had a maximum path width of 400 yards (366 meters). An automobile with two passengers was carried by the tornado nearly 200 yards (183 meters), killing one and injuring the other. One farm home in the path of the storm was severely damaged with the roof and several walls removed from the structure. Most other structures on the farm were also destroyed or heavily damaged. The National Weather Service storm assessment found farm machinery that had an estimated weight of 60 thousand pounds was moved 100 yards (91 meters), likely through the air.
---
Citing This Report
NOAA National Centers for Environmental Information, State of the Climate: Tornadoes for August 2010, published online September 2010, retrieved on January 21, 2018 from
https://www.ncdc.noaa.gov/sotc/tornadoes/201008
.
---
Metadata