Summary Information
The State of the Climate Summary Information is a synopsis of the collection of national and global summaries released each month.
---
National Summary Information - March 2015
See Full Report
Maps and Graphics
Temperature and Precipitation Ranks
U.S. Percentage Areas
More Information
---
For extended analysis of regional temperature and precipitation patterns,as well as extreme events, please see our full report that will be released on April 10th.
---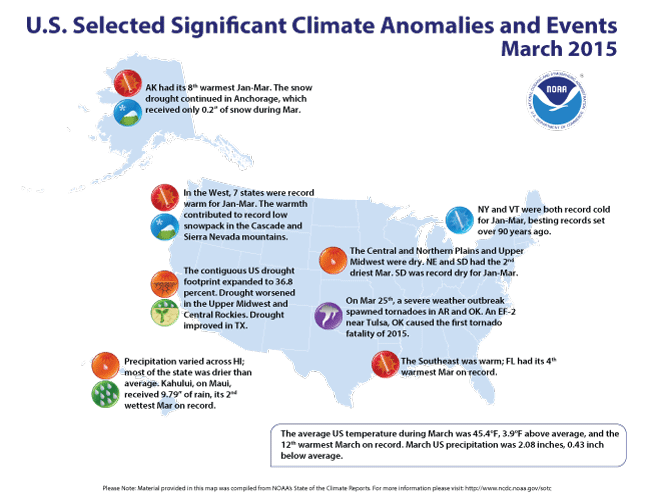 Significant climate events for March 2015
March was 12th warmest on record for the Contiguous United States
First quarter 2015: Record warmth in the West and cold in the Northeast, dire drought conditions in the West
The March contiguous U.S. average temperature was 45.4°F, 3.9°F above the 20th century average — the warmest March since 2012. Near-record warmth spanned the Great Plains to the West Coast and parts of the Southeast, while the Northeast was cooler than average. The March Lower 48 precipitation total was 2.08 inches, 0.43 inch below average, tying as the 19th driest March on record. Below-average precipitation was widespread across the northern tier states and the Southeast, with above-average precipitation in the Southern Plains and Ohio Valley.
This analysis of U.S. temperature and precipitation is based on data back to January 1895, resulting in 121 years of data.
March
U.S. climate highlights: Year-to-date (January-March)