Summary Information
The State of the Climate Summary Information is a synopsis of the collection of national and global summaries released each month.
---
National Summary Information - December 2013
See Full Report
Maps and Graphics
Temperature and Precipitation Ranks
U.S. Percentage Areas
More Information
2013 warmer and wetter than average for the contiguous US
Seven weather and climate disasters exceeded $1 billion in damages; national drought footprint shrank drastically though intensified in Far West
The average temperature for the contiguous U.S. during 2013 was 52.4°F, 0.3°F above the 20th century average, tying with 1980 as the 37th warmest year in the 119-year period of record. The year consisted of a warmer-than-average winter, summer, and autumn, and a cooler-than-average spring.
For the year, the average precipitation total for the contiguous U.S. was 31.17 inches, 2.03 inches above the 20th century average. This marked the 21st wettest year on record and the wettest since 2009. California was record dry, while Michigan and North Dakota were record wet; Alaska had its third wettest year.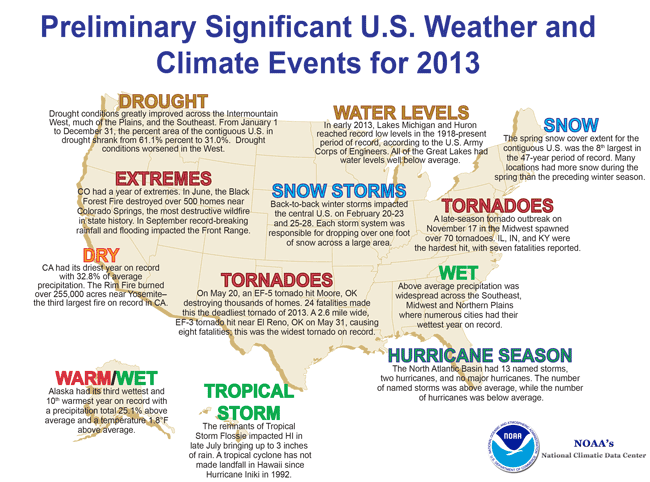 Significant weather and climate events for 2013
Click image to enlarge, or
click here for the National Overview
.
2013 Extremes