Summary Information
The State of the Climate Summary Information is a synopsis of the collection of national and global summaries released each month.
---
National Summary Information - November 2013
See Full Report
Maps and Graphics
Temperature and Precipitation Ranks
U.S. Percentage Areas
More Information
Contiguous U.S. experiences wetter and warmer than average autumn, while November was drier and cooler than average.
Lower-48 drought footprint shrank to 30.6 percent by early December; Alaska experienced its 10th warmest autumn.
The average temperature for the contiguous U.S. during the autumn season (September-November) was 54.1°F, slightly above the 20th century average. The November temperature was 41.6°F and slightly below the 20th century average.
The total autumn precipitation averaged across the contiguous U.S. was 7.23 inches, 0.52 inch above average, marking the 34th wettest autumn on record. The November national precipitation total was 0.11 inch below average at 2.01 inches.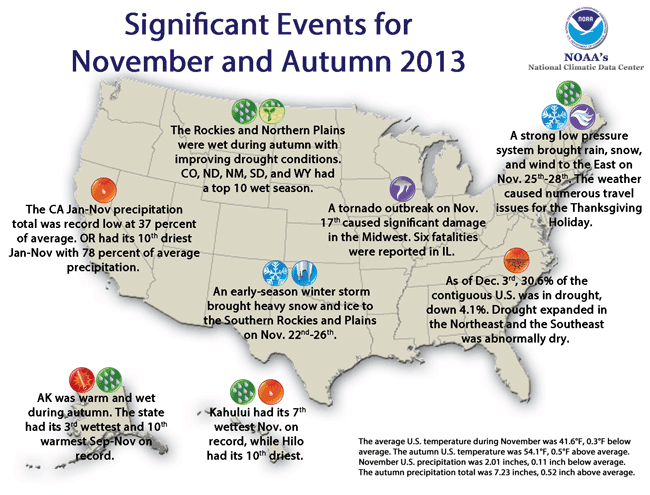 Significant climate events for November 2013. Click image to enlarge, or
click here for the National Overview
.
U.S. climate highlights: autumn (September-November)