Summary Information
The State of the Climate Summary Information is a synopsis of the collection of national and global summaries released each month.
---
National Summary Information - August 2013
See Full Report
Maps and Graphics
Temperature and Precipitation Ranks
U.S. Percentage Areas
More Information
Contiguous U.S. had eighth wettest and 15th warmest summer
Nation had wettest summer since 2004; Warmth dominated West and Northeast; Alaska had its second warmest summer
The average temperature for the contiguous U.S. during the summer season (June-August) was 72.6°F, 1.2°F above the 20th century average. The August temperature was 73.1°F, 1.0°F above the 20th century average — the 28th warmest such month on record for the Lower 48.
The total summer precipitation averaged across the contiguous U.S. was 9.53 inches, 1.28 inches above average and the wettest summer since 2004. The August national precipitation total was slightly above average at 2.63 inches.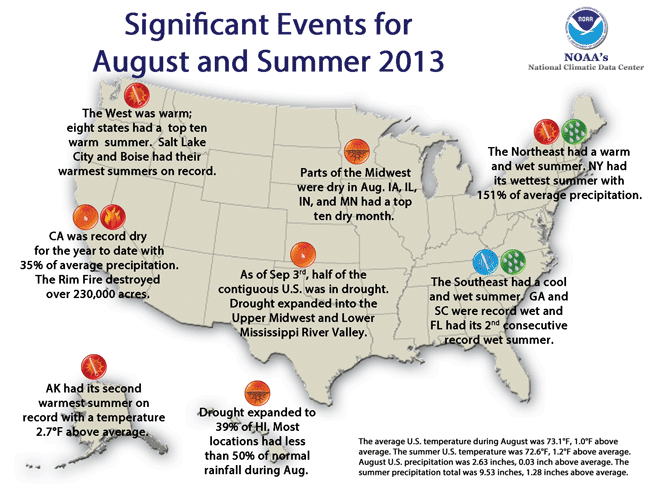 Significant climate events for August 2013.
Click image to enlarge, or
click here for the National Overview
.
U.S. climate highlights: summer (June-August)
U.S. climate highlights: August
U.S. climate highlights: year-to-date (January-August)