Summary Information
The State of the Climate Summary Information is a synopsis of the collection of national and global summaries released each month.
---
National Summary Information - July 2013
See Full Report
Maps and Graphics
Temperature and Precipitation Ranks
U.S. Percentage Areas
More Information
Contiguous U.S. wetter and warmer-than-average during July
July was fifth wettest, 30th warmest on record; flooding impacted the Southeast, drought continued in the West, Alaska had fifth warmest July
The average temperature for the contiguous U.S. during July was 74.3°F, 0.8°F above the 20thcentury average. The West and Northeast were warmer than average, while the central and southeastern U.S. were cooler than average. Further north, the Alaska statewide temperature was 1.7°F above normal, making it the state's fifth warmest July, with Anchorage setting a record of 14 consecutive days above 70°F.
The nationally-averaged precipitation total for July was 3.47 inches, 0.71 inch above the 20thcentury average. July brought both wet and dry precipitation extremes to the nation. The Northwest and Upper Mississippi River Valley were drier than average, while most other locations had above-average precipitation.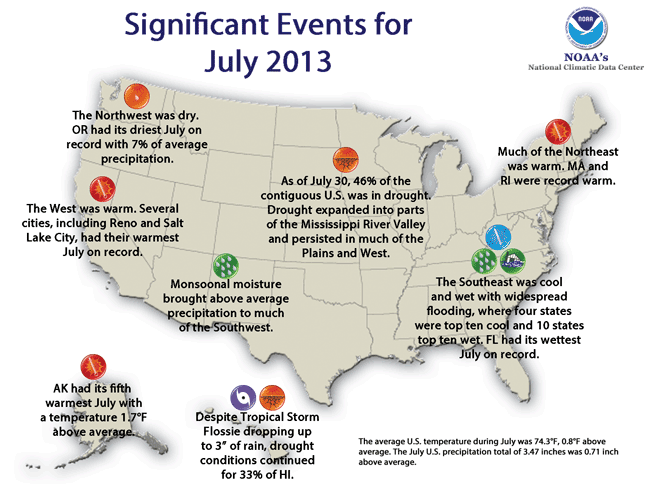 Significant climate events for July 2013.
Click image to enlarge, or
click here for the National Overview
.
U.S. climate highlights: July
U.S. climate highlights: year-to-date (January-July)