Summary Information
The State of the Climate Summary Information is a synopsis of the collection of national and global summaries released each month.
---
National Summary Information - June 2013
See Full Report
Maps and Graphics
Temperature and Precipitation Ranks
U.S. Percentage Areas
More Information
Contiguous U.S. experiences warmer and wetter-than-average June
The Lower-48 had its 15th warmest and 13th wettest June on record. The East was wet, while drought and wildfires impacted the West. Alaska experienced 3rd warmest June.
The average temperature for the contiguous U.S. during June was 70.4°F, 2.0°F above the 20thcentury average. The western U.S. and the East Coast were warmer than average, while much of the central and southeastern U.S. had near-average temperatures.
The nationally averaged precipitation total for June was 3.43 inches — 0.54 inch above the 20thcentury average. However, drought continued to impact the West and parts of the Central and Southern Plains, and wildfires charred more than 1.2 million acres nationwide.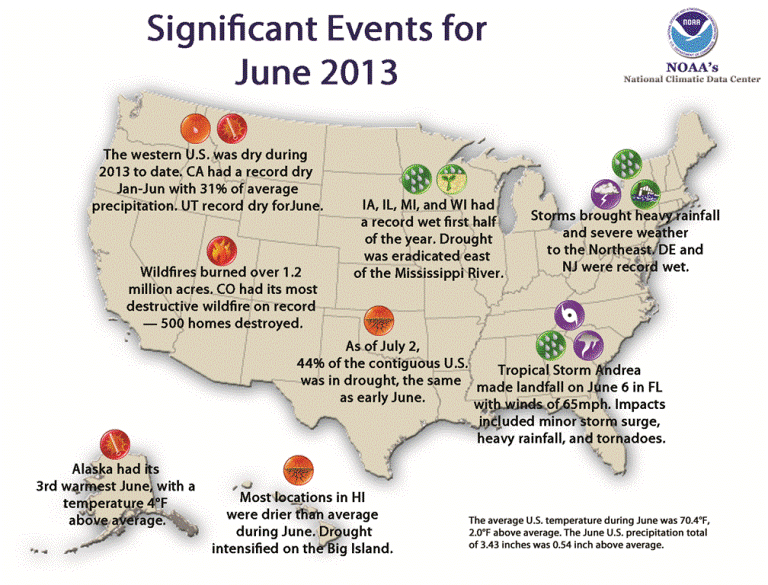 Significant climate events for June 2013.
Click image to enlarge, or
click here for the National Overview
.
U.S. climate highlights: June
U.S. climate highlights: year-to-date (January-June)
Above-average precipitation was widespread across the eastern half of the country, with 12 states having one of their ten wettest year-to-date periods. Illinois, Iowa, Michigan, and Wisconsin were all record wet for January-June.
The U.S. Climate Extremes Index (USCEI), an index that tracks the highest and lowest 10 percent of extremes in temperature, precipitation, tropical cyclones, and drought across the contiguous U.S., was below average during January-June. Despite the below-average USCEI, extremes in the spatial extent of drought and 1-day precipitation totals were above average.