Summary Information
The State of the Climate Summary Information is a synopsis of the collection of national and global summaries released each month.
---
National Summary Information - March 2013
See Full Report
---
March cool and dry for the contiguous United States
U.S. experiences coolest March since 2002. Drought conditions continue in the Great Plains and West. March snow cover extent 10th largest on record.
The average temperature for the contiguous U.S. during March was 40.8°F, 0.9°F below the 20th century average and the 43rd coolest March on record. Colder temperatures dominated east of the Rockies and warm conditions prevailed in the West. For the first three months of 2013, the national temperature was 0.5°F above average.
The March nationally-averaged precipitation total of 1.68 inches was 0.72 inch below the long-term average. This marked the fifth driest March on record for the nation, and the driest since 1966. Drought improved in the Southeast and Midwest, while drought continued to impact much of the Great Plains and West.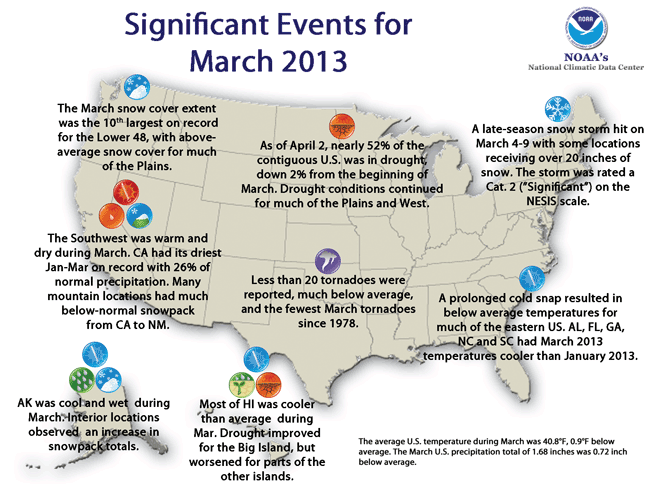 Significant climate events for March 2013.
Click image to enlarge, or
click here for the National Overview
.
U.S. climate highlights: March
U.S. climate highlights: Year-to-Date (January — March)
U.S. climate highlights: Cold Season (October 2012 — March 2013)
The U.S. cold season was 1.1°F warmer than average, with a nationally-averaged temperature of 40.3°F. A large area of the country had Vermont experienced its eighth warmest cold season, with an average temperature 3.6°F above average.
The cold season was drier than average for the nation as a whole, with a precipitation total of 12.16 inches, 0.95 inch below average. Above-average precipitation was observed in the Midwest, the central Gulf Coast, and Mid-Atlantic.
The U.S. Climate Extremes Index (USCEI), an index that tracks the highest and lowest 10 percent of extremes in temperature, precipitation and drought across the contiguous U.S., was below average during the cold season. However, the component that examines the spatial extent of drought was three and a half times the normal value for the six month period and the third largest October-March value in the 103-year period of record. Only the cold seasons of 1953/54 and 1934/35 had larger drought components of the USCEI.