Summary Information
The State of the Climate Summary Information is a synopsis of the collection of national and global summaries released each month.
---
National Summary Information - February 2013
See Full Report
Maps and Graphics
Temperature and Precipitation Ranks
U.S. Percentage Areas
More Information
Contiguous U.S. warmer and wetter than average for winter season
February temperatures and precipitation near-normal; Drought conditions improve for Southeast and Midwest and persist for much of Plains and West.
The average temperature for the contiguous U.S. during the winter season (December 2012 — February 2013) was 34.3°F, 1.9°F above the 20th century average, marking the 20th warmest winter on record. The February temperature for the contiguous U.S. was 34.8°F, 0.8°F above average.
The total winter precipitation averaged across the contiguous United States was 7.10 inches and this was 0.63 inches above the 20th century average. February contributed 2.00 inches to this total, which was near the long-term average. During February, several winter storms impacted the nation, improving drought conditions across the Southeast and Midwest, but lighter precipitation totals across the Central Plains and Mountain West provided little drought relief.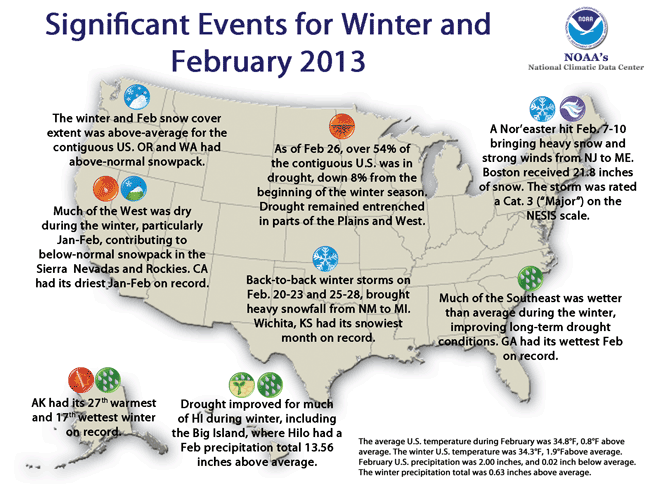 Significant climate events for February 2013.
Click image to enlarge, or
click here for the National Overview
.
U.S. climate highlights: February
U.S. climate highlights: Winter Season (December 2012 — February 2013
U.S. climate highlights: Year-to-Date (January — February 2013)
The first two months of 2013 were warmer than average for the contiguous U.S. with a nationally-averaged temperature of 33.3°F, 1.2°F above average. Near- and above-average temperatures were recorded east of the Rockies. Florida experienced its 11th warmest January—February with a statewide temperature 3.7°F above average. Below-average temperatures were present for much of the West, from California to Colorado. Utah had its 12th coolest January — February, with temperatures 5.3°F below average.
The January — February precipitation total for the U.S. was 4.36 inches, just 0.12 inch below average. The West and Northeast were both drier than average during the 2-month period. California had its driest January — February on record, with an average precipitation total of 1.75 inches, well below its average of 8.28 inches. Above-average precipitation was present for parts of the Midwest and Gulf Coast, where seven states were top ten wet.