Summary Information
The State of the Climate Summary Information is a synopsis of the collection of national and global summaries released each month.
---
National Summary Information - September 2012
See Full Report
Maps and Graphics
Temperature and Precipitation Ranks
U.S. Percentage Areas
More Information
---
Contiguous U.S. experiences warmer than average September
Record and near-record dryness across the Northern Plains and Northwest created ideal wildfire conditions during September.
The average temperature for the contiguous U.S. during September was 66.3°F, 1.5°F above the long-term average, marking the 18th warmest such month on record. September 2012 marks the 16th consecutive month with above average temperatures for the Lower 48.
The September nationally-averaged precipitation total of 2.40 inches was slightly below the long-term average. The Northern Plains, Northern Rockies, and Northwest were record and near-record dry for the month. Much above-average precipitation was observed in the Ohio Valley. As of October 2nd, 64.6 percent of the contiguous U.S. continued to experience drought conditions.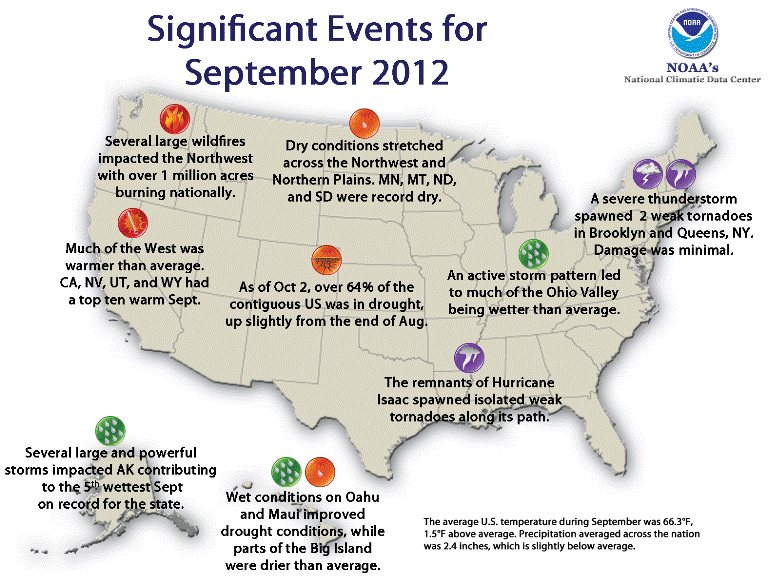 Significant climate events for September 2012.
Click image to enlarge, or
click here for the National Overview
.
Note: The September Monthly Climate Report for the United States has several pages of supplemental information and data regarding some of the exceptional events from the month and season.
U.S. climate highlights: September
U.S. climate highlights: warm season (April-September)
U.S. climate highlights: year-to-date (January-September)
The January-September period was the warmest first nine months of any year on record for the contiguous United States. The national temperature of 58.9°F was 3.8°F above the 20th century average, and 1.3°F above the previous record warm January-September of 2006. During the nine-month period, 46 states had temperatures among their ten warmest, with 25 states being record warm. Only Washington had statewide temperatures near average for the period.
January-September 2012 was the 11th driest such period on record for the contiguous U.S. with a precipitation total 1.98 inches below the average of 22.67 inches. The central portion of the country, from the Ohio Valley to the Rocky Mountains, was drier than average. Wetter-than-average conditions were observed along the Gulf Coast and in the Pacific Northwest.
The USCEI was more than twice the average value during the January-September period, and marked the highest USCEI value for the period. Extremes in warm daytime temperatures and warm nighttime temperatures contributed to the record high USCEI value.

This graphic shows the calendar-year temperature outcomes based upon observed January-through-September temperatures, and eight historical scenarios for October-through-December.

Click here for more information

.
U.S. climate highlights: 12-month Period (October 2011 - September 2012)