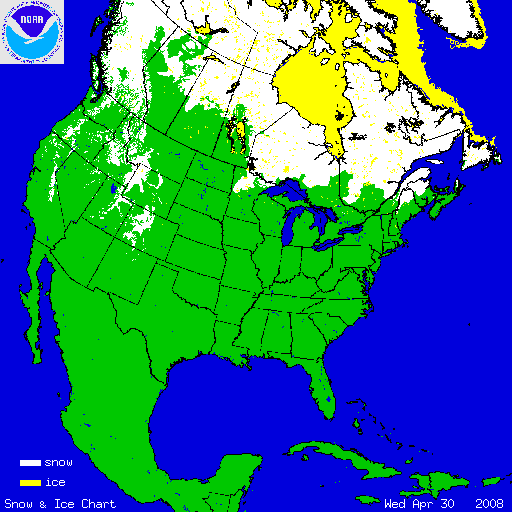 National Snow and Ice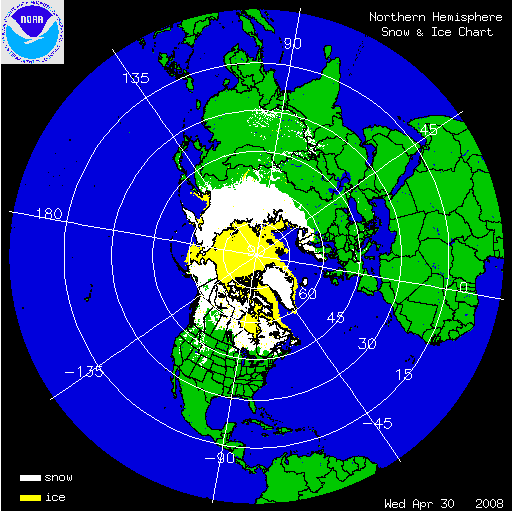 Northern Hemisphere Snow and Ice
---
The 2007-2008 snow season began with above average snowfall across parts of the Southwest and well-below-normal amounts in the Sierra Nevada, Cascades, and the Bear (ID, UT) and Salt River Ranges. A major ice storm struck parts of the south-central U.S. in the second week of December 2007, leaving over 600,000 residents in Oklahoma without power and causing over 20 fatalities across five states, prompting the governor to declare the ice storm the worst in Oklahoma history.
The same system later brought heavy amounts of snow to the Northeast, slamming Boston with up to ten inches (25.4 cm) on December 13th. As many residents began to clear out from the last storm, another strong upper-level system moved across the central U.S. through New England between December 15th-17th, bringing ice, sleet, damaging winds, and as much as 18 inches (45.7 cm) of snow in some areas. Detroit, MI, received 9.0 inches (22.9 cm) of snow, tying it as the 9th biggest December snowstorm on record. By the 17th, the total snowfall (19.6 inches/49.8 cm) in Boston, MA was more than the total snowfall of 2006-2007 (17.1 inches/43.4 cm).
February brought a series of large winter storms across much of the northern two-thirds of the U.S. By the end of the month, Boston's Logan International Airport broke a new February record for total precipitation, and parts of Wisconsin also set new seasonal snowfall records. In March, several additional cities broke seasonal snowfall records. Madison, WI set a new record for seasonal snow total of 100.1 inches (254.2 cm) on March 24, breaking the previous record of 76.1 inches (193.3 cm) from the 1978-79 season. Milwaukee, WI had its second snowiest winter on record as of March 24th. The seasonal snowfall total in Caribou, ME on March 21nd reached a new all-time record when the 2007-2008 total of 184.5 inches (468.6 cm) surpassed the previous record of 181.1 inches (460.0 cm) set during the 1954-55 snowfall season. By the end of the month, the snowfall total at Caribou was 190.7 inches (484.4 cm). Snowfall records at Caribou began in 1939. By the end of March, the winter of 2007-2008 in Concord, NH ranked as the second snowiest on record, only six inches (15 cm) shy of the all-time seasonal record of 122 inches (310 cm) set in the winter of 1873-74.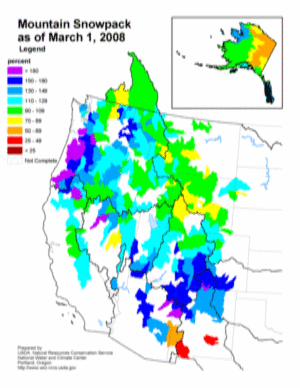 larger image
During the winter of 2007/2008, the snowpack levels were above-average in much of the Rockies, Cascades, and Sierra Nevada in the western U.S. At times, some areas in Oregon, Washington, Arizona, New Mexico, Nevada and southern Colorado had levels above 180% of normal. Conversely, parts of Wyoming, Montana, Nevada and north-central Washington had levels below normal, as did much of eastern Alaska and southern New Mexico. Above-average snowfall during the 2007-2008 season brought relief to many areas of the western U.S. that were plagued by drought in previous years.
---
Citing This Report
NOAA National Centers for Environmental Information, State of the Climate: National Snow and Ice for Annual 2008, published online January 2009, retrieved on October 23, 2021 from
https://www.ncdc.noaa.gov/sotc/snow/200813
.
---
Metadata