National Climate Report - November 2015
November Residential Energy Demand
« National Climate Report - November 2015
---
November Residential Energy Demand
NCEI's Residential Energy Demand Temperature Index estimates the energy demand, relative to history, from residences across the CONUS. It is based upon heating and cooling degree-days computed from the nClimDiv climate division dataset, and population data from the U.S. Census Bureau. The REDTI does not model industrial and commercial use of energy, which is much less sensitive to climate patterns.
The long-term warming trend for the United States has generally pushed energy demand upward during the warm-season months and decreased demand during the cooler months.
The transition month of November has been particularly sensitive to change in recent decades, and the REDTI has shown sharply lower energy demand. This represents two significant factors:
Since 1950, November's temperature trend of 3.73°F per century is 37% faster than the general (all months) rate of change.
Compared to other months on the calendar, November has one of the stronger relationships between REDTI and actual consumption, with a correlation nearing 0.7. In other words, the November REDTI is an even more reliable indicator of residential consumption, compared to other months. Only December, March and April have stronger relationships in this way.
Even the pattern for November itself is not the same across the entire country. The trend has been most noticeable in cooler climates, particularly New England and the adjacent northeastern U.S.. Because these are also more heavily-populated regions, they have an outsized impact on the CONUS-wide result.
(click to enlarge)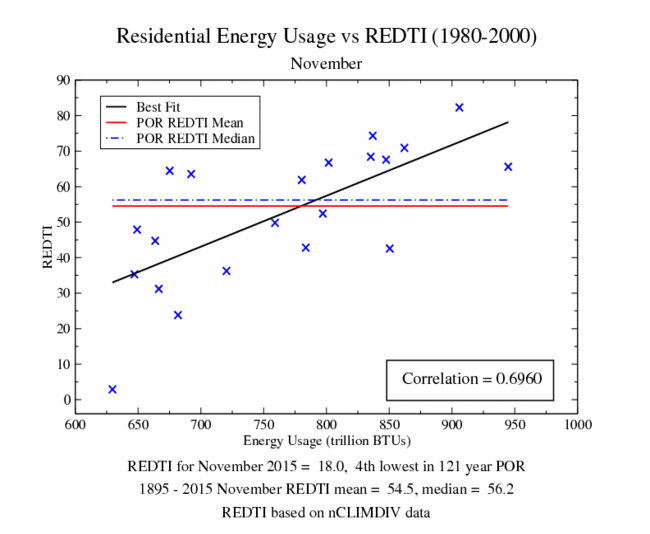 ---
Citing This Report
NOAA National Centers for Environmental Information, State of the Climate: National Climate Report for November 2015, published online December 2015, retrieved on April 6, 2020 from
https://www.ncdc.noaa.gov/sotc/national/201511/supplemental/page-4
.
---
Metadata