National Climate Report - February 2015
Great Lakes Ice Cover
« National Climate Report - February 2015
---
Great Lakes Ice Cover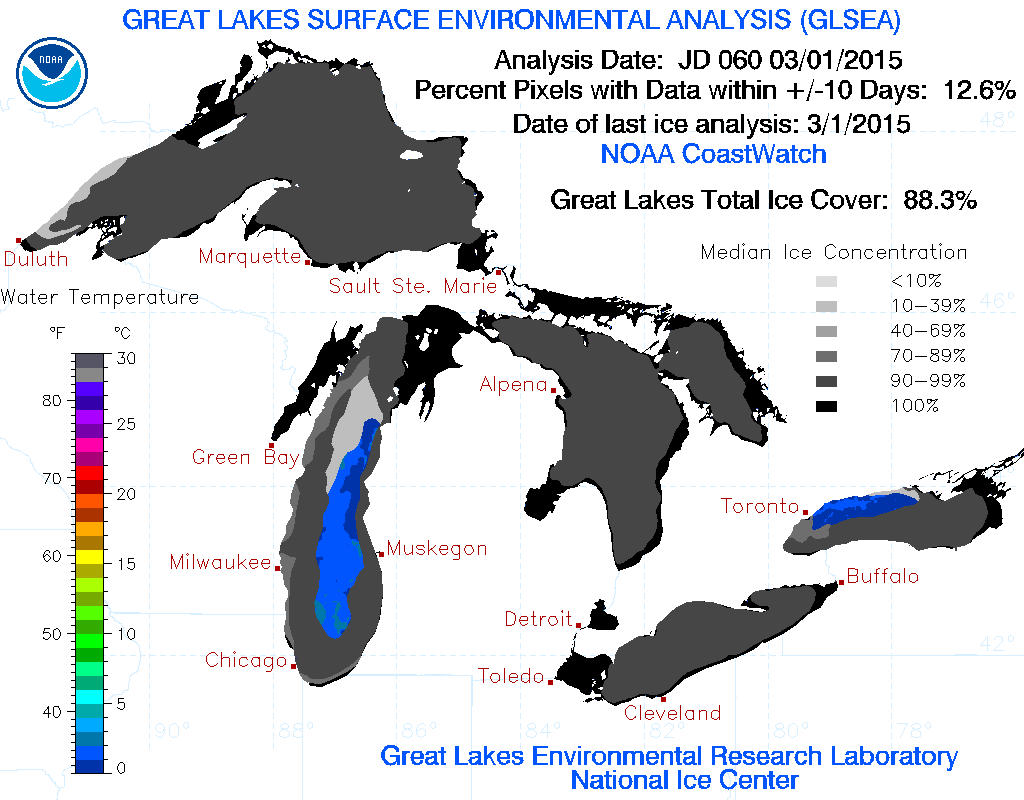 March 1, 2015 Great Lakes Ice Cover
Source:
Great Lakes Environmental Research Lab
During the second half of winter, very cold temperatures covered the Great Lakes and surrounding states. New York, Pennsylvania, Ohio, Michigan, Indiana, Illinois, and Wisconsin each had February temperatures that ranked among the ten coldest on record, with Ohio, Pennsylvania, and New York having their second coldest February in 121-years of record keeping. The cold temperatures in the region resulted in above-average ice cover across the Great Lakes for the second consecutive winter in a row. As of March 1st, 88.3 percent of the lakes were ice covered. This is above the long-term average of 52.4 percent ice coverage and the fourth highest ice coverage in the 1973-present period of record. The lake ice cover last March (2014) peaked at 92.5 percent, which was the second highest sea ice coverage on record.
---
Citing This Report
NOAA National Centers for Environmental Information, State of the Climate: National Climate Report for February 2015, published online March 2015, retrieved on August 23, 2019 from
https://www.ncdc.noaa.gov/sotc/national/201502/supplemental/page-3
.
---
Metadata