National Climate Report - October 2012
Sandy Storm Surge & Wind Summary
« National Climate Report - October 2012
---
Sandy Storm Surge & Wind Summary
Post-tropical storm Sandy packed a punch as it came ashore near Atlantic City, NJ on the evening of October 29. The timing of landfall near high astronomical tide and the large size of the storm generated many impacts across the eastern third of the U.S. Select storm surge statistics in addition to some of the highest peak wind speeds recorded during this storm are highlighted on this page. All data are preliminary unless noted otherwise.
Storm Surge Summary:
Sandy's 9-foot storm surge in New York City coincided with the approximate time of high astronomical tide creating a record shattering tidal maximum the evening of October 29 of 13.88 feet at The Battery in New York City Harbor. The previous high tide record of 11.20 feet was set during the great hurricane of 1821. As a result, extensive flooding occurred across some of the more vulnerable locations in Manhattan and other New York City boroughs, causing subways and tunnels to flood. Water was chest high on the streets in Queens as firefighters attempted to rescue residents from a neighborhood of homes which were engulfed by flames.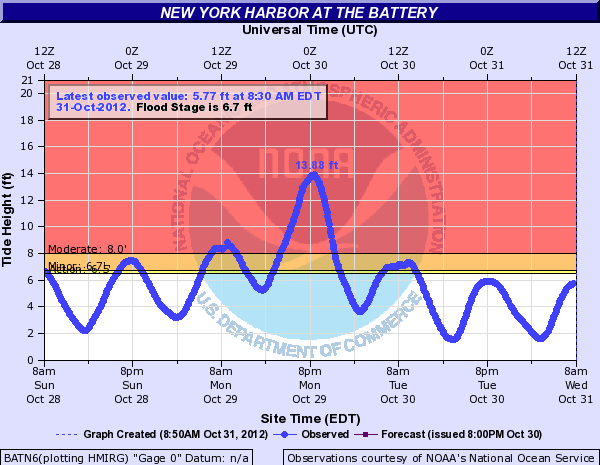 NOAA
Storm surge at the Delaware River in Philadelphia crested at 10.62 feet early on October 30, breaking the previous record of 10.50 feet set in November 1950 and tied in April 2011. The Delaware River usually doesn't flood due to tidal surges, but the combination of storm runoff, high astronomical tide and Sandy's record low pressure traversing the region just after landfall all contributed to this record breaking flood.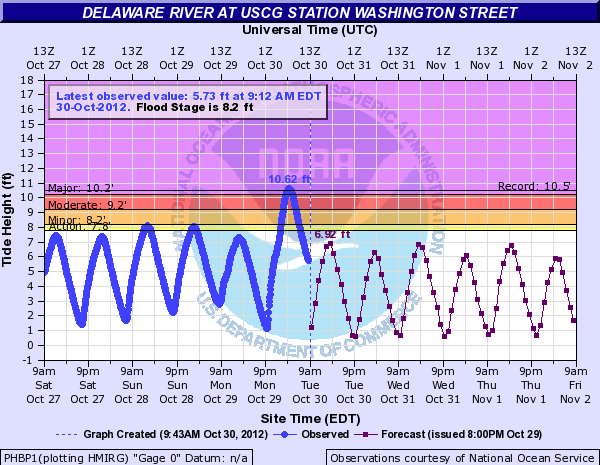 NOAA
High tide in Atlantic City, NJ ripped up piers on the shore and caused extensive flooding downtown, where knee-deep water was reported. Notable high tides across the Northeast are listed in the table below.
The following locations reported flooding which resulted from exceptionally high tides.

| Location | Tidal Crest | Details |
| --- | --- | --- |
| Kings Point, NY | 14.31 feet | ~12.5 feet above average |
| The Battery in New York City Harbor, NY | 13.88 feet | ~7 feet above flood stage |
| New Haven, CT | 12.30 feet | ~9 feet above average |
| Delaware River in Philadelphia, PA | 10.62 feet | ~2.4 feet above flood stage |
| Quonset Point, RI | 7.22 feet | |
| Atlantic City, NJ | 8.90 feet | |
| Delaware City, DE | 9.74 feet | |
---
Wind Summary:
Post-tropical storm Sandy made landfall near Atlantic City, NJ around 8pm on October 29 with maximum sustained winds of 80 mph. Unlike many landfalling systems, Sandy was exceptionally large and impacts were felt from Georgia to Lake Michigan and throughout the eastern U.S. and into New England. Storm warnings were issued as far west as southern Lake Michigan and Lake Huron. Waves generated by strong winds measured more than 21 feet high at a southern Lake Michigan buoy; the second highest waves on record in Lake Michigan.
Peak wind gusts measured from Michigan to the East Coast were near to or exceeded hurricane strength.

| Location | Peak Wind Gust |
| --- | --- |
| Harrisville, MI | 60 mph |
| Port Sanilac, MI | 65 mph |
| Fort Gratiot, MI | 75 mph |
| Allentown, PA | 81 mph |
| Highland Beach MD | 79 mph |
| Chester Gap, VA | 79 mph |
| Sandy Hook, NJ tide gauge | 87 mph |
| Dennisville, NJ | 81 mph |
| Montclair, NJ | 88 mph |
| JFK Airport, NY | 79 mph |
| Eatons Neck, NY | 94 mph |
| Madison, CT | 85 mph |
| Wellfleet, MA | 81 mph |
| Mount Mansfield, VT | 72 mph |