National Climate Report - May 2011
Synopsis
« National Climate Report - May 2011
---
Synopsis
Large-Scale Drivers
Large-scale climate and synoptic drivers played a role in the extreme weather events during April 2011, including the presence of La Niña, a persistent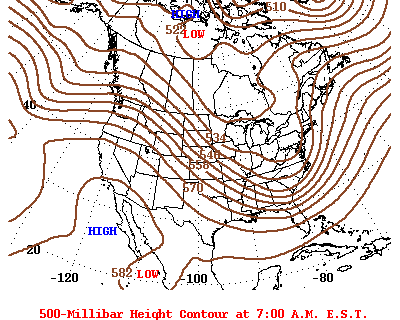 upper atmosphere storm track, and near historical sea surface temperatures across the Gulf of Mexico. Under a La Niña regime, an upper level ridge typically sets up across the southwestern U.S. and storms travel along the northern edge of the ridge and southward along the eastern side, bringing above-normal precipitation to the Canadian Border States and the Ohio Valley, but often blocks storms from entering the Southern Plains. This was the case during the 2010-2011 winter and into the spring, causing above-normal snowfall and snowpack across the Upper Midwest and parts of the Ohio River Valley. Once spring emerged across the region, the warm temperatures rapidly melted the snowpack, and combined with the continued above-average precipitation to cause rivers to swell. The limited storm activity across the Southern Plains and the Gulf Coast caused below-average precipitation during winter and spring across the region, and is consistent with expectations during La Niña. The nearly stationary ridge across the southwestern U.S. brought extremely dry and windy conditions to the Southern Plains during April. The windy conditions were reinforced by the active storm track to the north. When these storms intensified, wind speeds increased across New Mexico and Texas, causing rapid wildfire growth.
During spring, the seasonal re-emergence of warmer temperatures started across the southern regions of the U.S. and moved northward. During April, the boundary between the cooler air to the north and the warmer air to the south provided energy and dynamic forcing for storms to strengthen as they moved through the country. Ahead of these storm systems, warm southerly flow brought much-above-average temperatures and moisture from the Gulf of Mexico, where sea surface temperatures were about 1.0 °C (1.8 °F) above average. The above-average sea surface temperatures in the Gulf of Mexico contributed to above-average water vapor content in the atmosphere, increasing the amount of energy available for severe weather outbreaks. North of the temperature boundary, along the Ohio Valley, record precipitation fell, and to the southwest much-below-normal precipitation was observed. For the month of April, record statewide precipitation amounts fell in Indiana, Illinois, Kentucky, Ohio, Pennsylvania, and West Virginia, while much-below-normal precipitation was observed across Texas.
Conclusion
The extreme weather and climate events of April 2011 were far reaching. There was significant loss of life and economic impacts across the country, most of which will not be fully realized for months. Preliminary estimates place the total damage of property and economic impacts at over 20 billion U.S. dollars for all weather-related disasters during spring. The individual extreme events - tornado outbreaks, flooding, and drought/wildfires - have all been compared to the worst such events in U.S. history. In each of the previous 'worst cases in history', they occurred during different years, while several of these historical records were broken during the month of April 2011.
Spring 2011 Billion Dollar Weather Disasters*

| Date(s) | Event | Estimated Damages |
| --- | --- | --- |
| April 14th-16th | Severe Weather Outbreak | ~1.7–3 billion U.S. dollars |
| April 25th-30th | Southeast Tornado Outbreak | ~5–6 billion U.S. dollars |
| Spring | Mississippi River Flooding | ~2–4 billion U.S. dollars |
| Spring | Texas Drought | ~1.5–3 billion U.S. dollars |
| May 22nd | Joplin, Missouri Tornado | ~1–3 billion U.S. dollars |
*Based upon preliminary data