---
National Overview:
A strong west-to-east flow in the jet stream circulation characterized the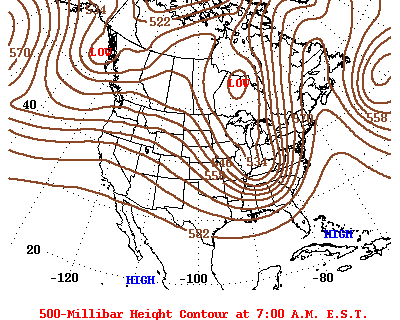 weather pattern over the contiguous United States for December 2010. Deep low pressure systems developed in this flow, resulting in intense winter storms across the nation and outbreaks of cold Canadian air, especially east of the Rockies. About a third of the country was covered in snow at the beginning of the month. The snow cover expanded and contracted throughout the month with the passage of several winter storms, reaching 39 percent coverage by December 6th, about 53 percent by the 19th, and 55 percent by the 27th. By the end of the month, more than 8 feet of snow covered higher parts of the Sierra Nevada, with moisture content more than twice normal for this time of year. December 2010 was the 7th snowiest December for the contiguous U.S., based on satellite observations of area covered. The storm systems triggered deadly tornado outbreaks at the end of the month in the Midwest to Lower Mississippi Valley.
A pineapple express of moisture flowed into the U.S. from the Pacific for much of the month, bringing rain and snow to much of the West and northern Plains. Nevada and Utah had the wettest December in the 116-year record, Minnesota 4th wettest, North Dakota 5th wettest, and California ranked 7th wettest. Heavy rains brought drought relief to Hawaii, but the weather systems were deflected away from Alaska, which had a colder- and drier-than-normal December.
Cold fronts and low pressure systems moving in the storm track flow are influenced by the broadscale atmospheric circulation. Two such large-scale atmospheric circulation patterns, which were dominant during November, continued in December. The first was the La Niña, which is the phenomenon created by cooler-than-average sea surface temperatures in the eastern tropical Pacific Ocean. La Niña is typically associated with wet conditions in the northern tier states and Ohio Valley this time of year, and warm and dry conditions in the southern tier states. The second atmospheric circulation index was the Arctic Oscillation (AO), which was negative during most of December and strongly negative during the last half of the month. A negative AO is typically associated with dry conditions in the Southeast (especially the southern Plains to Lower Mississippi Valley) and colder-than-normal temperatures east of the Rockies at this time of year (November-January).
The temperature and precipitation pattern for December 2010 matched what is expected from the negative Arctic Oscillation, especially east of the Rockies. Florida and Georgia had the coldest December in the 1895-2010 record and the Carolinas ranked 3rd coldest. A total of 11 states from the Ohio Valley to the Gulf Coast had the tenth coldest, or colder, December in 2010. Precipitation was below normal from the Southern Plains and Southeast to the southern Great Lakes, with Louisiana and Mississippi having the 3rd driest December and 4 other states ranking in the top ten driest category. As a result, drought expanded in the southern tier states, especially the southern Plains and Southeast. By the end of the month, 24 percent of the contiguous U.S. was classified in moderate to extreme drought, according to the U.S. Drought Monitor. The precipitation pattern over the West reflected a combination of La Niña and Arctic Oscillation influences.
Temperature Highlights
The national temperature, when averaged across the contiguous U.S., was near normal in December, only 0.4 degrees F (0.2 degrees C) below the long-term average.
Regionally, temperatures in the Southwest (2nd warmest) and West (10th warmest) climate regions were much above normal. In contrast, much below normal temperatures dominated the Southeast (3rd coldest) and Central (9th coldest) climate regions.
Both Florida and Georgia experienced their coldest December on record. The average statewide temperature in Florida was more than 9 degrees F (5.0 degrees C) below the 20th century average, as every climate division in the state experienced an average December temperature that was record cold. In addition, several cities including — Miami, West Palm, Ft Lauderdale, Daytona, Orlando, Tampa, and Tallahassee — had thier coldest December on record.
Several other states including — North Carolina and South Carolina (3rd coldest), West Virginia (4th), Virginia and Alabama (5th), Tennessee (6th), Kentucky (7th), Mississippi (8th), and Ohio (10th) — had a temperature that was among their ten coldest based on records that date back to 1895.
The average temperature for several states in the West during the month of December was much above-normal. New Mexico had its second warmest December, both Colorado and Arizona had their fourth warmest, while it was Utah's eighth and Nevada's tenth warmest such December.
The cooler-than-normal temperatures can be traced back to the three-month period (October-December) in Florida, its 6th coldest such period. Three states had their eighth coldest October-December period: North Carolina, South Carolina, and Georgia. These below normal temperatures contributed to the Southeast climate region's ninth coldest such period.
Many of the contiguous states experienced an annual average temperature that was above the 20th century average. Only four states: Alabama, Florida, Georgia and Mississippi, had an average temperature that was below normal for the year. Of those, Florida's average temperature for the year was seventh coldest in 116 years, 1.3 degrees F (0.7 degrees C) below normal.
Much of the Northeast was well above normal, as New Hampshire and Rhode Island had their warmest year on record. Maine had its second warmest year, while Vermont, Massachusetts, Connecticut, and New Jersey each had their third warmest such period. Collectively, there were 13 states with annual average temperature that was much above the long-term average.
Several cities in the Northeast had their warmest year on record: Hartford, Connecticut; Boston, Massachusetts; Caribou, Maine; Concord, New Hampshire; Providence, Rhode Island.
Precipitation Highlights
Precipitation in December, when averaged across the contiguous U.S., was normal, only 0.01 inch (0.3 mm) below the 20th century average. Record precipitation amounts in the west were offset by the dryness in the southern Plains and Southeast.
The persistent on-shore flow from the Pacific contributed to the third wettest December for the West climate region. These dissipated by the time they reached the South and East, contributing to the second driest December in the South climate region.
Both Nevada and Utah had their wettest December on record. Other states that were much wetter-than-normal were Minnesota (4th wettest), Maine (5th wettest), North Dakota (6th wettest), California (7th wettest), South Dakota (8th wettest) and Oregon (10th wettest).
In the South and East several states were drier-than-normal as both Mississippi and Louisiana experienced their third driest December on record. Elsewhere, Kansas had its sixth driest December, Alabama its seventh, Arkansas its eighth, and Delaware its tenth.
Precipitaton in the last quarter (October-December) was extreme for two states. Precipitation in Florida was 5.15 inches below normal resulting in its driest such period. The record dryness in Florida can be traced all the way back to the six-month period (July-December). Conversely, Nevada had its wettest October-December period on record with a statewide average of 3.44 inches (87.4 mm) above the normal. The persistent wetness in the East North Central (2nd wettest) and West (3rd wettest) climate regions can also be seen in the July-December period.
For the calendar year, precipitation was above normal for most climate regions, except for the South, Southeast and Central. The East North Central climate region had its third wettest annual period on record while its neighbor, the West North Central climate region, had its fifth wettest such period.
On the statewide level, precipitation averages are reflective of the active storm track across the upper tier states where North Dakota had its wettest calendar year on record. Iowa, Minnesota, and Wisconsin each had their second wettest year on record. It was also anomalously wet in South Dakota, which had it seventh wettest such period. Meanwhile, Louisiana experienced its fifth driest annual period and it was the ninth driest such period for Arkansas.
Other Items of Note
Tornado activity during December was above average with 59 preliminary reports. The December 31st outbreak across the Mississippi River Valley, with 49 preliminary tornado reports, was largest tornado outbreak during December on record. The previous record was 34 tornadoes on December 18, 2002.
Several large winter storms affected the U.S. during the month. According to data from the Rutgers Global Snow Lab, the December snow cover extent was the seventh largest on record for the continuos US. Several cities across the Midwest and Northeast broke monthly snowfall records including Minneapolis, Minnesota and Syracuse, New York.
Drought coverage continued to increased during December. The U.S. Drought Monitor reported 19.9 percent of the United States was affected by drought by December 28th. The wet conditions improved the drought conditions across Utah, Nevada, and California, while conditions worsened across southern Arizona and New Mexico. The drier than average weather across the Southern Plains worsened the drought in most of Texas and Oklahoma by one to three categories. Drought conditions also worsened for the Lower Mississippi River Valley, the Gulf Coast, and most of the Florida peninsula. Several weather systems moving through the Ohio River Valley improved drought conditions there one to two categories and ended drought in the central Appalachians.
Alaska Temperature and Precipitation:
For additional details about recent temperatures and precipitation across the U.S., see the Regional Highlights section below. For information on local temperature and precipitation records during the month, please visit NCDC's Records page. For details and graphics on weather events across the U.S. and the globe please visit NCDC's Global Hazards page.
---
Regional Highlights:
These regional summaries were provided by the six Regional Climate Centers and reflect conditions in their respective regions. These six regions differ spatially from the nine climatic regions of the National Climatic Data Center.
Northeast Region: (Information provided by the Northeast Regional Climate Center)
Temperatures during December 2010 averaged below normal for the first time since December 2009. The Northeast's monthly average of 25.4 degrees F (-3.7 degrees C) was 3.0 degrees F (1.7 degrees C) below normal and 2.4 degrees F (1.3 degrees C) cooler than December 2009. It was the coldest December in the region since 2000. Only Maine ended the month with warmer than normal temperatures; the state average of 24.2 degrees F (-4.3 degrees C) was 3.8 degrees F (2.1 degrees C) above normal. Negative temperature departures increased from north to south, with Vermont at 1.3 degrees F (0.7 degrees C) below normal, and West Virginia at 9.0 degrees (5.0 degrees C) cooler than normal. New Hampshire's average temperature was exactly normal. West Virginia's average temperature of 25.4 degrees (-3.7 degrees C) was only 3.7 degrees F (2.1 degrees C) warmer than the coldest year on record, 1989, making this December the 4th coldest since 1895. A cool December could not offset the previous eleven months of above normal temperatures. With an annual average of 49.2 degrees F (9.6 degrees C), 2010 became the 5th warmest year in the Northeast since recordkeeping began in 1895. Two states, New Hampshire and Rhode Island, had their warmest year on record. Of the remaining states, all but West Virginia had annual temperature averages that placed them in the top 20 warmest since 1895.
December's precipitation totals varied throughout the region, with 5 states averaging drier than normal and 7 states on the plus side. The regional average was 3.82 inches (97 mm), which was 113 percent of normal. Once again, Maine was the wettest state in the region, with 175 percent of the normal amount of precipitation. Delaware, with only 42 percent, had its 10th driest December since 1895. Annually, precipitation totals evened out, leaving the region at exactly 100 percent of normal. Yearly departures among the states ranged from 87 percent of normal in Delaware to 115 percent in Maine.
Two major weather events impacted the Northeast in December. A powerful storm drenched much of the region on the 1st and 2nd. In general, rainfall totals were in the 1 to 2 inch (25 to 51 mm) range, however parts of Pennsylvania, New York and West Virginia saw up to 4 inches (102 mm). Flash flooding resulted, closing roads and flooding homes, schools and businesses in the areas of heaviest rainfall. Strong winds accompanied the storm, with sustained winds in the 15-25 mph (6.7 - 11.1 m/s) range and peak gusts as high as 69 mph (30.8 m/s). The combination of wind and rain delayed fights and disrupted rail travel along the northeast corridor. The strong winds downed trees, branches and power lines, cutting power to thousands. One fatality was reported when a tree fell on a car in West Milford, NJ. The wind shift after the storm set up an intense lake effect snow band over western New York, burying the Buffalo area under 1 to 3 feet (30.5 - 91.4 cm) of snow in a narrow band downwind of Lake Erie. The following was taken from the Buffalo National Weather Service web site: "Snowfall amounts were incredible within the band. A general 30 to 40 inches (76-102 cm) fell in about a five-mile strip which ran from Lackawanna and southeast Buffalo, east northeast across northern West Seneca, south Cheektowaga, Depew and Lancaster over to Alden. Amounts dropped off steadily to the south, with about a foot (30 cm) in Orchard Park and less further south. The real story was the northern gradient though. Amounts dropped from two feet (60.9 cm) to a dusting in just a 3 or 4 mile (4-6 km) distance! This was evident along north-south roads like Transit and Harlem. For example, no measurable snow fell at Main and Harlem, but two feet (61 cm) at Walden and Harlem. The Buffalo Airport was right at the cutoff, with 2 inches (5.1 cm) at its northwest corner and a foot (30.5 cm) at its southeast corner! Further west, no snow fell in Buffalo at North St., 4 inches (10.2 cm) at City Hall and a foot (30.5 cm) at HSBC arena, probably the most remarkable gradient ever seen across the city! This event had major impact, not only in the 300,000 or so people affected, but from a major backup and shut down of the NYS Thruway from Exit 52 to 54, with hundreds stranded for almost 24 hours."
The second event was a blizzard that hit New Jersey and the New York City metro area on December 26 and tracked up the east coast, leaving significant snowfall in its wake. Totals of 6 to 12 inches (15-30 cm) covered New England, eastern New York and western New Jersey, with up to 2 feet (61 cm) in eastern New Jersey, metropolitan New York, and western New England. Holiday travel was severely impacted as flights were cancelled in to and out of LaGuardia, Kennedy and Newark airports, leaving travelers stranded at the airports for days. Driving was treacherous and clean-up kept residents close to home, leaving the malls empty, if they were able to open at all. ShopperTrak, an organization which records retail sales and customer traffic, estimated a retail loss for the two-day period at $1 billion. Municipalities affected by the blizzard took an extra financial hit as workers were paid double-time for plowing on Sunday. The storm could cost Danbury, CT as much as $450,000, which is more than half of their winter snow removal budget. The removal of Cranston, RI's 10-12 inches (25-30 cm) of snow could cost that city at least $150,000.
For more information, please go to the Northeast Regional Climate Center Home Page.
Midwest Region: (Information provided by the Midwest Regional Climate Center)
December temperatures were colder than normal across the Midwest. Departures from normal ranged from 0 degrees F (0 degrees C) in the upper Midwest to as much as 10 degrees F (6 degrees C) below normal in eastern Kentucky. Maximum temperatures were even colder ranging from 1 degrees F (1 degrees C) to 14 degrees F (8 degrees C) below normal. Kentucky recorded its first colder than normal month since February of this year. 2010 was near normal for most of the Midwest with only the northern parts of Minnesota, Wisconsin, and Michigan averaging 2 degrees F (1 degrees C) to 4 degrees F (2 degrees C) above normal.
Midwest precipitation totals varied widely in December. Above normal precipitation fell in the northwest quarter of the region with west-central Minnesota receiving nearly five times their normal precipitation. Eastern Kentucky was also slightly above normal. The areas between received less than normal precipitation with a swath from Missouri to Lake Huron at less than half of their normal. Snowfall was especially heavy in Minnesota, western Wisconsin, and northeast Iowa. Above normal snowfall also fell along a narrow swath extending from southern Minnesota to eastern Kentucky. Three different storms tracked along this path during the month. Cooperative stations in Michigan (6) and Wisconsin (1) reported 48 inches (122 cm) or more of snow in December and many more in Minnesota (20) and Michigan (5) reported snowfall totals of 36 inches (91 cm) to 48 inches (122 cm). Stations in Iowa (4), Michigan (4), and Minnesota (18) reported snow depths of at least 24 inches (61 cm) at some point during the month. 2010 annual precipitation was above normal for most of the western half of the Midwest with south-central Iowa more than 20 inches (508 mm) above their normal for the calendar year. Southeast Missouri and along the Ohio River to Cincinnati were 6 inches (152 mm) to 10 inches (254 mm) below normal for their 2010 annual precipitation.
Among the numerous winter storms during December was the blizzard that affected much of the Midwest on the 11th and 12th. Heavy snow fell in the northern half of the region and strong winds whipped up blizzard conditions for the northern two-thirds. Airline, train, and auto travel were interrupted across the Midwest. More than a dozen deaths were blamed on the storm, mostly related to automobile accidents. Interstate highways were closed for a time in Minnesota, Wisconsin, Iowa, and Illinois and even snowplows and rescue crews were pulled off the roads due to dangerous conditions. Strong winds blew as far south as Table Rock Lake in southern Missouri where a boat with 600+ people on board was blown ashore. The boat remained grounded overnight waiting for waves and winds to decrease before it could safely return to its dock.
Nineteen tornadoes touched down in Missouri and Illinois on December 31. The 17 tornadoes in Missouri set a state record for December. Four people died in two fatal Missouri twisters, one near Lecoma and the other near Rolla. Nearly 300 structures were damaged and 50 were destroyed by the tornadoes that were rated from EF0 to EF3 on the Enhanced Fujita scale.
For details on the weather and climate events of the Midwest, see the weekly summaries in the MRCC Midwest Climate Watch page.
Southeast Region: (Information provided by the Southeast Regional Climate Center)
Monthly average temperatures for December 2010 were well below normal across the Southeast region. The greatest departures occurred throughout Florida and eastern sections of Georgia, the Carolinas, and Virginia, where monthly average temperatures were 9 to 11 degrees F (5.0 to 6.1 degrees C) below normal. Interior portions of the Southeast were generally 6 to 9 degrees F (3.3 to 5.0 degrees C) below normal, while much of Alabama and northern Virginia were 5 to 6 degrees F (2.8 to 3.3 degrees C) below normal. Over 70 locations in the Southeast experienced their coldest December on record, including Brunswick, GA, Cape Hatteras, NC, and Mount Mitchell, NC, as well as all major metropolitan area in Florida except Pensacola (3rd coldest). December ranked among the top 5 coldest in many other locations across the region, including Asheville, NC, Charlotte, NC, and Charleston, SC (2nd coldest); Savannah, GA, Raleigh-Durham, NC, and Norfolk, VA (4th coldest); and Columbus, GA, Columbia, SC, and Roanoke, VA (5th coldest). Across the Southeast, over 1,100 daily low maximum temperature records and over 800 daily minimum temperature records were tied or broken during the month. Jacksonville, FL recorded 19 days of subfreezing minimum temperatures during the month, which shattered the old record of 12 set back in 2000. The frigid air masses that predominated across the Southeast also influenced parts of the Caribbean; monthly average temperatures were below normal across Puerto Rico and as much as 4 degrees F (2.2 degrees C) below normal on the U.S. Virgin Islands.
Monthly precipitation was below normal (generally less than 50 percent) across nearly the entire region in December. A large portion of the monthly rainfall came on the 1st of the month as a line of strong storms moved through the Southeast and mid-Atlantic regions. Most notably, Brevard, NC, recorded a monthly record 24-hr rainfall of 6.55 inches (166.4 mm), breaking the old record by over two inches (50.8 mm). The driest locations across the Southeast (less than 25 percent of normal) were found in central and eastern Florida, southern Alabama, central portions of Georgia and the Carolinas, much of the southern Appalachian Mountains, and the Shenandoah Valley of Virginia. Sanford, FL, located northeast of Orlando, recorded 0.15 inches (3.8 mm) of precipitation for the month, which was only six percent of normal. Montgomery, AL [1.03 inches (26.2 mm)], and Columbus, GA [1.56 inches (39.6 mm)], experienced their 2nd driest December in records extending back to 1871 and 1947, respectively. In contrast, monthly precipitation totals were between 150 and 300 percent of normal across the northern coast of Puerto Rico. San Juan, PR, recorded 7.47 inches (189.7 mm) of precipitation for the month, which was 2.9 inches (73.7 mm) above normal.
The calendar year 2010 was exceptionally warm in the northern tier of the region. Most notably, the Washington D.C. area recorded its 4th warmest year ever in a record extending back to 1871. Conversely, it was an exceptionally cold year in the southern tier of the region, as 12 locations in Florida experienced their coldest year on record, including the Miami Beach area. It was the 3rd coldest year ever in the Jacksonville, FL and Vero Beach, FL areas, the 4th coldest year in the Key West, FL area, and the 5th coldest year ever in the Gainesville, FL area. With respect to precipitation, it was the driest year on record in the Jacksonville Beach, FL area with a preliminary annual total of 28.44 inches (722.4 mm). Conversely, San Juan, PR, recorded its wettest year on record with 89.51 inches (2274 mm), eclipsing the previous record of 87.55 inches (2224 mm) set in 1931.
There were only five reports of severe weather across the Southeast in December. On the 11th of the month, strong winds brought down numerous trees and knocked over fences in Santa Rosa, FL (north of Pensacola) and damaged school buses at a middle school about 30 miles away in Baldwin, AL. Felled trees and structural damage were reported in northwest Alabama following a line of strong storms on the 31st of the month. No tornadoes were reported across the Southeast in December.
December was an active month for winter weather across much of the Southeast. On the 4th and 5th of the month, an area of low pressure moving through the Mississippi River and Ohio River Valleys produced 1 to 3 inches (25.4 to 76.2 mm) of snow across central portions of North Carolina and Virginia, while higher elevations in the southern Appalachian Mountains received over 8 inches (203.2 mm). Charleston, SC reported flurries on the 8th of the month as a weak upper-level disturbance moved across the region. On the 15th and 16th, a storm system moving through the Tennessee River Valley produced 1 to 4 inches (25.4 to 101.6 mm) of snow across much of central North Carolina and eastern Virginia. Ice accumulations of 0.12 to 0.25 inches (3.0 to 6.4 mm) were also reported in western parts of the Carolinas and north Georgia (including Atlanta). Snowfall was observed across a large part of the region on the 25th and 26th, as a strengthening cyclone moved northeastward along the Gulf and Atlantic coasts. The greatest amounts from this storm were recorded in the southern Appalachian Mountains and eastern sections of North Carolina and Virginia, where Flat Springs, NC and Norfolk, VA received 17.8 and 13.4 inches (452.1 and 340.4 mm), respectively. Central and northern portions of Alabama, Georgia, and South Carolina received 2 to 6 inches (50.8 to 152.4 mm). Remarkably, snow flurries and graupel were reported as far south as Lakeland, FL (east of Tampa). For many locations across the region, including Huntsville, AL, Macon, GA, Raleigh-Durham, NC, and Richmond, VA, it was the first "White Christmas" in many decades. In other locations, such as Atlanta, GA, it was the first "White Christmas" ever recorded. With respect to monthly snowfall totals, Boone, NC recorded 28.7 inches (729.0 mm), which broke the old record of 23.3 inches (591.8 mm) set back in 1969. Norfolk, VA recorded 17.8 inches of snow (452.1 mm), which registered as the 2nd snowiest December in a record extending back to 1874.
Despite the overall lack of precipitation during the month, the coverage of drought conditions (D0 or greater according to the U.S. Drought Monitor) across the Southeast decreased from 87 percent at the end of November to 77 percent at the end of December. Areas of abnormal dryness (D0) were eliminated across parts of Virginia, western and eastern North Carolina, western Alabama, and northeast Georgia. In addition, moderate drought (D1) conditions expanded slightly into parts of central North Carolina and south Florida, while extreme drought (D3) conditions expanded across northeast Florida and southeast Georgia. The cold temperatures severely disrupted the planting of winter vegetables (e.g. peppers and onions) in parts of Florida and Georgia and resulted in a state of emergency declaration in Florida to ensure that the harvesting and transport of fall crops were not delayed on account of the cold weather.
For more information, please go to the Southeast Regional Climate Center Home Page.
High Plains Region: (Information provided by the High Plains Regional Climate Center)
Temperatures across the High Plains Region this month were below normal in the eastern half and above normal in the western half. The dividing line between the above and below normal temperatures ran from southwestern South Dakota into central Nebraska, and then into west-central Kansas. December temperature departures ranged from 7 degrees F (3.9 degrees C) below normal in North Dakota to 10 degrees F (5.6 degrees C) above normal in Colorado. Great Sand Dunes National Park in Colorado recorded its warmest December with an average temperature of 31.0 degrees F (-0.6 degrees C) which was 8.0 degrees F (4.4 degrees C) above normal. This just surpassed the old record of 30.9 degrees F (-0.6 degrees C) which occurred in 1977 (period of record 1950-2010). Cortez, Colorado also had its warmest December on record with an average temperature of 36.7 degrees F (2.6 degrees C). This broke the old record of 36.3 degrees F (2.4 degrees C) which was set in 1980 (period of record 1911-2010).
Southern portions of the Region including Kansas, Nebraska, and eastern Colorado received little to no precipitation this month. This caused existing drought conditions to persist and led to the development of drought in eastern Kansas as well. While the southern portion of the Region remained dry, several storm systems impacted the northern portions of the Region this month. The Dakotas were hit particularly hard by heavy snowfall which set new records and impacted travel. Several areas of both North Dakota and South Dakota had liquid equivalent precipitation totals which were over 400 percent of normal. One location which set many records this month was Williston, North Dakota. Williston had its 3rd wettest December on record with 1.95 inches (50 mm) of liquid equivalent precipitation (period of record 1894-2010). The current record held with 2.50 inches (64 mm) recorded in 2008. It also recorded its snowiest December with 35.3 inches (90 cm) of snow (period of record 1962-2010). 14.3 inches (36 cm) of this total fell on December 10th and set the highest one-day total snowfall record for December. The old record of 11.4 inches (29 cm) was also set in 2008. Later in the month, on December 21st, a new December snow depth record of 23.0 inches (58 cm) was also set.
According to the U.S. Drought Monitor, drought conditions deteriorated across the southern portions of the Region this month. By the second week of December abnormally dry conditions (D0) had expanded north from Oklahoma into eastern Kansas and severe drought conditions (D2) had expanded from eastern Colorado into western Kansas. In addition, D0 had spread further east in Nebraska. By the end of the month moderate drought conditions (D1) had developed in eastern Kansas as well. Only slight improvements were seen in extreme northwestern Colorado where the D0 area was eliminated and in western Wyoming where the D1 and D0 areas were trimmed due to heavy snowfall. According to the U.S. Seasonal Drought Outlook released December 16th drought conditions across Colorado, Kansas, and Nebraska were expected to persist and the D1 area in Wyoming was expected to improve.
For more information, please go to the High Plains Regional Climate Center Home Page.
Southern Region: (Information provided by the Southern Regional Climate Center)
December average daily temperatures varied spatially throughout the Southern Region, with a strong gradient from west to east. The western states experienced a slightly warmer than normal month, while eastern and central states experienced a much cooler than normal month. In, Tennessee, the state average daily temperature for the month was 32.70 degrees F (32.7 degrees C), which was the sixth coldest December on Record (1895-2010). It was also quite colder than normal in Mississippi, which recorded its eighth coldest December on record (1895-2010) with a state average temperature of 41.80 degrees F (5.44 degrees C). Louisiana and Arkansas reported their 16th and 17th coldest December on record, respectively. The state monthly average temperature for the month in Louisiana was 47.80 degrees F (8.78 degrees C). In Arkansas, the state average monthly temperature was 38.60 degrees F (3.67 degrees C). The warmest areas of the region included much of western Texas and western Oklahoma, where counties experienced average daily temperatures that ranged from 2 to 6 degrees F (1.11 to 3.33 degrees C) above the climatological normal.
December precipitation totals were quite low over most the Southern Region. For the majority of the region, this is the third consecutive dry month. In December, the majority of the region received less than half of the monthly normal precipitation. Louisiana reported a state average monthly total of only 1.85 inches (46.99 mm), which is the third driest December on record (1895-2010). Likewise, Mississippi experienced its third driest December on record (1895-2010) with a monthly precipitation total of only 1.45 inches (36.83 mm). Arkansas also reported a monthly precipitation total of 1.45 inches (36.83 mm), which makes it their eighth driest December on record (1895-2010). Texas recorded its eleventh driest December (1895-2010), with a monthly precipitation total of 0.67 inches (17.01 mm). Tennessee reported its eighteenth driest December, while Oklahoma reported its thirty-first driest December (1895-2010). The state average precipitation total in Tennessee was 2.76 inches (70.10 mm), while Oklahoma reported a value of 0.93 inches (23.62 mm). The driest areas of the Southern Region included much of western Texas, southern Texas, northern Louisiana, and southern Arkansas. In these areas, most stations reported less than a quarter of the monthly normal precipitation totals. In the case of west and southern Texas, many stations recorded less than one tenth of an inch (2.54 mm) for the month.
A third consecutive month of dry conditions in the Southern Region has resulted in a wide expansion of drought conditions. As of December 28, 2010, 67.65 percent of the Southern Region is now experiencing moderate drought or worse; 35.21 percent is in severe drought or worse, and 10.17 percent is classified as extreme drought conditions. This is a dramatic change from last month. For instance, on November 30, 2010, the aforementioned values were 41.2 percent, 19.3 percent, and 2.7 percent, respectively. The most significant changes are seen in the central counties of eastern Texas where extreme drought has been introduced. There was also a westward expansion of severe drought into the western parishes of Louisiana.
For more information, please go to the Southern Regional Climate Center Home Page.
Western Region: (Information provided by the Western Regional Climate Center)
Except for Montana, nearly the entire West observed above normal temperatures, especially SE New Mexico and the Front Range of Colorado. Alamosa, CO, tied its warmest December on record going back 63 years while Grand Junction, CO, had its warmest December since 1980. Fairbanks, AK, on the other hand, had its coldest December since 1980. Had it not been for extremely cold temperatures the final two days of the month many other locations would probably have broken records for December warmth. Arizona recorded an unofficial new state record for the coldest all time December temperature when an automated weather station near Flagstaff recorded -37 F (-38.3 C) on final hour of the 31st, breaking the old state record of -36 F (-37.8 C).
Precipitation was well above normal throughout the region except for Southern Arizona and New Mexico and Eastern Colorado. Many parts of southern and central California received their wettest December ever. It was the second wettest December on record in downtown Los Angeles dating back to 1889. Bishop, CA, received 105% of their annual average in 3 days (18-20th). Up to 29 inches of rain in the San Gabriel and San Bernardino Mountains of Southern California for the month, most of it within a 6-day period from the 17th-22nd. Bakersfield's (CA) total of 5.82 inches (148 mm) not only broke a December record but an all time monthly record going back to 1893. New December records were also set in portions of Southern Nevada and Utah. St. George UT had their wettest December on record dating back 117 years. Over 15 inches (381 mm) of precipitation fell at Mt. Charleston, NV, while Ely NV recorded their wettest and snowiest December in 85 years of data. Snowpack in the Sierra Nevada of California and a broad swath northeast to the upper Colorado River Basin was over 200% of normal by the end of the month, and the rest of the West except Washington was reporting a snowpack of well over 100%. Meanwhile, in Honolulu, rainfall for the December was the greatest since 1987 (11.73 inches, 298 mm) and provided 67% of their 2010 annual total. Much of that fell in one day (5.41 inches, 137 mm) on the 19th.
December 11-14: Heavy Rain and Strong Winds in Washington: A very warm and moist storm hit the Pacific Northwest. Rainfall totals were between 3 and 8 inches (76-203 mm) in NW Washington with some isolated areas of the Olympic Peninsula measuring up to 12 inches (305 mm). Localized urban and small stream flooding occurred, and service on Amtrak was cancelled from Portland, OR, to Vancouver, Canada, for nearly 48 hours due to numerous landslides. A 55-year old woman was killed in the early morning hours of the 14th near Port Orchard, WA, when strong winds toppled a tree on to her house while she slept.
December 17-22: Heavy Rain and Snow in California: Beginning on Friday the 17th one of the more powerful Pacific storms to hit California and the Southwest in the past six years caused extensive damage throughout the region. Six days of heavy rain triggered rock and mud slides, large scale flooding, evacuations and road closures throughout the four states of California, Nevada, Utah and a portion of Arizona. In Southern California, a 20-mile stretch of Highway 1 between Malibu and Oxnard was closed on the 21st after a rock and mud slide. Amtrak service was also disrupted between San Diego and San Juan Capistrano due to mudslides and flooding. As many as 70 homes were buried in over four feet of mud near San Bernardino and over 200 homes were evacuated. One death was confirmed in Riverside County when a woman who drove into a flooded crossing was swept away. According to AAA, more than 25,000 motorists called for help on the 20th, the largest number ever in a 24-hour period. A state of emergency was declared for 6 counties in southern California and damage is estimated at over $10 million. In Mission Valley, near San Diego, 900 residents were forced from their homes from flooding. In Southern Nevada, Northwest Arizona and Southwest Utah record rainfall and flooding occurred over the region. Six homes were swept away in Beaver Dam Wash, AZ, with another six suffering severe damage. The Virgin and Santa Clara Rivers flooded, destroying several holes of the Southgate Golf Course in St. George. Significant rockfalls in Zion National Park forced a closure of the park. Several roadways and intersections in Las Vegas were closed due to flooding.
December 29-31: Strong Winter Storm: A strong cold front moved through the entire West on the final three days of the month causing very cold temperatures, heavy snow and strong winds. Two feet of snow and 100 mph winds were recorded in the Sierra Nevada followed by an extreme drop in temperature. A snowboarder died from exposure when she got lost at a California ski area. Local flooding from heavy rain was reported in southwest Oregon and southern California. A 70-year old woman was killed at the Safari West Preserve near Santa Rosa, CA, when an oak tree was uprooted and fell on the frame tent she was staying in.
For more information, please go to the Western Regional Climate Center Home Page.
See NCDC's Monthly Records web-page for weather and climate records for the most recent month. For additional national, regional, and statewide data and graphics from 1895-present, for any period, please visit the Climate at a Glance page.
---
---