Updated 3 January 2012
---
DecemberMajor drought disrupts cargo shipping on the Danube River in Europe read more
December 8thMudslide kills six people in Colombia read more
November 30th–December 2ndStrong Santa Ana winds cause extensive damage in several western U.S. states read more
December 16th–18thTropical Storm Washi causes at least 1,257 deaths in the southern Philippines read more
December 15th–December 17thExtra-tropical storm Joachim hits Western Europe read more
December 25th–December 30thTropical Cyclone Grant strikes northern Australia read more
December 25thExtratropical Cyclone Dagmar is strongest storm to hit Nordic region since 2001 read more
---
---

Parts of Central and Eastern Europe were suffering from a major drought in December. In Serbia, the Danube River—one of Europe's largest rivers and busiest shipping routes—fell to record low levels, stranding about 80 cargo ships on the Serbia-Hungary border. Sunken World War II ships surfaced on the river and unexploded bombs that fell during the 1940s were found along the Sava River, also in Serbia. In Bulgaria, the Danube was at its lowest level in 70 years and shipping in many areas was forced to halt. Transport was also affected along the upper Danube in Austria and Germany. Cargo shipping in Austria was only at about 25 percent of normal volume. Shipping was also disrupted in Germany along the Rhine and Elbe rivers due to low water levels. According to a media report, the Czech Republic was experiencing its worst drought since records began in 1775. In Bosnia, drinking water restrictions were in place in Sarajevo and other cities.
Please visit NCDC's
Drought
and
Wildfire
pages for U.S. information.

In Antarctica, the South Pole recorded its all-time highest temperature—9.8°F (-12.3°C)—on December 25th, breaking the previous record of 7.5°F (-13.6°C) set on December 27th, 1978. The average temperature this time of year is about -15°F (-26°C). Summer reaches its peak during mid-December to mid-January in this region. It also snowed that day, although the South Pole is typically one of the driest places on Earth. The record "warmth" was due to incoming winds from an unusual direction, according to a senior meteorologist at the Amundsen-Scott South Pole station.

Heavy rains caused a mudslide on December 8th that killed six people about 200 miles (320 km) south of Bogota, Colombia. Officials reported that 3,500 homes were flooded, with water as high as 5 feet (1.5 meters). Including this latest tragedy, heavy rains in the country have led to at least 140 deaths since September.

A severe wind storm in the western United States caused significant damage in parts of California, Utah, Nevada, Arizona, New Mexico, Colorado, and Wyoming during November 30th–December 2nd. The strong Santa Ana winds resulted from a large difference in pressure between a strong, high pressure system and a cold, low pressure system. The high winds toppled thousands of trees, knocked power out to hundreds of thousands of residents, blew over more than a dozen semi-trailer trucks in California and Utah, and caused several areas, including Los Angeles County, to declare states of emergencies. Wind gusts surpassing 140 mph (225 km/hr)—equivalent to major hurricane-force winds—were measured in California on the Sierra Crest mountain ridge.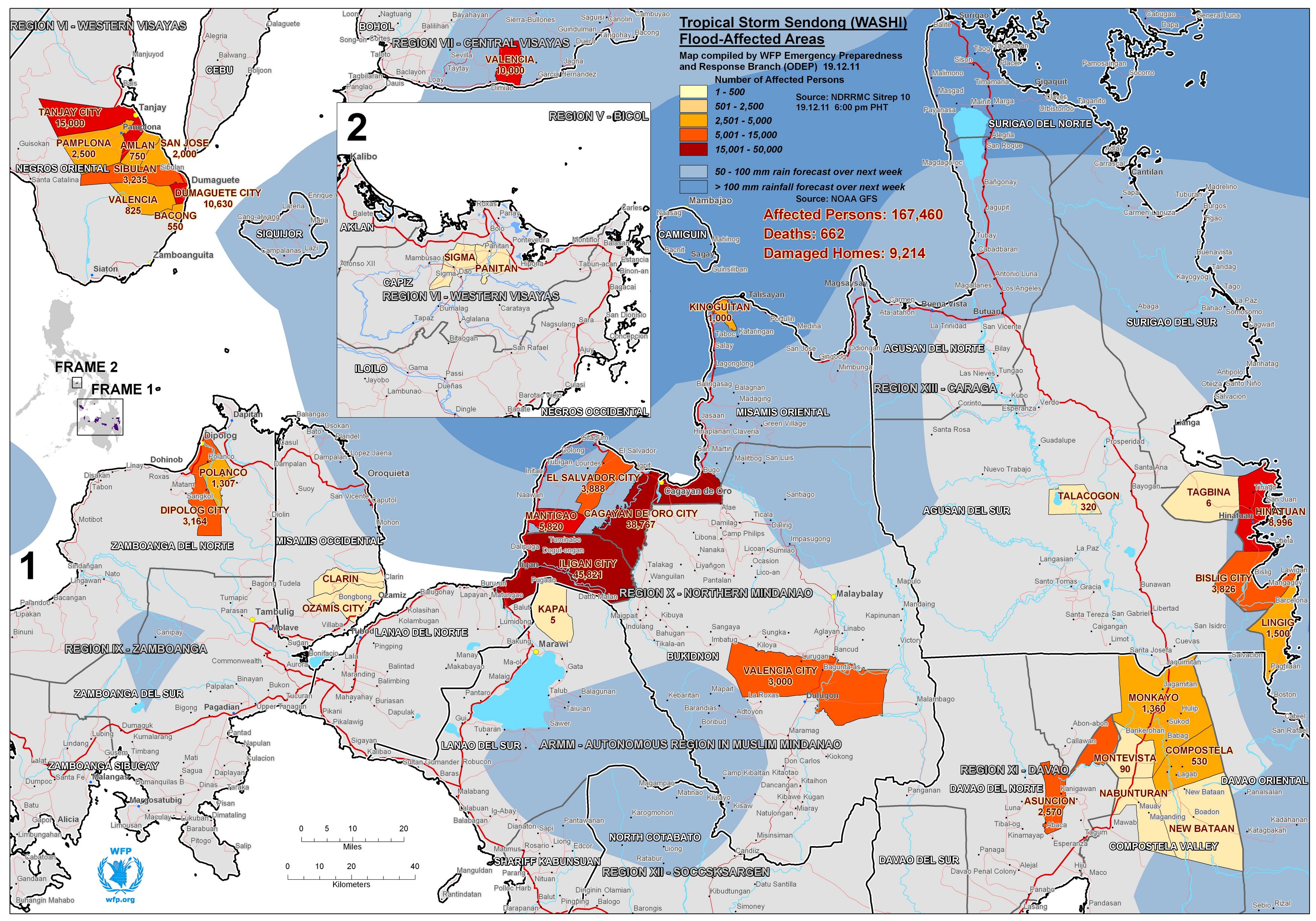 Tropical Cyclone Washi
Map produced on 19 December 2011
Credit:
World Food Programme
Tropical Storm Washi (locally referred to as Sendong) made landfall on December 16th over the southern Philippine island of Mindanao, a region unaccustomed to the tropical cyclones that frequently impact more northern regions of the Philippine archipelago. In addition to the uncommon location of the storm track, December cyclones in the Western Pacific basin are relatively uncommon, with only 15 reported from 1978 to 2010. Preliminary reports indicate that at least 1.257 residents perished due to major landslides. Thousands more were injured. Cagayan de Oro and nearby Iligan in northeastern, coastal Mindanao, both built on the mouths of major rivers, were among the hardest hit. An estimated 5.6 inches (142 mm) of rain was recorded at Lumbia Airport in Cagayan de Oro in a 12-hour period. The heavy rain caused landslides and rivers to swell and overflow their banks. Eyewitnesses reported that water rose 11 feet (3.3 meters) in less than an hour in a section of Cagayan de Oro. According to reports, the devastating death toll was due to a combination of factors, including topography (this is a region where forests have been clearcut and pineapple and banana plantations have been built on mountainsides, making the area prone to landslides and floods), the timing of the storm (Washi struck during the night while many residents were asleep), poor housing materials and locations within flood plains, and a lack of preparedness and adherence to storm warnings. Reports stated that entire villages were destroyed. Damages were estimated to be close to $23 million U.S. dollars. Prior to Washi, La Niña conditions had already brought wetter-than-normal conditions to the region. These conditions were forecast to continue through December, according to the Philippine national meteorological agency, PAGASA.
In northern Australia, Tropical Cyclone Grant brought heavy rain and destructive winds that reached 80 mph (130 km/hr) on December 25th near the Tiwi islands north of Darwin. The storm caused flash flooding in the Northern Territory, knocking a freight train off a bridge and destroying large parts of a major highway, effectively shutting down transport routes to the region. One person was killed after their boat capsized off Whitsunday Island near the Queensland coast. The storm crossed into the Gulf of Carpenteria, weakening into a monsoonal low, and was expected to make landfall on December 30th over an uninhabited region of Cape York.
Eastern Australia was simultaneously affected by a different storm—the remnants of Tropical Storm Fina. Fina created 13 foot (4 meter) waves along the northeastern coastline in Queensland, forcing many beaches to close from December 25th to 28th due to the large swells and dangerous surf conditions. In the southeast, large hailstones shattered glass in cars and buildings in Melbourne and a tornado touched down in nearby Fiskville. No fatalities were reported.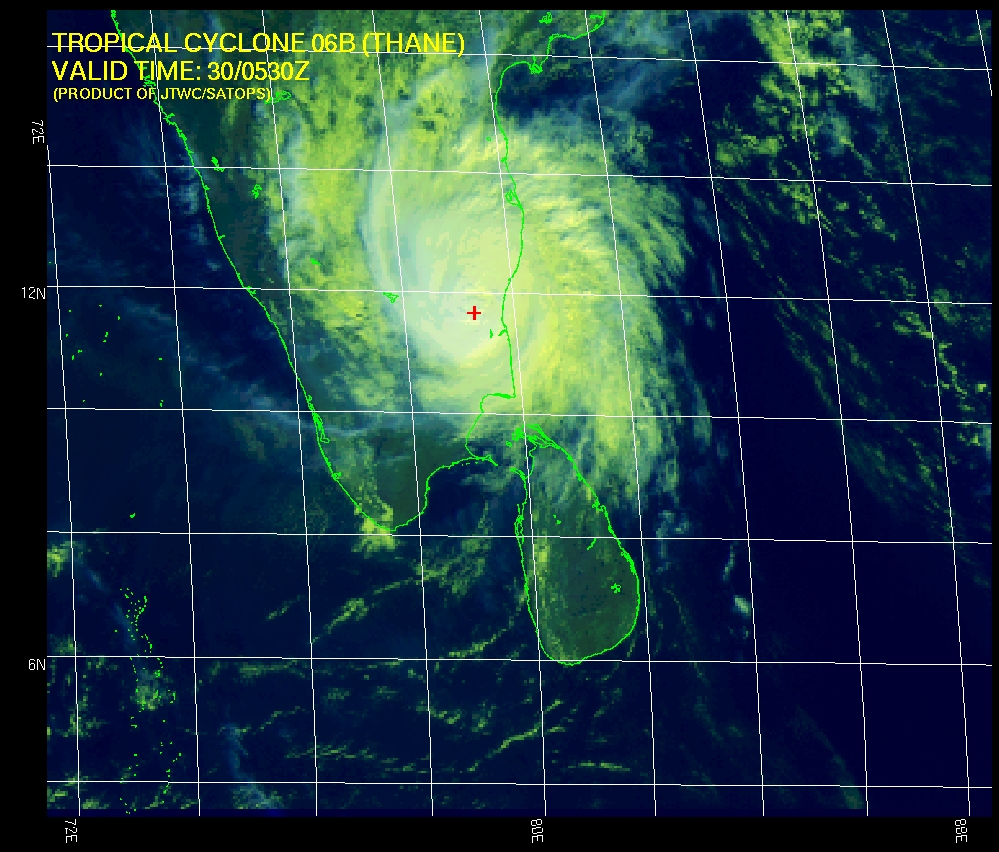 Tropical Cyclone Thane
30 December 2011
Credit:
Joint Typhoon
Warning Center
In the Bay of Bengal, Tropical Storm Thane made landfall on December 30th over southeastern India near the coastal town of Pondicherry (Puducherry). Torrential rains and sustained winds of 46 mph (74 km/hr) damaged homes. The storm was blamed for at least 42 deaths. The storm moved westward over land and quickly dissipated.

Severe extra-tropical cyclone Joachim struck Western Europe on December 15th–17th,. Heavy rain and snow, combined with high winds, caused travel disruption and hundreds of thousands of power outages across northern and western France, Germany, and Switzerland. The storm brought wind gusts as high as 94 mph (150 km/hr)—equivalent to the strength of a Category 1 hurricane—and pressure as low as 963.8 millibars. No fatalities were reported. The storm made its way into the Austrian and Swiss Alps, bringing welcome snowfall to resorts that had started off the winter ski season with unusual dryness. Please see above for more information on the European drought.
Storm Dagmar pounded Nordic countries in northern Europe on December 25th, cutting off electricity to an estimated 264,500 residents across Norway, Finland, and Sweden. The storm was the worst to hit the region since Janika in November 2001. Wind gusts of 145 mph (233 km/hr) were recorded in Norway, with average sustained winds up to 100 mph (161 km/hr). In middle and northern Sweden, trains were halted and roads were temporarily closed. No injuries or fatalities were reported. According to the Finnish Meteorological Institute, storms of this magnitude "are rare but not exceptional."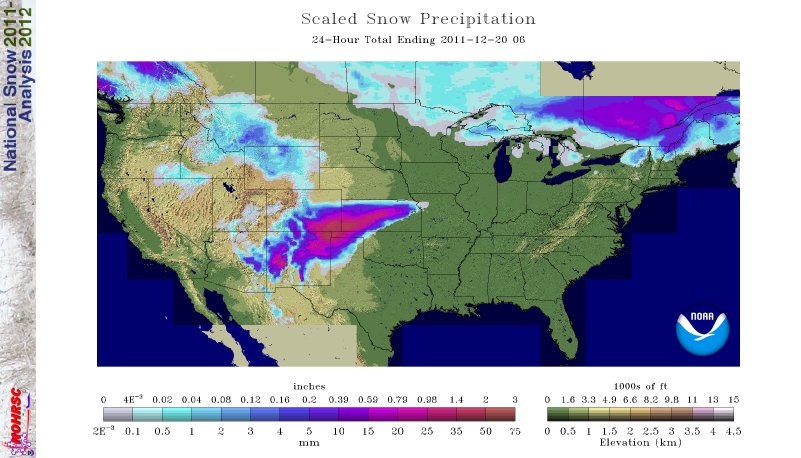 24-hour U.S. Snowfall Precipitation
20 December 2011
Credit:
NOHRSC
In the United States, a major winter storm brought blizzard conditions to parts of the Southern Rockies and Central Plains regions of the country on December 19th–20th. Portions of major interstates and other roads and highways were closed from New Mexico to Kansas, stranding many holiday travelers. At least seven deaths were blamed on the storm. According to the NOAA's Hydrometerological Prediction Center, Pietown, New Mexico received 24 inches (61 cm) of snowfall, while several other areas in New Mexico and Colorado received at least 12 inches (30 cm).
A cold wave during the second half of December killed at least 135 people in northern India, primarily in the state of Uttar Pradesh. Thick fog brought transportation systems to a halt, with passengers stranded at the railway stations and airports for several hours.
---
Citing This Report
NOAA National Centers for Environmental Information, State of the Climate: Global Hazards for December 2011, published online January 2012, retrieved on December 1, 2021 from
https://www.ncdc.noaa.gov/sotc/hazards/201112
.