Global Hazards - September 2011
---
Please note: Material provided in this report is chosen subjectively and included at the discretion of the National Centers for Environmental Information (NCEI). The ability to report on a given event is limited by the amount of information available to NCEI at the time of publication. Inclusion of a particular event does not constitute a greater importance in comparison with an event that has not been incorporated into the discussion. Data included in this report are preliminary unless otherwise stated. Links to supporting information are valid at the time of publication, but they are not maintained or changed after publication.
---
Updated 5 October 2011
---
Early SeptemberDozens of wildfires burn in Texas read more
Early SeptemberRecord high temperatures continue Texas and Oklahoma read more
Early to mid-SeptemberMonsoon floods devastate Sindh province in Pakistan read more
September 1st–11thTropical Storm Lee dumps very heavy rain in the from Louisiana to New York read more
SeptemberFlooding in Thailand since late July kills at least 112 people read more
mid-SeptemberSichuan province in China sees worst floods since 1847 read more
September 2ndTropical Storm Talas strikes Japan read more
September 12thPost Tropical Cyclone Katia hits northern UK read more
September 21stTyphoon Roke makes landfall in Japan read more
September 27thTyphoon Nesat roars ashore over the main Philippine island of Luzon read more
SeptemberThousands of walruses documented on shore near Point Lay, Alaska read more
---
---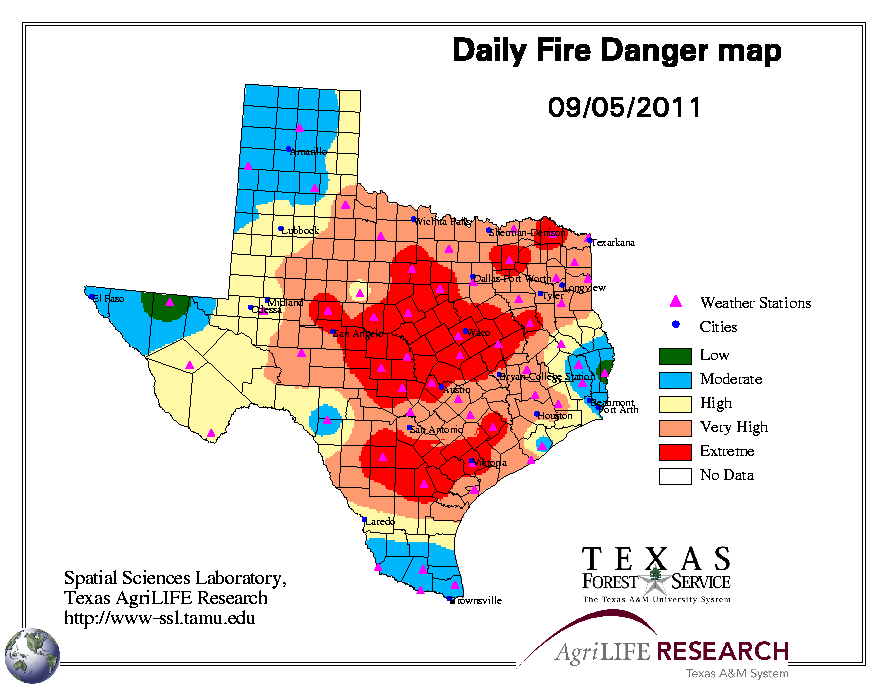 Texas Daily Fire Danger Map
5 September 2011
Image Credit:
Texas Forest Service
Strong winds from Tropical Storm Lee, combined with record heat, drought, low humidity, and continued lack of rain, sparked numerous wildfires in Texas during the beginning of September. Dozens of fires burned across the state, including the most destructive fire in the state's history. The Bastrop County Fire burned over 34,000 acres (13,760 hectares) and destroyed almost 1,600 homes, dwarfing the now second most destructive fire that occurred this past April near Possum Kingdom Lake, which charred 168 homes. The Bastrop County Fire covered an area of 24 miles by 20 miles (39 kilometers by 32 kilometers). Two people were killed in that blaze on September 5th. Since November 2010, more than 3.6 million acres (1.46 million hectares) have been burned across Texas, including over 135,000 acres (54,600 hectares) during the first week in September. All but 3 of the 254 counties in Texas reported burn bans during the month.
Please visit NCDC's
Drought
and
Wildfire
pages for more detailed information.

The sweltering heat that gripped the southern United States throughout the summer continued to set records into the first half of September. On the 13th, Wichita Falls, Texas recorded its 100th day of 100°F (37.8°C) temperatures in 2011, shattering the old record of 79 days set in 1980. This is the first time in recorded history that any Texas locale has achieved this distinction. That same day, Dallas/Fort Worth, Texas recorded its most 100°F days in a calendar year, 70, breaking the previous record set in 1980. It is interesting to note how that record was broken—the temperature reached 107°F (41.7°C) on the 70th day, surpassing the previous daily record set in 1965 by a full 7°F (4°C). For the summer (June through August), the state of Texas recorded the hottest summer for any state since records began in 1895. Neighboring Oklahoma had the second hottest summer for any state on record. At least 46 deaths in Texas and 20 deaths in Oklahoma were attributed to the heat.

Seasonal monsoon rains led to major flooding in southern Pakistan's Sindh province in early to mid-September. The districts of Badin, Tandoallahyar, Sakrand, and Ghotki were among the hardest hit. From August 10th through mid-September, floods killed an estimated 347 people, according to Pakistan's disaster authority, and destroyed or damaged almost one million homes. More than 7.5 million people were impacted. Additionally, 4.2 million acres (1.7 million hectares) of land have been affected by the floods, including 1.6 million acres (647,000 hectares) of cropland. Catastrophic flooding also occurred in Pakistan in 2010, due concentrated rains in the north flowing southward along the Indus River and its tributaries. This year, the flooding occurred due to widespread heavy rainfall across the region. In India, more than a week of heavy rains in mid-September impacted about 2,600 villages in the eastern state of Orissa, leaving 16 people dead and 61,000 residents forced to evacuate their homes. Since the beginning of the South Asian Monsoon season this year, at least 335 people were killed across five states by the end of September.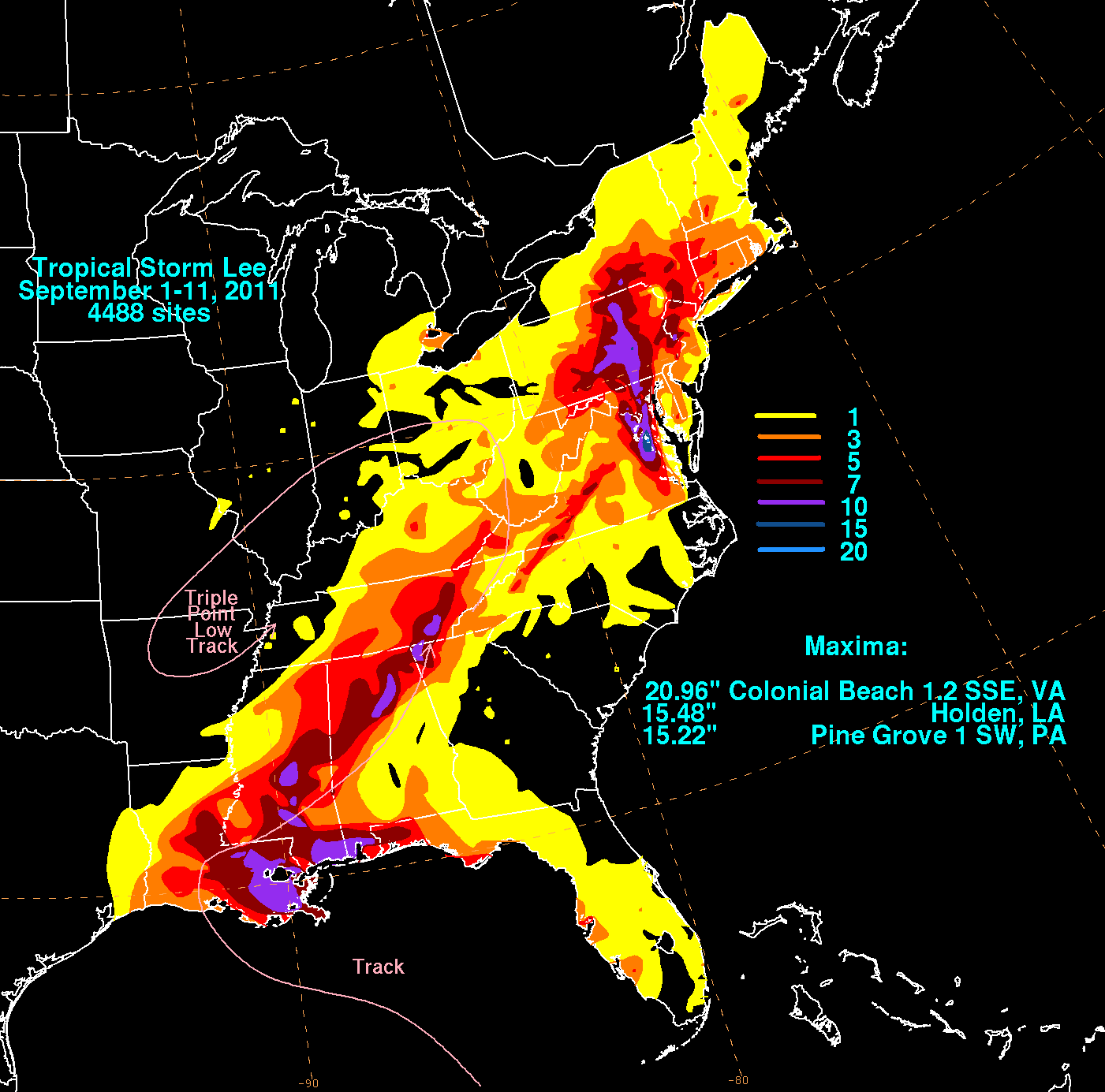 Tropical Storm Lee
1–11 September 2011
Image Credit: NOAA's
Hydrometeorological Prediction Center
During September 1st–11th, slow moving Tropical Storm Lee made landfall in southern Louisiana and dropped copious amounts of rain over parts of Louisiana, Mississippi, Alabama, and Tennessee as it weakened and tracked up into the northeastern U.S. Lee brought more rain to regions are already waterlogged and still recovering from the effects of Hurricane Irene. New Orleans, Louisiana received more than a foot of rain. According to NOAA's Storm Prediction Center, there were 54 preliminary tornado reports related to the storm across eight states from the 3rd through the 7th. The tornadoes damaged hundreds of homes and hundreds of thousands of residents lost power. After recording its all-time driest month in August with just 0.01 inches (0.25 mm) of precipitation, Chattanooga, Tennessee received 9.49 inches (241.0 mm) of rain on September 5th, breaking the previous daily record of 1.59 inches (40.4 mm) set in 1959. In the Northeast, river and streams burst their banks, leading to major flooding. More than 100,000 people living along the Susquehanna River in northeastern Pennsylvania were evacuated as the river rose to record levels. In Wilkes-Barre, the river crested at almost 42.7 feet (13.0 meters), higher than the previous record level of 40.9 feet (12.5 meters) set in 1972 due to Hurricane Agnes. In total, 14 people were killed due to effects of the storm.
In northern and northeastern Thailand, monsoon rains and related flooding and landslides led to at least 224 deaths since late July when Tropical Storm Nock-Ten hit the country. More than 300,000 homes were either damaged or destroyed across 29 provinces and 3 million acres (1.2 million hectares) of cropland were submerged. The monsoon season lasts from August to October in Thailand.
In China, more than a week of heavy rains during mid-September led to at least 57 deaths and affected 12.3 million residents in the southwestern and central provinces of Sichuan, Henan, and Shaanxi. According to Xinhua, the floods were expected to be the worst in Sichuan since records began in 1847. More than 120,000 houses were destroyed and economic losses were initially estimated to be $2.7 billion U.S. dollars.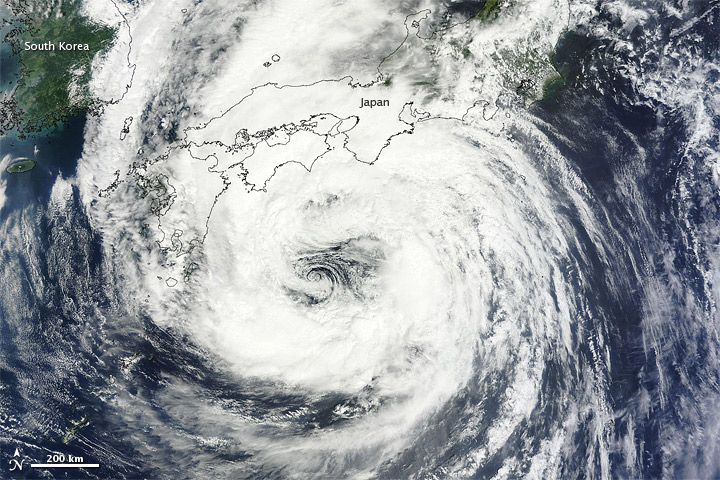 Tropical Storm Talas
2 September 2011
Image Credit:
NASA Earth Observatory
Typhoon Talas, the deadliest cyclone to hit Japan since 2004, was a slow moving system that dumped copious rainfall across western Japan on September 2nd. Wakayama and Nara prefectures sustained much of the damage. At least 59 people were killed and about 50 remained missing with thousands more stranded by the storm. A U.S.-based catastrophe modeling company estimated that damages may range from $150–600 million U.S. dollars. Talas was the 12th named storm and 5th typhoon of the Pacific typhoon season.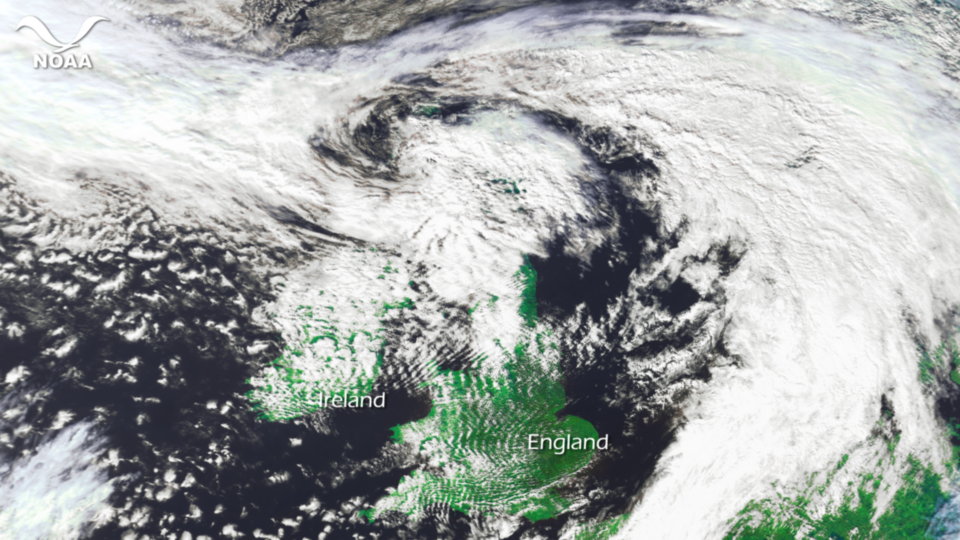 Post Tropical Storm Katia
12 September 2011
Image Credit: NOAA
Environmental Visualization Laboratory
In the North Atlantic, Hurricane Katia avoided North America and instead impacted the northern United Kingdom on September 12th, with winds gusting higher than 80 mph (129 km/hr) across Scotland, Northern Ireland, northern England, part of Wales, and the Republic of Ireland. One person was killed in Northern Ireland due to the effects of the storm. The winds were the highest recorded in the region since Hurricane Lili tore through in 1996.
Typhoon Roke struck Japan near the city of Hamamatsu on September 21stand made its way northeastward past Tokyo. The storm exited the northern island of Hokkaido on the 24th but not before dropping up to 17 inches (420 mm) of rain in some areas. The torrential rains triggered flooding and mudslides that left at least 16 people dead or missing. There was fear that the storm would hit the Fukushima nuclear site, which was damaged in March 2011, but fortunately the storm was of little consequence in that area.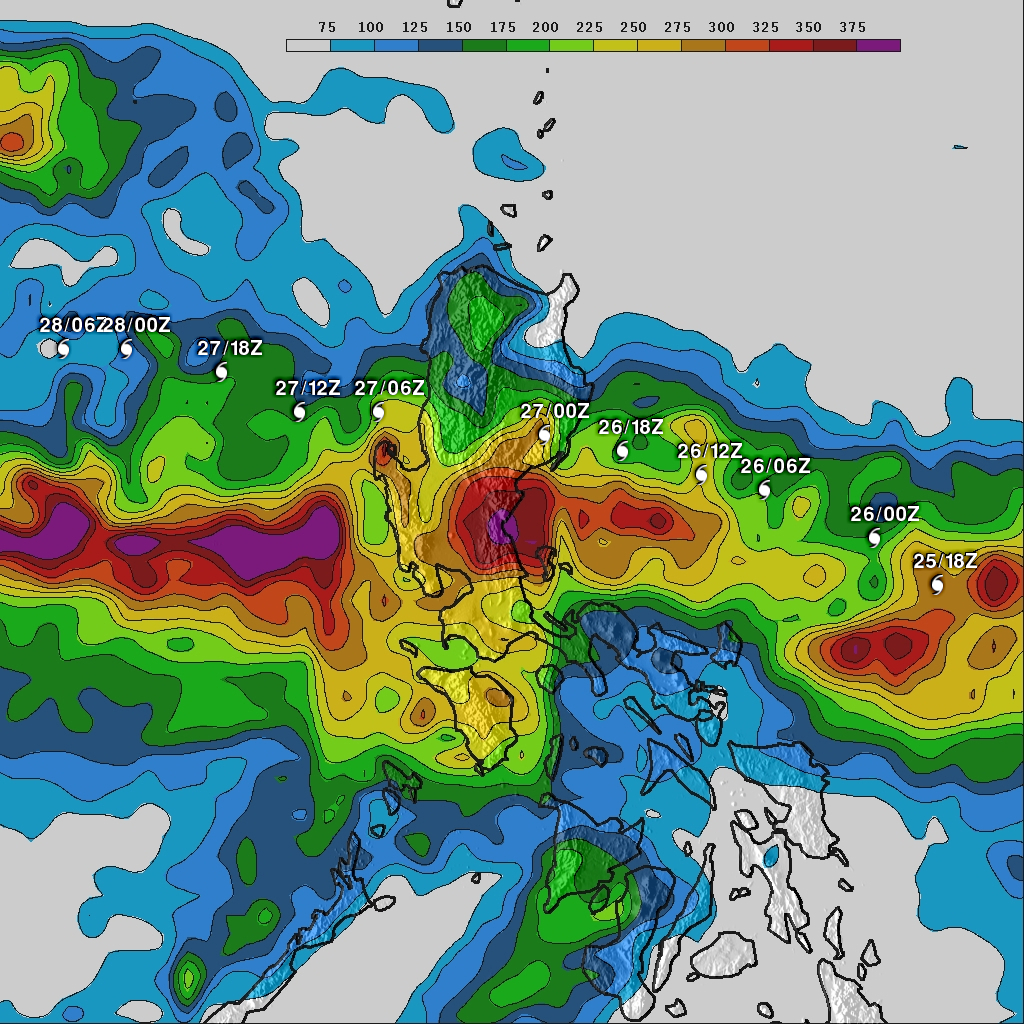 Post Typhoon Nesat Rainfall Totals
27 September 2011
Image Credit:
NASA TRMM
Typhoon Nesat (locally referred to as Pedring) made landfall on the northern Philippine island of Luzon on September 27th. Just prior to striking the island, Nesat was equivalent to a Category 3 storm on the Saffir-Simpson scale, with sustained winds of 121 mph (195 km/hr). According to NASA TRMM satellite analysis, the highest rainfall amounts of about 14.8 inches (375 mm) occurred over the central eastern Luzon coast. Large portions of the island recieved more than 5.9 inches (150 mm) of precipitation. Water was waist high in the streets of Manila, the nation's captial. At least 39 people were killed and more than 100,000 families were affected. Preliminary crop and infrastructure damage was estimated at $76.8 million U.S. dollars. The storm then moved into the South China Sea and headed toward the southern Chinese island province of Hainan. On September 29th, Nesat made a second landfall on the island's eastern tip, with wind speeds up to 94 mph (150 km/hr). Little damage was reported. The storm made a third and final landfall over Vietnam, where 4,000 residents were evacuated and the storm quickly weakened. Nesat lost all tropical storm status on September 30th.
Please visit NCDC's Hurricanes & Tropical Storms page for more detailed tropical cyclone statistics.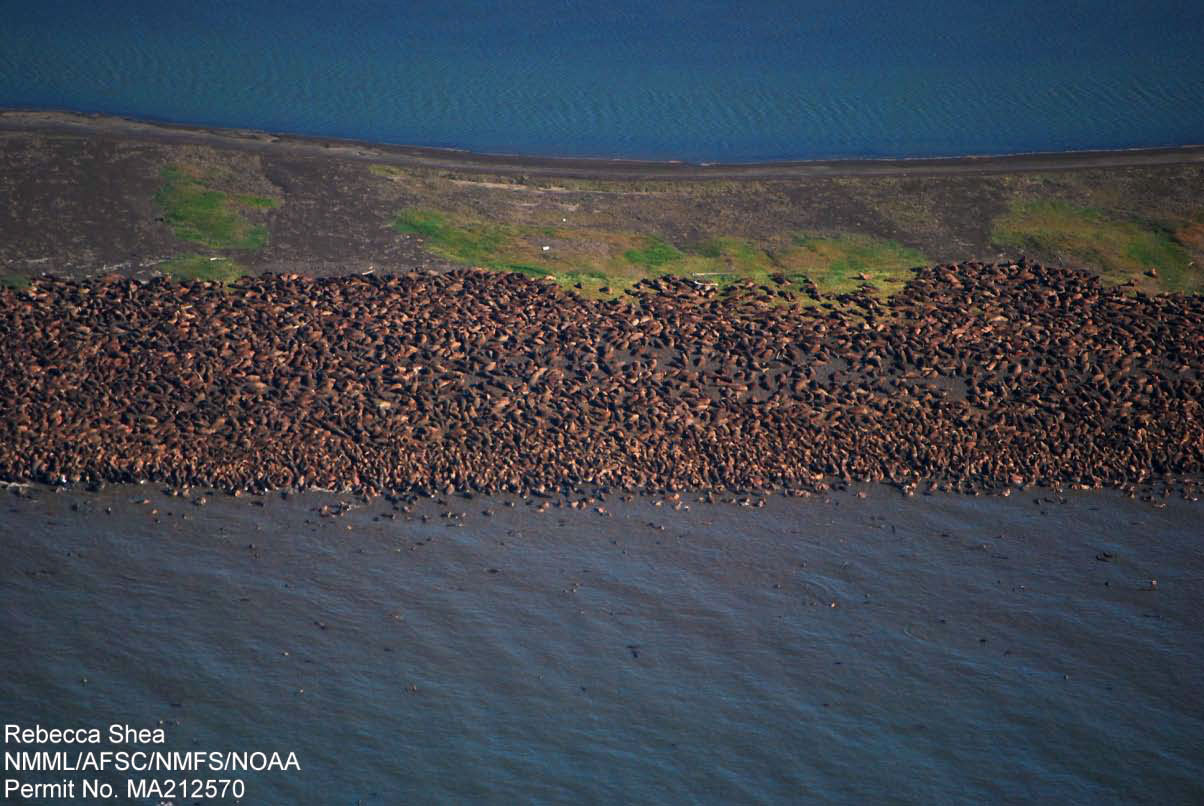 Walruses near Point Lay, Alaska
September 2011
Image Credit: NOAA's
National Marine Mammal Laboratory
Preliminary data from the National Snow & Ice Data Center indicate that on September 9th Arctic sea ice extent reached its second lowest value on record, behind 2007. This year continues a trend of declining sea ice, with satellite records dating back to 1979. In late summer, an estimated 20,000 walruses were documented on the coastal shores near Point Lay in northwestern Alaska by the U.S. Geological Survey's Alaska Science Center. Walruses typically spend the warm summer months far offshore, foraging for food on the shallow continental shelf of the Chiukchi Sea and resting on ice floats. However, these ice floats are melting, forcing the walruses to come ashore in search of food (they require about 100 lbs per day). This poses a problem because, with so many animals crowded together, the young calves can be trampled to death. This is the fourth year (also 2007, 2009, and 2010) this phenomenon has been observed in recent times. Walruses are currently being considered for inclusion on the endangered species list.
---
Citing This Report
NOAA National Centers for Environmental Information, State of the Climate: Global Hazards for September 2011, published online October 2011, retrieved on December 14, 2018 from
https://www.ncdc.noaa.gov/sotc/hazards/201109
.