Global Hazards - February 2010
---
Please note: Material provided in this report is chosen subjectively and included at the discretion of the National Centers for Environmental Information (NCEI). The ability to report on a given event is limited by the amount of information available to NCEI at the time of publication. Inclusion of a particular event does not constitute a greater importance in comparison with an event that has not been incorporated into the discussion. Data included in this report are preliminary unless otherwise stated. Links to supporting information are valid at the time of publication, but they are not maintained or changed after publication.
---
Updated 09 March 2010
---
Mid-FebruaryDrought affects millions in southern China read more
January and FebruaryCold ocean temperatures kill coral reefs off the Florida Keysread more
February 6thUnseasonable rains cause fatal mudslides in Mexicoread more
February 5th-6thMajor snowstorm hits U.S. mid-Atlantic region read more
February 8thAvalanches kill 170 in Afghanistan read more
February 9th-10thA second major snowstorm hits U.S. mid-Atlantic region read more
February 12thUnusual snow event covers the U.S. Deep South read more
Austral SummerHottest summer on record for Western Australiaread more
February 26thPowerful Nor'easter hits U.S. east coastread more
February 27thXynthia wreaks havoc across western coastal Europeread more
---
---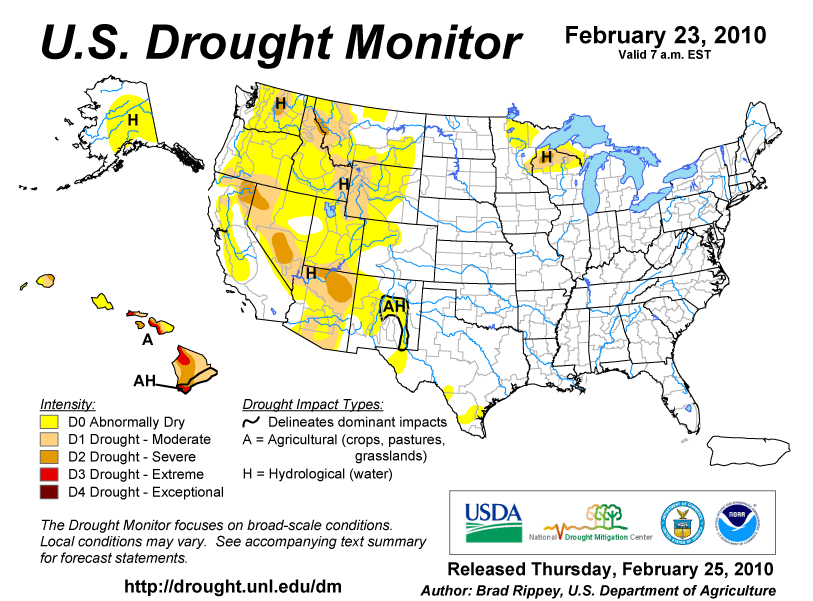 U.S. Drought Monitor
According to the U.S. Drought Monitor, as of February 23rd less than eight percent of the U.S. (including Alaska, Hawaii, and Puerto Rico) was experiencing moderate to extreme drought. Drought afflicted 82 percent of Hawaii's land cover, with 13 percent of the region in extreme drought, including northern and southeastern areas of the Big Island, and leeward portions of Maui and Moloka'i. According to NOAA's Climate Prediction Center, the El Niño phenomenon—anomalously warm ocean waters in the equatorial Pacific—is responsible for the continuing dry conditions over Hawaii.
By the end of February, the provinces of Yunnan, Sichuan, and Guizhou in southern China were reporting moderate to severe drought across much of the region, along with northwestern Guangxi, southern Gansu, eastern Qinghai, western Hunan, southwestern Hubei, south Shaanxi, southeastern Chongqing, and middle and southern Xizang (source: Beijing Climate Center). Extreme drought, the most dangerous category as listed by the Beijing Climate Center, also covered portions of Guizhou. China Daily Newspaper reported that the region was experiencing its worst drought in more than a half century. Rainfall in Hunan since July 2009 measured about 7.9 inches (200 mm)—a record low amount—while average temperatures were about 4°F (2°C) above normal. More than 7.5 million people in southern China lacked drinking water, with many villagers reporting that they had to walk several kilometers to fetch or purchase water in nearby towns (Source: Xinhua). Across southern China, an estimated 8.80 million acres (3.56 million hectares) of crops were affected by the drought. Direct economic agricultural losses due to the drought disaster have been estimated at 556 million U.S. dollars, according to the Ministry of Data Affairs (Source: Beijing Climate Center).
In Mongolia, extremely frigid winter weather has continued since December 2009, with temperatures dropping as low as -58°F (-50°C). According to the United Nations, 1.7 million livestock—vital to this poor, rural country—have been killed during this period. A summer drought in 2009 prevented farmers from stockpiling food for their livestock.
Polar air reached far into the deep southern U.S. during January and February. The unusually cold temperatures were caused by a strong negative Arctic Oscillation—where polar air shifts southward—which regularly brought temperatures below 35°F (2°C) in Miami, Florida. The record cold weather caused ocean temperatures in the Florida Keys to drop below 59°F (15°C), bleaching and killing coral reefs, which cannot survive the sustained cool water temperature. Area coral experts reported that they had not seen a bleaching of this magnitude due to cold temperatures since the winter of 1977/78 (Source: AFP).
In Santos, Brazil—a coastal city near Sao Paulo—32 people between the ages of 60 and 90 died during an unseasonably high heat wave. Temperatures soared above 102°F (39°C) on February 8th and remained well above 86°F (30°C) in the following days (Source: AP).
February 2010 was the third warmest February on record for Western Australia (85.2°F [29.6°C], average of daily maximum and minmum recorded temperatures). With below average rainfall, this month follows the third hottest December and second hottest January, making this summer season the hottest on record for the state—0.4°F (0.2°C) warmer than the previous record set during the summer of 1997/98 (Source: Bureau of Meteorology).
On February 6th, after days of torrential rains, a mudslide crushed several cars on a road leading to a popular weekend destination for residents in Mexico State, killing 11 people with 20 more reported missing. Earlier in the week, 16 people died in heavy rains and floods in the neighboring state of Michoacán and two children were killed in the state of Guanajuato (Source: Reuters). The rainstorms are unusual in central Mexico's dry winter season; rain falls in this region almost exclusively between May and October.
Sudden heavy rains led to mudslides on February 6th that damaged or destroyed dozens of residences in the foothills north of Los Angeles, an area that was ravaged by wildfires during the summer of 2009. Fortunately, no one was injured as mud, boulders, and debris crashed into homes and cars at 4 a.m. local time.