Global Hazards - November 2009
---
Please note: Material provided in this report is chosen subjectively and included at the discretion of the National Centers for Environmental Information (NCEI). The ability to report on a given event is limited by the amount of information available to NCEI at the time of publication. Inclusion of a particular event does not constitute a greater importance in comparison with an event that has not been incorporated into the discussion. Data included in this report are preliminary unless otherwise stated. Links to supporting information are valid at the time of publication, but they are not maintained or changed after publication.
---
Updated 30 November 2009
---
November 3rd, 2009Typhoon Mirinae makes a second landfall in Vietnam killing at least 130 people read more
November 4-6, 2009Torrential rainfall in El Salvador kills 192 people read more
November 1-15, 2009Extreme record heat in South Australia increases fire danger read more
November 9, 2009Landslide triggered by heavy rainfall kills 42 people in India read more
November 5-10, 2009Hurricane Ida makes landfall in Nicaragua and the United States read more
November 11-12, 2009Record snowfall in northern China leaves at least 38 people dead read more
November 12-13, 2009Strong coastal storm causes record storm surge along the U.S. East Coast read more
November 18-20, 2009Record rainfall in the U.K. leads to severe flooding read more
November 25, 2009Rare rainfall in Saudi Arabia leads to flash flooding, killing over 100 people read more
---
---
Overall drought conditions across the contiguous U.S. remained generally unchanged over the course of November. Some regions experienced worsening drought and other regions received beneficial rainfall, alleviating drought. The remnants of Hurricane Ida brought heavy rains across the Southeast, erasing drought conditions for the Carolinas, leaving only a small abnormally dry area in its wake. Rainfall and cool temperatures also eased drought conditions across Wisconsin and Minnesota and portions of the Pacific Northwest. Drought conditions worsened 1-2 categories along the Florida coast and the Four Corners region, as an on-going dry spell continued to plague both regions. According to the U.S. Drought Monitor, as of November 24th, 23.7 percent of the U.S. was experiencing at least abnormally dry conditions and 4.47 percent was under severe (D2) to exceptional (D4) drought.
An unusual spring heat wave in South Australia broke numerous records and left the land extremely vulnerable to fire danger. Adelaide experienced eight consecutive days with temperatures in excess of 35 °C (95 °F), resulting in the first spring heat wave experienced by the city since records began in 1887. The average maximum temperature for Adeliade for the first 15 days of November was more than 8 °C (14 °F) above the normal of 24.9 °C (77 °F) (Source: Australian BoM). The most severe fire warning of 'catastrophic' was issued by the Australian government for much of South Australia, where residents were encouraged to evacuate immediately. Extremely warm temperatures across South Australia are typical of El Niño events. Please visit NOAA's Climate Prediction Center's El Niño Diagnostic Page for more information on current El Niño conditions.
Tropical depression 11 (eventually strengthened to become Hurricane Ida) off Nicaragua's Atlantic Coast and tropical disturbance 96E off El Salvador's Pacific coast interacted on November 4th through 6th, causing torrential rainfall in El Salvador. The counter-clockwise flow of air around the disturbances pulled large quantities of moist, Pacific air over the coastal mountains, dumping up to 17.4 inches (442 mm) of rainfall. At least 192 people were killed by the floods and landslides (Source: AP). The small town of Verapaz was particularly hard hit with 300 homes destroyed. An estimated 10,000 people were displaced and were living in shelters across the small Central American country (Source: French Press Agency). Flooding and mudslides associated with tropical cyclones are not uncommon for El Salvador; the impacts of Hurricane Mitch in 1998 killed an estimated 240 people in the country.
Heavy rainfall the first week of November caused significant flooding and landslides in the southern Indian state of Tamil Nadu on November 9th. Nearly 300 homes were demolished and at least 75 people were killed (Source: AFP). Officials in the flooded areas reported 24 inches (610 mm) of rainfall over the course of two days. Heavy rainfall in southern India is not uncommon during November and December due to the reversal of the southwesterly monsoon flow to more northeasterly flow. The rainy season accounts for about 50 percent of Tamil Nadu's annual rainfall.
A frontal system moving across the Atlantic Ocean stalled over Ireland between November 18th and November 20th causing record rainfall and widespread flooding in the northwest English county of Cumbria. One fatality and one missing person report have been blamed on the weather conditions (Source: BBC). The U.K. Meteorological Office reported 12.9 inches (327 mm) of rainfall in Seathwaite and 14.2 inches (361 mm) of rainfall in Honister. In a 24-hour period, Seathwaite had 12.4 inches (314 mm) of rain, setting a new U.K. record for rainfall in a 24 hour period—records go back to 1914. Flooding was also reported in parts of Ireland, Northern Ireland, Scotland, and Wales. The Eskdalemuir observatory in Scotland reported its wettest November day since records began in 1931 with 3 inches (76 mm) of rainfall. The U.K. Environmental Agency claimed this was a "1-in-1,000" year flood event. Police estimated about 1,300 homes in Cumbria were damaged by flood water, and more than 200 people were rescued by emergency services (Source: Reuters).
The city of Jeddah, Saudi Arabia received 3.5 inches (9 cm) of rainfall on November 25th, a rare event for a city that typically receives 2.2 inches (5.6 cm) of rainfall annually. Heavy rain was reported for several locations along the Red Sea Coast with flash flooding widespread. Reports from Saudi Arabia's Civil Defense claim the floods were the worst in 27 years and the heaviest rainfall for the country in over a decade (Source: Saudi Gazette). The floods led to 106 deaths and 350 missing people reports across the country (Source: AP, Reuters).
Typhoon Mirinae made landfall in Vietnam on November 3rd as a category one tropical cyclone, producing heavy rains in that country and neighboring Cambodia. The subsequent flooding and induced landslide killed at least 130 people in Vietnam and another two in Cambodia. The storm also killed 27 people when it made landfall in the Philippines in late October (Source: Reuters). The rain and wind from the storm destroyed about 1,800 hectares (4,450 acres) of farmland and delayed coffee harvesting in parts of the country's coffee belt (Source: Reuters). This storm, along with several other tropical cyclones this season, have killed over 2,000 people in Southeast Asia since September (Source: AP). The dense population centers along the Southeast Asian coast make the region susceptible to a high number of fatalities each typhoon season. Mirinae was the 21st named tropical cyclone this season for the basin, which typically experiences 31 per year.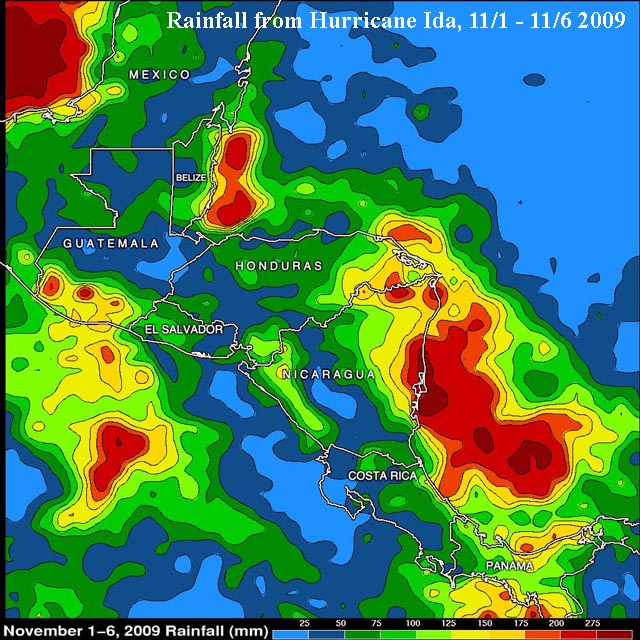 Hurricane Ida rainfall 1st through 6th Nov.
Source: NASA
Ida formed off the coast of Nicaragua on November 4th and strengthened to a category one hurricane before making landfall in that country on November 5th. According to NOAA's Coastal Services Center, Ida is the first tropical cyclone to make landfall this late in the season, during an El Niño event, since 1925. Up to 11 inches (280 mm) of rain was observed across Nicaragua and Honduras. (Please see the flooding report for impacts in El Salvador). Ida strengthened to a category two hurricane after re-emerging over the western Caribbean, with maximum winds of 105 mph (167 km/hr) and a central pressure of 993 mb. Ida made a second landfall along the U.S. Gulf Coast near Dauphin Island, Alabama as a tropical storm on November 10th. The largest impact of Ida in the U.S. included heavy rainfall along the Gulf Coast and Southeast. Coastal flooding and beach erosion was widespread due to a 3-6 foot storm surge along the Alabama and Florida coasts.
The remnants of Ida moved off the Southeast U.S. coast and helped to spin-up a strong extratropical cyclone which moved along the east coast. These strong storms are frequently called Nor'easters. Record storm surges were observed along the coasts of North Carolina, Virginia, Maryland, and Delaware on November 12th through 13th. Norfolk, Virginia recorded its highest storm surge ever at 5.96 feet, since observations began in 1927, beating the previous record of 5.62 feet during Hurricane Isabel in 2003. The storm was also associated with rainfall up to 11 inches (280 mm), and hurricane force winds. Wind gusts of 75 mph (121 km/hr) were reported at the Oceana Naval Air Station in Virginia. Several buildings in the Washington, D.C. area were evacuated due to fear they might collapse and at least 6 people were killed by the storm's impacts (Source: AP).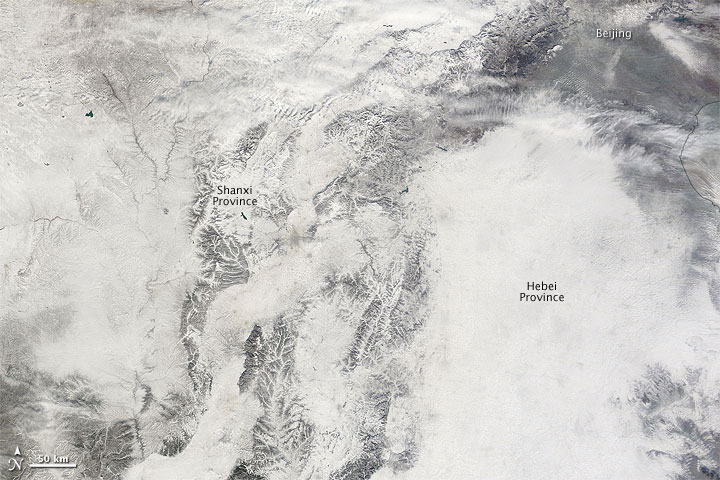 Satellite image of China snow 13 Nov.
Source: NASA
Heavy snowfall affected portions of northern China on November 11th and 12th. Impacts from the storm killed at least 38 people, including four children who were killed from a collapsing school building (Source: BBC). According to the Chinese Central Meteorological Observatory, the Hebei Province experienced the heaviest snowfall in 55 years and the Shaanxi Province had its heaviest snowfall in history. Light snow was also observed in Beijing. The Chinese Ministry of Civil Affairs reported more than 15,000 buildings collapsed and about 300,000 hectares of crops were affected, causing direct economic losses of about $1 billion U.S. dollars (Source: China View ).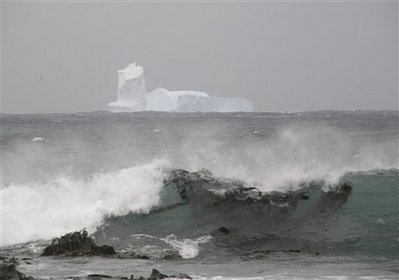 Iceberg passing Macquarie Island on 16 Nov.
Source: AP
More than 100 icebergs on November 23rd moved towards the New Zealand coastline from the Southern Ocean and threatened shipping interests in the region. Some of the floating ice measured more than 650 feet (200 meters) across. The same bergs passed by Australia's Macquarie Island, 930 miles (1,500 km) southeast of Tasmania, on Nov. 16th—it is very uncommon for icebergs to make it this far north. In 2006, icebergs floated to within 13.5 miles (25 km) of the New Zealand coast, which was the first such sighting since 1931. These bergs are traveling a similar route to the ones in 2006, but scientists are not sure if they will remain intact all the way to the Auckland Islands. The Antarctic sea ice reaches its annual maximum extent each September and spring temperatures bring melting, often causing large chunks to break off the ice shelf and float northward. This September, the Antarctic sea ice reached its third largest extent since records began in 1979. Please visit our Global Analysis page for more information.
---
Citing This Report
NOAA National Centers for Environmental Information, State of the Climate: Global Hazards for November 2009, published online December 2009, retrieved on January 20, 2018 from
https://www.ncdc.noaa.gov/sotc/hazards/200911
.