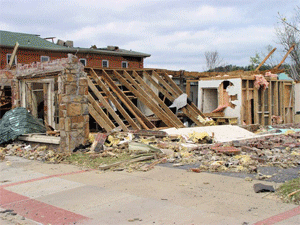 Damage Photos of Mena, AR
Global Hazards and Significant Events
April 2009

Severe storms affected parts of the contiguous U.S. during the month of April, resulting in numerous deadly tornadoes. Additional information can be found below.




U.S. Drought Monitor Map
In the U.S., moderate to severe drought was present in parts of the West, the northern mid-Atlantic, and the Hawaiian Islands. Severe to extreme drought remained across parts of Florida. Meanwhile, severe to exceptional drought conditions engulfed much of Texas. As of April 28, 18% of the contiguous U.S. was in moderate to exceptional drought according to the U.S. Drought Monitor. This includes 25% of the western U.S., 32% of the South, 2% of the High Plains, and 15% of the Southeast. For a complete drought analysis across the United States, please see the U.S. Drought page.
Dangerous wildfires were blazing across Oklahoma and Texas during mid-April, as strong winds up to 64 km/hr (40 mph) and dry conditions throughout the south central U.S. helped fuel the fires. Across Oklahoma, 200 homes were engulfed by the devastating fires and 34 people were seriously injured, while in Texas 32 homes were destroyed and three fatalities were reported (Source: CNN/AFP).

Coastal Wildfire in South Carolina
A massive wildfire scorched nearly 8,100 hectares (20,000 acres) in South Carolina's coastal area on April 22-24, resulting in the state's worst wildfire in nearly 30 years. The wildfires prompted about 2,500 residents to flee the affected area as it burnt 70 houses and damaged 100 others. South Carolina's governor was forced to declare a state of emergency in the coastal county of Horry, the county where Myrtle Beach (one of the state's most popular tourist spots) is located. It was reported that the blaze caused an estimated $16 million in damage (Source: CNN).

Heavy rains that affected Zambia and Namibia since March 2009 continued during April, wreaking havoc across parts of the region. The torrential downpours prompted the overflow of rivers, flooding homes and cropland, washing away roads, and increasing the risk of disease outbreaks. Nearly 700,000 people were affected in Zambia, while 344,000 people were affected in Namibia (Source: OCHA). The Zambezi River reached its highest level since 1969 (Source: IRIN). Since the heavy rains began, 92 fatalities were reported across Namibia.
Western and northern parts of Afghanistan experienced heavy rains during the month of April, resulting in seven fatalities and affecting over 17,000 people. Two hundred homes were completely destroyed, 150 livestock were killed, and tens of thousands of hectares of farmland were affected (Source: IFRC).
Intense rains during April 12-15 caused flooding across parts of Burundi. According to reports, the floods worsened living conditions as debris and feces floated in stagnant water (Source: IRIN). There were reports of residents complaining of waterborne diseases.
A week of heavy rain in Tajikistan triggered a mudslide that affected nearly 1,500 people and killed a seven-year-old boy on April 21 (Source: IFRC).
In the U.S., persistent heavy rain during the last week of April triggered floods across northeast, southeast, and south central Kansas. The floods caused five fatalities (Source: Associated Press).
In northeast Brazil, floods and mudslides have driven more than 186,000 people from their homes. As a result of excessive rains over the past two months, this normally semiarid region has experienced its worst deluge in more than 20 years. At least seven states have been affected by flooding, including hardest-hit Maranhao, where rivers rose as much as a foot (30 cm) a day. According to Red Cross officials, the Andean and Amazon regions are also among those hardest-hit. Nineteen fatalities were reported (Source: Associated Press). In neighboring Colombia, the rainy season is responsible for 45 deaths (Source: BBC News).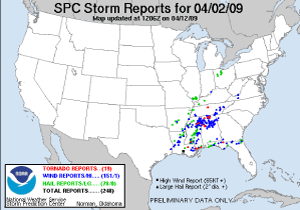 U.S. Storm Reports for 2 April 2009
Severe storms affected the southern U.S. on April 2, spawning tornadoes that caused damage to several homes. High winds brought down trees and power lines. In southern Mississippi, a train, which was heading towards New Orleans from Chicago, hit a tree that was knocked down by the strong winds. No fatalities were reported (Source: Associated Press).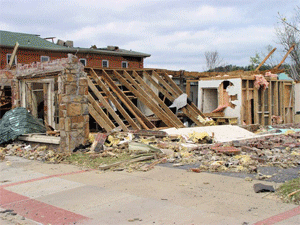 Damage Photos of Mena, AR
Across the southern U.S., a major outbreak of severe weather and deadly tornadoes occurred on April 9-10, with 112 preliminary tornado reports along with many reports of hail and wind damage. As the storms progressed towards the east, the violent weather caused widespread damage across Alabama, Kentucky, Mississippi, and Tennessee and claimed the lives of five people—three in Arkansas and two in Tennessee. EF1-EF3 tornadoes ripped through western Arkansas on April 9, flattening homes, uprooting trees, rupturing gas lines, and downing power lines. The worst hit area was the city of Mena where an EF3 tornado killed three people and destroyed or damaged over 600 homes (Source: Associated Press). This was the first tornado to hit Mena since November 1993. In Murfreesboro, Tennessee, an EF4 tornado tore a 15-mile path with winds as high as 265 km/hr (165 mph) on April 10, destroying 117 homes, damaging 728 others (Source: TMP Reports), and killing a mother and her 9-week-old baby (Source: Associated Press). According to reports, the EF4 Good Friday tornado caused an estimated $41.8 million in property damages (Source: TMP Reports).
Severe storms affected central Florida on April 14, resulting in three preliminary tornado reports. The strong winds generated by the storms uprooted trees, downed power lines, damaged 25 homes, and forced schools to evacuate from trailer classrooms. Over 70,000 customers were left without electricity. No fatalities were reported (Source: Associated Press).
In the U.S., another round of violent weather on April 19 resulted in 30 preliminary tornado reports across Alabama and Georgia. The severe storms claimed the lives of two people in northern Alabama (Source: Associated Press).
Across the midwestern and south central U.S., severe storms swept through the regions during April 25-27, spawning tornadoes and producing nickel- to quarter-size hail and ferocious winds. On April 25, the O'Hare International Airport in Chicago, Illinois, was forced to cancel nearly 100 flights due to bad weather. High winds downed power lines, leaving nearly 123,000 homes without electricity across southern Michigan on April 26. On April 27, a tornado damaged over 20 homes near Austin, Texas, while in Corsicana, 10 buildings were damaged. The storms brought heavy rain to Houston, Texas, causing floods across the area. It was reported that nearly 229 mm (9 inches) of rain fell in a 24-hour period (Source: Associated Press).
For more information on the U.S. Tornado events, please visit the U.S. Tornado 2009 Overview page.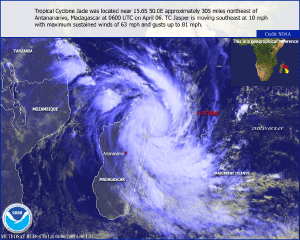 Tropical Cyclone Jade
Tropical Cyclone Jade developed as a tropical depression northeast of the island of Madagascar on April 5, quickly intensifying into an Indian Ocean severe tropical storm (equivalent to a North Atlantic category one hurricane) that same day. Jade's maximum sustained winds were 120 km/hr (75 mph or 65 knots). The storm made landfall in northeastern Madagascar on the 6th, where it rapidly weakened as it tracked towards the southwest. Heavy downpours from the storm triggered deadly landslides and prompted a house to collapse. Over 33,300 people were left homeless and nine fatalities were blamed on Jade (Source: AFP). The storm exited Madagascar on the 7th.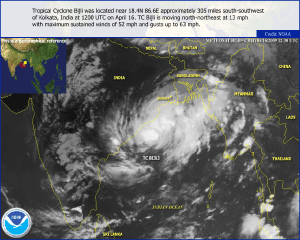 Tropical Cyclone Bijli
Tropical Cyclone Bijli, the North Indian Ocean's first tropical cyclone during the 2009 cyclone season, developed April 14 as a tropical depression. Bijli intensified to a tropical storm on the 15th and by the 16th it reached its maximum sustained winds near 93 km/hr (58 mph or 50 knots). Although the storm did not make landfall in eastern India, its outer rain bands dump heavy rain across the region. The storm continued its northeast track, making landfall in southern Bangladesh on April 17. The cyclone brought heavy rain and strong winds, but by the 18th weakened in intensity as it moved towards Burma (Myanmar). Bijli was responsible for damaging homes and crops and claimed the lives of five people (Source: Muslim Aid).
For 2008 basin tropical cyclone statistics, please refer to the following:
Australian Basin
North Indian Ocean Basin
Western North Pacific Basin
South Pacific Basin
South Indian Ocean Basin
East North Pacific Ocean Basin
Atlantic Basin

No significant extratropical cyclones reports were received during April 2009.


United States Snow Cover
Severe winter weather occurred during April 3-6 as a major snowstorm affected areas from the Plains eastward into parts of the midwestern United States. The storm swept through the Plains during April 3-5, with Iowa receiving as much as 25.4 cm (10.0 inches) of snow on the 5th, while western Nebraska reported snow drifts as high as 210 cm (7 feet). On April 6, the storm dumped 10.2-20.3 cm (4.0-8.0 inches) of snow across an area from northern Indiana to southeast Michigan. At the height of the storm, branches and power lines were brought down by the weight of the snow. Nearly 101,000 homes and businesses were left without electricity across Michigan. The storm was blamed for four fatalities (Source: Associated Press).
In the United States, a winter storm brought heavy snow across parts of northwestern Montana on April 29. The storm dumped as much as 122 cm (4 feet) of snow, with drifts as high as 366 cm (12 feet). The heavy snowfall blocked major highways and the icy roads were blamed for two fatalities (Source: Associated Press).
For more information on the U.S. Snow and Ice events, please visit the U.S. Snow and Ice Winter 2008/2009 page.
---
Citing This Report
NOAA National Centers for Environmental Information, State of the Climate: Global Hazards for April 2009, published online May 2009, retrieved on October 24, 2021 from
https://www.ncdc.noaa.gov/sotc/hazards/200904
.