Global Climate Report - July 2017
2017 year-to-date temperatures versus previous years
« Global Climate Report - July 2017
---
2017 year-to-date temperatures versus previous years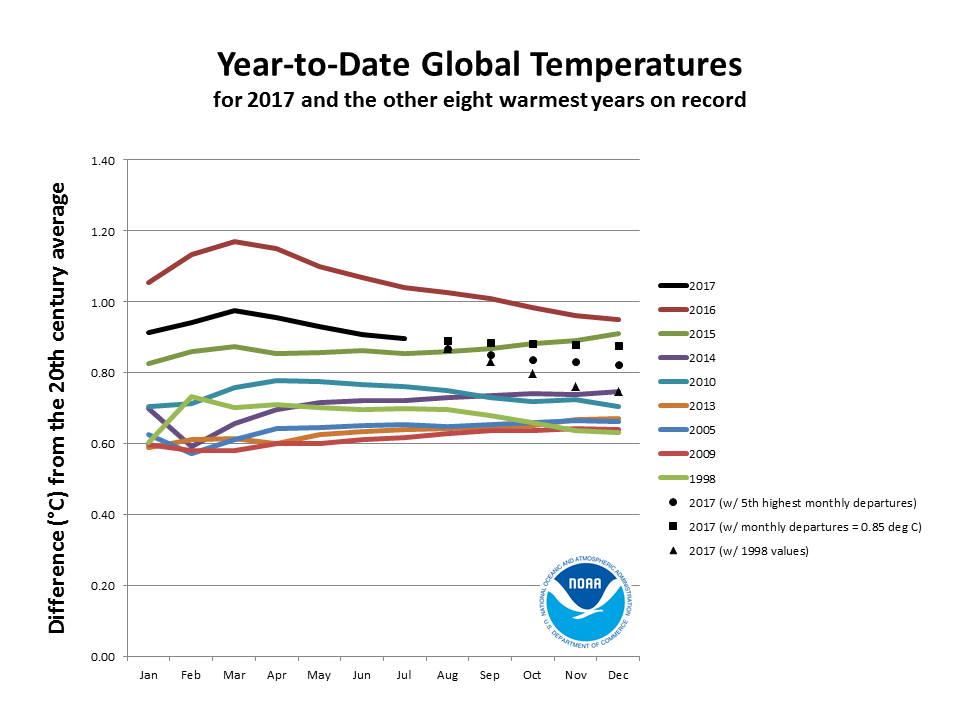 Global Year to Date Temperature Anomalies
This graphic compares the year-to-date temperature anomalies for 2017 (black line) to what were ultimately the eight warmest years on record: 2016, 2015, 2014, 2010, 2013, 2005, 2009, and 1998. Each month along each trace represents the year-to-date average temperature anomaly. In other words, the January value is the January average temperature anomaly, the February value is the average anomaly of both January and February, and so on.
The average global land and ocean surface temperature for January–July 2017 was 0.90°C (1.62°F) above the 20th century average of 13.8°C (56.9°F)—the second highest global land and ocean temperature for January–July in the 1880–2017 record, behind 2016 by 0.14°C (0.25°F). However, the January–July 2017 value surpasses 2015 by only 0.04°C (0.07°F) and 1998 (the only year from the 20th century among the top 10 warmest years on record) by 0.20°C (0.36°F).
The anomalies themselves represent departures from the 20th century average temperature. The graph zooms into the warmest part of the entire history.
2017 is gearing up to end up among the top three warmest years on record and the warmest year with ENSO-neutral conditions. The graph includes several end-of-year results based on the following three scenarios:
If each month from August through December matched the fifth highest temperature for their respective month (represented by the black circles): 2017 would end up as the third warmest year on record at +0.82°C (1.48°F), behind 2016 (warmest) and 2015 (second warmest).

August value used: 0.68°C / 1.22°F
September value used: 0.72°C / 1.30°F
August value used: 0.71°C / 1.28°F
August value used: 0.76°C / 1.37°F
August value used: 0.74°C / 1.33°F

If each month from August through December has a temperature departure of 0.85°C (1.53°F) (represented by the black squares): 2017 would end up as the third warmest year (+0.88°C / +1.58°F) on record, behind 2016 (warmest) and 2015 (second warmest).
If each month from August through December matched the 1998 monthly values (represented by the black triangles): 2017 would tie with 2014 as the third warmest year on record, behind 2016 (warmest) and 2015 (second warmest).

August value used: 0.68°C / 1.22°F
September value used: 0.53°C / 0.95°F
August value used: 0.50°C / 0.90°F
August value used: 0.41°C / 0.74°F
August value used: 0.58°C / 1.04°F