Global Snow and Ice - September 2011
---
Sea Ice Extent
According to the National Snow and Ice Data Center (NSIDC), the Northern Hemisphere sea ice extent which is measured from passive microwave instruments onboard NOAA satellites averaged for September 2011, was 4.61 million square km (1.78 million square miles), 34.5 percent below the 1979-2000 average. This is the second smallest September extent since records began in 1979. The September sea ice extent was 310,000 square kilometers (120,000 square miles) larger than the monthly average for September 2007, when the smallest monthly extent in the satellite record occurred. Below-average ice extent was observed across all regions of the Arctic with the exception of the East Greenland Sea, where near-normal ice extent was observed. September 2011 marks the 15th consecutive September and 124th consecutive month with below average Arctic sea ice extent. September Arctic sea ice extent has decreased at an average rate of 12 percent per decade.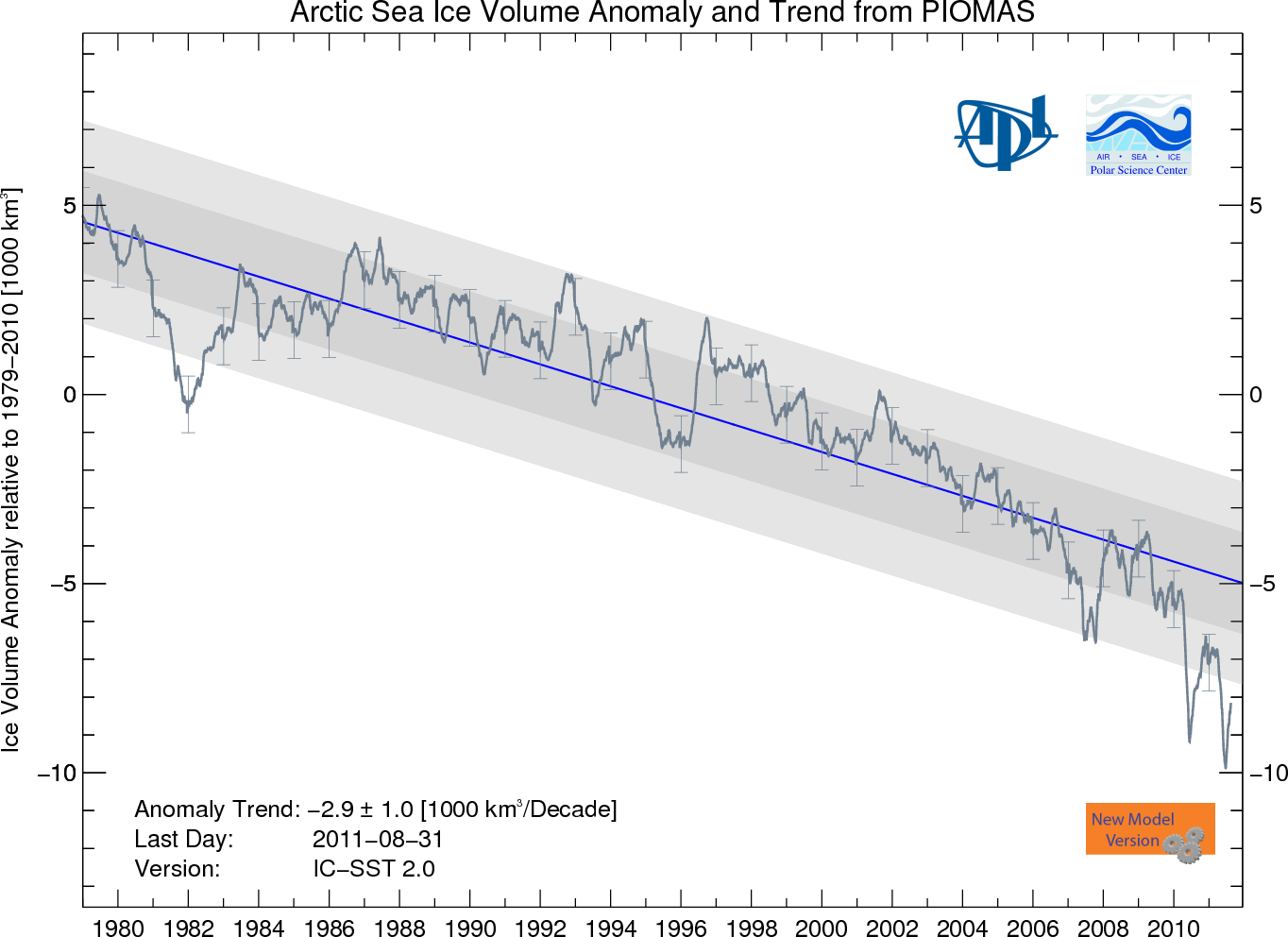 Sea Ice Volume Anomaly
Source: UW's Polar Ice Center
On September 9th, the Arctic sea ice reached its annual minimum extent, marking the end of the melt season. According to NSIDC, the minimum extent of 4.33 million square km (1.67 million square miles) was the second smallest extent in the satellite record, slightly larger than the 4.17 million square km (1.61 million square miles) that occurred in September 2007. According to the Polar Science Center, at the University of Washington, the second smallest extent was accompanied by record small sea ice volume across the Arctic. On September 10th the sea ice volume dropped to 4,000 cubic km (960 cubic miles), the smallest single day Arctic sea ice volume in its record. Also, the monthly averaged ice volume for September 2011 was record low at 4,200 cubic km (1,007 cubic miles) — 66 percent lower than the mean over this period and 75 percent lower than the September maximum in 1979.
The September 2011 Southern Hemisphere sea ice extent was 0.9 percent above the 1979-2000 average. This tied with September 1981 as the 14th largest (19th smallest) monthly Southern Hemisphere sea ice extent on record. The Southern Hemisphere sea ice extent typically reaches its annual maximum during the month of September. This year, environmental conditions allowed the growth season to continue well into October. September Southern sea ice has increased at a rate of 0.7 percent per decade.
For further information on the Northern and Southern Hemisphere snow and ice conditions, please visit the NSIDC News page.
---
Citing This Report
NOAA National Centers for Environmental Information, State of the Climate: Global Snow and Ice for September 2011, published online October 2011, retrieved on October 20, 2017 from
https://www.ncdc.noaa.gov/sotc/global-snow/201109
.
---
Metadata