Wildfires - January 2013
Updated: 13 February 2013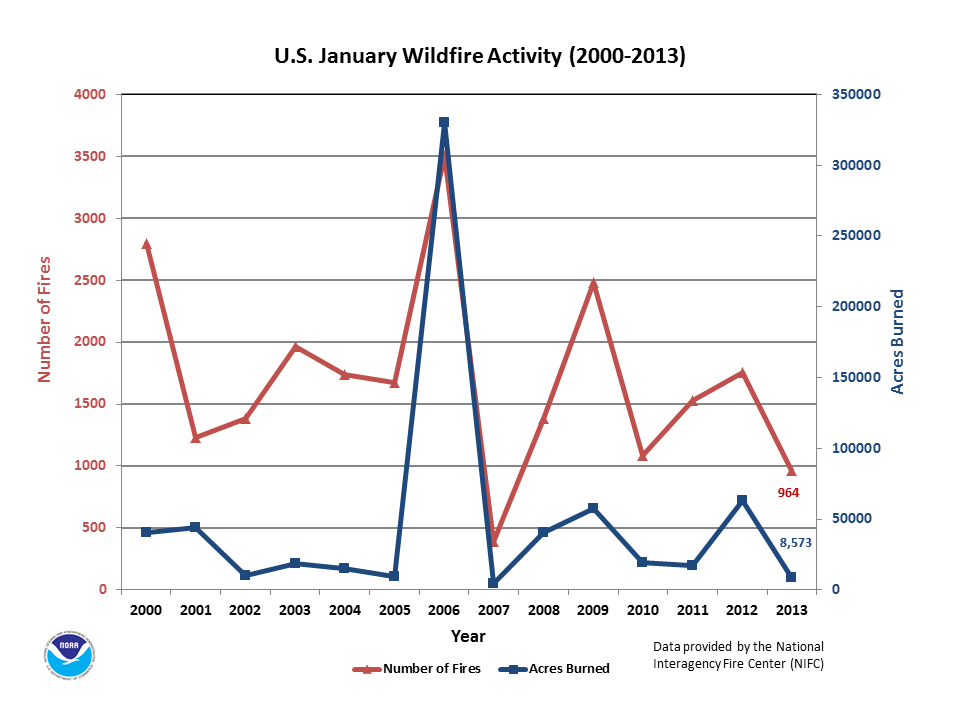 Number of fires & acres burned in January 2000-2013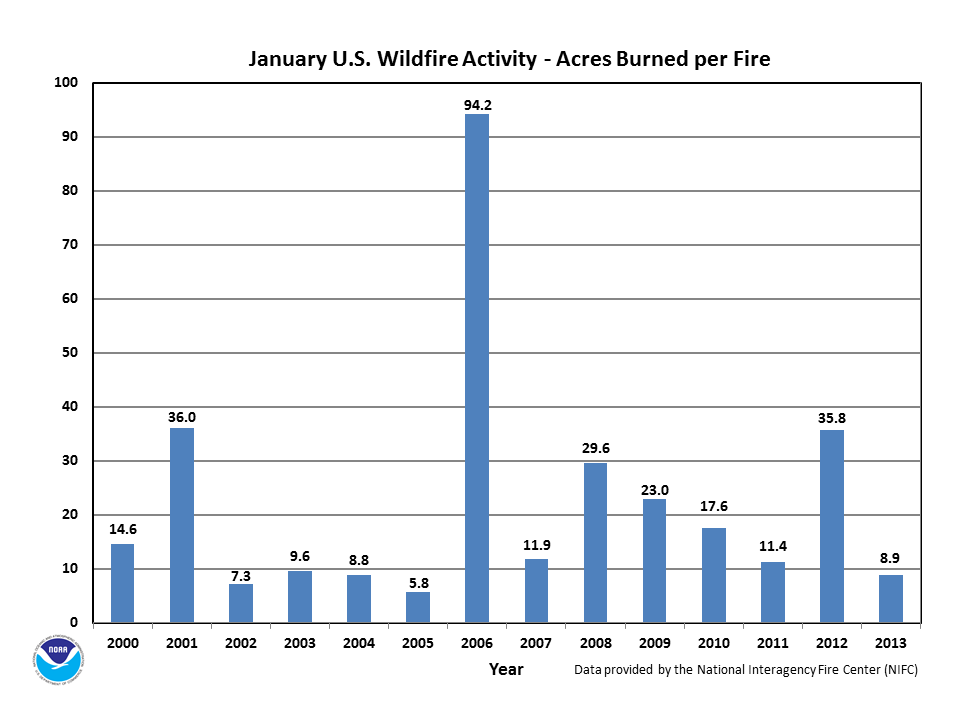 Acres burned per fire in January 2000-2013
---
Overview
January is not considered to be part of the U.S. wildfire season, with fire activity typically being slow during the month. January 2013 experienced below-average activity in terms of the number of fires and acres burned, with 964 fires charring 8,573 acres. During the 14-year period of record, only the January 2007 values were lower when 387 fires burned 4,597 acres. Isolated large wildfires sparked across the country within the states of Montana, Oklahoma, and Florida. Meanwhile, fire management officials leveraged conditions for conducting winter season prescribed burns in northern areas of California and Arizona as well as across the Gulf Coast and Southeast.
1-Month Wildfire Statistics*
January
Totals
Rank
(out of 14 years)
Record
2000-2010
Average
Value
Year
Acres Burned
8,573
13th Most
330,447
2006
53,742
2nd Least
Number of Fires
964
13th Most
3,507
2006
1,784
2nd Least
Acres Burned per Fire
8.9
11th Most
94.2
2006
23.5
4th Least
*Data Source: The National Interagency Fire Center (NIFC)
Discussion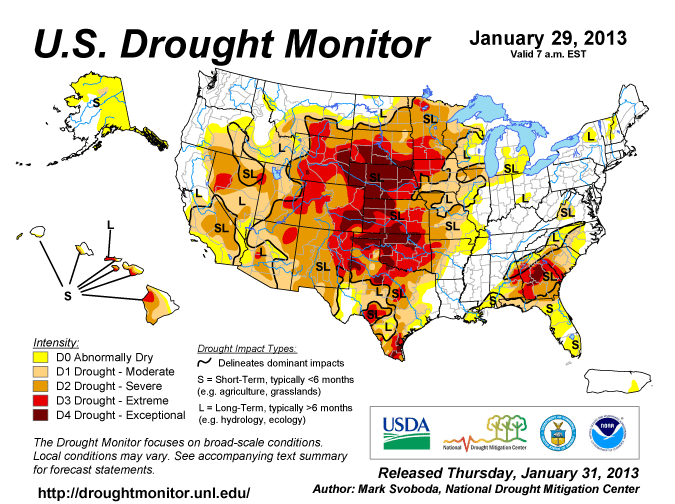 U.S. Drought Monitor map from 29 January 2013
Source:
National Drought Mitigation Center
In January, winter storms deposited snowfalls across the nation's northern tier and significant rain fell over parts of the South, Southeast, lower Midwest, and Mid-Atlantic states. Dryness expanded in south Florida during early January, which increased the state's wildfire risk. By month's end the Florida Panhandle's drought worsened from moderate to severe, while the Peninsula's dryness increased. Elsewhere, drought conditions improved in the Great Basin, much of Texas, and Virginia during the month. Extreme to exceptional drought remained anchored over the central Great Plains.
Significant Events
Please note, this is a list of select fires that occurred during January. More comprehensive fire information can be found through Inciweb.
Florida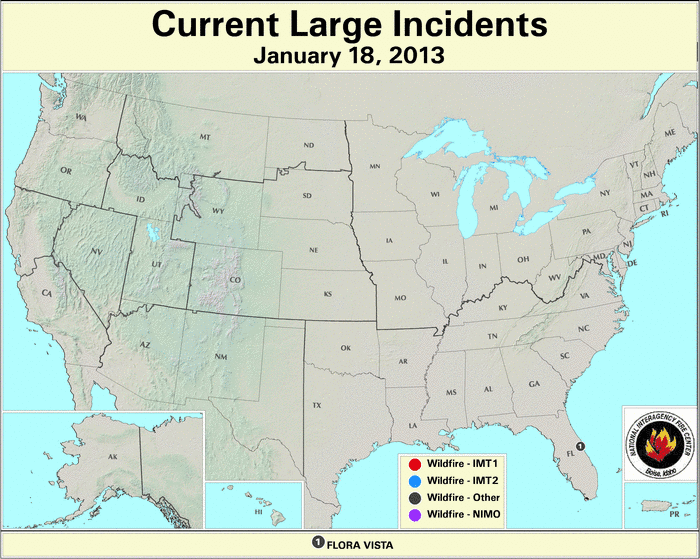 U.S. Large Wildfires 18 January 2013
The Florida Forest Service reported 3,905 acres burned by wildfires in the state from January 1st–31st. A wildfire in east central Florida swept through over 900 acres of marshland in the St. John's Wildlife National Refuge after sparking on January 12th. Smoke from the Flora Vista fire caused the overnight closure of State Road 407 in Brevard County. The flames moved to the northwest and stayed away from homes and structures.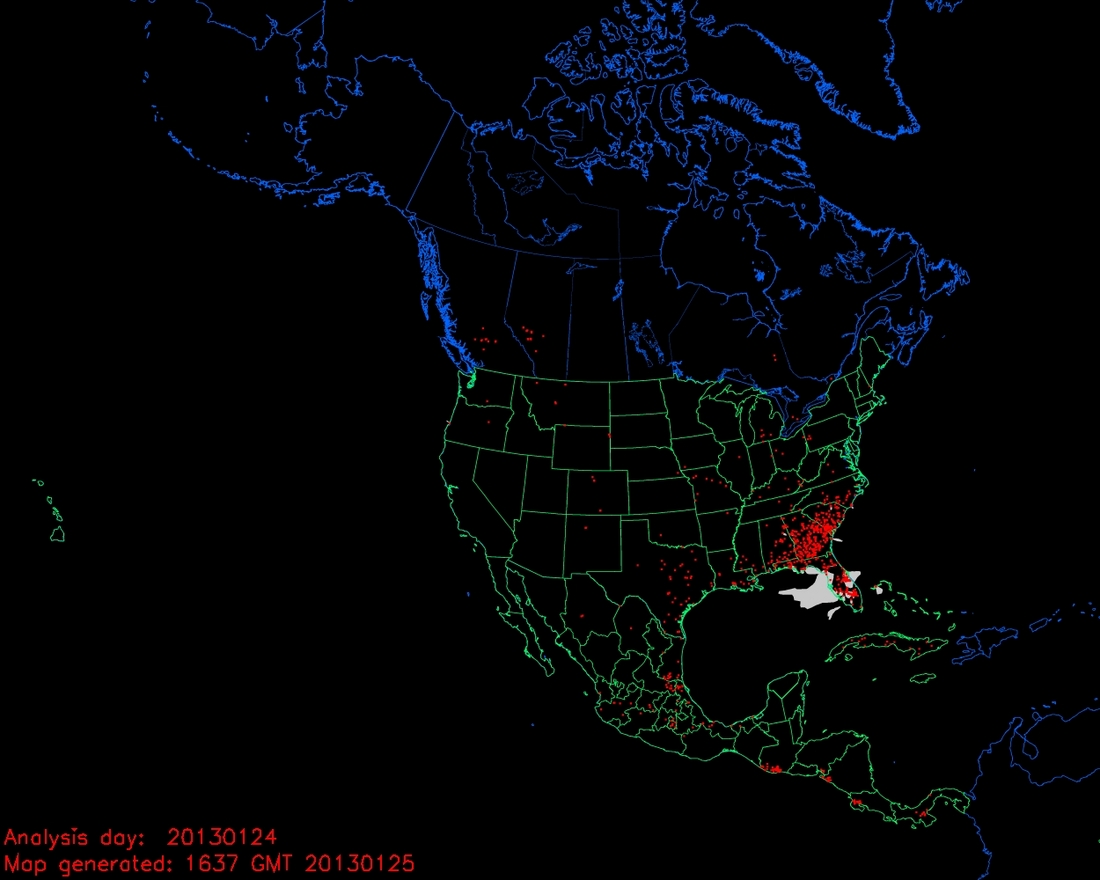 Hazard Mapping System Fire and Smoke Analysis
on 24 January 2013
Source:
NOAA Office of Satellite and Product Operations
On NOAA's Hazard Mapping System (HMS) map product, the red dots correspond to hot spots and the grey area represent smoke plumes from possible fire locations (including prescribed fires) detected over North America by satellite observations. After igniting on January 23rd, the Black Creek wildfire scorched 127 acres of the Apalachicola National Forest in Florida. In the adjacent Tate's Hell State Forest, smoke from a fire drifted over the eastern Gulf of Mexico on January 24th, while the Bucksiding Road wildfire, which sparked on January 28th, consumed 400 acres by month's end. The Buck #1 wildfire also burned nearly 1,200 forest acres to the south of Sumatra, Florida, during January.
Monthly Wildfire Conditions
Wildfire information and environmental conditions are provided by the National Interagency Fire Center (NIFC) and the U.S. Forest Service (USFS) Wildland Fire Assessment System (WFAS).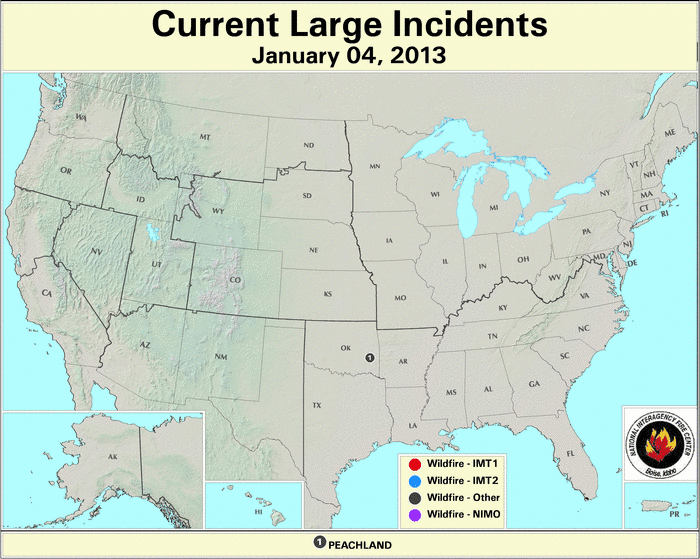 U.S. Large Wildfires 4 January 2013
During the first two weeks of January, the 10-hour fuel moisture gradually lessened below four percent in parts of the extreme Southwest. Likewise, at the 100-hour and 1000-hour intervals the Southwest's fuel moistures decreased to values between 6 to 10 percent. Below-normal snowpack kept the fine fuels of the Upper and Mid-Mississippi Valley drier than normal, while wetter-than-normal conditions in the Ohio Valley kept soils very moist. Fuel moistures in excess of 15 percent dominated at all intervals (10-hour, 100-hour, and 1000-hour) with the exception of eastern Florida, where the Keetch-Byram Drought Index (KBDI) value exceeded 600 units.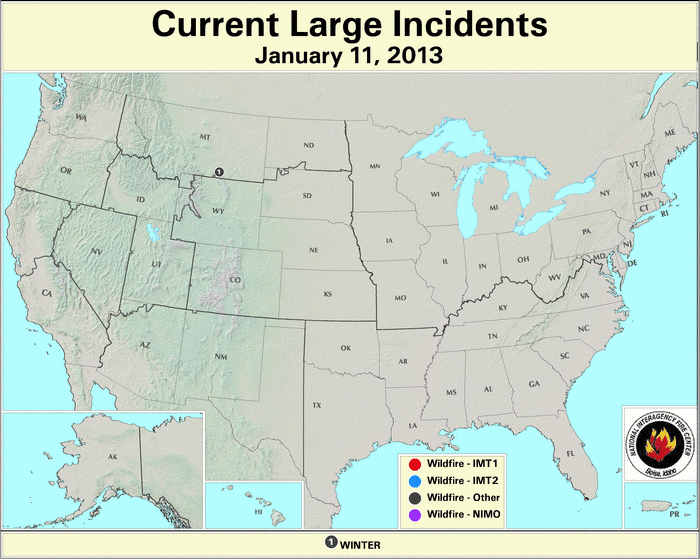 U.S. Large Wildfires 11 January 2013
Over 2,750 acres burned in a wildfire in southeastern Montana where dryness and above-average temperatures persisted. Grasslands in the central High Plains were drier than average as the snowpack along the Colorado Front Range into southeast Wyoming was about 75 percent of average. At mid-month, the 10-hour fuel moisture decreased to below eight percent across New Mexico, Texas, and Oklahoma, as well as parts of the central Plains and lower Mississippi Valley. The 100-hour fuel moisture in Nebraska and the western parts of Kansas, Oklahoma, and Texas dropped under 10 percent.

U.S. Large Wildfires 25 January 2013
Later in the month, new fires sparked in eastern Oklahoma, Alabama, and Florida. The Buck Trot wildfire burned over 2,100 acres in Oklahoma near Stilwell from January 23rd until January 27th when the area received a light rainfall. Meanwhile, three smaller fires in Oklahoma each burned 200 acres or less. Elsewhere, in the Gulf Coast of southwestern Alabama, the Industrial Road wildfire singed 119 acres near Citronelle on January 25th. KBDI values exceeded 600 units in parts of the Great Basin, South Dakota, Nebraska, extreme southern Texas, and much of the Florida Peninsula.
All Fire Related Maps
Large Fire Maps:
[
January 4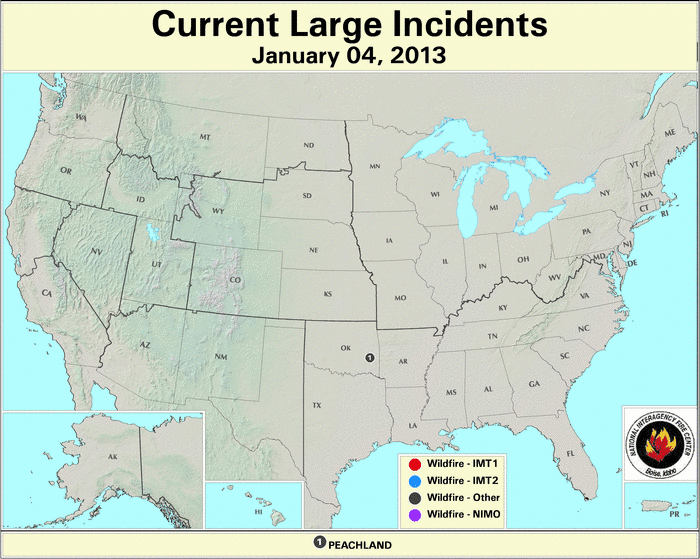 |
January 11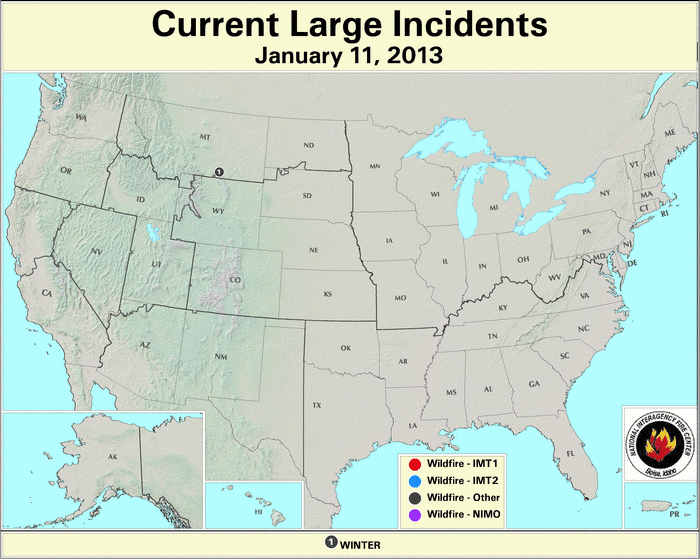 |
January 25
]
Fire Danger Maps:
[
January 1
|
January 15
|
January 31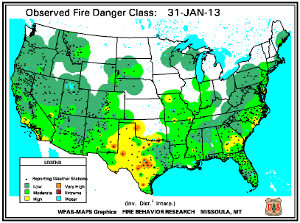 ]
10-hr Fuel Moisture Maps:
[
January 1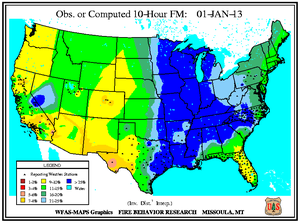 |
January 15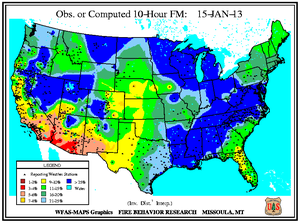 | ]
100-hr Fuel Moisture Maps:
[
January 1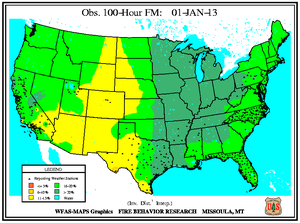 |
January 15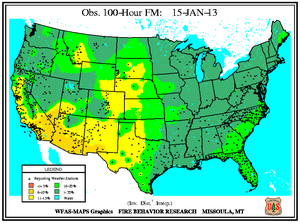 |
January 31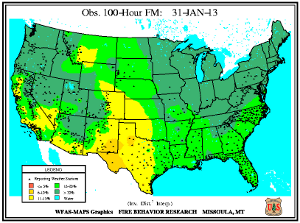 ]
1000-hr Fuel Moisture Maps:
[
January 1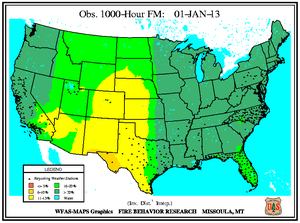 |
January 15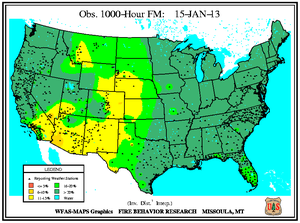 |
January 31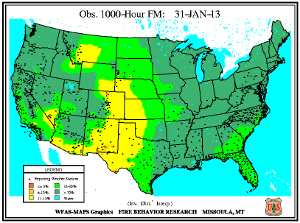 ]
KBDI Maps:
[
January 1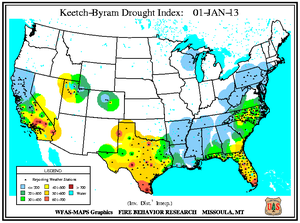 |
January 15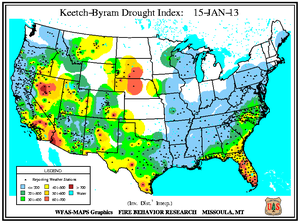 |
January 31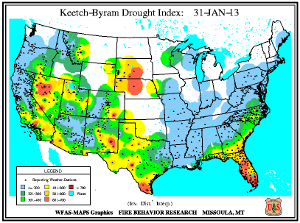 ]
---
Addiontional Wildfires Links
---
Citing This Report
NOAA National Centers for Environmental Information, State of the Climate: Wildfires for January 2013, published online February 2013, retrieved on August 25, 2019 from
https://www.ncdc.noaa.gov/sotc/fire/201301
.
---
Metadata