Wildfires - November 2012
Updated: 5 December 2012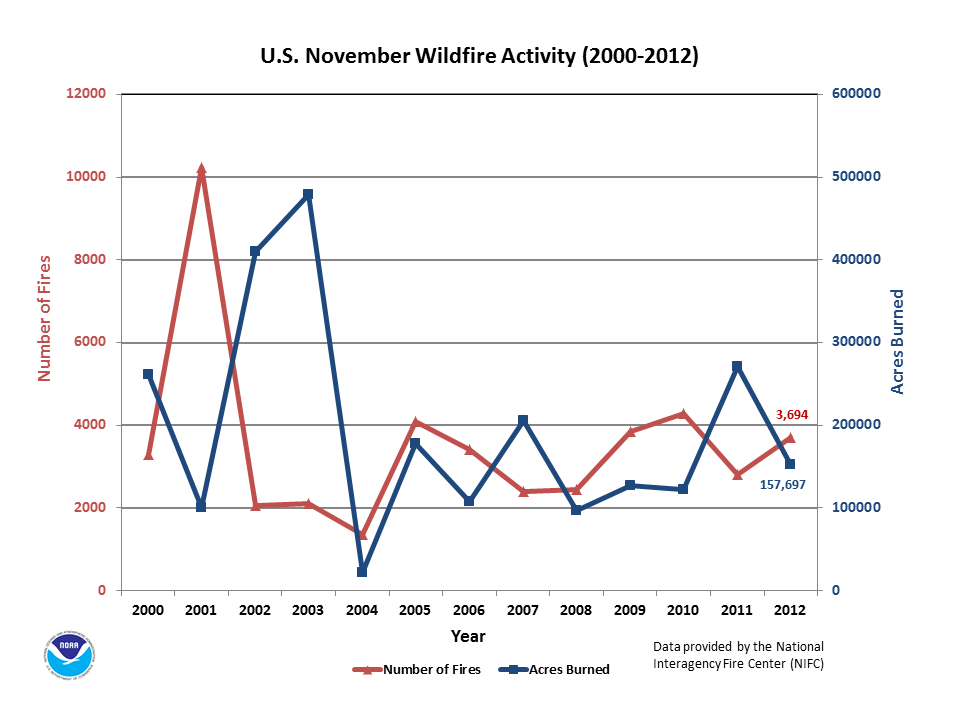 Number of fires & acres burned in November 2000-2012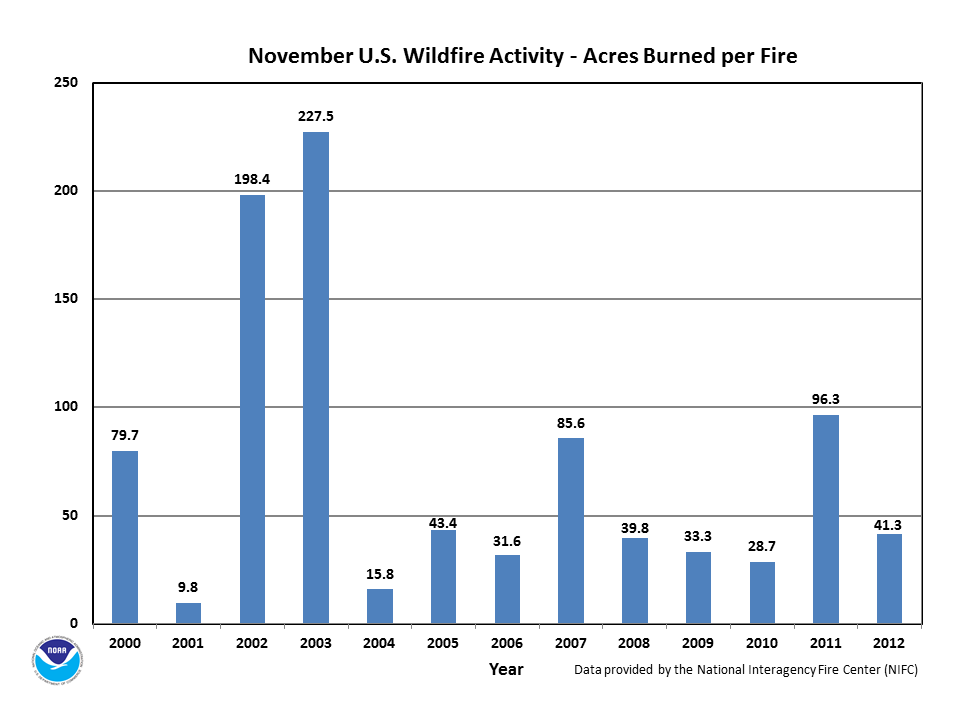 Acres burned per fire in November 2000-2012
---
Overview
During November, the year-to-date pattern for incidents of fewer fires with larger size continued. The year-to-date total of 55,505 fires was the least since records began in 2000 for any January through November period. Whereas, the year-to-date average fire size was the most since 2000 for any January through November period, with the year-to-date total acreage burned being the 2nd highest since 2000. The monthly total number of 3,694 fires was the 5th most for November in the thirteen-year record. November's average fire size and monthly total acres burned both ranked at the median value (7th highest and 7th lowest) for any November in the 2000-2012 record. The monthly average fire size reached 41.3 acres per fire, which was well below the 10-year average (based on 2001-2010) of 71.4 acres per fire. The January through November average fire size was 165.0 acres. Over 150,000 acres burned by wildfires in November, with a total of 9.1 million acres having burned since January 2012.
1-Month Wildfire Statistics*
November
Totals
Rank
(out of 13 years)
Record
2000-2010
Average
Value
Year
Acres Burned
152,697
7th Most
478,648
2003
191,797
7th Least
Number of Fires
3,694
5th Most
10,223
2001
3,590
9th Least
Acres Burned per Fire
41.3
7th Most
227.5
2003
72.1
7th Least
3-Month Wildfire Statistics*
September - November
Totals
Rank
(out of 13 years)
Record
2000-2010
Average
Value
Year
Acres Burned
1,431,323
4th Most
1,992,436
2007
1,038,936
10th Least
Number of Fires
10,981
10th Most
22,843
2001
14,667
4th Least
Acres Burned per Fire
130.3
3rd Most
176.0
2006
78.6
11th Least
Year-to-Date Wildfire Statistics*
January - November
Totals
Rank
(out of 13 years)
Record
2000-2010
Average
Value
Year
Acres Burned
9,156,278
2nd Most
9,508,251
2006
6,434,326
12th Least
Number of Fires
55,505
13th Most
91,094
2000
73,841
Least on Record
Acres Burned per Fire
165.0
Most on Record
165.0
2012
87.7
13th Least
*Data Source: The National Interagency Fire Center (NIFC)
Discussion
As exceptional drought remained anchored over the central Great Plains, dryness expanded into central North Carolina and Virginia from a second location of exceptional drought centered over Georgia during November. In early November, the moisture deficits mounted across Georgia and South Carolina (Keetch-Byram Drought Index values exceeded 500 units), before mid-month showers brought brief improvement. Dryness spread from western and central Kentucky to dip across northeastern Tennessee by the end of the month, where an outbreak of wildfire incidents resulted. Drought conditions intensified in eastern Oklahoma, and northern and southeastern Texas. Severe drought expanded in southwestern Nevada and southeastern California in the latter half of November. Although the east-facing slopes of the Hawaiian islands received precipitation from mid-month onward, the western areas continued to experience drought.
Significant Events
Please note, this is a list of select fires that occurred during November. Additional fire information can be found through Inciweb.
California
Precipitation across southern California remained below-normal during November. The ongoing dryness in wind-prone areas provided conditions for significant fire potential. Multiple wildfires burned during the month. The Devore Fire ignited on November 5th in the chaparral along Interstate 15, which resulted in the day-long closure of the highway through Cajon Pass. Santa Ana winds fanned the blaze quickly through more than 330 acres in the foothills of the San Bernardino Mountains. Three residences near the Mathews Ranch were evacuated, but no damage was reported. Over 450 firefighters with the support of 10 aircraft contained the wildfire on November 6th. The following week the Cut Fire sparked in the same area, but was contained after charring about 4 acres on November 11th. The wildfire also forced a brief closure of one northbound lane of Interstate 15 for a few hours. Off-shore winds, which strengthened unexpectedly, drove a prescribed 430-acre burn in Montana de Oro State Park outside of containment to become a wildfire on November 13th. The Creek Fire burned an additional 100 acres of brush and hardwoods before being controlled on November 15th. The Ranch Fire, which ignited on November 25th to the northeast of San Bernardino near Apple Valley, caused the evacuation of the Horse Springs Campground. The wildfire was contained the next day after scorching 10 acres of grass and chaparral.
Hawaii
Westward portions of several Hawaiian islands had above-normal significant fire potential during November. A couple of wildfires developed on Oahu's southern coast at mid-month where dry conditions and uncontrolled vegetation provided fuel, according to media reports. A wildfire at Ewa Beach burned about 100 acres and threatened residences on November 10th. Firefighting efforts were hampered due to the lack of fire hydrants. Another wildfire sparked the same day near Kalaeloa, which burned about 35 acres of dry brush without posing a threat to homes.
Monthly Wildfire Conditions
Wildfire information and environmental conditions are provided by the National Interagency Fire Center (NIFC) and the U.S. Forest Service (USFS) Wildland Fire Assessment System (WFAS).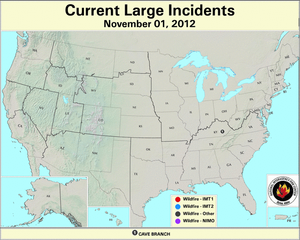 U.S. Large Wildfires 1 November 2012
Early in the month, only a few large wildfires formed and their locations coincided with the low 10-hour fuel moistures (at or below 10 percent) in southeastern Kentucky, southeastern Oregon, and southern California. In Kentucky, the Cave Branch Fire consumed over 200 acres. In Oregon, the Juniper Creek Fire consumed 1,500 acres of brush and grass. Critically low 10-hour fuel moistures (under 5 percent) spanned the Four Corners area of the southwest United States. Moreover, the lower half of the country experienced 10-hour fuel moistures at or below 8 percent. Both the 100-hour and 1000-hour fuel moistures were at or below 10 percent from Nevada to New Mexico, with most areas west of the High Plains at or below 15 percent, except for the Pacific Northwest and northern California.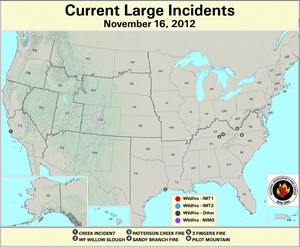 U.S. Large Wildfires 16 November 2012
Fuel moistures generally improved at all intervals (10-hour, 100-hour, and 1000-hour) from precipitation received during the second and third weeks of November, except in the Northeast. At mid-month, only southern Arizona and southern New Mexico's fuel moistures remained below 5 percent for the 10-hour interval. As 10-hour fuel moistures dropped across the middle and northern Atlantic states, an increase in wildfire activity occurred in the southern Appalachian Mountains. Wildfires erupted in North Carolina, northeastern Tennessee, southeastern Kentucky, and western Virginia. Pilot Mountain Fire in North Carolina, which began as a prescribed 200-acre burn to clear dead wood and underbrush, tripled in size on November 8th when strong winds spread the blaze along the Jomeokee Trail. The fire's low intensity spared standing trees, but forced closure of the Pilot Mountain State Park where other than for some burned fences at viewing areas no structural losses occurred, according to media reports. The fire was contained at 675 acres and the park reopened on November 21st. The Spade wildfire burned over 800 acres in Virginia's Jefferson National Forest (northwest of Roanoke) and threatened homes from November 13th-15th. Another Virginia wildfire, the 3 Fingers Fire, burned about 100 acres from November 10th-15th.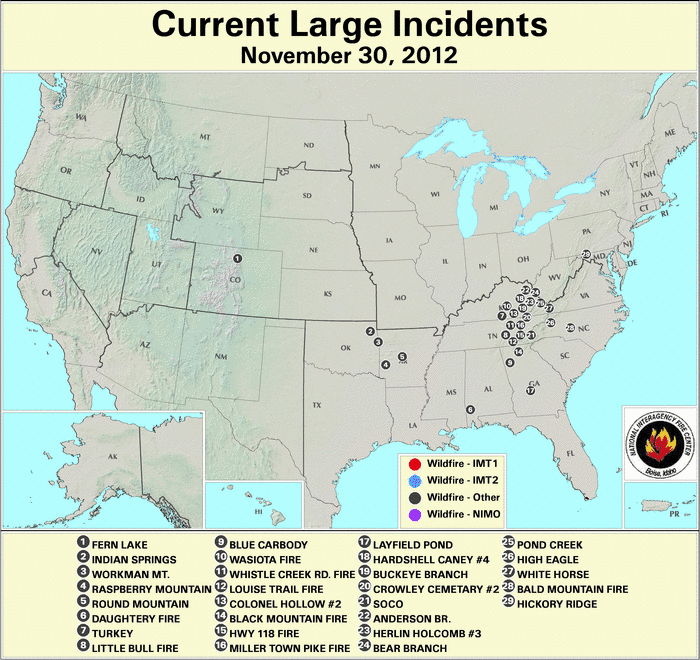 U.S. Large Wildfires 30 November 2012
During the latter part of November, the 10-hour and 100-hour fuel moistures remained at or below 15 percent in the Piedmont plateau regions of the eastern U.S. (parts of central Virginia, western and central North Carolina, upstate South Carolina, and northeast Georgia). In northern Georgia, a wildfire in the Chattahoochee-Oconee National Forest burned over 200 acres. The blaze, which sparked on November 25th, forced a temporary closure to the Appalachian Trail. In North Carolina, the High Eagle fire burned over 150 acres in the rugged terrain of Caldwell County near Lenoir before being contained on November 28th, according to media reports. Large wildfires continued to develop in eastern Tennessee, Kentucky and northern Arkansas. The Stone Mountain Fire consumed over 2,000 acres of beetle-killed pines in steep terrain of east Tennessee, while fanned by a northeasterly wind. The blaze burned west of Rogersville from November 15th-24th where it had threatened homes and structures in Hawkins County, according to media reports. Multiple wildfires sparked across eastern Kentucky in late November. The Turkey wildfire burned nearly 600 acres in the Daniel Boone National Forest from November 22nd-27th. The Belles Fork Fire burned nearly 250 acres. The Lime Kiln Fire burned nearly 170 acres from November 18th-20th. The Meathouse Fire burned up to 150 acres. Northwestern Arkansas remained under a moderate fire risk following a summer of hot temperatures and drought conditions, which dried the soil and fine fuels. The Snowball Fire consumed over 300 acres by November 23rd. Gusty winds, fallen leaves, warm temperatures, and low humidity at the end of November combined to keep the fire danger elevated in northwestern Arkansas and eastern Oklahoma.
Did You Know?
Reforestation of Bastrop Lost Pines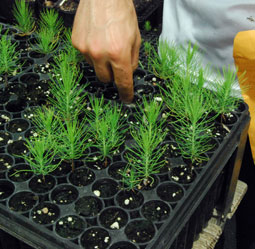 Loblolly seedlings from Bastrop, Texas
Source: Lady Bird Johnson Wildflower Center, University of Texas
In central Texas, preparations for the first volunteer planting workday at the Bastrop State Park occurred during November, according to media reports. Most of the 6,600-acre park's signature "Lost Pines" were destroyed during the 2011 fires — deemed as the most destructive wildfires in the state's history after devastating more than 32,000 acres. Drought-hardy loblolly pine seedlings were nurtured during the past year from over 1,000 pounds of surplus seeds in refrigerated storage. Over 400,000 seedlings were delivered to the park for the planting event commencing on December 1st. The seeds were collected as part of cooperative efforts between five states and eight industrial partners — led by the Texas A&M Forest Service — to promote the best genetic quality seed for use in forest regeneration programs in the Western Gulf Region of the United States. Planting of more than one million seedlings is planned for each of the two next years. Geneticists estimated that the 10-inch tall seedlings need up to 25 years to reach the mature size of the former Bastrop Lost Pines.
All Fire Related Maps
Large Fire Maps:
[
November 1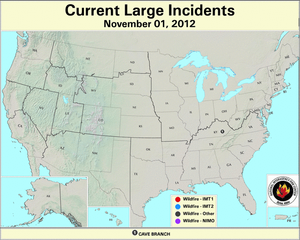 |
November 16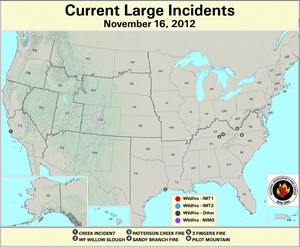 |
November 30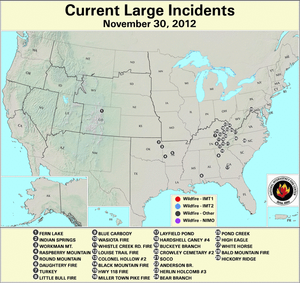 ]
Fire Danger Maps:
[
November 1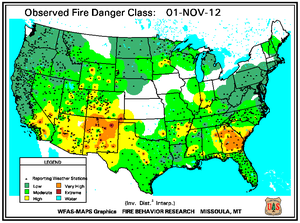 [
AK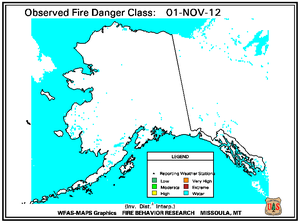 ] |
November 16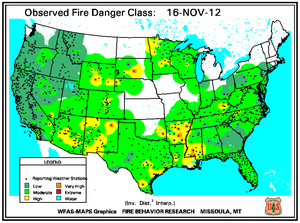 [
AK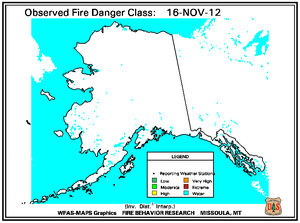 ] |
November 30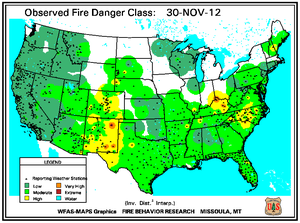 [
AK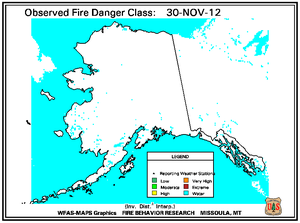 ] ]
10-hr Fuel Moisture Maps:
[
November 1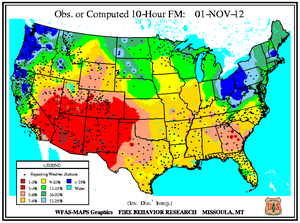 [
AK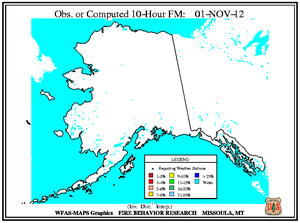 ] |
November 16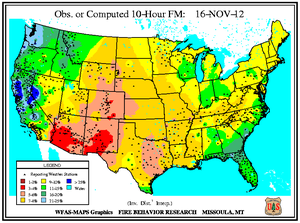 [
AK
] |
November 30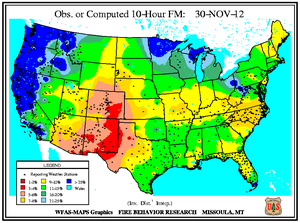 [
AK
] ]
100-hr Fuel Moisture Maps:
[
November 1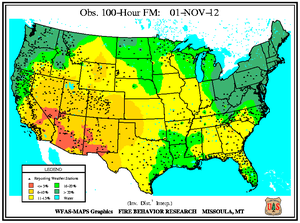 [
AK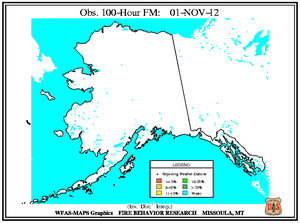 ] |
November 16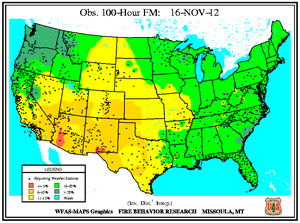 [
AK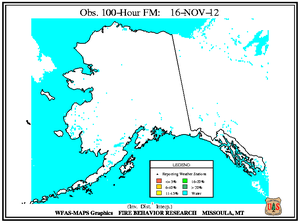 ] |
November 30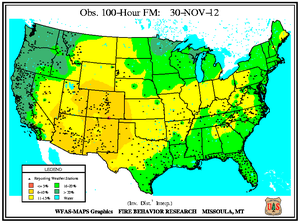 [
AK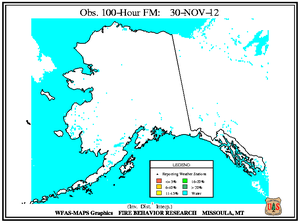 ] ]
1000-hr Fuel Moisture Maps:
[
November 1
[
AK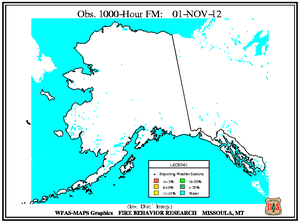 ] |
November 16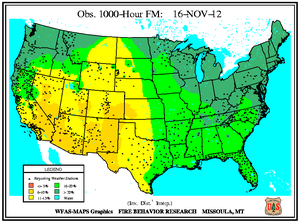 [
AK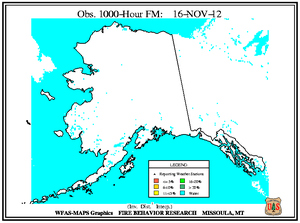 ] |
November 30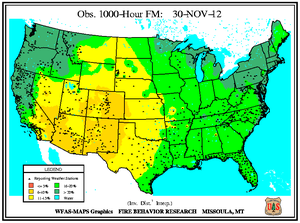 [
AK
] ]
KBDI Maps:
[
November 1
[
AK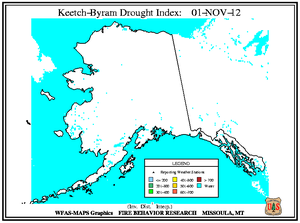 ] |
November 16
[
AK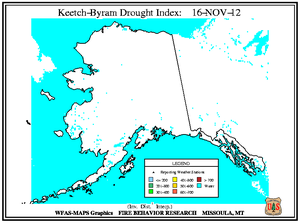 ] |
November 30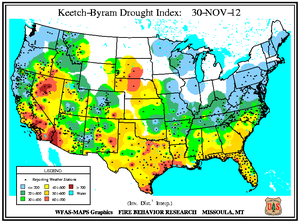 [
AK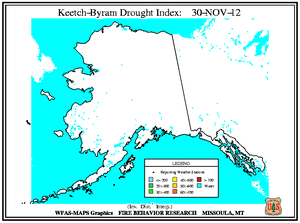 ] ]
---
Additional Links
---
Citing This Report
NOAA National Centers for Environmental Information, State of the Climate: Wildfires for November 2012, published online December 2012, retrieved on April 14, 2021 from
https://www.ncdc.noaa.gov/sotc/fire/201211
.
---
Metadata