Wildfires - Annual 2010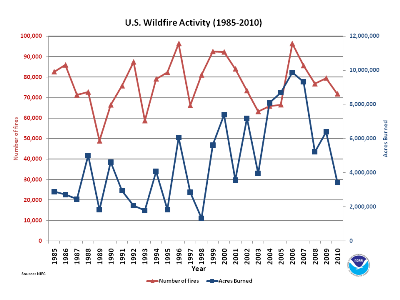 1985–2010 U.S. Wildfire Counts
Data Source:
NIFC
Issued: 10 January 2011
During 2010, the western climate regions as well as the northern tier of the country had above average precipitation, while temperatures tended to be near–normal to above–normal for all climate regions except for the Southeast. The wet and cool conditions across the West, particularly during spring and summer limited the number of large wildfires during the typical wildfire season. Wet conditions during summer and early autumn throughout the Plains also limited the number of large fires there. The exceptionally wet conditions also helped eradicate drought for almost the entire contiguous United States.
2010 Wildfire Statistics through November
(Source:
NIFC
)
2010–Annual Totals
Nationwide Number of Fires
Nationwide Number of Acres Burned
12/30/2010
71,839
3,422,823
12/30/2009
79,513
5,914,821
12/30/2008
76,753
5,218,832
12/30/2007
85,583
9,318,710
12/30/2006
96,326
9,871,863
12/30/2005
66,546
8,686,716
12/30/2004
65,878
8,094,531
12/30/2003
63,269
3,959,223
12/30/2002
73,423
7,182,979
12/30/2001
83,996
3,570,225
12/30/2000
92,250
7,393,493
5–yr average
(2005–2009)
80,940
7,897,551
10–yr average
(2000–2009)
78,352
6,968,820
Through December 30th, the nationwide number of fires year–to–date was 71,839 which burned 3.42 million acres (1.4 million hectares), with an average of 47.6 acres (19.3 hectares) per fire. Every month during 2010 experienced below average acreage burned. The wet conditions contributed to 2010 having the least acreage burned annually since 1998, and the 9th least (18th greatest) acres burned annually since reliable records began in 1985. The number of fires during 2010 was also below average across the country. Although the amount of land burned and the number of new fires was limited, there were several high profile wildfires which caused considerable damage.
---
Significant Events during 2010
The Long Butte Fire near Hagerman, Idaho burned approximately 306,113 acres (123,880 hectares) over the course of a week. The fire began on August 21st due to a lightning strike and spread rapidly across the grasslands — an estimated 215,000 acres (87,000 hectares) burned on August 23rd alone. A cold front moving across the region brought dry conditions and strong winds, which fueled the rapid growth. A wind gust of 70 mph (113 km/hr) was measured nearby in Boise. The fire was fully contained by August 29th. The burn area included the home range of a wild horse herd and about 75 percent of the Hagerman Fossil Beds National Monument. The Long Butte Fire was the largest fire observed in the U.S. during 2010. The second largest fire to–date was the Tolkat 2 Fire in Alaska, which burned 188,807 acres (76,407 hectares) in May and June.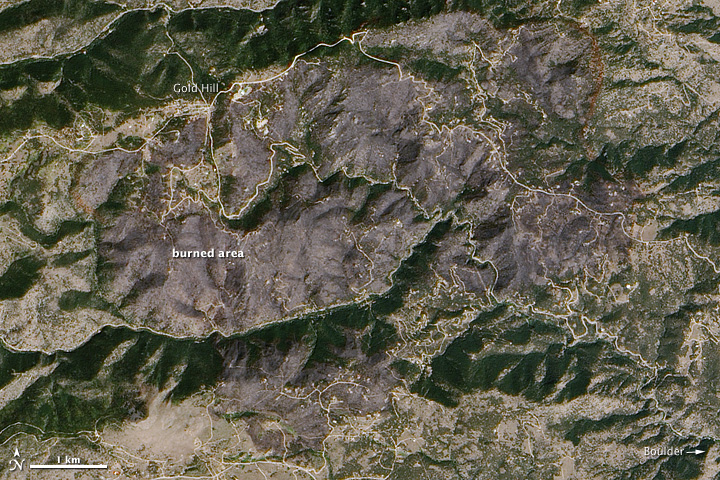 Satellite image of Fourmile Canyon burn scar
Source:
NASA
The Fourmile Canyon Fire in Boulder, Colorado was the costliest fire in Colorado's history. The fire was ignited on September 6th when a home fire pit was not properly extinguished. Very windy conditions spread the fire rapidly, and it burned 6,181 acres by the time it was fully contained on the 13th. The blaze destroyed 166 homes and three other structures. Over 2,000 people in Boulder were forced to evacuate their homes. Nearly 1,000 firefighters were called to the scene to help get the fire under control. In seven days, the fire caused over $217 million in damages and cost another $9.5 million to contain.
---
Addiontional Wildfires Links
---
Citing This Report
NOAA National Centers for Environmental Information, State of the Climate: Wildfires for Annual 2010, published online January 2011, retrieved on October 26, 2020 from
https://www.ncdc.noaa.gov/sotc/fire/201013
.
---
Metadata