Wildfires - November 2008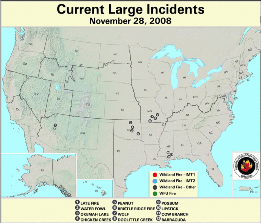 Large fires – 28 November 2008
The month began with four large wildfires present in Utah, Oklahoma (2), and Kentucky. By mid–month Missouri, Georgia, and most notably California (2), reported significant fires. Large wildfire numbers increased to a total of twelve by the end of the month; these were located in Arizona (1), Oklahoma (4), Missouri (4), and Mississippi (3). Severe mid–month fires in California were attributed to a "perfect storm" effect of strong Santa Ana and Sundowner winds combined with high temperatures and low moisture levels.
Large Fire Maps:
According to statistics from the National Interagency Fire Center (NIFC), between October 31st and November 28th approximately 206,515 acres (83,574 ha) were burned across the United States. A total of 3,268 new wildfires were reported, the third highest number of fires in November since 2000, with 1543 fewer fires than the highest value in 2005.
For the year–to–date through November 28th, 77,228 wildland fires burned approximately 5.26 million acres (2.13 million ha), based upon data from NIFC. This year represents the fifth highest number of fires, and the seventh highest amount of acreage burned since 2000. For the period from January 1st to November 28th, total acreage burnt was 2,058,745 acres (833,148 ha) below the 1999–2008 average of 7,317,369 acres (2,961,246 ha). The total number of fires between January 1st and November 28th was 5,012 fires above the 10–year average of 72,216. The below average acreage burnt combined with the above average number of fires indicates a relatively high contribution from small area fires. Seven hundred forty–five large fires have been contained this year through November 28th.
The U.S. Drought Monitor indicated abnormally dry conditions present in several areas of the U.S., with exceptional dryness occurring in the Carolinas, Georgia, the Hawaiian Islands, and Texas by the end of November. Conditions experienced very little change from the end of October into the first part of November. Persistent dry conditions kept many parts of the nation at high levels of fire risk until the middle of the month, when most areas of risk decreased in severity.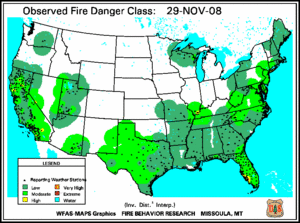 Fire Danger map from 29 November 2008
At the start of November, moderate fire danger was reported across most of the nation, with large patches of high to very high danger across Montana, Wyoming, South Dakota, Nebraska, Nevada and Colorado. By mid–month, fire danger had decreased to low levels across much of the nation, with exceptions in the southwestern U.S., especially southern California, southern Nevada, and Arizona, where very high to extreme fire danger developed. By the end of November, with the wildfire season drawing to a close, only low to moderate fire danger remained, primarily along the periphery of the contiguous United States, with small pockets of high danger present in California, southern Illinois, and the area around Tampa Bay, Florida, according to the U.S. Forest Service (USFS) – Wildland Fire Assessment System.
Fire Danger Maps:
2008 Wildfire Statistics
(Source:
NIFC
)
Year–To–Date Totals as of November 28th
Nationwide Number of Fires
Nationwide Number of Acres Burned
11/28/2008
77,228
5,258,624
11/28/2007
80,281
8,900,885
11/28/2006
89,975
9,524,251
11/28/2005
61,661
8,451,099
11/28/2004
64,344
8,063,921
11/28/2003
59,149
3,825,786
11/28/2002
71,644
7,124,849
11/28/2001
81,681
3,555,138
11/28/2000
91,094
7,309,887
5–yr average
(2003 – 2007)
71,082
7,753,188
10–yr average
(1999 – 2008)
72,216
7,317,369
The critically low 10–hour dead fuel moisture levels that had plagued the western U.S. from Arizona, New Mexico, Texas, and southern California up to Wyoming and South Dakota for much of the fall dramatically improved by mid–month. Improvements also were seen in the 10–hr fuel moisture levels across the Mid–Atlantic and Southeast U.S. during the first half of November. However, patches of Arizona, New Mexico, Texas, Nevada, and California remained at critically low levels of dead fuel moisture until the end of November when conditions across the nation improved measurably.
100–hr and 1000–hr fuel moisture levels, which had been low across much of the nation, including extremely dry conditions in parts of the southwestern U.S., improved by the middle of the month. Sections of Texas, Arizona, New Mexico, California, Nevada, Utah, and Colorado remained dry at mid–month, but not to the critical degree present at the beginning of November. By the end of November moderately dry conditions spread northward, though with no areas of the nation reporting moisture at critically low levels.
10–hr Fuel Moisture Maps:
100–hr Fuel Moisture Maps:
1000–hr Fuel Moisture Maps: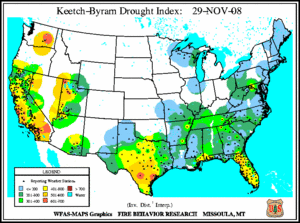 Keetch-Byram Drought Index map from 29 November 2008
The Keetch–Byram Drought Index (KBDI), a widely used drought index for fire risk, showed dry conditions at the beginning of the month throughout the western U.S., as well as parts of Texas and the Southeast, with conditions most severe in California and Nevada. KBDI–indicated fire risk dwindled by the middle of the month, except in portions of California, Nevada, and Texas, where relatively high risk remained. By November's end, fire risk was at the month's lowest level, with only small patches of elevated risk persisting in the western U.S., Texas, and Florida.
KBDI Maps:
---
Additional Links
---
Citing This Report
NOAA National Centers for Environmental Information, State of the Climate: Wildfires for November 2008, published online December 2008, retrieved on June 16, 2021 from
https://www.ncdc.noaa.gov/sotc/fire/200811
.
---
Metadata