Issued 15 January 2014
| | |
| --- | --- |
| Contents Of This Report: | |
---
Please note that the values presented in this report are based on preliminary data. They will change when the final data are processed, but will not be replaced on these pages.
---
National Drought Overview
[top]
---
Detailed Drought Discussion
Overview
The upper-level circulation during December consisted of a long-wave ridge over the eastern North Pacific and western coast of North America, and a long-wave trough over eastern North America, with many wiggles, or short-wave troughs and ridges, migrating through the flow. The western ridge inhibited precipitation over the western U.S., while storm systems caught up in the eastern trough dumped bands of above-normal precipitation east of the Rockies. The storm track resulted in three streaks of above-normal precipitation: across the north central States, the Ohio Valley to Great Lakes, and the Southeast to Mid-Atlantic Coast. Precipitation largely missed the West and Central Plains, as well as parts of the Southern Plains, Midwest, and Florida. Although weather systems moved across the West before intensifying east of the Rockies, the precipitation they dropped totaled well below normal for the month. South central Alaska was drier than normal, but the western, northern, and eastern sections were generally wetter than normal. The precipitation pattern over Hawaii was mixed but with below-normal precipitation dominating. When integrated across the country, December ranked near the middle of the historical record at 54th driest. The bands of wetness in the Northeast, Southeast, Midwest, and Southern Plains helped reduce the drought area slightly in those areas. Rain fell in just the right places to help reduce drought in Hawaii. But the dryness in the Central Plains and West expanded drought in those areas. The national drought footprint expanded 0.3 percent to 26.0 percent of the U.S. as a whole, according to USDM statistics. According to the Palmer Drought Index, which goes back to the beginning of the 20th century, 18.5 percent of the CONUS was in moderate to extreme drought at the end of December, an increase of about 2.4 percent compared to last month.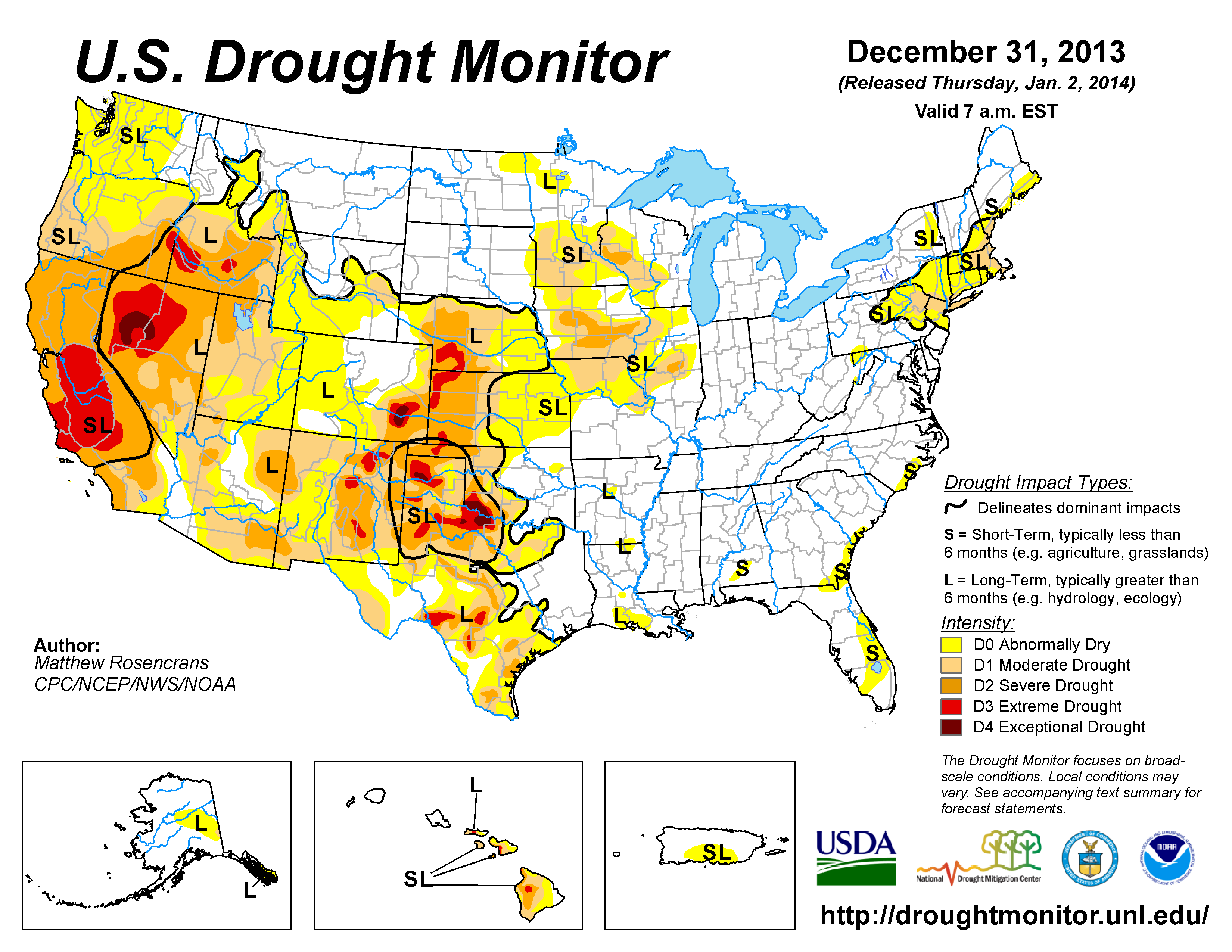 The U.S. Drought Monitor drought map valid December 31, 2013.
By the end of the month, the core drought areas in the U.S. included:
Palmer Drought Index
The Palmer drought indices measure the balance between moisture demand (evapotranspiration driven by temperature) and moisture supply (precipitation). The Palmer Z Index depicts moisture conditions for the current month, while the Palmer Hydrological Drought Index (PHDI) and Palmer Drought Severity Index (PDSI) depict the current month's cumulative moisture conditions integrated over the last several months. While both the PDSI and PHDI indices show long-term moisture conditions, the PDSI depicts meteorological drought while the PHDI depicts hydrological drought. The PDSI map shows less severe drought in the West than the PHDI map because the meteorological conditions that produce drought are not as long-lasting over much of the West as the hydrological impacts.
Used together, the Palmer Z Index and PHDI maps show that short-term dry conditions occurred during December over much of the West and Midwest which had areas in long-term wet spell conditions during November, resulting in less moist long-term conditions and some expansion of drought by the end of December. Short-term dry conditions also occurred during December over parts of the Lower Mississippi Valley and the southern half of Florida, where neutral (near normal) conditions existed. Near normal short-term conditions occurred during December over the drought areas of the Central and Southern Plains, resulting in little change in drought status there. Wet short-term conditions occurred during December over the Northern Plains, Ohio Valley, and much of the East, where long-term wet conditions previously existed, further intensifying the moist conditions.
Standardized Precipitation Index
The Standardized Precipitation Index (SPI) measures moisture supply. The SPI maps here show the spatial extent of anomalously wet and dry areas at time scales ranging from 1 month to 24 months.
The SPI maps illustrate how moisture conditions have varied considerably through time and space over the last two years. The 1-, 2-, and 3-month SPI maps show considerable dryness along the West Coast and interior Pacific Northwest during the hydrologic year to date (the hydrologic year began October 1), as well as along parts of the Gulf of Mexico coast. The 1- and 2-month maps show dryness from the Southwest to Central Plains and into the Midwest (Iowa). Parts of the Northeast have been dry at 3 months. The Midwest (centered around Iowa) shows up as very dry at the 6-month time frame. Dryness along the West Coast is evident at all time scales, with the most severe dryness in California at 12 months. Dryness dominates from the West to Central and Southern Plains at 24 months. Wet conditions dominate in the Northern Plains and much of the East at all time scales. The wet monsoon of 2013 shows up in the Southwest at 6 to 12 months.
Agricultural, Hydrological, and Meteorological Indices and Impacts
| | |
| --- | --- |
| USDA mountain snowpack, January 1, 2014 | USGS monthly streamflow percentiles |
Drought conditions were reflected in numerous agricultural, hydrological, and other meteorological indicators, both observed and modeled. Satellite observations showed vegetative stress continuing in parts of the West. According to the U.S. Department of Agriculture (USDA), as of January 7th, 36 percent of the domestic cattle inventory, 34 percent of winter wheat, 29 percent of corn acreage, 22 percent of hay acreage, and 19 percent of soybean acreage were in drought. These percentages are slight increases for cattle, wheat, and hay, and a slight decrease for soybeans, compared to a month ago. Soil moisture was depleted across much of the West, Southern Plains, and Midwest. Streamflow in the West and parts of the Plains averaged much below normal. The lack of precipitation was reflected in below-normal monthly totals as well as lack of rain days and long runs of consecutive dry days. The persistent dryness was reflected in below-normal groundwater and springwater observations, mountain snowpack and snow water content in the West, and, for California and most of the western states, below-normal reservoir levels.
Regional Discussion
Hawaii: The precipitation pattern for December 2013 was mixed across Hawaii but with below-normal stations dominating. A similar pattern existed for the 2-month (November-December) period, but drier-than-normal conditions were prevalent at longer time scales (last 3, 6, 9, 12, 24, and 36 months). The rain that did fall this month occurred over drought areas, helping to shrink the moderate to extreme drought area from 52.1 percent last month to 49.6 percent this month. Streamflow continued below normal on Maui.
Alaska: The weather pattern during December brought above-normal temperatures and precipitation to western and northern Alaska, wetter- and cooler-than-normal conditions to the panhandle stations, drier- and cooler-than-normal conditions to the southern to central stations, and reduced snowpack and snow water content to the southern stations and basins. The southern stations have been drier than normal while the rest of the state has been wetter than normal at 2 to 3 months, both at the low elevation stations as well as the high elevation (SNOTEL) stations and basins. The precipitation pattern is mixed at 6 months, with below-normal precipitation in the panhandle stations being reflected by low reservoir levels. Dryness at interior stations is evident at 9 to 12 months, with the pattern becoming mixed at longer time periods (last 24 to 36 months). There was no change in the drought and abnormal dryness depiction on the USDM map.
Puerto Rico: December was drier than normal for parts of northwestern and central Puerto Rico, with this pattern also reflected at the 2-month time scale. Dryness is evident and persistent in the south central regions at longer time scales (last 3, 6, and 12 months). Annual rainfall deficits were estimated to be 16 to 20 inches at some south central locations. Abnormal dryness (D0) expanded on the USDM map.
The December precipitation anomaly pattern of dryness in the West, Southwest to Central Plains, and along the Gulf of Mexico coast was reflected in the state ranks, with the three states along the West Coast having the tenth driest, or drier, December and six other states falling in the driest third of the historical record. California had the second driest, Oregon the third driest, and Washington the sixth driest December in the 1895-2013 record.
The October-December precipitation anomaly pattern of dryness in the West, Southwest to Central and Southern Plains, Midwest, Northeast, and parts of the Southeast was generally reflected in the state ranks. Four states in the West had the tenth driest, or drier, October-December and six states (in the Northeast plus New Mexico) ranked in the driest third of the historical record. The pattern in the Plains, Midwest, and Southeast had enough of a mixture of below-, near-, and above-normal precipitation that those states averaged near the middle of the historical record. California had the driest, Washington the second driest, Oregon the third driest, Idaho the tenth driest, and the Pacific Northwest region the third driest October-December in the 1895-2013 record.
The primary dry areas during July-December were the West Coast and Midwest. California had its second driest July-December and Iowa ranked sixth driest, with seven other states ranking in their driest third of the historical record.
For the year (January-December 2013), dryness dominated the West Coast and Pacific Northwest, and Central to Southern Plains, but wet conditions prevailed for most other areas. On the annual state rank map, five states (all in the West) ranked in the driest third of the historical record, with California having the driest January-December on record and Oregon the fourth driest. States in the Central and Southern Plains ranked near- to above-normal because of pockets of wetter-than-average weather which influenced the statewide ranks.
Percent area of the Western U.S. in moderate to extreme drought, January 1900 to present, based on the Palmer Drought Index.
Dry weather dominated the West during December and much of the hydrologic year to date (October-December). This is evident in percent of normal maps for both the December high elevation SNOTEL stations and low elevation stations and in the October-December SNOTEL and low elevation stations. Water-year-to-date SNOTEL precipitation percentiles are near record low values and reservoir levels in California and most western states are below normal. Snow pack, snow depth, and snow water content observations are very low, except in parts of the Northern and Central Rockies. According to the USDM, 51.4 percent of the West was experiencing moderate to exceptional drought at the end of December, an increase of about 1.4 percent compared to the previous month. The Palmer Drought Index percent area statistic was 40.4 percent, an increase of about 4.6 percent from the previous month.
Primary Hard Red Winter Wheat Agricultural Belt
| | |
| --- | --- |
| Primary Hard Red Winter Wheat Belt precipitation, current month, 1895-2013. | Primary Hard Red Winter Wheat Belt precipitation, growing season to date, 1895-2013. |
The December precipitation pattern for the Primary Hard Red Winter Wheat agricultural belt was generally drier than normal, with December 2013 ranking 36th driest and 25th coolest region-wide. The growing season to date (October 1-present) ranked as the 56th driest and 21st coolest October-December. However, long-term dryness lingered, with the PHDI and USDM indicating widespread moderate drought and pockets of severe to extreme drought.
NOAA Regional Climate Centers:
A more detailed drought discussion, provided by the NOAA Regional Climate Centers and others, can be found below.
Southeast — South — Midwest — Northeast — High Plains
West — Pacific Islands
As described by the High Plains Regional Climate Center, this month, the High Plains region was generally wetter in the northern areas and drier in the southern areas, and several Arctic blasts led to a bitterly cold end to the year. Some areas of the region only received light precipitation throughout the month. A large area stretching from eastern Colorado into western Kansas and across Nebraska received at most 25 percent of normal precipitation. Isolated areas picked up little to no precipitation with totals of 5 percent of normal or less. Luckily, December is typically one of the driest months of the year, so below normal precipitation at this time of the year does little to impact the ongoing drought situation across Nebraska, Kansas, and Colorado. Garden City, Kansas was one of these dry spots and with only 0.01 inch (0.3 mm) of liquid equivalent precipitation, it tied for 4th driest December on record (period of record 1947-2013). As expected this time of year, changes in drought conditions in the High Plains region were minor, according to the USDM. Approximately 20 percent of the region was in moderate (D1) to exceptional (D4) drought at the end of the month, which was a slight increase from 19 percent at the end of November. One year ago, 93 percent of the region was in drought with about 27 percent in the D4 designation.
As explained by the Southern Regional Climate Center, December was slightly cooler than normal for much of the Southern region, with the exception of Tennessee and eastern Mississippi which experienced a slightly warmer than normal temperatures, and December precipitation totals in the Southern region varied spatially, with parts of the region receiving anomalously high amounts of precipitation while other parts remained quite dry throughout the month. Areas of above average precipitation include: the extreme south of Texas, the western Texas panhandle, west central Texas, northern Arkansas, and eastern Tennessee. Precipitation totals in these regions varied from 130 to over 200 percent of normal. Conversely, areas of dryness included: much of Oklahoma, south eastern Texas, and most of the state of Louisiana. Precipitation totals in those regions varied from half of normal to under 5 percent of normal. For Louisiana, it was their twenty-first driest December on record (1895-2013).
Drought conditions over the month of December remained relatively unchanged, with northwestern Texas and western Oklahoma experiencing moderate to severe drought conditions. A small area of extreme and exceptional drought persisted along the southwestern Oklahoma-Texas border. Cold weather contributed to a variety of agricultural and ecological impacts around Texas. Short-term dryness in the Panhandle is causing some concern over winter wheat, as snowfall has been below average, but cooler temperatures are helping prevent moisture loss. Grains in central Texas, in spite of the drought, saw record high production levels, leading to optimistic forecasts for next year. Ecologically, the cold weather has been hard on plants and wildlife, including 200 cold-shocked sea turtles that needed rehabilitation and millions of dollars in damage to trees during the month's multiple ice storms (Information provided by the Texas Office of State Climatology).
As summarized by the Midwest Regional Climate Center, December temperatures across the Midwest ranged from just above normal in Ohio and Kentucky to well below normal in Minnesota, particularly northern Minnesota. December precipitation was well below normal in Iowa (52 percent of normal) and below normal in Missouri and Illinois (both 85 percent of normal). The other six states were above normal for the month with Minnesota being the wettest compared to normal (165 percent of normal). Snowfall was above normal for much of the region, with largest departures in the northern half of the region, with totals topping 24 inches (61 cm) across northern halves of Minnesota, Wisconsin, and Michigan. The snow fell in several storms that moved across the Midwest during the month. The paths of the storms varied but the Upper Midwest was hit repeatedly.
As noted by the Southeast Regional Climate Center, precipitation in December was variable and monthly average temperatures were above normal across the Southeast region. Monthly precipitation totals were generally 2 to 4 inches (50.8 to 101.6 mm) above normal across the interior of the region, while much of Florida (except the extreme southeast part of the state), as well as coastal sections of Georgia and the Carolinas, were 1 to 3 inches (25.4 to 76.2 mm) below normal. Monthly precipitation was also variable across Puerto Rico, with above normal rainfall along the coast and below normal rainfall in the interior of the island. The wettest locations in the Southeast were found in a swath extending from central Alabama through northern Georgia, South Carolina, and southwestern North Carolina, where monthly totals exceeded 10 inches (254 mm) in places. Much of this precipitation fell from the 22nd through the 24th of the month as a slow-moving frontal boundary tracked across the eastern CONUS. An additional 1 to 3 inches (25.4 to 76.2 mm) of rain fell across much of the region on the 28th and 29th as a low pressure system tracked northward out of the Gulf of Mexico. Monthly precipitation was above normal across the U.S. Virgin Islands with totals ranging from 7 to 10 inches (178 to 254 mm). In contrast, the driest locations in December were found across the Florida Peninsula, where monthly precipitation totals were less than 25 percent of normal. Several locations recorded less than an inch (25.4 mm) of precipitation, most notably Fort Myers, FL (0.50 inches; 12.7 mm), Naples, FL (0.32 inches; 8.1 mm) and Orlando, FL (0.27 inches; 6.9 mm).
The above normal precipitation in December helped eliminate the broad areas of abnormally dry (D0) conditions that had stretched across much of Virginia, the Carolinas, and central Georgia. Small ribbons of D0 remained across extreme eastern sections of North Carolina, Georgia, and southern Alabama, and expanded slightly across central portions of Florida where precipitation deficits were the greatest. The dry conditions in Florida helped farmers complete their harvests and continue their planting of winter crops. While the lack of moisture continued to limit the growth of many fruit crops, the warm temperatures helped accelerate vegetable growth across much of South Florida.
As explained by the Northeast Regional Climate Center, December was another cooler-than-average month in the Northeast, and the month ended the region's three-month dry streak. The Northeast received 4.16 inches (105.66 mm) of precipitation in Decmeber, 119 percent of normal, and ended 2013 slightly wetter than normal, receiving 44.87 inches (1139.70 mm) of precipitation for the year, 101 percent of normal. According to the USDM, at the start of December, 35 percent of the Northeast was experiencing abnormally dry (D0) or moderate drought (D1) conditions. With several storms throughout the month, dryness eased slightly and by month's end 30 percent of the region was experiencing D0 or D1 conditions.
As summarized by the Western Regional Climate Center, December began with an unusually early and severe cold episode over much of the West, with daily average temperatures within the month ranging from very far below to much above normal. Persistent high pressure developed over the West Coast and helped guide storms towards the Rockies and inland West while keeping the coastal states drier than normal.
A drier than normal December solidified 2013 as the driest calendar year since at least 1895, from the Los Angeles Basin northward to about Eugene Oregon, and in parts of Idaho. Downtown San Francisco received 5.59 in (142 mm), the driest year in the longest climate record in the state (164 years), and only 24% of normal annual precipitation. Further north, Shasta Dam received no December precipitation for the second time in a 71-year record. Precipitation there totaled 16.39 in (416 mm) for 2013, far below the previous record low of 27.99 in (711 mm) set in 1976. In Southern California, downtown Los Angeles received 0.24 in (6 mm) of rainfall this month, only 9% of normal. A scant 3.60 in (91 mm) of rain fell at this location during 2013, the lowest annual precipitation since records began in 1877 (previously 4.08 in / 104 mm in 1947 and 1953). Dry conditions prevailed in Oregon and Washington as well. Medford, Oregon logged its driest December since records began in 1911 with 0.36 in (9 mm) of rainfall, as well as its driest calendar year, with a total of 8.99 in (228 mm). In eastern Washington, Ephrata reported its driest December in a 65-year record with 0.02 in (0.5 mm) precipitation. Snowpack conditions were dismal in the Sierra Nevada and Cascades at month's end, with snow water equivalent values at <50% of median. Snow water equivalent values in the Intermountain West were at roughly 50-75% of median. The lack of snow impacted ski resorts over the holiday season, many operating only a fraction of their terrain or still closed. Snowpack was near to slightly above normal throughout the Rocky Mountains.
Further north, precipitation departures from normal were variable throughout Alaska, though considerably above normal along the North Slope. Barrow saw its wettest December on record with 1.17 in (30 mm), 836% of normal. Temperatures were warmer than normal along the western and northern coasts, and generally cooler than normal in the Interior. In Cold Bay, temperatures averaged to 38 F (3.3 C) for the month, 7.7 F (14.3 C) above normal and the warmest December in a 64-year record. Further south, windward locations on Hawaii's Big Island, Maui, and Kauai received above normal precipitation. Hilo logged 20.2 in (513 mm) for the month, the 10th wettest December in a 65-year record.
Pacific Islands: According to reports from National Weather Service offices, the Pacific ENSO Applications Climate Center (PEAC), and partners, conditions varied across the Pacific Islands.
As noted by the National Weather Service office in Honolulu, cold fronts during the first half of December mainly affected the west half of the state and left the east half relatively dry. A late December storm finally brought significant rainfall to the Big Island and portions of Maui county. However, most of the rainfall occurred over the lower windward slopes and provided only limited or even no relief to the worst drought areas. As a result, extreme drought, or the D3 category on the USDM map, remained over portions of Maui county and the Big Island and only showed limited changes in coverage. For Maui county, D3 areas include the lower southwestern slope of Haleakala from Kamaole to Kaonoulu, and portions of west Molokai serviced by the Kualapuu reservoir. The Big Island D3 area in the Pohakuloa region of the Hamakua district expanded eastward a bit while the area southwest of Hawi improved by one category to the D2 level, or severe drought conditions. Other notable areas of severe drought include the lower leeward slopes of west Maui from Lahaina to Maalaea, and portions of the leeward Big Island from Mahukona to the north-facing slope of Hualalai in the north Kona district. An area of D2 returned to the northwestern portion of Lanai due to recent dryness. In terms of improvements, the December rainfall helped eliminate moderate drought, or D1 level conditions, over the windward slopes of the Hamakua district and the southeast-facing slopes in the Kau district roughly from Punaluu to south point. Kauai county and Oahu remained drought-free.
Some drought impacts impacts in Hawaii include the following:

KAUAI.
THERE ARE NO DROUGHT IMPACTS TO REPORT.

OAHU.
THERE ARE NO DROUGHT IMPACTS TO REPORT.

MOLOKAI.
THE WATER LEVEL IN THE KUALAPUU RESERVOIR HAS SHOWN A MODEST
INCREASE RECENTLY BUT REMAINS VERY LOW.  AS A RESULT...THE STATE OF
HAWAII DEPARTMENT OF AGRICULTURE HAS CONTINUED ITS MANDATORY 30
PERCENT REDUCTION IN IRRIGATION WATER USE.

LANAI.
SATELLITE-BASED DATA SHOWED INCREASED STRESS ON VEGETATION HEALTH
OVER THE PAST SEVERAL WEEKS AND A GAGE IN THE WESTERN SIDE OF THE
ISLAND REPORTED A WELL BELOW AVERAGE DECEMBER RAINFALL TOTAL.

MAUI.
DROUGHT ON THE ISLAND OF MAUI IS MAINLY AN AGRICULTURAL ISSUE AT
PRESENT.  SATELLITE-BASED VEGETATION HEALTH DATA AND RAIN GAGE DATA
SHOWED VERY DRY CONDITIONS OVER THE LOWER SOUTHWEST SLOPE OF
HALEAKALA AND OVER LEEWARD WEST MAUI.  THE MAUI COUNTY DEPARTMENT OF
WATER SUPPLY HAS CONTINUED ITS LONG STANDING REQUEST FOR CENTRAL AND
SOUTH MAUI RESIDENTS TO VOLUNTARILY REDUCE CONSUMPTION BY 10 PERCENT.

BIG ISLAND.
WHILE THE EAST SIDE OF THE ISLAND HAD FLOODING PROBLEMS...LEEWARD
AREAS RECEIVED ONLY SPOTTY RAINFALL.  MANY OF THE LIVESTOCK
OPERATIONS ON THE LEEWARD SIDE HAVE BEEN FORCED TO CONTINUE THE
COSTLY PURCHASE OF SUPPLEMENTAL FEED AND THE HAULING OF WATER.  SOME
GROWERS HAVE ALSO BEEN USING PUBLIC WATER DUE TO INADEQUATE
RAINFALL.  ONGOING DRY CONDITIONS ALONG THE SLOPES OF THE SOUTH
KOHALA AND NORTH KOHALA DISTRICTS HAVE ELEVATED THE RISK OF
SIGNIFICANT BRUSH FIRES. 

SPI values for seven time periods for Hawaiian Island stations, computed by the Honolulu NWS office.

On other Pacific Islands (maps — Micronesia, Marshall Islands, basinwide), December 2013 was drier than normal at all stations except Kapingamarangi (where it was 254%) and Pago Pago (99%). The December rainfall amounts were below 4 inches (a critical threshold amount) at Saipan, Guam, and Kwajalein, below 8 inches (another critical threshold amount) at Koror, Yap, Pohnpei, and Majuro, and above 8 inches at the other stations. The monthly precipitation was below 8 inches at Kapingamarangi for each of the seven months from May through November, but December's total of 25.02 inches was much above normal. Eight of the last twelve months have been below 8 inches at Kwajalein. Six of the last twelve months have been below 8 inches at Majuro, which reported low reservoir levels, dry catchments, and implementation of water rationing by early January 2014.
Several stations in the region experienced persistent dryness during 2013. The October-December, July-December, and January-December multi-month totals were all drier than normal for Kwajalein and Majuro in the Republic of the Marshall Islands, Chuuk and Pohnpei in the Federated States of Micronesia, Saipan in the Mariana Islands, and Koror in the Republic of Palau.
Pacific Island Percent of 1981-2010 Normal Median Precipitation
Station Name
Jan
2013
Feb
2013
Mar
2013
Apr
2013
May
2013
Jun
2013
Jul
2013
Aug
2013
Sep
2013
Oct
2013
Nov
2013
Dec
2013
Jan-
Dec
Chuuk
99%
146%
192%
49%
79%
84%
84%
80%
141%
103%
111%
75%
95%
Guam NAS
128%
97%
191%
45%
103%
102%
53%
74%
255%
198%
56%
65%
103%
Kapingamarangi
197%
154%
199%
77%
48%
47%
50%
83%
55%
85%
38%
254%
91%
Koror
72%
92%
56%
103%
109%
67%
64%
99%
64%
86%
115%
64%
75%
Kosrae
98%
146%
64%
95%
76%
122%
69%
62%
104%
201%
112%
87%
84%
Kwajalein
39%
17%
74%
178%
29%
67%
98%
57%
82%
37%
121%
39%
71%
Lukonor
60%
134%
122%
71%
92%
64%
37%
62%
117%
118%
125%
90%
77%
Majuro
31%
152%
78%
69%
65%
96%
103%
65%
87%
71%
96%
51%
78%
Pago Pago
137%
87%
93%
144%
66%
220%
153%
337%
125%
62%
58%
99%
103%
Pohnpei
83%
54%
67%
59%
52%
113%
61%
38%
121%
81%
142%
36%
72%
Saipan
191%
78%
127%
63%
203%
157%
50%
53%
167%
109%
52%
71%
95%
Yap
90%
113%
130%
50%
69%
134%
53%
86%
181%
144%
74%
65%
97%
Pacific Island Precipitation (Inches)
Station Name
Jan
2013
Feb
2013
Mar
2013
Apr
2013
May
2013
Jun
2013
Jul
2013
Aug
2013
Sep
2013
Oct
2013
Nov
2013
Dec
2013
Jan-
Dec
Chuuk
10.00"
10.60"
16.00"
6.11"
8.93"
9.85"
10.04"
10.25"
16.49"
11.82"
11.82"
8.44"
130.35"
Guam NAS
5.12"
2.95"
3.95"
1.14"
3.51"
6.32"
5.39"
10.84"
32.25"
22.66"
4.13"
3.33"
101.59"
Kapingamarangi
18.02"
14.25"
22.79"
10.51"
5.84"
6.45"
7.11"
6.72"
5.42"
6.99"
3.49"
25.02"
132.61"
Koror
7.29"
7.91"
4.13"
7.57"
12.87"
11.70"
11.94"
13.35"
7.53"
10.19"
13.11"
7.19"
114.78"
Kosrae
16.27"
18.89"
10.20"
16.71"
13.41"
17.89"
10.33"
8.80"
14.82"
22.03"
15.54"
13.94"
178.83"
Kwajalein
1.22"
0.46"
1.73"
9.34"
1.97"
4.66"
9.71"
5.51"
8.81"
4.17"
13.63"
2.62"
63.83"
Lukonor
5.05"
11.93"
11.34"
8.06"
10.77"
7.51"
5.88"
8.64"
11.92"
13.34"
11.38"
10.11"
115.93"
Majuro
2.42"
10.44"
5.13"
6.46"
6.60"
10.55"
11.51"
7.62"
9.70"
9.01"
12.84"
5.76"
98.04"
Pago Pago
18.27"
10.48"
9.97"
13.52"
6.35"
11.75"
8.48"
18.14"
8.14"
5.71"
5.91"
12.71"
129.43"
Pohnpei
10.88"
5.14"
8.78"
10.92"
10.44"
16.79"
9.42"
5.41"
15.23"
12.37"
20.99"
5.79"
132.16"
Saipan
4.83"
2.03"
2.40"
1.65"
4.82"
5.68"
4.42"
6.99"
16.87"
11.60"
2.91"
2.74"
66.94"
Yap
5.72"
5.86"
5.95"
2.81"
5.41"
16.16"
8.01"
12.69"
24.39"
17.60"
6.56"
5.56"
116.72"
Pacific Island 1981-2010 Normal Median Precipitation (Inches)
Station Name
Jan
2013
Feb
2013
Mar
2013
Apr
2013
May
2013
Jun
2013
Jul
2013
Aug
2013
Sep
2013
Oct
2013
Nov
2013
Dec
2013
Jan-
Dec
Chuuk
10.10"
7.25"
8.32"
12.47"
11.30"
11.66"
11.98"
12.86"
11.71"
11.51"
10.61"
11.25"
136.77"
Guam NAS
4.01"
3.03"
2.07"
2.53"
3.40"
6.18"
10.14"
14.74"
12.66"
11.44"
7.38"
5.11"
99.09"
Kapingamarangi
9.15"
9.27"
11.43"
13.64"
12.08"
13.78"
14.15"
8.13"
9.93"
8.19"
9.27"
9.84"
145.85"
Koror
10.18"
8.56"
7.44"
7.32"
11.83"
17.48"
18.53"
13.50"
11.77"
11.84"
11.39"
11.16"
152.90"
Kosrae
16.67"
12.93"
16.06"
17.51"
17.75"
14.64"
14.91"
14.22"
14.22"
10.94"
13.83"
16.11"
213.87"
Kwajalein
3.16"
2.64"
2.35"
5.26"
6.72"
6.93"
9.87"
9.74"
10.74"
11.18"
11.28"
6.66"
90.41"
Lukonor
8.41"
8.93"
9.26"
11.31"
11.69"
11.65"
15.93"
14.04"
10.15"
11.32"
9.08"
11.27"
151.36"
Majuro
7.74"
6.88"
6.58"
9.42"
10.11"
11.01"
11.17"
11.69"
11.17"
12.73"
13.44"
11.39"
125.25"
Pago Pago
13.34"
12.00"
10.68"
9.39"
9.66"
5.33"
5.55"
5.38"
6.53"
9.26"
10.14"
12.84"
125.57"
Pohnpei
13.18"
9.55"
13.17"
18.41"
19.96"
14.81"
15.43"
14.26"
12.55"
15.27"
14.83"
16.08"
182.36"
Saipan
2.53"
2.59"
1.89"
2.63"
2.38"
3.62"
8.91"
13.13"
10.09"
10.62"
5.61"
3.85"
70.25"
Yap
6.39"
5.19"
4.56"
5.63"
7.85"
12.04"
15.08"
14.82"
13.50"
12.18"
8.83"
8.51"
120.31"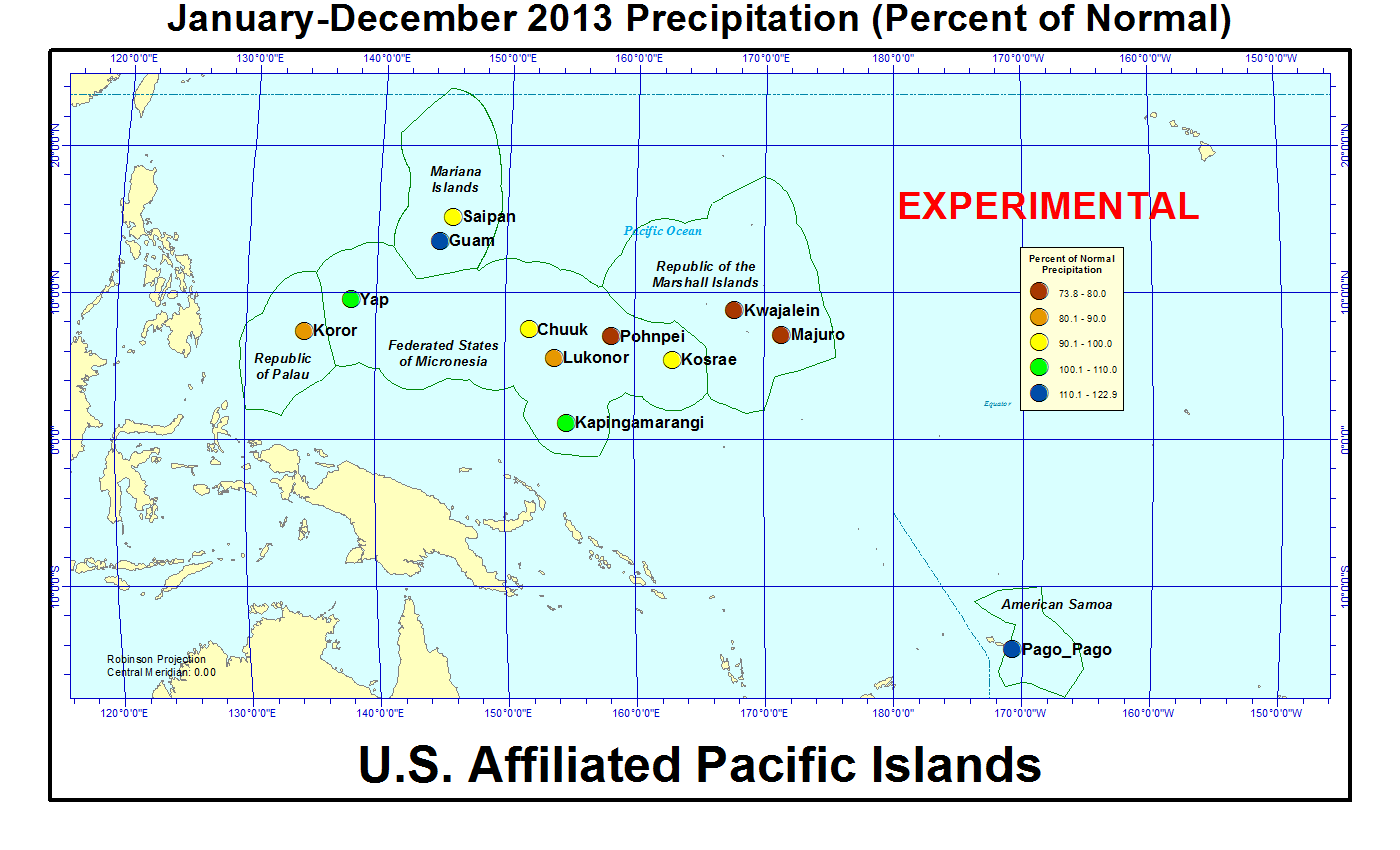 SPI values for seven time periods for Pacific Islands, computed by the Honolulu NWS office.

[top]
---
State/Regional/National Moisture Status
A detailed review of drought and moisture conditions is available for all contiguous U.S. states, the nine standard regions, and the nation (contiguous U.S.):
[top]
---
Contacts & Questions
For additional, or more localized, drought information, please visit:

---