Drought - October 2013
---
Issued 12 November 2013
| | |
| --- | --- |
| Contents Of This Report: | |
---
Please note that the values presented in this report are based on preliminary data. They will change when the final data are processed, but will not be replaced on these pages.
---
National Drought Overview
[top]
---
Detailed Drought Discussion
Overview
The seasonal expansion of the circumpolar vortex brought a very active jet stream during October with several upper-level troughs and closed lows bringing cool and wet weather to parts of the country. The storm track resulted in above-normal precipitation from the Central Rockies to Northern Plains, and precipitation was above normal from the Southern Plains to Midwest where the cold fronts tapped Gulf of Mexico moisture, but the circulation funneled drier-than-normal air to much of the rest of the country, especially the Northeast, West, and Southeast. When integrated across the country, October ranked near the middle of the historical record at 50th driest. The wet conditions in the Rockies and Plains helped reduce drought coverage in those regions. Drought also shrank in the Midwest, but moderate drought developed in the Northeast and abnormally dry conditions expanded in the Southeast. Drought coverage held fairly steady in Alaska and Hawaii. The national drought footprint shrank to 31.8 percent of the U.S. as a whole, according to U.S. Drought Monitor statistics. According to the Palmer Drought Index, which goes back to the beginning of the 20th century, 13.4 percent of the CONUS was in moderate to extreme drought at the end of October, a decrease of about 5 percent compared to last month.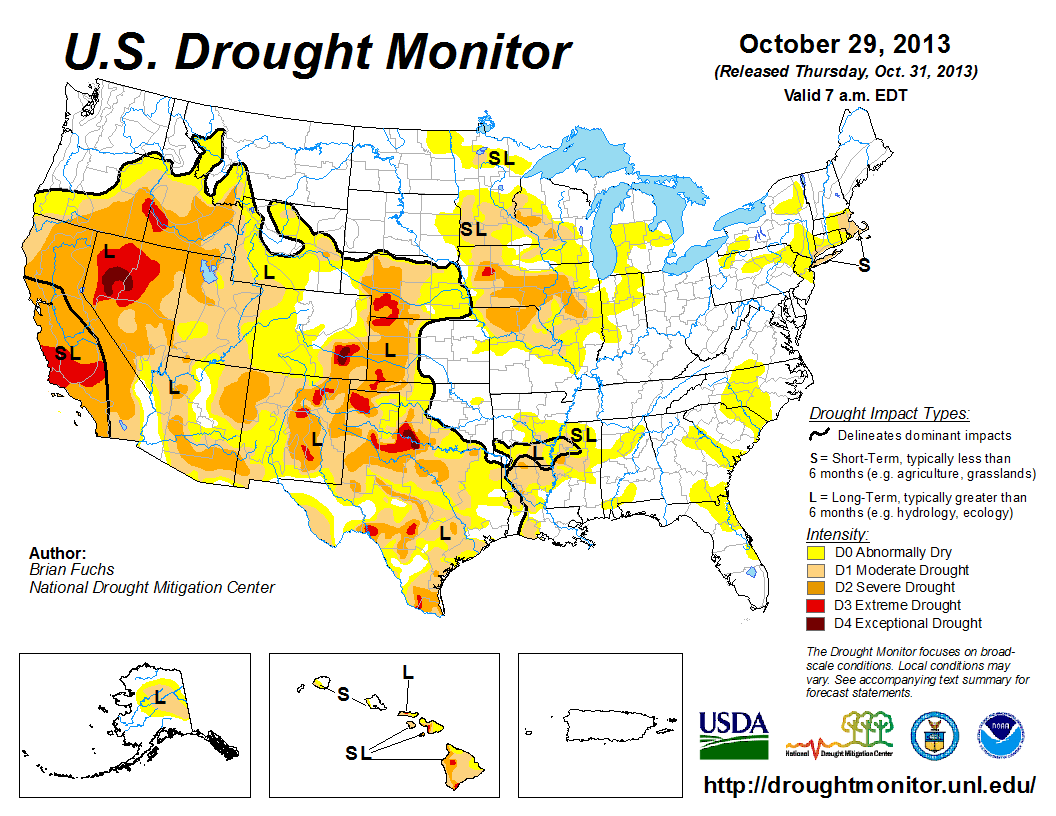 The U.S. Drought Monitor drought map valid October 29, 2013.
By the end of the month, the core drought areas in the U.S. included:
Palmer Drought Index
The Palmer drought indices measure the balance between moisture demand (evapotranspiration driven by temperature) and moisture supply (precipitation). The Palmer Z Index depicts moisture conditions for the current month, while the Palmer Hydrological Drought Index (PHDI) and Palmer Drought Severity Index (PDSI) depict the current month's cumulative moisture conditions integrated over the last several months. While both the PDSI and PHDI indices show long-term moisture conditions, the PDSI depicts meteorological drought while the PHDI depicts hydrological drought. The PDSI map shows less drought in the West than the PHDI map because the meteorological conditions that produce drought ended over much of the West but the hydrological impacts of the drought linger.
Used together, the Palmer Z Index and PHDI maps show that short-term dry conditions occurred during October over parts of the Northwest, Northeast, and Southeast which were in long-term wet spell conditions during September, resulting in less moist long-term conditions by the end of October. Short-term dry conditions also occurred during October over parts of the West (California, Arizona, and southern New Mexico), continuing the long-term dry conditions in those areas. Near-normal to wet short-term conditions occurred during October over much of the Great Plains to Midwest long-term drought areas, improving conditions (PHDI maps for October vs. September).
Standardized Precipitation Index
The Standardized Precipitation Index (SPI) measures moisture supply. The SPI maps here show the spatial extent of anomalously wet and dry areas at time scales ranging from 1 month to 24 months.
The 1-month SPI map shows considerable areas of dryness during October in the Pacific Northwest, California, Southwest, Southeast, and New England, and areas of wetness from Wyoming to the Upper Midwest and in a frontal band from southern Texas to the eastern Great Lakes. The dryness in the Southeast and parts of the Northeast is still evident at 2 to 3 months, while moist conditions from the summer monsoon and frontal systems is widespread across the West and much of the Plains at these time scales. The dry conditions in the Midwest show up strongly on the 3-month SPI map. Near normal to moist conditions dominate on the 6-month SPI map, with just a few areas of dryness in the Midwest, Central Plains, and West. At the 9- to 12-month time scales, dryness in parts of the West and Plains can be seen, with California especially dry, while near normal to wet conditions dominate the rest of the country. The extreme dryness of 2012 in the West and Plains is evident on the 24-month SPI map.
Agricultural, Hydrological, and Meteorological Indices and Impacts
| | |
| --- | --- |
| USDA statewide topsoil moisture percentages short or very short | USDA statewide pasture and rangeland percentages in poor or very poor condition |
Drought conditions were reflected in numerous agricultural, hydrological, and other meteorological indicators, both observed and modeled.
Satellite observations showed vegetative stress continuing in parts of the West and Southern Plains (VegDRI) and developing in the Northeast (VHI). According to the U.S. Department of Agriculture (USDA), as of October 29th, 39 percent of cattle, 38 percent of corn, 33 percent of winter wheat, 28 percent of soybeans, and 25 percent of hay were in drought. These percentages are less than the corresponding percentages from a month ago. Only four percent of the winter wheat crop was rated in poor to very poor condition, nationally, due to improving topsoil moisture conditions (October vs. September) and the drought in the region resulting from lingering long-term moisture deficits, while 29 percent of the nation's pasture and range land was rated in poor or very poor condition. Topsoils dried out in the Northeast and Southeast but improved in the Plains to Midwest, with eight states having 50 percent or more of their topsoil rated short or very short of moisture (dry or very dry) — Rhode Island (87%), South Carolina (65%), Illinois (60%), Missouri (58%), New Mexico (58%), Iowa (53%), Georgia (53%), and Connecticut (50%). Continued dry soils in California and drying soils (CPC, VIC) in New England gave California (100%) and Vermont (67%) the greatest percentage of pasture and range land in poor to very poor condition.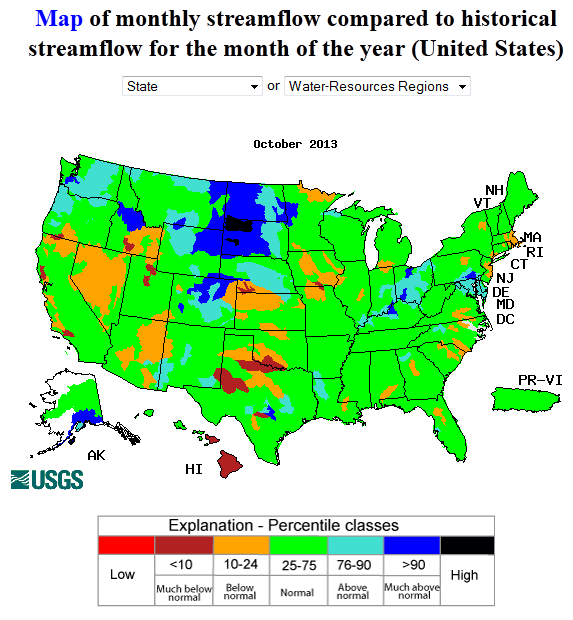 USGS monthly streamflow percentiles.
The lack of precipitation during October (HPRCC, AHPS, and USGS precipitation amount, HPRCC and NWS percent of normal precipitation, NWS CPC precipitation percentiles) across much of the West and parts of the Southeast and Northeast was reflected in few rain days, long runs of consecutive dry days, and reduced streamflow (NLDAS modeled runoff and streamflow, VIC modeled runoff, USGS observations) in several basins. The impact of long-term precipitation deficits was still manifested in low groundwater (USGS real-time network, climate response network, total active network, just the below-normal observations) and spring water levels in some areas. Early season snowstorms resulted in above-normal snowpack and snow water content for parts of the West (SNOTEL basin percent of average and percent of normal, station percent of normal and percentile) and Plains, but this is early in the snow season when normals are low.
Temperatures averaged below normal in the western and central U.S. and above normal from the Gulf of Mexico coast to the Northeast (HPRCC and NWS CPC temperature departure from normal, NWS CPC temperature percentile, NCDC standardized temperature departures). The SPI measures water supply while the Standardized Precipitation Evaporation Index (SPEI) incorporates temperature as a measure of water demand. The October temperature anomaly pattern reduced water demand (evapotranspiration) in the West but increased it in the East (SPEI map vs. SPI map); however, evapotranspiration becomes less of an issue this time of year as the seasons transition from summer to fall to winter.
Regional Discussion
Hawaii: Precipitation for October 2013 was below normal for most of the stations in Hawaii. Drier-than-normal conditions were especially prevalent during the last two to three months. Rainfall earlier in the year lessened the deficits at some stations (last 4, 6, 7, and 10 months), but it was not enough to overcome dryness at longer time scales (last 12, 24, 36 months). The moderate to extreme drought area was a little larger this month (64.2%) compared to last month. Streamflow was much below normal averaged across the Big Island and Maui.
Alaska: The tropical system that was Typhoon Wipha moved over the Aleutians and into the Bering Sea in mid-October, contributing to an October that was wetter than normal at the western and some southern stations and much warmer than normal. The interior to southeast stations did not benefit from Wipha's precipitation, so they ended up drier than normal for the month. The warmth and below-normal precipitation contributed to a below-normal snowpack for the southern and southeast basins (stations, basins). The precipitation pattern was mixed at intermediate time scales (last 2, 3, and 4 months), but dryness at the interior southeastern stations was evident at longer time scales (6, 7, 10, 12, 24, and 36 months). Moderate (D1) drought covered 16.5 percent of the state on the USDM map (about the same as last month).
Puerto Rico: October was drier than normal for most of Puerto Rico, reflecting a pattern that was prevalent for the last 2 to 3 months, especially from the interior to southern areas. The drier-than-normal areas shifted to the southern sections by 6 to 10 months. Streamflow averaged near normal and there was no drought or abnormal dryness on the USDM map.
The October precipitation anomaly pattern of dryness in the West, Southeast, and Northeast was reflected in the state ranks, with Rhode Island and Massachusetts ranking in the top ten driest category and 17 other states falling in the driest third of the historical record. The temperature pattern of below normal anomalies in the West and above normal anomalies in the East had little effect on evapotranspiration (water demand) due to the time of year, with the SPEI pattern similar to the SPI pattern.
The last three months (August-October 2013) have been drier than normal for the Midwest, East Coast, and parts of California, with the drought epicenter in the Midwest. Illinois had the tenth driest and Iowa twelfth driest August-October in the 1895-2013 record, with eleven other states ranking in the driest third of the historical record. But the period of dryness in the Midwest actually extends back four months, with Iowa experiencing the third driest July-October. In fact, for the last three years, July-October has been very dry for Iowa. The 4-month SPEI in the Midwest was about as severe as the 4-month SPI, suggesting that temperature was not a critical factor this year.
A mixed pattern of precipitation anomalies occurred at the six-month time scale (May-October 2013), but conditions were generally near to wetter than normal across the country at the state level (except California ranked in the driest third of the historical record). For the year-to-date, parts of the West and Southern Plains were drier than normal, with California having the driest January-October in the 119-year record and three other states ranking in the driest third of the historical record. With much warmer-than-normal temperatures, evapotranspiration was enhanced, making the January-October SPEI more extreme than the SPI in the West. For the past 12 months (November 2012-October 2013), dryness is evident in parts of the West and Southern Plains, with California, Idaho, and Texas ranking in the driest third of the historical record.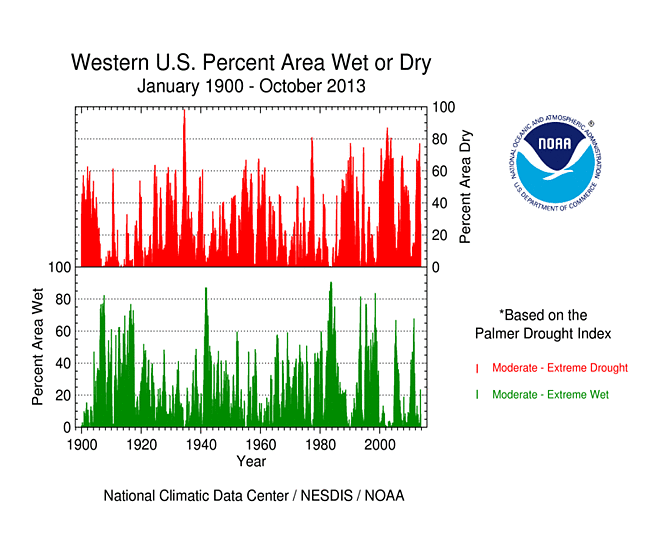 Percent area of the Western U.S. in moderate to extreme drought, January 1900 to present, based on the Palmer Drought Index.
The weather in the West during October was dominated by upper-level systems which produced a trough with associated colder-than-normal temperatures. The circulation generated early season winter storms which dumped snow over many areas, especially from the Central Rockies into the Great Plains. But the circulation was oriented to inhibit precipitation across most of the West. Consequently, this hydrologic year (which begins in October) started out with above-normal snow water content (as seen in SNOTEL station and basin maps) but below-normal total precipitation (as seen in low elevation station percent of normal, high elevation [SNOTEL] station percent of normal and percentiles, basin percent of normal and percent of average maps) across much of the West. While summer monsoon rainfall helped in the short-term (last 3 to 4 months), significant precipitation deficits remained at longer time scales (last 6 and especially 10 to 24 months). According to the USDM, 53.6 percent of the West was experiencing moderate to exceptional drought at the end of October, a drop of about 5.4 percent compared to last month. The Palmer Drought Index percent area statistic was 26.8 percent, a decrease of about 1.5 percent from last month.
Primary Hard Red Winter Wheat Agricultural Belt
| | |
| --- | --- |
| Primary Hard Red Winter Wheat Belt precipitation, October, 1895-2013. | Primary Hard Red Winter Wheat Belt temperature, October, 1895-2013. |
The western portions of the Primary Hard Red Winter Wheat agricultural belt were drier than normal and the eastern parts wetter than normal during October, while most of the region averaged colder than normal. This resulted in the 46th wettest and 32nd coolest October, regionwide, in the 1895-2013 record. However, long-term dryness lingered, with the PHDI and USDM indicating pockets of severe to extreme drought in the western sections.
NOAA Regional Climate Centers:
A more detailed drought discussion, provided by the NOAA Regional Climate Centers and others, can be found below.
Southeast — South — Midwest — Northeast — High Plains
West — Pacific Islands
As described by the High Plains Regional Climate Center, overall, October 2013 was a cool, wet month for most of the High Plains region. Precipitation received over the first half of the month combined with cooler conditions slowed crop drydown and impacted harvest progress. Producers welcomed drier weather at the end of the month as many were able to resume harvest activities. But, even with drier weather, some producers were still battling muddy fields. According to the National Agricultural Statistics Service, harvest efforts in some areas of North Dakota will not resume until the ground is frozen solid. By the end of the month, temperature departures indicated that all but a few locations were below normal. For a second month in a row, heavy precipitation was the big story for the High Plains region. Precipitation totals over 200 percent of normal were common across Wyoming, North Dakota, South Dakota, and northern and eastern Nebraska. Some locations even topped 300 percent of normal, including eastern Wyoming, southern portions of North Dakota, western and central South Dakota, and northern portions of the panhandle of Nebraska. While much of the region was drenched, some areas actually did miss out on the heavy rain and snow and received less than 50 percent of normal precipitation. Those areas included central and southeastern Colorado, southwestern Nebraska, and a few pockets of Kansas.
The USDM showed improvements in drought conditions over the past month for each state in the region. At the end of September, approximately 49 percent of the region was in moderate (D1) to exceptional (D4) drought, but by the end of the month this was down to about 22 percent. Heavy precipitation fell this month and a large area stretching from eastern Wyoming through central South Dakota and southern North Dakota received over 300 percent of normal precipitation. In terms of improvements, Wyoming was the big winner this month — eliminating all of its extreme drought (D3) and nearly all of its severe drought (D2). Significant improvements were also made in the Dakotas where drought conditions have been eliminated. Only some abnormally dry (D0) spots remained. Unfortunately, some areas in eastern Colorado, western Kansas, and southwestern Nebraska missed out on the heavy precipitation and had little to no change in drought conditions.
As explained by the Southern Regional Climate Center, October temperatures in the Southern region were generally near normal, while precipitation totals varied significantly. Mississippi and Tennessee remained quite dry with most stations reporting less than 70 percent of normal precipitation. In fact, only slightly less than half the stations reported less than half of normal. This was also the case for northwestern Texas, the western Texas panhandle, and the southernmost counties of Texas. Conversely, the central and east central portions of Texas were quite wet, with precipitation totals ranging from near normal to over 200 percent of average monthly values. Conditions were also quite wet in northern Louisiana and southern Arkansas. Drought conditions over the month of October changed only slightly. Heavy rains in the south of Arkansas and in northern Louisiana resulted in a one-category improvement. There was also some minor improvement in southern Oklahoma and central Texas.
As summarized by the Midwest Regional Climate Center, temperatures averaged close to normal in October across the Midwest. October precipitation ranged from less than 75 percent of normal in the extreme southeast reaches of the Midwest as well as some pockets along the Mississippi River to more than 150 percent of normal. The areas receiving above normal precipitation extended along the western border of the region, across much of Minnesota and northern Wisconsin and Michigan, and along the Ohio River and then northward to Lake Erie. The wet areas picked up 3 to 6 inches (76.2 to 152.4 mm) of precipitation during the month. The first week of the month was particularly wet with widespread areas receiving 200 to 500 percent of normal precipitation.
Despite some wet areas, much of both the corn and bean crops were harvested in October. Yields have been reported to be highly variable due to varied planting dates and spotty late season rainfall. Drought that emerged late in the growing season seemed to have a more limited impact on yields than was feared based on preliminary yield estimates. The percentage of the Midwest in drought dropped slightly in October. At the beginning of the month just over 30 percent of the region was in drought with over 11 percent in severe drought. In the last USDM report on the 29th, those percentages fell to just over 24 percent and under 9 percent. The areal extent of drought was similar throughout the month, extending from central Minnesota to central Missouri and eastward into parts of Wisconsin and Illinois. Kentucky, Michigan, and Ohio remained free of drought in October while northwest Indiana had just a small area of drought early in the month.
As noted by the Southeast Regional Climate Center, temperatures were generally above normal across the Southeast in October and the month was dry, as precipitation totals were less than 50 percent of normal across much of the region. Precipitation was also below normal across most of Puerto Rico and the U.S. Virgin Islands. The driest locations in the region were found across central and eastern portions of the Carolinas, Georgia, and the northern half of Florida, where monthly precipitation totals were less than 25 percent of normal. The dry weather pattern across the Southeast over the past two months resulted in a re-emergence of abnormally dry (D0) conditions on the USDM, particularly across some of the major river basins in the region (e.g. the Cape Fear River basin in North Carolina and the Savannah River basin along the South Carolina-Georgia border). The dry conditions along the Savannah River led the U.S. Army Corps of Engineers to reduce outflows from reservoirs along the basin. Abnormally dry conditions were also re-introduced across parts of central Alabama, southeast Georgia, and northeast Florida. Some farmers in these areas reported that pastures were drying out and recently planted winter forage and small grains were in need of rain. On the other hand, the dry weather helped many farmers complete their harvests and prepare fields for winter wheat, fruits, and vegetables. Some exceptions were noted across parts of Georgia where a lack of soil moisture made it difficult to plant small grains. Most crops were reported to be in good condition, though some yields were running slightly behind average due to the wet summer. In addition, some freeze damage was reported on cotton across parts of Alabama towards the end of the month, while citrus growers continued to report adequate moisture levels across much of South Florida.
As explained by the Northeast Regional Climate Center, warmer-than-normal temperatures returned to the Northeast this month. With an average temperature of 51.9 degrees F (11.1 degrees C), it was 2.6 degrees F (1.4 degrees C) above normal. The region's twelve states were all warmer than normal. October was another drier-than-normal month in the Northeast. The region's 2.72 inches (69.09 mm) of precipitation was 71 percent of normal. Nine states were drier than normal, one was normal, and two were wetter than normal. At the start of the month 19.99 percent of the Northeast was experiencing abnormal dryness, according to the October 1 USDM released on October 3. Heavy rain during the first half of the month eased dryness in southern parts of the region, but in northern parts, moderate drought was introduced in southeastern New York and some areas of southern New England by the end of the month. According to the October 29 USDM released on October 31, 21.44 percent of the Northeast was abnormally dry while 3.27 percent was experiencing moderate drought conditions.
As summarized by the Western Regional Climate Center, cooler than normal temperatures dominated the West this month for the first time since the beginning of the year. The southwestern portion of the region had warm days and very cool nights, whereas the northeastern portion of the region had very cool days and warm nights. Several low pressure systems swept cold air into the region, and clear skies and low humidity between systems allowed for enhanced nighttime cooling. Precipitation was below normal for a majority of the West, though southeastern Montana and Wyoming saw near record rain and snow. Many locations throughout the West saw their first measurable snowfall of the season.
After a record wet September in the Northwest, many locations saw one of their 10 driest Octobers. Spokane, Washington received 0.09 in (2 mm) rainfall, 1.09 in (28 mm) below normal, the 5th driest October in a 125-year record. Missoula, Montana recorded its third driest October in a 121-year record at 0.06 in (2 mm), 7% of normal. Eugene, Oregon received 0.58 in (15 mm), the 5th driest October since records began in 1939. Dry conditions returned to northern California, where Eureka rainfall totaled 0.05 in (1 mm), 2% of normal, the 2nd driest October in a 121-year record. Downtown San Francisco received no measurable October precipitation for the 5th time in the past 100 years. Dry conditions persisted in southern California, where many locations received less than 10% of normal rainfall. Downtown Los Angeles logged 0.06 in (2 mm), a scant 9% of normal. Elsewhere in the Southwest, Phoenix, Arizona received only trace precipitation and Albuquerque, New Mexico recorded 16% of its normal October precipitation. In contrast, locations throughout Wyoming saw one of their top-ten wettest Octobers. This was extremely beneficial for a state that has been experiencing severe, persistent drought. By the end of the month, the area of the state with drought designations in the US Drought Monitor had been reduced by 20%. Throughout mountainous areas of the West, snow water equivalent was generally above normal due to early season snowfall, though many of these areas saw below normal precipitation totals for the month.
While cool temperatures dominated the contiguous western U.S., a persistent ridge over Alaska brought record high temperatures to the state. Above normal temperatures were recorded throughout the state, with the greatest anomalies in the Interior region. Temperatures at Anchorage averaged 44.2 F (6.8 C) for the month, 9.4 F (5.2 C) above normal and the warmest October on record. In McGrath, average temperature was 13.5 F (7.5 C) above normal at 38.7 F (3.7 C), the warmest since records stared in 1941. The average temperature in Fairbanks was 36.1 F (2.3 C), 11.9 F (6.6 C) above normal and the third warmest since records began in 1930. Precipitation was abundant in southern Alaska this month, with Valdez recording 17.83 in (453 mm), 216% of normal and the wettest October on record. Warm late autumn temperatures delayed the freeze-up of lakes and rivers in Alaska's Interior. These bodies of water are typically beginning to freeze by late October. Hawaii saw a much drier October, with a majority of stations reporting less than 50% of normal rainfall. Molokai Airport recorded 0.17 in (4 mm), 9% of normal and the 5th driest October in a 65-year record. On Oahu, Kaneohe reported only trace precipitation, 2.98 in (76 mm) below normal. Kauai fared better than the other islands, with Lihue receiving 7.99 in (203 mm), 209% of normal. Lihue had not seen above normal October rainfall since 2004.
Pacific Islands: According to reports from National Weather Service offices, the Pacific ENSO Applications Climate Center (PEAC), and partners, conditions varied across the Pacific Islands.
As noted by the National Weather Service office in Honolulu, the start of the 2013-2014 wet season brought a few heavy rain events to the state but the rainfall coverage was inconsistent and missed many of the worst drought areas, especially in the east half of the island chain. The main exception was the southeast-facing slopes of the Kau district on the Big Island where above average rainfall helped ease extreme drought, or D3 conditions on the USDM map, to the D2 level, which is labeled as severe drought. On the north side of the Big Island, a very dry October pushed severe drought up into the Waimea town and Puu Kapu sections of the South Kohala district, and moderate drought, or D1 conditions, into the lower elevations of the Hamakua district. The island of Maui also had an overall dry October which caused an expansion of drought coverage. Severe drought in central Maui spread into the upcountry area, and moderate drought has encompassed most of the windward slopes of Haleakala. Extreme drought coverage in Maui county remained unchanged and included the lower southwestern slope of Haleakala from Kaonoulu to Ulupalakua, and portions of west Molokai serviced by the Kualapuu reservoir. Over the west half of the state, rainfall from late September and early October helped reduce moderate drought coverage to small sections of leeward Kauai and Oahu.
Some drought impacts impacts in Hawaii include the following:

KAUAI.
PASTURES AND GENERAL VEGETATION CONDITIONS OVER THE LOWER SLOPES OF
SOUTH KAUAI IMPROVED BUT CONDITIONS FROM WAIMEA TO BARKING SANDS
REMAINED DEGRADED.

OAHU.
PASTURES AND GENERAL VEGETATION CONDITIONS IMPROVED FOLLOWING THE
LATE SEPTEMBER AND MID-OCTOBER HEAVY RAIN EVENTS.
HOWEVER...CONDITIONS REMAINED DEGRADED FROM MAKAHA TO KAENA POINT.

MOLOKAI.
THE WATER LEVEL IN THE KUALAPUU RESERVOIR DROPPED FURTHER DURING
OCTOBER AND IS VERY LOW.  ON SEPTEMBER 16...THE STATE OF HAWAII
DEPARTMENT OF AGRICULTURE RESUMED A MANDATORY 30 PERCENT REDUCTION
IN IRRIGATION WATER USE.

LANAI.
NO SIGNIFICANT CHANGES OVER THE PAST MONTH.  SATELLITE-BASED DATA
SHOWED CONTINUED STRESS ON VEGETATION HEALTH.   NO RECENT
GROUND-BASED VEGETATION OBSERVATIONS HAVE BEEN RECEIVED TO CONFIRM
THIS THOUGH IT IS CONSISTENT WITH THE LOW RAINFALL TOTALS RECORDED
BY A RAIN GAGE ON THE ISLAND.

MAUI.
DRY CONDITIONS OVER THE PAST MONTH HAVE DROPPED DITCH WATER LEVELS
FEEDING UPCOUNTRY RESERVOIRS.  THIS HAS FORCED THE MAUI COUNTY
DEPARTMENT OF WATER SUPPLY TO INCREASE THE VOLUNTARY CUTBACK REQUEST
TO A 20 PERCENT REDUCTION FOR UPCOUNTRY RESIDENTS.  THE DEPARTMENT
HAS ALSO MAINTAINED ITS LONG STANDING REQUEST FOR CENTRAL AND SOUTH
MAUI RESIDENTS TO VOLUNTARILY REDUCE CONSUMPTION BY 10 PERCENT.

BIG ISLAND.
THE NORMALLY WET UPPER KOHALA PASTURES HAVE BECOME VERY DRY AND ONE
LARGE RANCHING OPERATION IS MAKING PLANS TO DESTOCK CATTLE.  THE
KOHALA DITCH REPORTED ITS LOWEST WATER LEVEL SINCE 1910 AND RANCHERS
ACROSS THE HAMAKUA AND KOHALA AREAS OF THE ISLAND HAVE BEEN BUYING
FEED AND HAULING WATER.  RECENT RAINFALL HAS HELPED IMPROVE
VEGETATION IN THE KAU DISTRICT FROM KAPAPALA TO SOUTH POINT BUT MORE
RAINFALL IS NEEDED OVER THE NEXT SEVERAL WEEKS TO SUSTAIN GROWTH.
THE KONA COFFEE BELT HAS BEEN RECEIVING RAINFALL BUT COVERAGE HAS
BEEN SPOTTY AND SOME FARMERS HAVE HAD TO CONTINUE IRRIGATION
OPERATIONS.

SPI values for seven time periods for Hawaiian Island stations, computed by the Honolulu NWS office.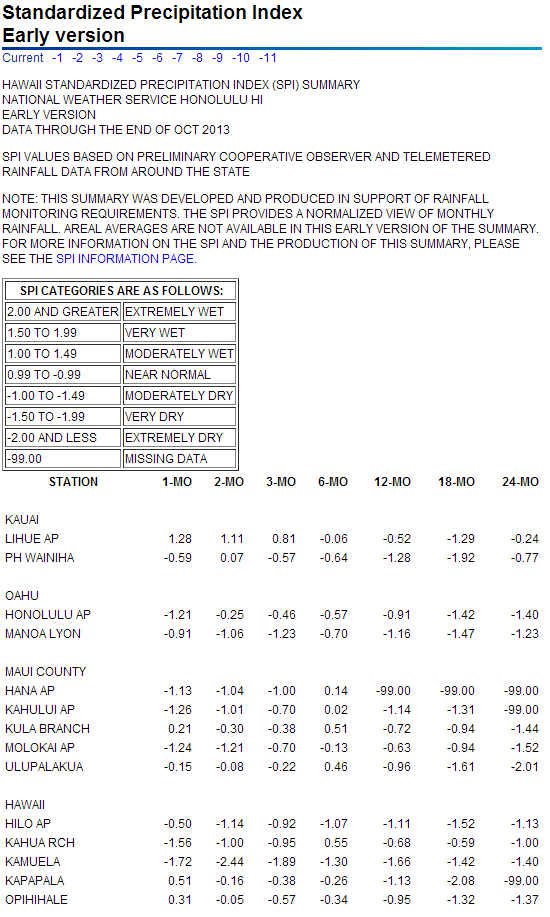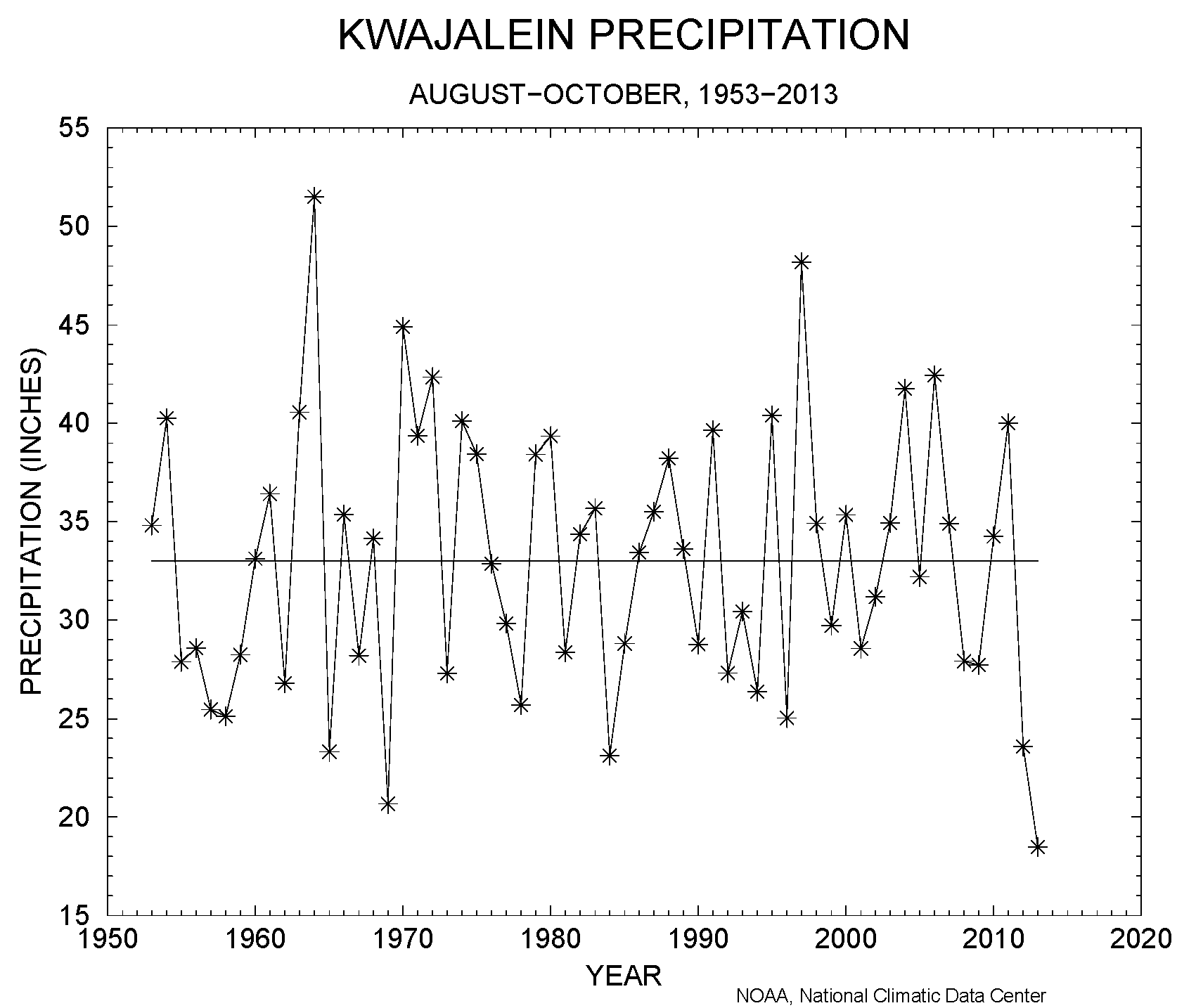 Kwajalein precipitation, August-October, 1953-2013.
On other Pacific Islands (maps — Micronesia, Marshall Islands, basinwide), October was drier than normal at Kwajalein and Majuro in the Republic of the Marshall Islands, Koror in the Republic of Palau, and Pohnpei and Kapingamarangi in the Federated States of Micronesia. The October rainfall amounts were above 8 inches (a critical threshold amount) at all stations except Kapingamarangi, Kwajalein, and Pago Pago. The monthly precipitation has been below 8 inches at Kapingamarangi for each month from May to October this year, with the May-October total precipitation 58 percent of normal. In 2013, Kwajalein had the driest October, driest August-October, and second driest January-October in the 1953-2013 record.
The weather pattern for much of 2013 and for much of the last twelve months has been very dry at these and other locations. The last three months (August-October 2013) and year to date (January-October 2013) were drier than normal at Kapingamarangi, Kwajalein, Koror, Lukonor, Majuro, and Pohnpei (January-October 2013 was near normal [99.7%] at Kosrae), while the last twelve months (November 2012-October 2013) were drier than normal at five of these six stations (Kapingamarangi [98.4%] and Saipan [98.0%] were near normal).
Percent of Normal Precip
Precipitation
Normals
Pacific Island Percent of 1981-2010 Normal Median Precipitation
Station Name
Nov
2012
Dec
2012
Jan
2013
Feb
2013
Mar
2013
Apr
2013
May
2013
Jun
2013
Jul
2013
Aug
2013
Sep
2013
Oct
2013
Nov 2012-
Oct 2013
Chuuk
144%
116%
99%
146%
192%
49%
79%
84%
84%
80%
141%
103%
101%
Guam NAS
74%
55%
128%
97%
191%
45%
103%
102%
53%
74%
255%
198%
103%
Kapingamarangi
167%
74%
197%
154%
199%
77%
48%
47%
50%
83%
55%
85%
87%
Koror
67%
103%
72%
92%
56%
103%
109%
67%
64%
99%
64%
86%
74%
Kosrae
119%
110%
98%
146%
64%
95%
76%
122%
69%
62%
104%
201%
86%
Kwajalein
45%
230%
39%
17%
74%
178%
29%
67%
98%
57%
82%
37%
75%
Lukonor
178%
62%
60%
134%
122%
71%
92%
64%
37%
62%
117%
118%
78%
Majuro
154%
53%
31%
152%
78%
69%
65%
96%
103%
65%
87%
71%
85%
Pago Pago
181%
143%
137%
87%
93%
144%
66%
220%
153%
337%
125%
62%
117%
Pohnpei
109%
71%
83%
54%
67%
59%
52%
113%
61%
38%
121%
81%
73%
Saipan
31%
89%
191%
78%
127%
63%
203%
157%
50%
53%
167%
109%
95%
Yap
121%
102%
90%
113%
130%
50%
69%
134%
53%
86%
181%
144%
103%
Pacific Island Precipitation (Inches)
Station Name
Nov
2012
Dec
2012
Jan
2013
Feb
2013
Mar
2013
Apr
2013
May
2013
Jun
2013
Jul
2013
Aug
2013
Sep
2013
Oct
2013
Nov 2012-
Oct 2013
Chuuk
15.30
13.09
10.00
10.60
16.00
6.11
8.93
9.85
10.04
10.25
16.49
11.82
138.48
Guam NAS
5.45
2.81
5.12
2.95
3.95
1.14
3.51
6.32
5.39
10.84
32.25
22.66
102.39
Kapingamarangi
15.44
7.25
18.02
14.25
22.79
10.51
5.84
6.45
7.11
6.72
5.42
6.99
126.79
Koror
7.68
11.52
7.29
7.91
4.13
7.57
12.87
11.70
11.94
13.35
7.53
10.19
113.68
Kosrae
16.49
17.75
16.27
18.89
10.20
16.71
13.41
17.89
10.33
8.80
14.82
22.03
183.59
Kwajalein
5.09
15.33
1.22
0.46
1.73
9.34
1.97
4.66
9.71
5.51
8.81
4.17
68
Lukonor
16.18
7.00
5.05
11.93
11.34
8.06
10.77
7.51
5.88
8.64
11.92
13.34
117.62
Majuro
20.69
6.09
2.42
10.44
5.13
6.46
6.60
10.55
11.51
7.62
9.70
9.01
106.22
Pago Pago
18.34
18.31
18.27
10.48
9.97
13.52
6.35
11.75
8.48
18.14
8.14
5.71
147.46
Pohnpei
16.18
11.37
10.88
5.14
8.78
10.92
10.44
16.79
9.42
5.41
15.23
12.37
132.93
Saipan
1.75
3.44
4.83
2.03
2.40
1.65
4.82
5.68
4.42
6.99
16.87
11.60
66.48
Yap
10.67
8.68
5.72
5.86
5.95
2.81
5.41
16.16
8.01
12.69
24.39
17.60
123.95
Pacific Island 1981-2010 Normal Median Precipitation (Inches)
Station Name
Nov
2012
Dec
2012
Jan
2013
Feb
2013
Mar
2013
Apr
2013
May
2013
Jun
2013
Jul
2013
Aug
2013
Sep
2013
Oct
2013
Nov 2012-
Oct 2013
Chuuk
10.61
11.25
10.10
7.25
8.32
12.47
11.30
11.66
11.98
12.86
11.71
11.51
136.77
Guam NAS
7.38
5.11
4.01
3.03
2.07
2.53
3.40
6.18
10.14
14.74
12.66
11.44
99.09
Kapingamarangi
9.27
9.84
9.15
9.27
11.43
13.64
12.08
13.78
14.15
8.13
9.93
8.19
145.85
Koror
11.39
11.16
10.18
8.56
7.44
7.32
11.83
17.48
18.53
13.50
11.77
11.84
152.90
Kosrae
13.83
16.11
16.67
12.93
16.06
17.51
17.75
14.64
14.91
14.22
14.22
10.94
213.87
Kwajalein
11.28
6.66
3.16
2.64
2.35
5.26
6.72
6.93
9.87
9.74
10.74
11.18
90.41
Lukonor
9.08
11.27
8.41
8.93
9.26
11.31
11.69
11.65
15.93
14.04
10.15
11.32
151.36
Majuro
13.44
11.39
7.74
6.88
6.58
9.42
10.11
11.01
11.17
11.69
11.17
12.73
125.25
Pago Pago
10.14
12.84
13.34
12.00
10.68
9.39
9.66
5.33
5.55
5.38
6.53
9.26
125.57
Pohnpei
14.83
16.08
13.18
9.55
13.17
18.41
19.96
14.81
15.43
14.26
12.55
15.27
182.36
Saipan
5.61
3.85
2.53
2.59
1.89
2.63
2.38
3.62
8.91
13.13
10.09
10.62
70.25
Yap
8.83
8.51
6.39
5.19
4.56
5.63
7.85
12.04
15.08
14.82
13.50
12.18
120.31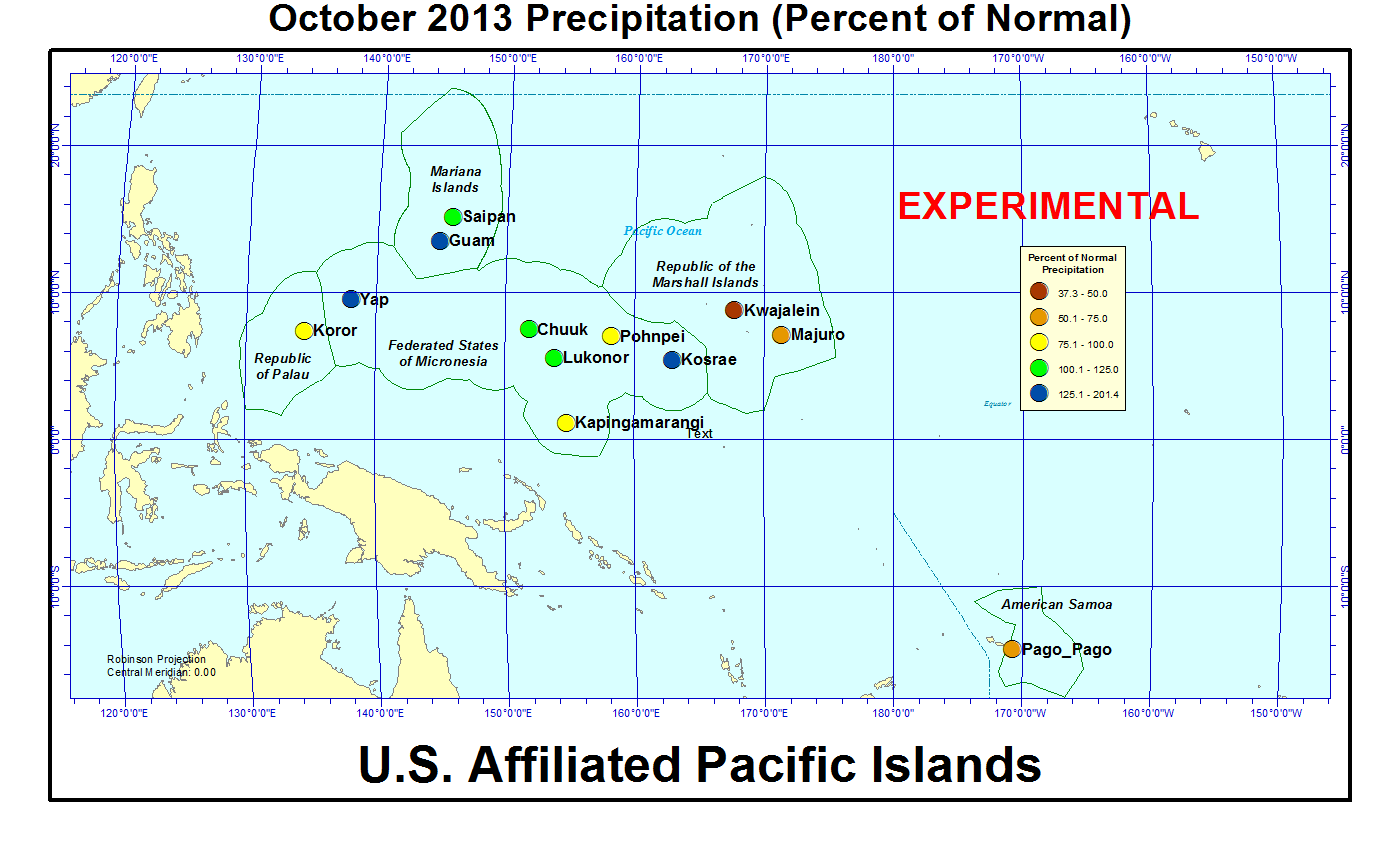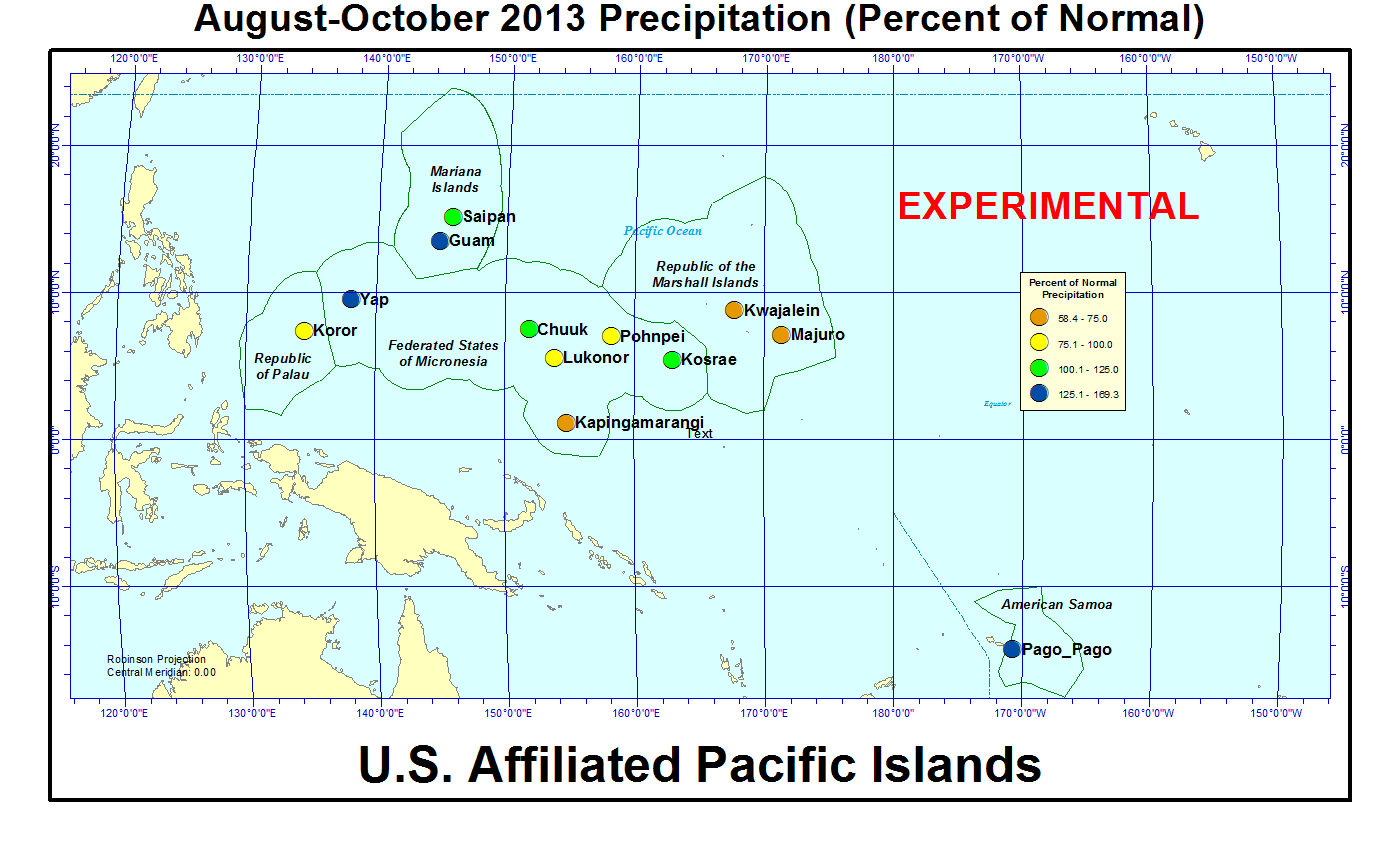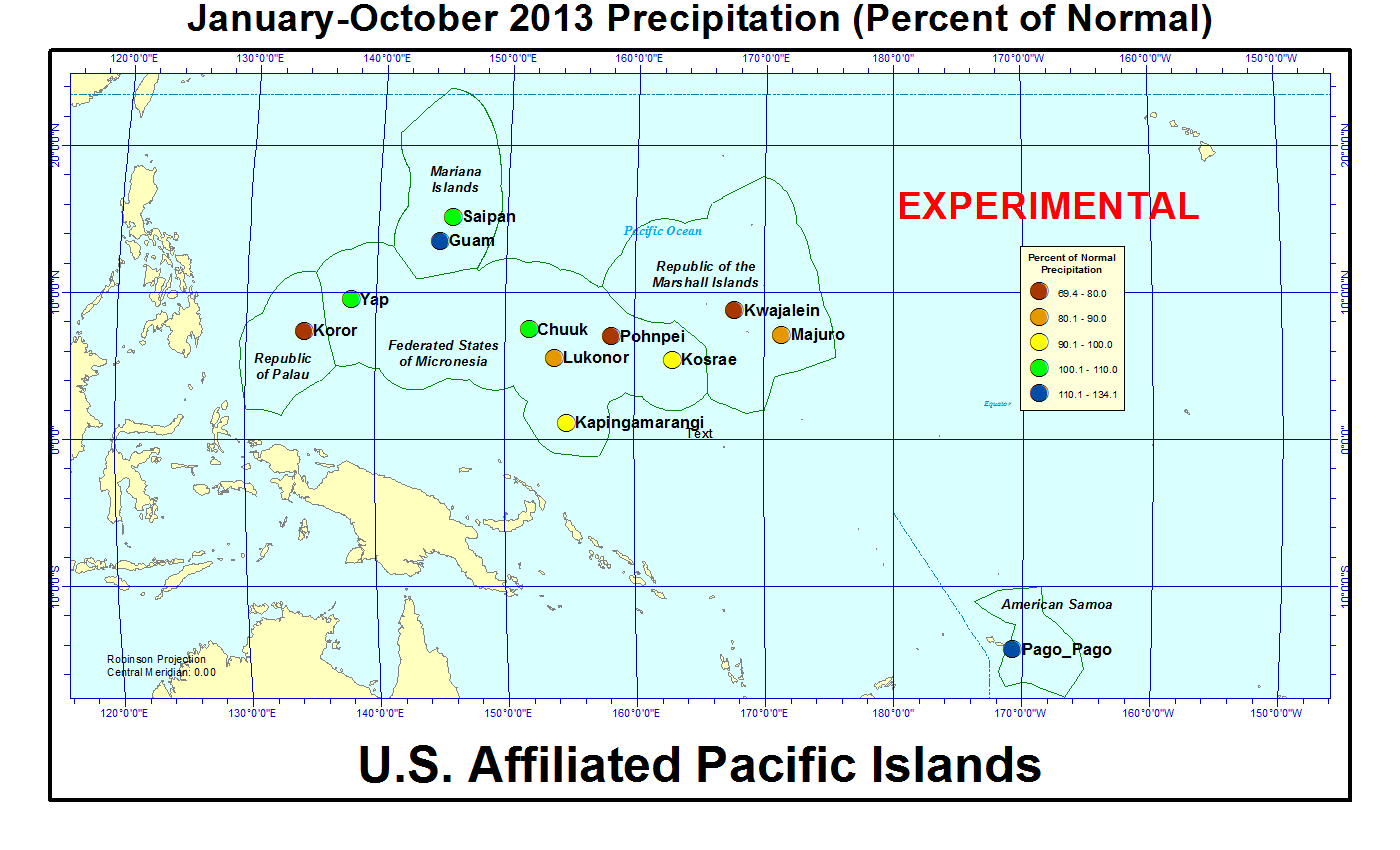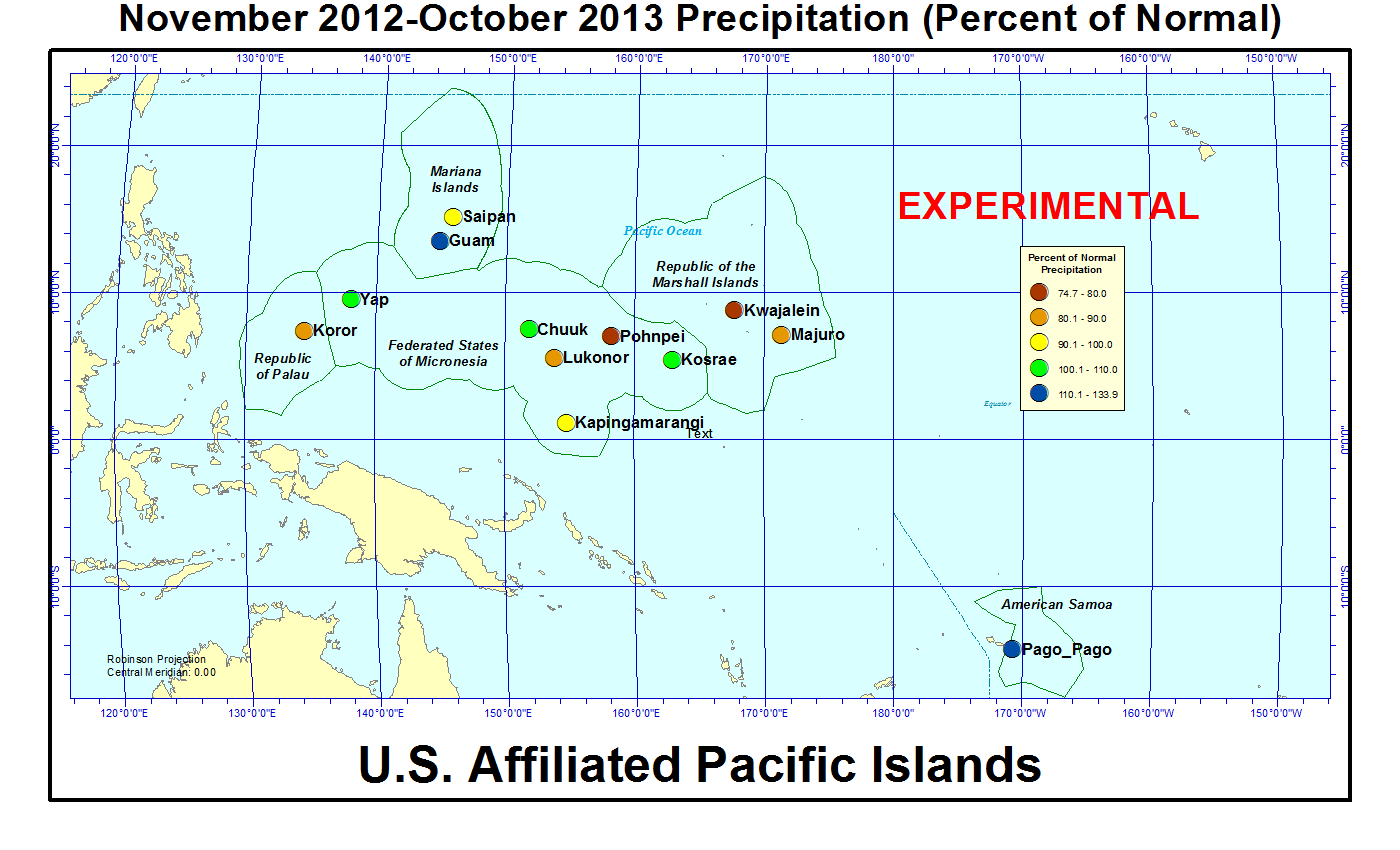 SPI values for seven time periods for Pacific Islands, computed by the Honolulu NWS office.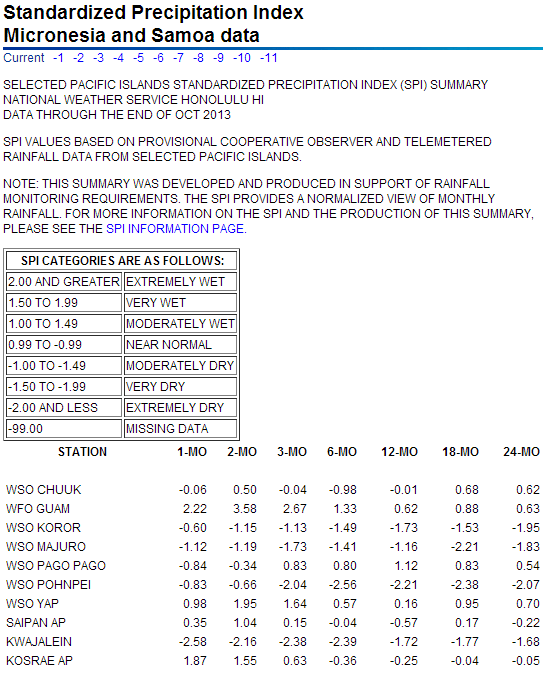 [top]
---
State/Regional/National Moisture Status
A detailed review of drought and moisture conditions is available for all contiguous U.S. states, the nine standard regions, and the nation (contiguous U.S.):
[top]
---
Contacts & Questions
For additional, or more localized, drought information, please visit:

---
Citing This Report
NOAA National Centers for Environmental Information, State of the Climate: Drought for October 2013, published online November 2013, retrieved on January 20, 2018 from
https://www.ncdc.noaa.gov/sotc/drought/201310
.
---
Metadata