Drought - February 2010
---
Issued 15 March 2010
| | |
| --- | --- |
| Contents Of This Report: | |
---
National Drought Overview
[top]
---
Detailed Drought Discussion
February 2010 was a near-normal month when weather conditions are averaged across the country, with the national precipitation ranking near the middle of the historical distribution. But considerable variability occurred throughout the month (weeks 1, 2, 3, 4) and on a regional basis. Beneficial rain and snow fell across parts of the Southwest to southern Plains, while parts of the central Rockies to Northwest were drier than normal. Below-normal precipitation was also observed over much of the Great Lakes and parts of the Southeast. By the end of February, drought all but disappeared in Texas, but drought areas expanded in Hawaii and parts of the West.
February's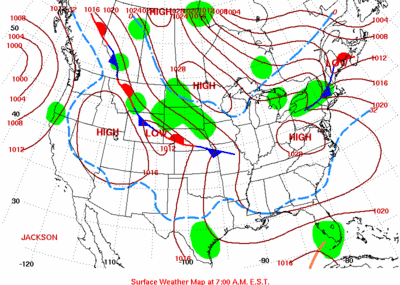 weather pattern was a continuation of the pattern which has dominated the country throughout this winter. A series of winter storms generated by the subtropical jet and polar jet moved across the country. The subtropical jet channeled Pacific low pressure systems into the West and developed new low pressure systems along the Gulf Coast states. The lows picked up abundant moisture from the Gulf of Mexico and intensified as they moved east and up the Atlantic Coast. The polar jet funneled cold arctic air masses into the Lower 48 States. The arctic air, in conjunction with moist Gulf weather systems, helped intensify the winter storms which produced extensive areas of snow and heavy rain.
By the end of February, core drought areas in the U.S. included:
parts of Hawaii, where moderate (D1) to extreme (D3) drought persisted and exceptional (D4) drought was introduced this month; and
parts of the West and Upper Mississippi Valley, which had areas of moderate (D1) to severe (D2) drought.
These six Standardized Precipitation Index (SPI) maps here show the spatial extent of anomalously wet and dry areas at time scales ranging from one month to 24 months. Much of the Pacific Northwest has been drier than normal from February back to six months ago, and at the 24-month time scale, with parts dry at all time scales. Beneficial precipitation in recent months has resulted in wet anomalies across much of the Southwest out to the 6-month time scale, but dry anomalies are still evident at the 12- to 24-month time scales. The mid-Mississippi Valley to Ohio Valley was drier than normal at the 1-, 2-, and 3-month time scales. Dryness across parts of the western Great Lakes and Upper Mississippi Valley is evident at all time scales, while parts of the eastern Great Lakes show dryness out to six months ago. Areas of persistent wetness, especially over parts of the northern Plains, are also evident on these maps.
The drought situation in Hawaii continued to deteriorate as exceptional drought (D4) was introduced to the Big Island and the percent area of extreme (D3) to exceptional (D4) drought grew from 13 percent of the islands at the end of January to 16 percent at the end of February. The area experiencing moderate (D1) to exceptional (D4) drought expanded from 77 percent to 82 percent. February was exceptionally dry and continued a trend of drier-than-normal weather which has lasted for at least the last three to 12 months. Streamflow averaged below normal. Most stations in Alaska, especially at interior locations, have been drier than normal for February and the last three to at least 12 months. Precipitation for the hydrologic year (October to the following September) to date has been especially dry, as reflected by end-of-February snowpack. Parts of Puerto Rico were dry during February. Much of the eastern half of the island has had below-normal rainfall for the last six months.
On a statewide basis, February 2010 was the seventh driest February for Idaho, eighth driest for Wyoming, and 11th driest for Montana. January-February 2010 was the seventh driest January-February for Michigan and ninth driest for Wyoming. December 2009-February 2010 was the eighth driest winter for Wyoming and ninth driest for Idaho. Idaho also had the sixth driest September-February.
Abnormal dryness and drought were evident in several indicators. The central Rockies and northern Plains to western Great Lakes had just a few days with precipitation during February. The dryness in some parts of this region lasted three consecutive weeks or longer. Soil moisture, as monitored by several models (NOAA Climate Prediction Center anomalies and percentiles, NLDAS [North American Land Data Assimilation System] top soil layer and total soil layers), was drier than average across parts of the West and Great Lakes. Well monitoring stations had sporadic reports of low groundwater in the West, Upper Midwest, and even parts of the East. Streamflow (both observed and modeled) was below average across Hawaii and parts of the Northwest, Upper Mississippi Valley, and Great Lakes to Ohio Valley. Satellite monitoring of vegetation health (Vegetation Drought Response Index, Vegetation Health Index) indicated lingering stress on vegetation in parts of the West.
October through the following September is defined as the water year for the West. Water-year-to-date (October-February) precipitation has been mixed, with above-average conditions dominating in the south and below-average conditions more common in the north. This pattern (of much heavier precipitation in the southern compared with the northern West) is very characteristic of El Niño years. This pattern was more evident in the high-elevation station (SNOTEL) network, especially in maps of the end-of-February snowpack and snow water content. According to the U.S. Department of Agriculture (USDA), the March 1, 2010 snow water content at the Lewis Lake Divide SNOTEL station in Yellowstone National Park, Wyoming was the third lowest March 1 value in the 1919-2010 record. Winter and spring mountain snowpack provides a crucial water source for the summer melt season across much of the West. An analysis by the USDA indicated that reservoir levels were generally below average aross the Northwest to interior basins. State Department of Water Resources data indicated that some reservoir levels in northern and central California continued below average, but some were improving. According to the USDM, 21 percent of the West was experiencing moderate to severe drought at the end of February, which was slightly higher than the value for January, while the Palmer Drought Index statistic was 30 percent.
As explained by the Western Regional Climate Center, precipitation continued to follow the El Niño pattern of dry conditions in the Pacific Northwest and wet in the Southwest. Eastern New Mexico recorded the greatest anomalies with some locations reporting precipitation totals 400 percent of normal. Clayton, New Mexico, recorded their third wettest February on record in over 100 years of data. Mountain snowpack on March 1st remained mostly below normal throughout the West except for Arizona, New Mexico and southern Utah. Portions of the Pacific Northwest and northern Intermountain region were only 50-60 percent of normal for March 1st while most of Arizona was still over 200 percent of normal.
An important regional indicator, the Colorado River spring-summer snowmelt inflow to Lake Powell, was projected to be only 68 percent of average. This reflected very low contributions from the Green River, low contributions from the upper mainstem Colorado, and near to slightly above normal contributions from the San Juan Mountains of southwest Colorado. Potentially serious drought conditions were shaping up for many parts of the West if spring precipitation is not significantly above normal.
In normally wet Hilo, Hawaii, total rainfall for January and February 2010 combined was only 2.32 inches (59 mm), which is less than Las Vegas, Nevada, which had 3.09 inches (78 mm). Hilo's normal for the two months is 18.60 inches (472 mm). Hawaii typically experiences dry conditions during El Niño.
In northern California (climate division 2), the current wet season to date (July 2009 through February 2010) has been drier than normal and follows three consecutive drier-than-normal wet seasons (July 2006-June 2007 through July 2008-June 2009). The dryness of the last four years can be seen in the data for a state network weather station in the Fall River Valley in northeast California. According to USDA reports, the cumulative effects of the drought are being reflected in domestic and agricultural wells. Pumps were continually being lowered due to the deepening water table. A few older wells were being abandoned to drill new deeper wells. With minimal recharge to the water table, dependable springs and artesian wells were drying up and flows on some of the smaller creeks in the area were being affected.
As noted by the Midwest Regional Climate Center, February precipitation was generally drier than normal in the Midwest. Only parts of northwest Iowa and west central Minnesota received more 150 percent of normal precipitation. Western Kentucky, northern Lower Michigan, northwest Wisconsin, and northeast Minnesota received less than half their normal precipitation. Because nearly all February precipitation was in the form of snow, snowfall totals were well above normal for southern Minnesota, Iowa, eastern Kentucky, and Ohio. Snowfall totals for the season ranged from well above to well below normal. Waterloo and Des Moines, Iowa recorded record winter seasonal snowfall. In northern Michigan, seasonal snowfall totals were as much as 30 to 50 inches (75 to 125 cm) below normal.
As summarized by the High Plains Regional Climate Center, precipitation varied widely across the region this month. Locations which received only 50 percent of normal or less included western Wyoming, eastern Colorado, and small pockets of central Kansas and western North Dakota. Areas which received over 200 percent of normal included central Colorado, eastern South Dakota, western Nebraska, and a few pockets of northern North Dakota. All states from North Dakota south through Kansas remained drought free this month. Categorical improvement occurred in southwest Colorado where recent precipitation brought the snowpack up to near average or above average. However, abnormally dry (D0) and moderate drought (D1) conditions spread further into Wyoming due to a low snowpack. According to the USDA, snowpacks of only 60 percent of normal were present in many locations.
As explained by the Southern Regional Climate Center, monthly precipitation totals were quite variable over the Southern region for the month of February. Conditions were dry throughout the state of Tennessee, with most stations recording only 50-70 percent of the monthly normal. Similar conditions were also observed in northern Mississippi, northern and southeastern Arkansas, northern Louisiana and eastern Oklahoma. Elsewhere in the Southern region, precipitation totals were generally near normal for the month, with the exception of western Oklahoma, western Texas and southern Texas. In these locations, the majority of stations recorded between 200 and 400 percent of normal precipitation. For Texas, February, 2010 was the 11th wettest February in the 1895-2010 period of record. As of February 16th, 2010, the Southern region was officially drought free, a condition that had not occurred since April 5th, 2005. The date of February 16th, 2010 also put an end to the Texas drought, which officially began back in November of 2007.
As noted by the Southeast Regional Climate Center, precipitation totals for February 2010 were relatively close to normal across most of the region. Precipitation totals were less than 75 percent of normal across much of Georgia as well as portions of Alabama, Florida, central South Carolina, and small portions of western North Carolina and Virginia. Tapoco, North Carolina, located in a rain-shadowed valley west of the Great Smoky Mountains, recorded 0.23 inch (6 mm) of precipitation, which was only 4 percent of normal. Precipitation totals were more than 150 percent of normal across portions of South Florida and extreme northern Virginia. Monthly precipitation totals were below normal across Puerto Rico, with exception to portions of the northern coast. Mayagüez, Puerto Rico recorded only 0.30 inch (8 mm) of precipitation for the month, which was 1.71 inches (43 mm) below normal.
As summarized by the Northeast Regional Climate Center, on average, the Northeast saw 3.03 inches (77 mm) of precipitation, which was 113 percent of normal; however, some states saw large regional differences. New Hampshire and New Jersey were the wettest states in the region, with 159 percent and 154 percent of normal precipitation, respectively. Pennsylvania was the only state with below normal totals (97 percent), but was one of the states where the average was a compilation of as much as 150 percent of normal precipitation in the east and southwest, and about 50 percent of normal precipitation in the central and north central portions of the state.
[top]
---
State/Regional/National Moisture Status
A detailed review of drought and moisture conditions is available for all contiguous U.S. states, the nine standard regions, and the nation (contiguous U.S.):
[top]
---
Drought Indicators
The following
indicators
illustrate the drought conditions this month:
[top]
---
Contacts & Questions
For additional, or more localized, drought information, please visit:

---
Citing This Report
NOAA National Centers for Environmental Information, State of the Climate: Drought for February 2010, published online March 2010, retrieved on January 21, 2018 from
https://www.ncdc.noaa.gov/sotc/drought/201002
.
---
Metadata