U.S. Climate Regions
Through climate analysis, National Centers for Environmental Information scientists have identified nine climatically consistent regions within the contiguous United States which are useful for putting current climate anomalies into a historical perspective (Karl and Koss, 1984).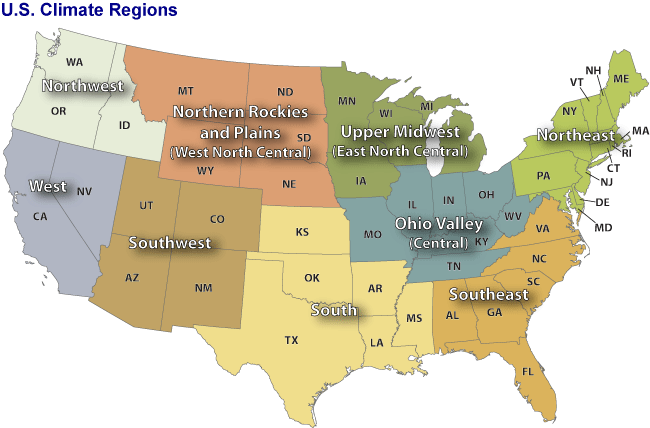 All Regions

Central
East North Central
Northeast
Northwest
South
Southeast
Southwest
West
West North Central

Central

Illinois (IL)
Indiana (IN)
Kentucky (KY)
Missouri (MO)
Ohio (OH)
Tennessee (TN)
West Virginia (WV)

East North Central

Iowa (IA)
Michigan (MI)
Minnesota (MN)
Wisconsin (WI)

Northeast

Connecticut (CT)
Delaware (DE)
Maine (ME)
Maryland (MD)
Massachusetts (MA)
New Hampshire (NH)
New Jersey (NJ)
New York (NY)
Pennsylvania (PA)
Rhode Island (RI)
Vermont (VT)

Northwest

Idaho (ID)
Oregon (OR)
Washington (WA)

South

Arkansas (AR)
Kansas (KS)
Louisiana (LA)
Mississippi (MS)
Oklahoma (OK)
Texas (TX)

Southeast

Alabama (AL)
Florida (FL)
Georgia (GA)
North Carolina (NC)
South Carolina (SC)
Virginia (VA)

Southwest

Arizona (AZ)
Colorado (CO)
New Mexico (NM)
Utah (UT)

West

California (CA)
Nevada (NV)

West North Central

Montana (MT)
Nebraska (NE)
North Dakota (ND)
South Dakota (SD)
Wyoming (WY)
Reference
Thomas R. Karl and Walter James Koss, 1984: "Regional and National Monthly, Seasonal, and Annual Temperature Weighted by Area, 1895-1983." Historical Climatology Series 4-3, National Climatic Data Center, Asheville, NC, 38 pp.