Finding/Ordering NEXRAD Data
To order NEXRAD data, open the NCDC NEXRAD Data Inventory Search page in a web browser. From here, you can either choose a site from the map (hovering over a marker will display the radar station's call sign) or choose a site from the drop-down menu.
Once a site is chosen, you are taken to a page with more details about the site, metadata, and the period of record for that site. Choose the date and product desired from the drop-down menus. The create graph button displays the data available and whether the radar was in clear air mode or precip mode: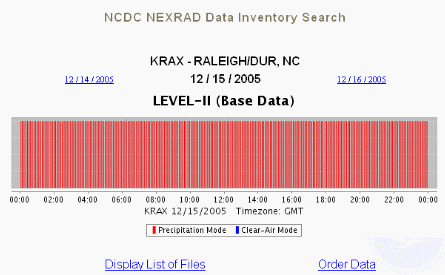 From here, you can choose to display list of files, which will bring up a window listing the available files for download. Filenames are in the format:
YYYY = year
MM = month
DD = day
HH = hour
MM = minute
SS = second
Level-II: AAAAYYYYMMDD_HHMMSS.Z or 6500AAAAYYYYMMDD_HHMMSS.Z
Where:
AAAA = 4-letter Radar ID
.Z = File Compression Type
Example: KHTX20020424_164107.Z or 6500KHTX20020424_164107.Z
Level-III: ABBB_CCCCCC_DDDAAA_YYYYMMDDHHMM
Where:
AAAA = 4-letter ID of source Radar
BBB = 3-letter ID of transmitting Radar
CCCCCC = WMO Abbreviated Heading
DDD = Level-III Product Code.
Example: KMHX_SDUS52_N0RMHX_200309182020 or 7000KMHX_SDUS52_N0RMHX_200309182020
The same information is available from the Order Data option. This is where you can actually choose the files (times) you would like to download. You must enter a valid email address at which to receive notification that your order is complete. Once the order is placed, you will see a message with a HAS ID for the order and a link where you can monitor the progress of your order:


Typically, orders are processed quickly; small orders can be ready within five minutes. Once your order is ready, you will receive an email telling you how to access your data.
Go To The Satellite Tutorial