Search Tool
The search tool

is located in the Map Controls toolbar. For more information on Map Controls, visit the Map Controls Tutorial.
Once you have displayed the Search Tool, you can perform searches and add markers using the Google Geocoding Service as well as launch online searches of metadata for currently loaded active data layers.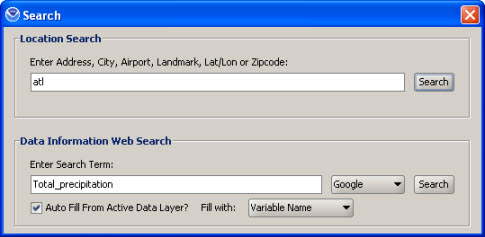 The Search Dialog includes a 'Location Search' section and 'Data Information Web Search' section.
Location Search: The Google Geocoder is used to determine the latitude and longitude coordinates for input locations. The search criteria are very flexible, and can accept entries such as addresses, cities, zip codes, airport codes and landmarks. Entering a [lat],[lon] combination (such as '35.0,-90.0'), will execute a reverse geocoding operation. This will find a matching address, city, state, country or landmark closest to the provided coordinate.

Following a successful search operation, a marker is automatically generated showing the results.
Data Information Web Search: Metadata decoded from the current active data layer is automatically populated into the search fields. The 'Search' button will launch the default browser and navigate to the selected search site and execute a search with the selected field. Several types of metadata can be selected, including the Variable Name, File Format, Data Description and more. The current search engines supported are Google, Yahoo and the NASA Global Change Master Directory (GCMD).
Go To The Image Capture/Export Tutorial