View Properties
The View Properties window allows you to adjust three viewing options: Display, Legend, and Cache.
To open the View Properties window, click View in the viewer menu bar then click View Properties, CTRL-V also opens the window.
Display:
The Display tab provids an option to control the automatic addition of the NOAA logo to all saved images, animations and screen captures.

There is also a quick reference on how to change the units displayed in the Status bar.
Legend: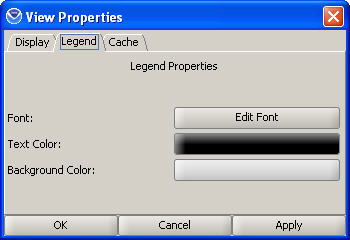 The Legend tab provides options for changing the: Font, Text Color, and Background Color of the NEXRAD legend. Clicking on the three buttons will pop up a window to change the clicked option.
Cache: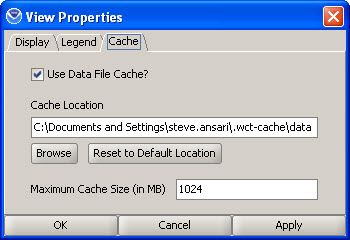 The Cache tab controls the internal Cache file. Checking or un-checking the 'Use Data File Cache?' will turn on or off the use of an internal Cache file (On by default). The cache location and size may be edited. The cache is scoured and cleaned upon each startup of the Toolkit.
Go To The Grid Options Tutorial