Google Earth
This tutorial explains how to export a series of radar data files (other formats will follow the same procedures) from the Toolkit and load into Google Earth for viewing as a 'Time Animation'.
Before proceeding, please review the following tutorials and prerequisites:
This tutorial will start with the Animation Generator.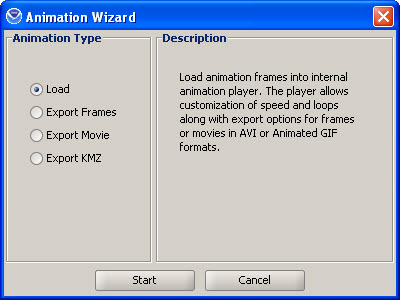 From the Animation Generator click Export KMZ to begin the export process. Once you have clicked Save KMZ a KMZ Export Options window will appear.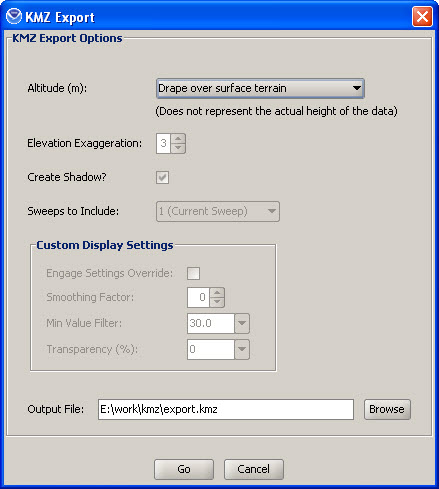 The KMZ Export Options window is where you can adjust visual and save options for the KMZ file. The options are explained below. Note that this example is for NEXRAD data (Radial data structure) and these options are slightly different for Gridded Data.
Altitude(m): Controls which view type will be used in the export: 2D (Drape over surface) or 3D (Drape over sweep model - real height).
Elevation Exaggeration: Scale factor used to apply exaggeration to the vertical values. Only appliable for the 3D (Drape over sweep model) export view type.
Create Shadow? When checked will draw a "shadow" of the currently viewed radar image draped over the ground. Only appliable for the 3D (Drape over sweep model) export view type.
Output File: Displays the output file full path. Click Browse to bring up the Choose Output File window.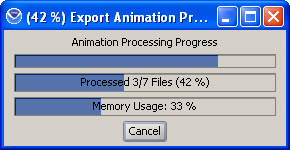 There are three progress bars in the Export Animation Progress window. There is also a Cancel Animation if you need to stop the processing.
The first bar (from the top) shows the processing progress on the current individual data file.
The middle bar shows the processing progress for the entire animation being generated.
The bottom bar displays how much memory is currently being used by the animation procress.
Once the animation processing is complete a window will pop up alerting you.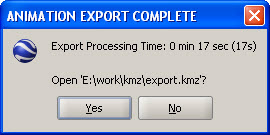 To open the exported KMZ file in Google Earth, you may press 'Yes' button when prompted following the completion of the animation. In addition, the KMZ file may be double-clicked, dragged and dropped onto Google Earth or opened via the 'File' menu in Google Earth.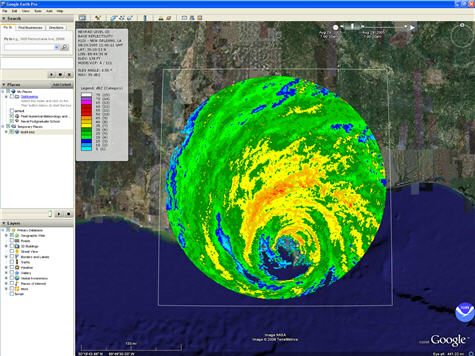 The options that will be unique to viewing the Weather and Climate Toolkit's KMZ output in will occur in the Places tab.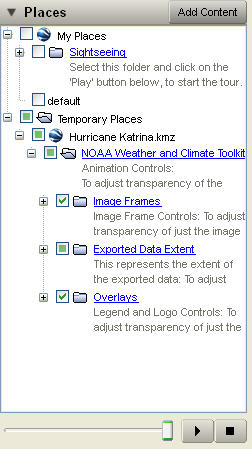 Underneath the NOAA Weather and Climate Toolkit Generated Animation folder there are 3 subfolders: Image Frames, Exported Data Extent, and Overlays.
Image Frames: Are the actual image frames. Their order is controlled by the radar time stamp.
Exported Data Extent: Are outlines of your view extent when the images were made in the toolkit. There are two available Outline and Background. Outline is a solid white box and Background is a lightly shaded black box.
Overlays: Contains all the Legends for each image frame as well as the NOAA Logo.
Useful Tools
From Google Earth User Guide
Go To The ArcGIS Tutorial