Drought Monitor
The U.S. Drought Monitor is a product produced by the National Integrated Drought Information System (NIDIS) Program Office located at the National Oceanic and Atmospheric Administration's Earth Systems Research Laboratory in Boulder, Colorado. More information regarding Drought Monitor may be obtained by going to www.drought.gov
Before proceeding in this tutorial section, make sure you have your computer connected to the internet. Access to this data requires a live connection.
Viewing Drought Monitor data in the toolkit is very easy. With the viewer open, click on the Services tab located on the Left Side Bar, and then click Drought Monitor.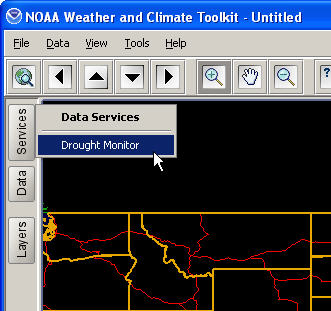 Alternatively you can click on the Data tab from the drop down menu, and then hover over Data Services then click Drought Monitor.
Once you have done this the U.S. Drought Monitor Browser will popup.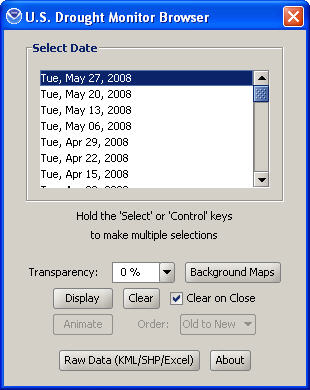 The Drought Monitor browser will be your way to navigate through the dataset. The Select Date scroll window will allow you to select the dates available for viewing. Once you have selected a date (you can only select one date to view in the viewer, multiple date selection will be explained later) click Display in the lower left of the browser.
You can control the transparency between the background map and the Drought Monitor data by using the Transparency drop down percentage menu. Next to that you can control the background maps by clicking the Background Maps button. For more information on background maps.
You can animate images by selecting multiple dates; you can do this by holding down 'Select' or 'Control' then clicking in the select date scroll window the dates you like to animate, then press Animate. A new animation window will appear; more information on animations.
When multiple dates are selected for animation, you have the option to change the order in which they are animated by using the Order drop down menu to the right of the Animate button.
To clear the data being displayed on the viewer, click Clear.
If you would like to view the raw data, you can do so by clicking the Raw Data (KML/SHP/Excel) button beside the clear button. This will open up a web browser to the University of Nebraska-Lincoln Drought Monitor Data Archive.
Clicking on the About button will bring up a pop up window with information about the Drought Monitor