U.S. Climate Extremes Index (CEI): Regional Overview
NCEI added Alaska climate divisions to its nClimDiv dataset on Friday, March 6, 2015, coincident with the release of the February 2015 monthly monitoring report. For more information on this data, please visit the Alaska Climate Divisions FAQ.
Regional Overview
Choose a period/season from the options below to display a regional analysis of the most recent year.
Regional CEI (All Steps Combined)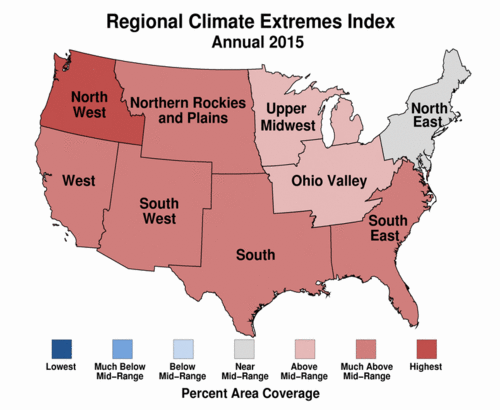 Percent Area Coverage of Indicator by Region
Occurrence within the Historical Distribution:

| | | | | | | |
| --- | --- | --- | --- | --- | --- | --- |
| Coldest | Bottom Tenth | Bottom Third | Mid- | Top Third | Top Tenth | Warmest |
| Driest | Bottom Tenth | Bottom Third | Range | Top Third | Top Tenth | Wettest |